This website uses cookies to ensure you get the best experience while browsing it. By clicking 'Got It' you're accepting these terms.
Busted: 'SeaWorld Employee Infiltrated Animal Rights Group PETA'
Jul. 15, 2015 12:07PM EST
A SeaWorld employee posed for three years as an animal rights activist, in an apparent attempt to undermine protests against the company over its use of captive killer whales, according to an investigation by People for the Ethical Treatment of Animals (PETA).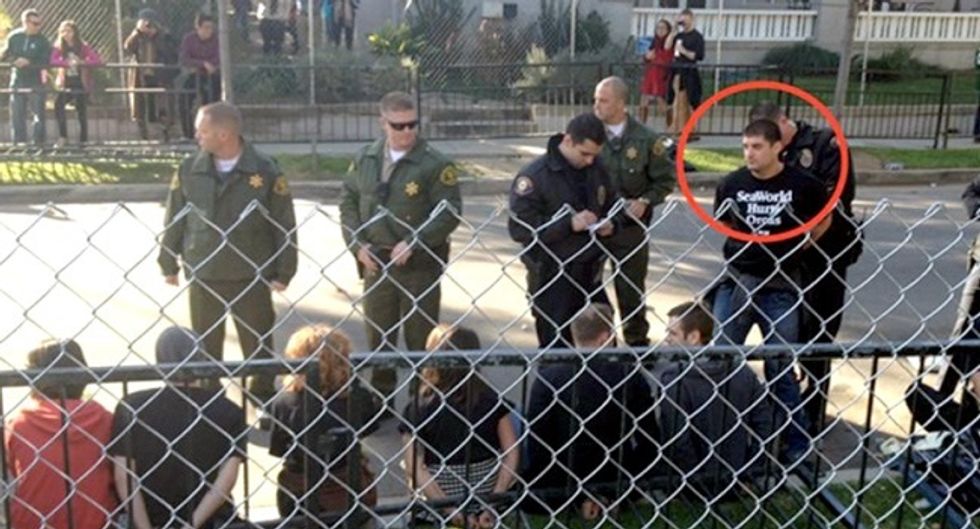 The group publicized evidence this week that suggests 28-year-old Paul T. McComb, under the name "Thomas Jones," infiltrated the anti-SeaWorld protest movement, allegedly joining PETA's Action Team using a P.O. Box in San Diego that was registered to Ric Marcelino, the director of security for SeaWorld San Diego.
McComb, who Bloomberg reports has worked in a number of positions at SeaWorld since at least 2008, including as a human resources representative, attended organizational meetings and "constantly 'fished' for information from PETA staffers about protests against SeaWorld," PETA claims.
SeaWorld, which owns 11 theme parks in the U.S., has experienced a public-relations backlash since the release of the Blackfish documentary in 2013, which delved into problems within the sea-park industry.
According to PETA, McComb joined a protest of SeaWorld's float in the 2014 Rose Parade.
"But, while he was arrested and taken to jail with the other protesters who sat down in front of the float, he suddenly vanished when the other protesters were booked and later released on bail. 'Jones' was inexplicably released without charges, and his name never even appeared on arrest sheets," the investigation found.
"But most insidiously, he has repeatedly tried to incite people who object to SeaWorld to act illegally," the animal rights group reports. "He even organized his own 'direct action' protest—one advertised as 'more exciting than just holding signs'—only to be absent on the day of the demonstration. All of this leaves no doubt that SeaWorld is a dirty tricks corporation, devoid of ethics."
Or perhaps one that is running scared.
Citing research by Heidi Boghosian, executive director of the National Lawyers Guild and author of Spying on Democracy, Kevin Gosztola writes at FireDogLake: "Increasingly, corporations are relying on surveillance of individuals and infiltration of groups to undermine and suppress activism," spurred by fear of how "boycotts or educational campaigns...might expose their practices and impact their earnings."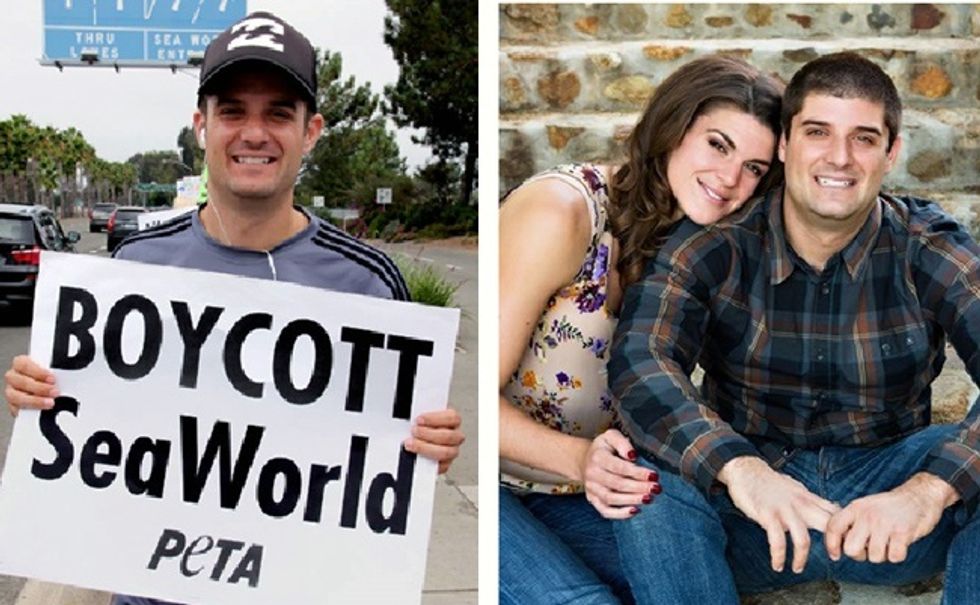 Indeed, this March, SeaWorld Entertainment, Inc. launched a new advertising campaign "highlighting the company's leadership in the care of killer whales," according to a press statement that indicated the effort came in direct response to animal-rights activism. "In the past two years, PETA has issued more than 110 press releases about SeaWorld, filled with inaccuracies about the company's animal care," the statement said.
And in its response to this week's allegations, the company provided a link to a PETA job posting for an undercover investigator.
"PETA itself actively recruits animal rights activists to gain employment at companies like SeaWorld, as this job posting demonstrates," said spokesman Fred Jacobs, who added: "We are focused on the safety of our team members, guests and animals, and beyond that we do not comment on our security operations. This is a responsibility that we take very seriously, especially as animal rights groups have become increasingly extreme in their rhetoric and tactics."
Plus, Gosztola notes, this "is not the first time that PETA has been targeted by a corporation." Nor will it likely be the last.
"There are very few consequences for this kind of corporate-sponsored espionage activity targeted against activists, especially when it is under the guise of protecting the 'security' or 'safety' of employees," Gosztola warns. "Corporations are able to get away with all sorts of surveillance and information gathering on citizens until they happen to commit an error and are exposed."
Watch Democracy Now!'s coverage from this morning on this issue:
YOU MIGHT ALSO LIKE
Pope Francis: Unbridled Capitalism Is 'Dung of the Devil'
5 People Leading the Charge to Save the Honeybees
EcoWatch Daily Newsletter
A Starbucks barista prepares a drink at a Starbucks Coffee Shop location in New York. Ramin Talaie / Corbis via Getty Images
By Cathy Cassata
Are you getting your fill of Starbucks' new Almondmilk Honey Flat White, Oatmilk Honey Latte, and Coconutmilk Latte, but wondering just how healthy they are?
By Sharon Kelly
Back in April last year, the Trump administration's Environmental Protection Agency decided it was "not necessary" to update the rules for toxic waste from oil and gas wells. Torrents of wastewater flow daily from the nation's 1.5 million active oil and gas wells and the agency's own research has warned it may pose risks to the country's drinking water supplies.
Swedish climate activist Greta Thunberg takes part in a "Friday for Future" youth demonstration in a street of Davos on Jan. 24, 2020 on the sideline of the World Economic Forum annual meeting. FABRICE COFFRINI / AFP via Getty Images
Treasury Secretary Steven Mnuchin pretended not to know who Greta Thunberg is, and then he told her to get a degree in economics before giving world leaders advice, as The Guardian reported.
The Visible Infrared Imaging Radiometer Suite on the Suomi NPP satellite acquired this image of forest fire smoke hovering over North America on Aug. 15, 2018. NASA Earth Observatory
New York City isn't known for having the cleanest air, but researchers traced recent air pollution spikes there to two surprising sources — fires hundreds of miles away in Canada and the southeastern U.S.
If temperatures continue to rise, the world is at risk from global
sea-level rise
, which will flood many coastal cities as seen above in Bangladesh. NurPhoto / Contributor / Getty Images
The mounting climate emergency may spur the next global financial crisis and the world's central banks are woefully ill equipped to handle the consequences, according to a new book-length report by the Bank for International Settlements (BIS), as S&P Global reported. Located in Basel, Switzerland, the BIS is an umbrella organization for the world's central banks.