Burning Trees for Electricity Is Actually Dirtier Than Coal
Western Europe has already lost about 97 percent of its original forests. But European power companies, under pressure to clean up their climate pollution and switch to renewable sources of energy, are increasingly looking to burn wood fuel instead of coal in their power plants. Without enough wood at home, European utilities are looking to America for wood fuel—to the rich forests of the Southeastern U.S. Their exploding appetite for wood from our southern forests stems from misguided EU energy policies that allow power plants to burn wood—known as forest biomass—as a low-carbon alternative to coal.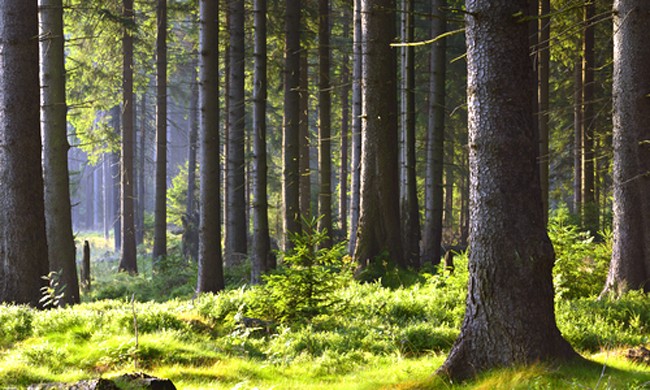 A group of 78 leading scientists wrote a letter last week to U.S. Environmental Protection Agency Administrator Gina McCarthy, challenging the EPA's carbon math and warning the agency not to repeat the EU's mistake. Photo credit: Shutterstock
These policies assume that all biomass is carbon neutral, so when power plants burn wood instead of coal, they don't have to count any of their carbon emissions. Trouble is, the latest science shows this assumption is false. Burning trees and other large-diameter wood for electricity is actually dirtier than coal. Yet the U.S. EPA is apparently on the verge of making the same math mistake the EU did—opening an accounting loophole that puts our forests, as well as the Obama Administration's own efforts to cut carbon pollution, at risk.
A group of 78 leading scientists wrote a letter last week to U.S. Environmental Protection Agency (EPA) Administrator Gina McCarthy, challenging the EPA's carbon math and warning the agency not to repeat the EU's mistake. In a November 2014 memo, the EPA appeared to agree with industry claims that because trees grow back, burning biomass will help utilities reduce their carbon emissions. Some forms of biomass, such as sawdust and chips from sawmills, and small branches and limbs from forestry operations, could work as low-carbon alternatives. But in its memo, the agency suggested that it would allow even the burning of whole trees for electricity—provided they were "sustainably derived."
Sustainable forestry is great, and NRDC has long advocated for it—but even the most sustainably managed forest can't turn trees into a clean source of energy. No matter what efforts the forestry industry makes to reduce the soil erosion, habitat loss, and the other harmful impacts that result from poor forest management, burning trees to produce electricity still increases carbon pollution. In a nutshell, here's why:
Wood is much less energy dense than coal, so you have to burn a lot more of it to produce the same amount of electricity. As a result, burning wood produces higher emissions than coal (about 40 percent higher) for every unit of energy you generate;

Trees take a long time to grow back. Even with immediate replanting, it can take many decades or even centuries before a forest can remove the emissions created from burning it in the first place;

Cutting forests eliminates an important carbon "sink" that would otherwise continue capturing carbon from the atmosphere. Our forests currently absorb 15 percent of our carbon emissions each year.
The EPA needs to get the math right on forests, to avoid undermining its own efforts to reduce carbon pollution from power plants and putting forests around the world at risk. If American utilities start burning trees and other large diameter wood on a wide scale like their European counterparts, we could accelerate climate change, instead of dialing it down. The real answer is to scale up the use of modern, truly clean resources like energy efficiency, solar, wind, and geothermal, not to burn our forests as fuel.
It's time for the EPA to heed the scientific community's warning and use a carbon accounting system that accurately measures the impacts of burning trees and other biomass fuels. Trees are not a low carbon fuel, and failing to account for this fact puts our forests, our climate, and our communities at risk.
YOU MIGHT ALSO LIKE
Why Utilities Hate the Clean Power Rule
President Obama, Stop Selling Us Out: End Oil, Gas and Coal Extraction on Public Lands
Solar Industry Prepares for Battle Against Koch Brothers' Front Groups
Wikimedia Commons
By Stacy Malkan
Neil deGrasse Tyson has inspired millions of people to care about science and imagine themselves as participants in the scientific process. What a hopeful sign it is to see young girls wearing t-shirts emblazoned with the words, "Forget princess, I want to be an astrophysicist."
Keep reading...
Show less
www.youtube.com
By Andy Rowell
Any day now we will truly witness climate change in action. Within days at worst, maybe weeks at best, scientists predict that a huge section of the Larsen C ice shelf in Antarctica will break off into the ocean, in what is called a major "carving" event.
Keep reading...
Show less
www.youtube.com
President Trump visited Cedar Rapids, Iowa on June 21 to speak to a large crowd in the U.S. Cellular Center at a political rally organized by his campaign.
As Trevor Noah noted during The Daily Show episode last night (starts at 2:25), the real reason Trump has these rallies is to "get back in front of his loyal crowds and feed of their energy." Noah believes that "Trump supporters are so on board with their dude he can say anything and they'll come along for the ride."
Keep reading...
Show less
The Kamuthi solar plant in the southern Indian state of Tamil Nadu.
The rapid growth in renewable energy continues to put a dent in the demand for coal.
Coal India, the world's biggest coal mining company and producer of 82 percent of the country's coal, announced the closure of 37 mines that are financially "unviable."
Keep reading...
Show less
www.youtube.com
By Katie O'Reilly
Two years ago—long before coal became one of the most dominant and controversial symbols of the 2016 presidential election—Bloomberg Philanthropies approached production company RadicalMedia with the idea of creating a documentary exploring the U.S. coal mining industry. Last spring, they brought on Emmy-nominated director Michael Bonfiglio, tasked with forging a compelling story out of the multitudes of facts, statistics and narratives underlying the declining industry.
Keep reading...
Show less
Mayors for 100% Clean Energy
Keep reading...
Show less
www.youtube.com
Thanks to Newsy for their coverage on Thursday's news that the U.S. Fish and Wildlife Service removed grizzly bears in the Greater Yellowstone region from the Endangered Species List.
Watch above as Newsy explains that the decision comes despite serious concerns from the environmental and scientific community, and Tribal Nations about a declining, isolated grizzly bear population with diminishing food resources and record-high mortalities.
Keep reading...
Show less
www.facebook.com
By Francine Kershaw
Seismic airguns exploding in the ocean in search for oil and gas have devastating impacts on zooplankton, which are critical food sources for marine mammals, according to a new study in Nature. The blasting decimates one of the ocean's most vital groups of organisms over huge areas and may disrupt entire ecosystems.
And this devastating news comes on the heels of the National Marine Fisheries Service's proposal to authorize more than 90,000 miles of active seismic blasting. Based on the results of this study, the affected area would be approximately 135,000 square miles.
Keep reading...
Show less
By Jill Richardson
Is coconut oil:
good for you
bad for you
neither good nor bad
scientists don't know
The subject of this question is the source of a disagreement. Initially, the question was thought to be settled decades ago, when scientist Ancel Keys declared all saturated fats unhealthy. Coconut oil, which is solid at room temperature, is a saturated fat.
Keep reading...
Show less


Get EcoWatch in your inbox