Burning River Fest Celebrates Vitality of Great Lakes Region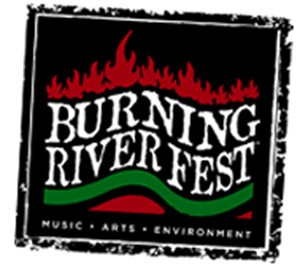 This weekend—July 25 and July 26 from 6 to 11 p.m. at Whiskey Island's Historic Coast Guard Station in Cleveland, OH—marks the 2014 Burning River Fest, which celebrates the vitality of Northeast Ohio's freshwater resources, including Lake Erie and the Cuyahoga River. Presented by the Great Lakes Brewing Company to benefit the Burning River Foundation, a local non-profit organization that provides resources for the sustainable future of our waterways, the Burning River Fest, in remembrance of the 1969 burning of the Cuyahoga River, celebrates the renewed sense of eco-consciousness the infamous fire inspired and raises awareness about environmental issues affecting the Great Lakes region. 
"The goal of the foundation is to make the fest the preeminent environmental festival in the country by 2019—the 50th anniversary of the infamous fire on the Cuyahoga River, which prompted the federal clean water act legislation," Great Lakes Brewing Company co-owner and co-founder of the Burning River Foundation Patrick Conway said.
"Each year at the fest, the community celebrates how far we have come in restoring our fresh water resources. To date, we have raised close to $400,000 that's given back to groups that work in the area of water quality. As the fest grows, the foundation will use the increased proceeds to fund even more efforts to improve, maintain and celebrate the vitality of those resources."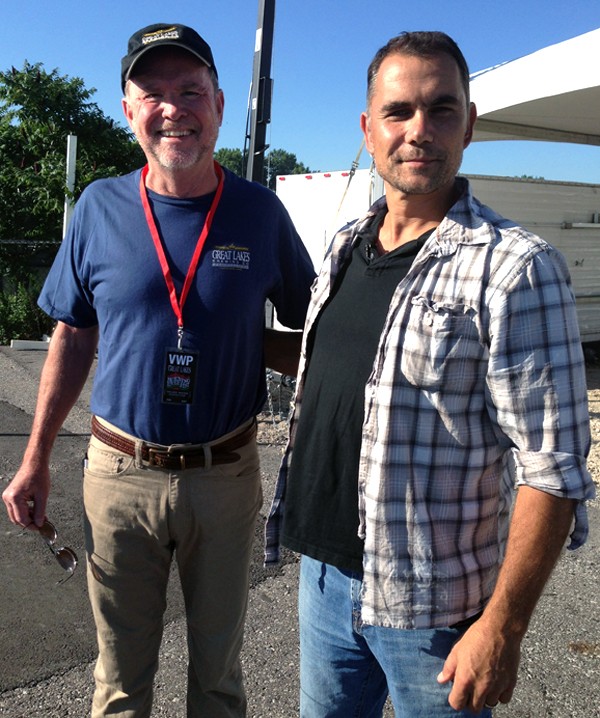 Great Lakes Brewing Company co-owner and co-founder of the Burning River Foundation Patrick Conway with 5 Gyres research director Marcus Eriksen at last year's Burning River Fest. Photo credit: Stefanie Spear
This year's festival features Plastic Waters: From the Great Lakes to the Oceans, a unique exhibit that shows the harmful effects of plastic pollution in our oceans and lakes that inspires solutions that can sustain these waters. The Burning River Foundation helped fund the 5 Gyres Institute to create this traveling exhibition to document and disseminate the findings of the organizations research.
To kick-off the Cleveland debut of Plastic Waters: From the Great Lakes to the Oceans, the Alliance for the Great Lakes and Burning River Foundation are leading an Adopt-a-Beach cleanup at Wendy Park, on July 25 from 10 a.m. - 12 p.m., with the Great Lakes Science Center's Great Science Academy Adopt-a-Beach team. The event is open to the public and all are invited to join in the cleanup.
"The Burning River Foundation is thrilled to kick off this year's Burning River Fest with these great activities coordinated by two of our grant recipients," said Linda M. Mayer, environmental education specialist at the Northeast Ohio Regional Sewer District and Burning River Foundation board member. "We aim to educate attendees at the fest about the importance of their support, and it helps for them to see the impact organizations such as the 5 Gyres Institute and the Alliance for the Great Lakes are making to preserve our freshwater resources firsthand."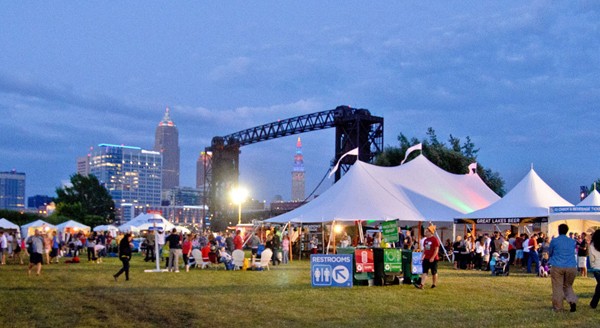 In addition to artifacts that demonstrate the negative impact of plastics, the Plastic Waters exhibit highlights the positive work of the Alliance for the Great Lakes' Adopt-a-Beach program where nearly 13,000 volunteers help reduce plastic pollution by clearing litter and collecting data at Great Lakes shorelines each year. 
"Tourism and recreation is the largest sector of the Great Lakes economy, and Ohio's annual tourism is an $11.5 billion dollar industry," said Hyle White Lowry, Ohio outreach coordinator for the Alliance for the Great Lakes. "The issue of litter and plastic pollution undermines the value of our Great Lakes by creating a damaging perception of dirty beaches and communities that don't take care of their natural resources. This weekend, we want to show our pride for our hometown and that we care about protecting our lakes and beaches."
Plastic Waters also highlights current efforts to reduce plastic pollution in the Great Lakes through phaseouts of a particular form of plastic pollution that is preventable. Microbeads—tiny plastic beads commonly used as abrasives in hundreds of personal-care products such as soaps and facial scrubs—are so small that they escape treatment by sewage plants and are washed into rivers, streams and the Great Lakes. Like other plastics, microbeads absorb toxic contaminants in the water and are ingested by fish and other wildlife, raising serious concerns about the impact of microbeads on the food chain.
In Ohio, legislation is in the works to ban microbeads. The bill was introduced in March of this year but has not passed the House or Senate. Ohio residents are encouraged to contact their legislator and urge them to support legislation phasing out microbeads. 
"Plastics do not belong in our water. Period," said Marcus Eriksen, 5 Gyres research director. "We need to stop trash where it starts and that's why public awareness and smarter product design is so critical. Our goal, with the help of the public, is to have zero plastic pollution from our lakes to the sea."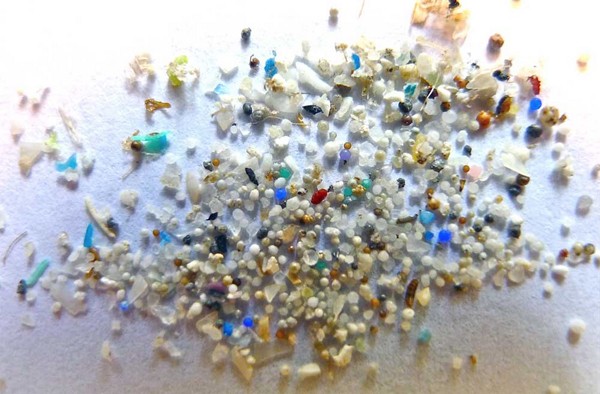 If you're near the Cleveland area this weekend, be sure to stop by the Burning River Fest, which will features live music, fresh food and chef demos from local farms and eateries, interactive and educational exhibits from the Great Lakes Science Center, artists from the Cleveland Museum of Art's Parade the Circle, Corporate Boat Float and a special appearance by (and freshly-brewed batch of) Great Lakes Brewing Company's Christmas Ale.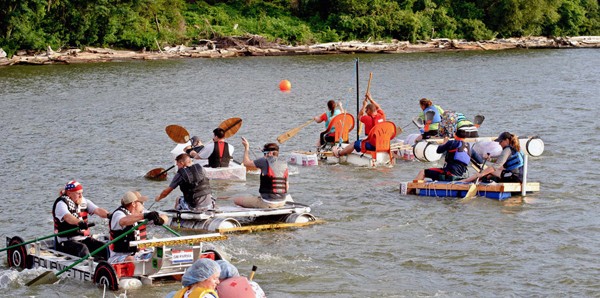 Highlights include:

28 bands and musicians on three stages bringing blues, rock, folk and more to the shore
Fresh, all-natural local food and chef demonstrations, plus handcrafted beer by the Great Lakes Brewing Company
DIY (Do-It-Yourself) Lantern Art project with artists from the Cleveland Museum of Art's Parade the Circle
Interactive and educational exhibits on loan from the Great Lakes Science Center, providing guests of all ages a chance to learn more about our great lake
A Corporate Boat Float featuring boats made by six local companies out of post-consumer recyclable materials
Presentation of the 2014 Outstanding Environmental Leader Award
The most spectacular nighttime views of Cleveland from a wonderful green space right in the heart of Cleveland's industry
At 8:10 pm each night, a special lighting ceremony will be led by Cleveland Museum of Art's Parade the Circle artists hanging lanterns along the walkway to the Coast Guard Station. Ceremonial floating pyres will also be lit to commemorate the efforts to clean up our waterways since the burning of the Cuyahoga River in 1969
Tickets can be purchased here or at the gate.
Disturbing footage of a snake in Goa, India vomiting an empty soft drink bottle highlights the world's mounting plastic pollution crisis.
Keep reading...
Show less
By Melissa Hellmann
When her eldest son was in elementary school in the Oakland Unified School District, Ruth Woodruff became alarmed by the meals he was being served at school. A lot of it was frozen, processed foods, packed with preservatives. At home, she was feeding her children locally sourced, organic foods.
Keep reading...
Show less
May. 28, 2017 01:33PM EST
Laurie Woolever
By James O'Hare
There are 20 million people in the world facing famine in South Sudan, Somalia, Nigeria and Yemen. In developed nations, too, people go hungry. Venezuela, for instance, is enduring food insecurity on a national level as a result of economic crisis and political corruption. In the U.S., the land of supposed excess, 12.7 percent of households were food insecure in 2015, meaning they didn't know where their next meal would come from.
Keep reading...
Show less
May. 28, 2017 01:22PM EST
Melwater, Greenland ice sheet. Diane Tuft
Artists are taking the climate crisis into frame and the results are emotional, beautiful and stirring.
So you've seen the best climate change cartoons and shared them with your friends. You've showed your family the infographics on climate change and health, infographics on how the grid works and infographics about clean, renewable energy. You've even forwarded these official National Oceanic and Atmospheric Administration graphs that explain the 10 clear indicators of climate change to your colleagues at the office.
Keep reading...
Show less
May. 27, 2017 01:11PM EST
As the Trump administration moves full speed ahead on boosting the oil and fossil fuel industry, opposition to increased pipeline construction is cropping up in different communities around the country.
Keep reading...
Show less
May. 27, 2017 01:02PM EST
Minke whale stranding near Havergate Island in Suffolk. MCGA.
By Simon Evans
Last Saturday, two dead whales washed up on the coast of Suffolk, in eastern England, and a third was spotted floating at sea.
What happened next illustrates how news can spread and evolve into misinformation, when reported by journalists rushing to publish before confirming basic facts or sourcing their own quotes.
Keep reading...
Show less
May. 27, 2017 01:22PM EST
By Monica Amarelo and Paul Pestano
Sun safety is a crucial part of any outdoor activity for kids, and sunscreen can help protect children's skin from harmful ultraviolet rays. Kids often get sunburned when they're outside unprotected for longer than expected. Parents need to plan ahead and keep sun protection handy in their cars or bags.
Keep reading...
Show less
May. 27, 2017 01:02PM EST
By Joe McCarthy
A lot of people take part in community clean-up efforts—spending a Saturday morning picking up litter in a park, mowing an overgrown field or painting a fence.
Keep reading...
Show less