Burlington, Vermont Becomes First U.S. City to Run On 100% Renewable Electricity
Burlington, Vermont is that state's largest city, with a population of 42,000 people. It describes itself as "forward-thinking" which is what you'd expect from a city that once elected Senator Bernie Sanders as its mayor. So it's no surprise that it recently became the first U.S. city of any decent size to run entirely on renewable electricity.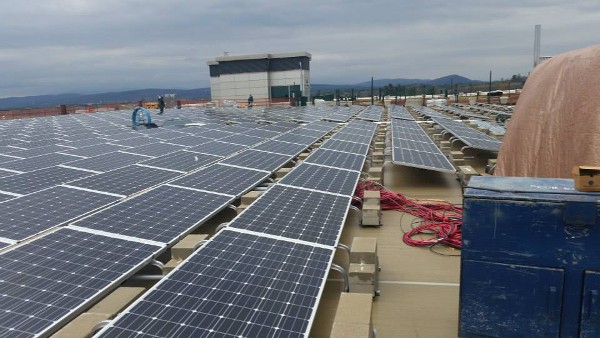 "Climate change is the biggest problem we face, maybe the biggest problem we've ever faced," University of Vermont environmental science professor Taylor Ricketts told NPR. "But there's no silver bullet to fix it. It's gonna be a million individual solutions from all over the place. And this is one of Burlington's, right?"
The city's publicly owned utility, the Burlington Electric Department (BED), says in its mission statement, "BED will continue to be a leader in sustainability by producing power that is as clean and as locally produced as possible. BED will continue to treat the environment with the utmost respect and will continue to influence decisions and public policy that enhance environmental quality, the use of renewable resources, and the sustainability of Burlington."
The city lives up to that mission by acquiring its energy in diverse ways, including biomass, hydroelectric, solar and wind. Its biggest power generator is hydro, which the city acquires from dams both locally and elsewhere in the region. Its biomass facility, the McNeil generating station, provides another 30 percent of its power. It runs on burning wood chips, although it can run on natural gas or oil on an interruptible basis. The wood chips are the residue of the region's logging industry and come primarily from within 60 miles of the city, reducing transportation costs. Wind turbines and solar panels provide another 20 percent of its electricity.
In addition, BED says, "McNeil is equipped with a series of air quality control devices that limit the particulate stack emissions to one-tenth the level allowed by Vermont state regulation. McNeil's emissions are one one-hundredth of the allowable federal level. The only visible emission from the plant is water vapor during the cooler months of the year."
Renewable electricity generation isn't the only way this forward-thinking city is addressing climate change, the environment and sustainability. BED has aggressive energy efficiency programs and boasts that it uses less electricity now than it did in 1989. And despite its small size, Burlington already has nine charging stations for electric vehicles.
And contrary to those who insist that renewably generated electricity is an expensive luxury that only a bunch of Phish-loving Vermont hippies will pay for, Ken Nolan of BED told NPR that the switch to renewables was initially driven by economic concerns and will likely save the city $20 million over the next decade.
"Greenhouse gas reduction is a major thing that we're concerned about and we are always trying to improve on," he said. "But in looking at whether to buy renewable power, we really were focused on an economic decision at the time. Our financial analysis at that time indicated to our—actually, to our surprise–that the cheapest long term financial investment for us with the least amount of risk was to move in this direction."
YOU MIGHT ALSO LIKE
Sustainable Energy Revolution Grows, Says Bloomberg Report
Robert Redford: Fossil Fuels Need to Stay in the Ground, Renewable Energy Is the Future
Solar Is Cheaper Than Electricity From the Grid in 42 of 50 Largest U.S. Cities
Dow CEO Andrew Liveris and President Donald Trump in February.
U.S. Environmental Protection Agency (EPA) administrator Scott Pruitt met with Dow Chemical CEO Andrew Liveris before deciding to reverse an earlier EPA decision to ban the company's toxic and widely used pesticide, chlorpyrifos.
According to records obtained by the Associated Press, the EPA boss met with Liveris for about 30 minutes at a Houston hotel on March 9. Later that month, Pruitt announced that he would no longer pursue a ban on chlorpyrifos from being used on food, ignoring his agency's own review that even small amounts of the pesticide could impact fetus and infant brain development.
Keep reading...
Show less
www.facebook.com
Native communities and environmental justice advocates in Louisiana opened a new resistance camp Saturday to oppose the proposed Bayou Bridge Pipeline project. Called L'eau Est La Vie, or Water is Life, the camp will consist of floating indigenous art structures on rafts and constant prayer ceremonies during its first two weeks.
Keep reading...
Show less
Continuing its march toward elimination of key Clean Water Act protections, the U.S. Environmental Protection Agency (EPA) on Tuesday issued a formal notice of withdrawal of the Obama administration's rule defining which waters can be protected against pollution and destruction under federal law.
Keep reading...
Show less
The U.S. Environmental Protection Agency (EPA) is not doing enough to prevent weed resistance to the herbicide glyphosate (Roundup) says a new report from the EPA's Inspector General's Office, which draws in part on a report from the agbiotech company, Pioneer: Weed Management in the Era of Glyphosate Resistance.
Keep reading...
Show less
SUMR
When it comes to the latest wind turbine technologies, size matters. A group of six institutions and universities is designing an offshore wind turbine that will stand 500 meters in height. That's taller than the Eiffel Tower and the Empire State Building.
The research team, led by researchers at the University of Virginia, believes that its wind turbine concept will produce 50 megawatts of peak power, or about 10 times more powerful than conventional wind turbines.
Keep reading...
Show less
www.facebook.com
Natural gas is often considered the cleanest fossil fuel, but could it actually be dirtier than coal?
Watch as New York Times reporter Mark Bittman, in the above Year's of Living Dangerously video, investigates how much methane is leaking at fracking wells. Find out how the natural gas industry's claims compare to what scientists are reporting.
See what happens when Gaby Petron, an atmospheric scientist with NOAA, converts her van into a mobile methane detector and sets out across northeastern Colorado for two years, taking thousands of readings to uncover the truth.
www.youtube.com
Adrian Grenier was named UN Goodwill Ambassador earlier this month. The Hollywood actor, best known for his iconic role of A-list movie star Vincent Chase in the HBO smash hit and film Entourage, will advocate for drastically reducing single-use plastic and protection of marine species, and encourage his followers to make conscious consumer choices to reduce their environmental footprint, according to the UN Environment announcement.
"Together we must usher in a new era of compassion and carefulness through forward thinking environmental programs to drive measurable change," Grenier said. "I am personally committed to creating ways in which the global community can come together to help solve our most critical climate crises through routine, collective action.
"The more we connect to nature in our daily lives, the more dedicated we will become to our individual commitments. Together, I believe we can go further, faster in our race to achieve the UN Sustainable Development Goals by 2030."
Watch the video above to learn more.
The last week has seen a flood of stories on clean energy's prospects—stories that make your head spin with their conflicting tales of renewable energy's prospects of ending our dangerous addiction to fossil fuel power from coal and gas.
Keep reading...
Show less