This website uses cookies to ensure you get the best experience while browsing it. By clicking 'Got It' you're accepting these terms.
Burlington, Vermont Becomes First U.S. City to Run On 100% Renewable Electricity
Feb. 10, 2015 10:02AM EST
Energy
Burlington, Vermont is that state's largest city, with a population of 42,000 people. It describes itself as "forward-thinking" which is what you'd expect from a city that once elected Senator Bernie Sanders as its mayor. So it's no surprise that it recently became the first U.S. city of any decent size to run entirely on renewable electricity.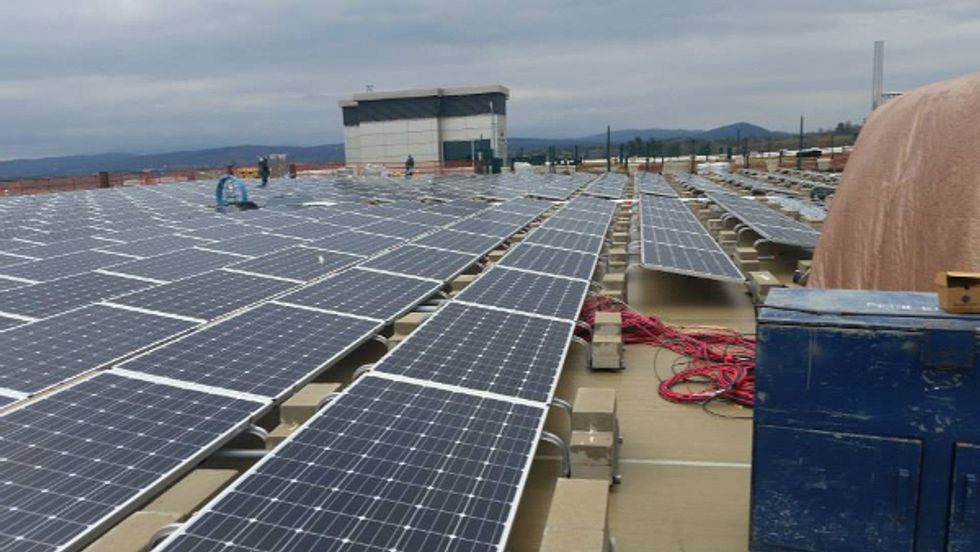 "Climate change is the biggest problem we face, maybe the biggest problem we've ever faced," University of Vermont environmental science professor Taylor Ricketts told NPR. "But there's no silver bullet to fix it. It's gonna be a million individual solutions from all over the place. And this is one of Burlington's, right?"
The city's publicly owned utility, the Burlington Electric Department (BED), says in its mission statement, "BED will continue to be a leader in sustainability by producing power that is as clean and as locally produced as possible. BED will continue to treat the environment with the utmost respect and will continue to influence decisions and public policy that enhance environmental quality, the use of renewable resources, and the sustainability of Burlington."
The city lives up to that mission by acquiring its energy in diverse ways, including biomass, hydroelectric, solar and wind. Its biggest power generator is hydro, which the city acquires from dams both locally and elsewhere in the region. Its biomass facility, the McNeil generating station, provides another 30 percent of its power. It runs on burning wood chips, although it can run on natural gas or oil on an interruptible basis. The wood chips are the residue of the region's logging industry and come primarily from within 60 miles of the city, reducing transportation costs. Wind turbines and solar panels provide another 20 percent of its electricity.
In addition, BED says, "McNeil is equipped with a series of air quality control devices that limit the particulate stack emissions to one-tenth the level allowed by Vermont state regulation. McNeil's emissions are one one-hundredth of the allowable federal level. The only visible emission from the plant is water vapor during the cooler months of the year."
Renewable electricity generation isn't the only way this forward-thinking city is addressing climate change, the environment and sustainability. BED has aggressive energy efficiency programs and boasts that it uses less electricity now than it did in 1989. And despite its small size, Burlington already has nine charging stations for electric vehicles.
And contrary to those who insist that renewably generated electricity is an expensive luxury that only a bunch of Phish-loving Vermont hippies will pay for, Ken Nolan of BED told NPR that the switch to renewables was initially driven by economic concerns and will likely save the city $20 million over the next decade.
"Greenhouse gas reduction is a major thing that we're concerned about and we are always trying to improve on," he said. "But in looking at whether to buy renewable power, we really were focused on an economic decision at the time. Our financial analysis at that time indicated to our—actually, to our surprise–that the cheapest long term financial investment for us with the least amount of risk was to move in this direction."
YOU MIGHT ALSO LIKE
Sustainable Energy Revolution Grows, Says Bloomberg Report
Robert Redford: Fossil Fuels Need to Stay in the Ground, Renewable Energy Is the Future
Solar Is Cheaper Than Electricity From the Grid in 42 of 50 Largest U.S. Cities
EcoWatch Daily Newsletter
Fresno, California, seen above, is receiving $66 million for walking trails, sidewalks, bike lanes, and more. DenisTangneyJr / iStock / Getty Images
Grecia Elenes grew up in Fresno, California. She says some parts of the city have been neglected for decades. When she moved back after college she realized nothing has changed.
People are seen embracing at Numeralla Rural Fire Brigade near the scene of a water tanker plane crash on Jan. 23 in Cooma, Australia. Three American firefighters have have died after their C-130 water tanker plane crashed while battling a bushfire near Cooma in southern NSW this afternoon. Jenny Evans / Getty Images
Three U.S. firefighters gave their lives battling Australia's historic wildfires Thursday when their airborne water tanker crashed.
The Doomsday Clock is now at 100 seconds to midnight. EVA HAMBACH / AFP via Getty Images
The Doomsday Clock is now 100 seconds to midnight, partly because of the
climate crisis
.
A new report spotlights a U.N. estimate that at least 275 million people rely on healthy coral reefs. A sea turtle near the Heron Island in the Great Barrier Reef is seen above. THE OCEAN AGENCY / XL CATLIN SEAVIEW SURVEY
In a new report about how the world's coral reefs face "the combined threats of climate change, pollution, and overfishing" — endangering the future of marine biodiversity — a London-based nonprofit calls for greater global efforts to end the climate crisis and ensure the survival of these vital underwater ecosystems.
Half of the extracted resources used were sand, clay, gravel and cement, seen above, for building, along with the other minerals that produce fertilizer. Cavan Images / Cavan / Getty Images
The world is using up more and more resources and global recycling is falling. That's the grim takeaway from a new report by the Circle Economy think tank, which found that the world used up more than 110 billion tons, or 100.6 billion metric tons, of natural resources, as Agence France-Presse (AFP) reported.