This website uses cookies to ensure you get the best experience while browsing it. By clicking 'Got It' you're accepting these terms.
Bureau of Land Management Finds Widespread Bird Deaths from PVC Pipes
Apr. 26, 2012 07:35AM EST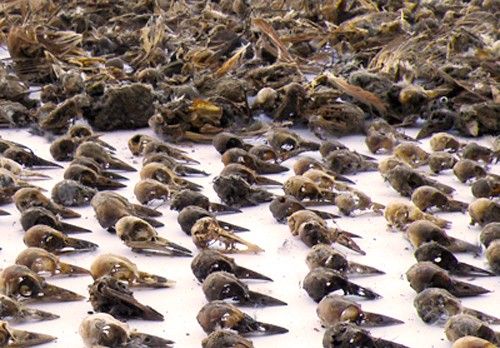 The Bureau of Land Management (BLM), the U.S.D.A. Forest Service (FS) and American Bird Conservancy (ABC) have begun identifying and implementing solutions to solve a widespread and potentially enormous bird mortality threat that is associated with 3.4 million mining claims on public lands, mainly in the West. Official state birds from at least nine western states have so far been killed by deadly mining claim markers (Cactus Wren (AZ), Mountain Bluebird (ID), Western Meadowlark (KS, MT, NE, ND, OR, WY), Mountain Bluebird (NV)).
Small birds apparently see the opening of PVC pipes used to mark mining claims as a hollow suitable for roosting or nesting or possibly gathering to pool body heat during migration. The birds may enter the holes, only to become trapped because the walls are too smooth to allow them to grapple their way up the sides and the pipes are too narrow for the birds to extend their wings and fly out. Death from dehydration or starvation follows.
"This is a very significant bird mortality threat, likely accounting for a million or more bird deaths each year," said Darin Schroeder, vice president for Conservation Advocacy for ABC. "Many of the birds tragically found dead in these pipes are also experiencing declines in their populations. American Bird Conservancy believes the agencies must act quickly and require mining companies to replace their uncapped PVC pipe-markers with solid, high-visibility stakes when they seek claim re-registration in order to prevent further unnecessary bird deaths."
This threat has been documented from Oregon to New Mexico. In November of 2011, the same month ABC learned of the bird deaths in Nevada, BLM specialists in Oregon also documented alarming rates of bird mortality at claims in the Burns area. BLM offices in California and Nevada have elevated the assessment and treatment activities in a three-way internal partnership between the minerals, wildlife and abandoned mine land programs.
The Washington Office of the BLM is urging all states to use partnerships and available funds to discover, then cap, fill, or pull pipes that are used for mining claims or other activities. An example of enhanced public outreach may be found on the following California BLM Website.
BLM is presently drafting policy to directly address this issue, and at the same time, addressing the issue in its draft Migratory Bird Strategy. Some BLM offices such as in Montana are already considering this issue as part of their state migratory bird policy. BLM has also formed pipe removal programs in California and Nevada, and has made plans to incorporate this issue in upcoming training programs related to the protection of birds. In addition, local pipe pulling efforts have been carried out by the Nevada Department of Wildlife and Red Rock Audubon.
While most birds recovered from markers are cavity nesters—the Ash-throated Flycatcher and the Mountain Bluebird are the most frequent victims, and others commonly trapped included woodpeckers, sparrows, shrikes, kestrels and owls—there is strong evidence that indicates that a variety of other species will naturally rest in a group in a natural cavity during migration. The difference is that the insides of natural cavities have a rough surface, enabling the birds to climb out and continue their migration.
According to the BLM publication Public Land Statistics, in 2010 there were 3,388,400 mining claims on record on BLM-managed lands in 12 western states. Each claim has a minimum of four corner markers, though some sites also have boundaries staked with a dozen or more markers. It is not clear exactly how many of those markers are deadly bird traps, but there is little dispute that the percentage is high, meaning millions of birds are likely being killed. Pipe pulling efforts in the Nevada Desert are showing an average of one bird death per pipe, with the the highest fatality at a single pipe being 26 birds.  Oregon, on the other hand, showed an average mortality of two birds per pipe with a high of 32 bird deaths in a single pipe.
"We take the incidence of unintended bird mortality from these pipes very seriously and we will work quickly with our Forest Service units and partners to prevent bird losses from pipes," said Leslie Weldon, deputy chief, National Forest System.
FS, BLM and ABC agreed to meet further on the issue in the early summer after various approaches have been reviewed.
Nevada has the most federal mining claims—more than one million, followed by Utah, with 401,828, Wyoming (which includes minimal numbers from Nebraska) with 306,588, California, with 300,809, and Colorado with 278,326. These figures include mining claims administered by BLM on Forest Service lands.
A 1993 Nevada law prohibits installation of new uncapped or uncrimped pipes for marking the boundaries of mining claims in an effort to prevent injury to wildlife. However, about half of the protective caps that have been installed on markers since then have become displaced, thereby re-establishing the hazard from the pipes. Although a subsequent law ruled that stakes without caps or crimps would no longer be recognized as claim boundary markers, this did nothing to address the countless stakes that remain in place from old or abandoned claims that continue to kill birds.
For more information, click here.
EcoWatch Daily Newsletter
An African elephant is pictured on November 19, 2012, in Hwange National Park in Zimbabwe. MARTIN BUREAU / AFP / Getty Images
The unprecedented drought that has caused a water crisis in Zimbabwe has now claimed the life of at least 55 elephants since September, according to a wildlife spokesman, as CNN reported.
Maria Dornelas.
By John C. Cannon
Life is reshuffling itself at an unsettling clip across Earth's surface and in its oceans, a new study has found.
An Exxon station in Florida remains open despite losing its roof during Hurricane Katrina on Aug. 29, 2005. Florida Air National Guard photo by Master Sgt. Shaun Withers
The country's largest fossil fuel company goes on trial today to face charges that it lied to investors about the safety of its assets in the face of the climate crisis and potential legislation to fight it, as the AP reported.
El Niño's effect on Antarctica is seen in a tabular iceberg off of Thwaites ice shelf. Jeremy Harbeck / NASA
El Niños are getting stronger due to climate change, according to a new study in Monday's Proceedings of the National Academy of Sciences.
By Julia Ries
Antibiotic resistance has doubled in the last 20 years.
Additionally a new study found one patient developed resistance to a last resort antibiotic in a matter of weeks.
Health experts say antibiotic prescriptions should only be given when absolutely necessary in order to avoid growing resistance.
Over the past decade, antibiotic resistance has emerged as one of the greatest public health threats.
Pexels
There are hundreds of millions of acres of public land in the U.S., but not everyone has had the chance to hike in a national forest or picnic in a state park.
Workers attend to a rooftop solar panel project on May 14, 2017 in Wuhan, China. Kevin Frayer / Getty Images
By Simon Evans
Renewable sources of electricity are set for rapid growth over the next five years, which could see them match the output of the world's coal-fired power stations for the first time ever.