British Supermarket to Power Itself Solely With Food Waste
It's good to refrain from wasting energy, but it's even better to procure energy from items that you otherwise would waste.
That's the thinking behind the latest announcement from Sainsbury's, the second largest chain of supermarkets in the United Kingdom. The chain's Cannock location will soon be powered solely by the company's own food waste. Waste management and recycling firm Biffa has partnered with the store to use its advanced anaerobic digestion (AD) facilities and a power link that allows the Cannock store to use the waste generated from Sainsbury's other locations.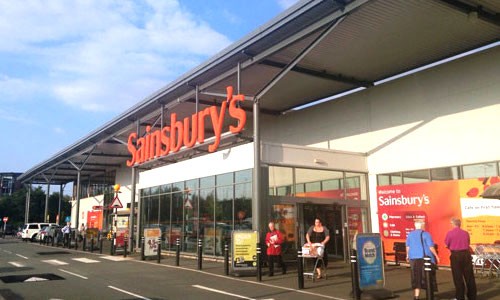 "This groundbreaking project helps to close the loop on food recycling and [allows] Sainsbury's to continue to send zero operational waste to landfills," reads the chain's announcement.
Biffa trucks pick up Sainsbury's food waste to take it to its AD plant. From there, large silos break down the waste in a process Sainsbury's compares to the human stomach. The gas generates electricity, which supplies the Cannock store through a nine-mile cable. Any surplus energy returns to the national electricity grid.
Sainsbury's is already the UK's largest AD user, generating enough energy to power 2,500 homes.
Despite the company's plan, energy is not its first choice for using the company's food waste. The AD process only comes into play if certain foods are not purchased and thereafter deemed unsuitable for charitable donations or the creation of animal feed.
In France, chain Intermarché has announced a humorous initiative to take advantage of fruits and vegetables that would otherwise be wasted. Meanwhile, Chicago café Sandwich Me In makes use of every bit of waste it generates.
A coalition of conservation groups and others announced Thursday that a historic number of comments and petitions of support have been submitted to the U.S. Department of the Interior in support of Bears Ears National Monument. Despite the entirely inadequate 15-day comment period ending on May 26, more than 685,000 comments in support of Bears Ears National Monument have been collected.
Keep reading...
Show less
Rink Glacier in western Greenland, with a meltwater lake visible center. NASA/OIB
Scientists have had their eyes on Greenland as its iconic glaciers have begun disappearing due to a warming climate. But, what they didn't expect to see was a whole new type of melting.
Keep reading...
Show less
Mountain View Fire
By Lena Moffitt
An oil tanker in Mead, Colorado exploded, killing one and injuring three on Thursday. Authorities are continuing to investigate the cause of the explosion.
Keep reading...
Show less
Banner created by Alliance for Climate Education
Keep reading...
Show less
Twenty-two GOP senators sent a letter Thursday urging Donald Trump to pull out of the Paris agreement. They argued remaining in the deal could "upend" the administration's ability "to fulfill its goal of rescinding the Clean Power Plan."
Keep reading...
Show less
By Cheryl Johncox
The Federal Energy Regulatory Commission (FERC) rejected on Thursday Energy Transfer Partners' request to resume horizontal directional drilling at two sites for its Rover fracked gas pipeline. This rejection comes after numerous leaks into Ohio's wetlands, and Clean Air and Clean Water act violations. FERC has halted the process at only eight locations of the 32 where drilling is taking place under Ohio's wetlands and streams.
Keep reading...
Show less
By Nadia Prupis
A majority of people in eight countries say they are ready to change their lifestyles if it would prevent climate catastrophe, a survey on global threats released Wednesday found.
Keep reading...
Show less
May. 25, 2017 01:55PM EST
Bill Maher is sick of billionaires' obsession with Mars, more like "Mars-a-Lago," he said.
In a new animation produced by ATTN:, the popular talk show host of Real Time, discusses the perils of our planet, including how "climate change is killing us."
Keep reading...
Show less