Briefs Filed to Stop Monsanto's Patent Infringement War against Family Farmers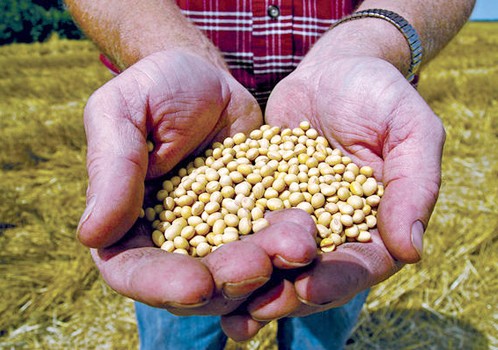 Eleven prominent law professors and 14 renowned organic, Biodynamic, food safety and consumer nonprofit organizations have filed separate briefs with the Court of Appeals for the Federal Circuit arguing farmers have the right to protect themselves from being accused of patent infringement by agricultural giant Monsanto.
The brief by the law professors and the brief by the nonprofit organizations were filed in support of the 75 family farmers, seed businesses and agricultural organizations representing more than 300,000 individuals and 4,500 farms that last year brought a protective legal action seeking a ruling that Monsanto could never sue them for patent infringement if they became contaminated by Monsanto's genetically modified seed. The case was dismissed by the district court in February and that dismissal is now pending review by the Court of Appeals. The plaintiffs recently filed their opening appeal brief with the appeals court.
"Monsanto continues to claim that plaintiffs' concerns about being accused of patent infringement after being contaminated by Monsanto's transgenic seed are unsubstantiated and unjustified," said Attorney Dan Ravicher of the not-for-profit legal services organization Public Patent Foundation (PUBPAT), which represents the plaintiffs in the suit against Monsanto known as Organic Seed Growers and Trade Association (OSGATA) et al. v Monsanto. "But now two impeccable groups have joined with plaintiffs in explaining to the Court of Appeals how real and legitimate their concerns really are, especially since Monsanto continues to refuse to simply promise never to sue contaminated farmers for patent infringement."
The first group filing a brief in support of the OSGATA plaintiffs includes eleven prominent law professors from throughout the U.S., including Professor Margo Bagley of the University of Virginia School of Law, Professor Michael Burstein of the Benjamin N. Cardozo School of Law, Professor Rochelle C. Dreyfuss of the New York University School of Law, Professor Brett Frischmann of the Benjamin N. Cardozo School of Law, Professor Erika George of University of Utah S.J. Quinney College of Law, Professor Shubha Ghosh of the University of Wisconsin Law School, Professor Megan M. La Belle of the Catholic University of America Columbus School of Law, Professor Kali Murray of Marquette University Law School, Professor Ted Sichelman of the University of San Diego School of Law, Katherine J. Strandburg of the New York University School of Law and Melissa Wasserman of the University of Illinois College of Law.
In their amicus brief, the law professors point out that "broad standing to challenge the validity of patents ensures that the courts can effectively play their critical role in screening out invalid patents." They add, "In actions challenging the validity of a patent, the alleged injury is not only the risk of an infringement suit, but a present restraint on economic activity due to the presence of a potentially invalid exclusive right."
The law professors went on to note, "But the validity of issued patents is uncertain until they are tested in court. This uncertainty creates real and present risks for persons wishing to engage in economic activity that might be the subject of an issued patent ... When a person is deterred from undertaking valuable activity by the risk that the activity may encroach on another's exclusive rights, that person has incurred an actual, concrete and particularized injury."
"We are grateful for the brilliant and powerful amici briefs submitted to the appeals court by these two stellar groups, supporting our family farmers' quest for justice," said Maine organic seed farmer Jim Gerritsen, president and lead plaintiff, Organic Seed Growers and Trade Association. "An erroneous interpretation of law by a single judge is not going to cause our farmers to abandon our rights to farm the way we choose, to grow good food and good seed for our families and for our customers, free from Monsanto's trespass and contamination. Denial of the property rights of American farmers is an attack on the property rights of every American. We will fight until family farmers receive justice."
The second group filing a brief in support of the OSGATA plaintiffs, made up of fourteen nonprofit agricultural and consumer organizations, includes the Farm and Ranch Freedom Alliance, Biodynamic Farming and Gardening Association, Carolina Farm Stewardship Association, Food and Water Watch, International Organic Inspectors Association, Maine Alternative Agriculture Association, Michigan Land Trustees, Natural Environmental Ecological Management, Nebraska Sustainable Agriculture Society, Organic Consumers Association, Slow Food USA, Virginia Association for Biological Farming, Virginia Independent Consumers and Farmers Association and Wisconsin Natural Food Associates.
In their amicus brief, the nonprofit agricultural and consumer organizations point out, "The plaintiff and amici organizations, farmers and seed businesses have suffered significant harm due to the threat of patent infringement suits by Monsanto." They also noted, "Defendants have chosen to patent products that, by their very nature, will inevitably end up on the private property of people who have no desire to use them. Plaintiffs' uncontroverted allegations show that, for the first time in history, they can be sued for something as natural as pollen drift, while simultaneously being forced to take expensive and burdensome steps in order to continue their normal businesses. The quandary of this type of liability is precisely the sort of situation that the Declaratory Judgment Act was intended to address."
The amicus brief further explained, "The Supreme court has stated that the plaintiff 'need not 'bet the farm,' yet in this case, that is precisely what the district court effectively required plaintiffs to do in order to get their day in court—continue farming the disputed crops until they are unquestionably liable to defendants for potentially crippling levels of damage before being able to seek a declaratory judgment as to their rights ... The district court noted that 'unlicensed—and unintended—use of transgenic seeds is inevitable...' but then failed to address the fact that such unlicensed use is actionable and places plaintiffs at risk of enforcement actions by defendants."
"It's time to end Monsanto's scorched-earth campaign of frivolous lawsuits against America's family farmers," said Dave Murphy, founder and executive director of Food Democracy Now!, a grassroots community of more than 300,000 farmers and citizens dedicated to reforming food and agriculture. "Monsanto's claims against farmers for patent infringement are exceedingly weak, violating Americans' most basic sense of fairness and decency. Our founding fathers would be outraged," said Murphy.
Visit EcoWatch's GENETICALLY MODIFIED ORGANISM page for more related news on this topic.
Laurie Woolever
By James O'Hare
There are 20 million people in the world facing famine in South Sudan, Somalia, Nigeria and Yemen. In developed nations, too, people go hungry. Venezuela, for instance, is enduring food insecurity on a national level as a result of economic crisis and political corruption. In the U.S., the land of supposed excess, 12.7 percent of households were food insecure in 2015, meaning they didn't know where their next meal would come from.
Keep reading...
Show less
Melwater, Greenland ice sheet. Diane Tuft
Artists are taking the climate crisis into frame and the results are emotional, beautiful and stirring.
So you've seen the best climate change cartoons and shared them with your friends. You've showed your family the infographics on climate change and health, infographics on how the grid works and infographics about clean, renewable energy. You've even forwarded these official National Oceanic and Atmospheric Administration graphs that explain the 10 clear indicators of climate change to your colleagues at the office.
Keep reading...
Show less
May. 27, 2017 01:11PM EST
As the Trump administration moves full speed ahead on boosting the oil and fossil fuel industry, opposition to increased pipeline construction is cropping up in different communities around the country.
Keep reading...
Show less
May. 27, 2017 01:02PM EST
Minke whale stranding near Havergate Island in Suffolk. MCGA.
By Simon Evans
Last Saturday, two dead whales washed up on the coast of Suffolk, in eastern England, and a third was spotted floating at sea.
What happened next illustrates how news can spread and evolve into misinformation, when reported by journalists rushing to publish before confirming basic facts or sourcing their own quotes.
Keep reading...
Show less
May. 27, 2017 01:22PM EST
By Monica Amarelo and Paul Pestano
Sun safety is a crucial part of any outdoor activity for kids, and sunscreen can help protect children's skin from harmful ultraviolet rays. Kids often get sunburned when they're outside unprotected for longer than expected. Parents need to plan ahead and keep sun protection handy in their cars or bags.
Keep reading...
Show less
May. 27, 2017 01:02PM EST
By Joe McCarthy
A lot of people take part in community clean-up efforts—spending a Saturday morning picking up litter in a park, mowing an overgrown field or painting a fence.
Keep reading...
Show less
May. 26, 2017 03:22PM EST
Rink Glacier in western Greenland, with a meltwater lake visible center. NASA/OIB
Scientists have had their eyes on Greenland as its iconic glaciers have begun disappearing due to a warming climate. But, what they didn't expect to see was a whole new type of melting.
Keep reading...
Show less
May. 26, 2017 03:40PM EST
A coalition of conservation groups and others announced Thursday that a historic number of comments and petitions of support have been submitted to the U.S. Department of the Interior in support of Bears Ears National Monument. Despite the entirely inadequate 15-day comment period ending on May 26, more than 685,000 comments in support of Bears Ears National Monument have been collected.
Keep reading...
Show less


Get EcoWatch in your inbox