This website uses cookies to ensure you get the best experience while browsing it. By clicking 'Got It' you're accepting these terms.


The best of EcoWatch, right in your inbox. Sign up for our email newsletter!
Briefs Filed to Stop Monsanto's Patent Infringement War against Family Farmers
Jul. 18, 2012 07:54AM EST
GMO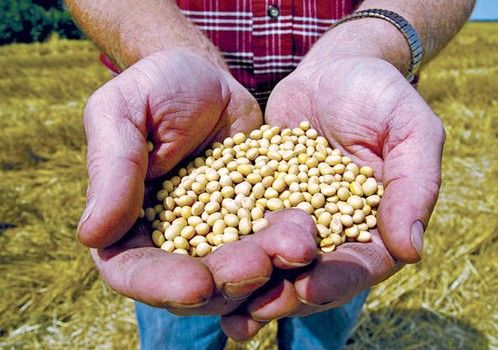 Eleven prominent law professors and 14 renowned organic, Biodynamic, food safety and consumer nonprofit organizations have filed separate briefs with the Court of Appeals for the Federal Circuit arguing farmers have the right to protect themselves from being accused of patent infringement by agricultural giant Monsanto.
The brief by the law professors and the brief by the nonprofit organizations were filed in support of the 75 family farmers, seed businesses and agricultural organizations representing more than 300,000 individuals and 4,500 farms that last year brought a protective legal action seeking a ruling that Monsanto could never sue them for patent infringement if they became contaminated by Monsanto's genetically modified seed. The case was dismissed by the district court in February and that dismissal is now pending review by the Court of Appeals. The plaintiffs recently filed their opening appeal brief with the appeals court.
"Monsanto continues to claim that plaintiffs' concerns about being accused of patent infringement after being contaminated by Monsanto's transgenic seed are unsubstantiated and unjustified," said Attorney Dan Ravicher of the not-for-profit legal services organization Public Patent Foundation (PUBPAT), which represents the plaintiffs in the suit against Monsanto known as Organic Seed Growers and Trade Association (OSGATA) et al. v Monsanto. "But now two impeccable groups have joined with plaintiffs in explaining to the Court of Appeals how real and legitimate their concerns really are, especially since Monsanto continues to refuse to simply promise never to sue contaminated farmers for patent infringement."
The first group filing a brief in support of the OSGATA plaintiffs includes eleven prominent law professors from throughout the U.S., including Professor Margo Bagley of the University of Virginia School of Law, Professor Michael Burstein of the Benjamin N. Cardozo School of Law, Professor Rochelle C. Dreyfuss of the New York University School of Law, Professor Brett Frischmann of the Benjamin N. Cardozo School of Law, Professor Erika George of University of Utah S.J. Quinney College of Law, Professor Shubha Ghosh of the University of Wisconsin Law School, Professor Megan M. La Belle of the Catholic University of America Columbus School of Law, Professor Kali Murray of Marquette University Law School, Professor Ted Sichelman of the University of San Diego School of Law, Katherine J. Strandburg of the New York University School of Law and Melissa Wasserman of the University of Illinois College of Law.
In their amicus brief, the law professors point out that "broad standing to challenge the validity of patents ensures that the courts can effectively play their critical role in screening out invalid patents." They add, "In actions challenging the validity of a patent, the alleged injury is not only the risk of an infringement suit, but a present restraint on economic activity due to the presence of a potentially invalid exclusive right."
The law professors went on to note, "But the validity of issued patents is uncertain until they are tested in court. This uncertainty creates real and present risks for persons wishing to engage in economic activity that might be the subject of an issued patent ... When a person is deterred from undertaking valuable activity by the risk that the activity may encroach on another's exclusive rights, that person has incurred an actual, concrete and particularized injury."
"We are grateful for the brilliant and powerful amici briefs submitted to the appeals court by these two stellar groups, supporting our family farmers' quest for justice," said Maine organic seed farmer Jim Gerritsen, president and lead plaintiff, Organic Seed Growers and Trade Association. "An erroneous interpretation of law by a single judge is not going to cause our farmers to abandon our rights to farm the way we choose, to grow good food and good seed for our families and for our customers, free from Monsanto's trespass and contamination. Denial of the property rights of American farmers is an attack on the property rights of every American. We will fight until family farmers receive justice."
The second group filing a brief in support of the OSGATA plaintiffs, made up of fourteen nonprofit agricultural and consumer organizations, includes the Farm and Ranch Freedom Alliance, Biodynamic Farming and Gardening Association, Carolina Farm Stewardship Association, Food and Water Watch, International Organic Inspectors Association, Maine Alternative Agriculture Association, Michigan Land Trustees, Natural Environmental Ecological Management, Nebraska Sustainable Agriculture Society, Organic Consumers Association, Slow Food USA, Virginia Association for Biological Farming, Virginia Independent Consumers and Farmers Association and Wisconsin Natural Food Associates.
In their amicus brief, the nonprofit agricultural and consumer organizations point out, "The plaintiff and amici organizations, farmers and seed businesses have suffered significant harm due to the threat of patent infringement suits by Monsanto." They also noted, "Defendants have chosen to patent products that, by their very nature, will inevitably end up on the private property of people who have no desire to use them. Plaintiffs' uncontroverted allegations show that, for the first time in history, they can be sued for something as natural as pollen drift, while simultaneously being forced to take expensive and burdensome steps in order to continue their normal businesses. The quandary of this type of liability is precisely the sort of situation that the Declaratory Judgment Act was intended to address."
The amicus brief further explained, "The Supreme court has stated that the plaintiff 'need not 'bet the farm,' yet in this case, that is precisely what the district court effectively required plaintiffs to do in order to get their day in court—continue farming the disputed crops until they are unquestionably liable to defendants for potentially crippling levels of damage before being able to seek a declaratory judgment as to their rights ... The district court noted that 'unlicensed—and unintended—use of transgenic seeds is inevitable...' but then failed to address the fact that such unlicensed use is actionable and places plaintiffs at risk of enforcement actions by defendants."
"It's time to end Monsanto's scorched-earth campaign of frivolous lawsuits against America's family farmers," said Dave Murphy, founder and executive director of Food Democracy Now!, a grassroots community of more than 300,000 farmers and citizens dedicated to reforming food and agriculture. "Monsanto's claims against farmers for patent infringement are exceedingly weak, violating Americans' most basic sense of fairness and decency. Our founding fathers would be outraged," said Murphy.
Visit EcoWatch's GENETICALLY MODIFIED ORGANISM page for more related news on this topic.
EcoWatch Daily Newsletter
People crossing the Brooklyn Bridge on July 20, 2017 in New York City sought to shield themselves from the sun as the temperature reached 93 degrees. Drew Angerer / Getty Images
by Jordan Davidson

Taking action to stop the mercury from rising is a matter of life and death in the U.S., according to a new study published in the journal Science Advances.
Salmon fry before being released just outside San Francisco Bay. Jim Wilson / The New York Times / Redux
By Alisa Opar
For Chinook salmon, the urge to return home and spawn isn't just strong — it's imperative. And for the first time in more than 65 years, at least 23 fish that migrated as juveniles from California's San Joaquin River and into the Pacific Ocean have heeded that call and returned as adults during the annual spring run.
Protesters hold a banner and a placard while blocking off the road during a protest against Air pollution in London. Ryan Ashcroft / SOPA Images / LightRocket / Getty Images
By Jessica Corbett
Dozens of students, parents, teachers and professionals joined a Friday protest organized by Extinction Rebellion that temporarily stalled morning rush-hour traffic in London's southeasten borough of Lewisham to push politicians to more boldly address dangerous air pollution across the city.

Jose A. Bernat Bacete / Moment / Getty Images
By Bridget Shirvell
On a farm in upstate New York, a cheese brand is turning millions of pounds of food scraps into electricity needed to power its on-site businesses. Founded by eight families, each with their own dairy farms, Craigs Creamery doesn't just produce various types of cheddar, mozzarella, Swiss and Muenster cheeses, sold in chunks, slices, shreds and snack bars; they're also committed to becoming a zero-waste operation.

By Jessica A. Knoblauch
Summers in the Midwest are great for outdoor activities like growing your garden or cooling off in one of the area's many lakes and streams. But some waters aren't as clean as they should be.
That's in part because coal companies have long buried toxic waste known as coal ash near many of the Midwest's iconic waterways, including Lake Michigan. Though coal ash dumps can leak harmful chemicals like arsenic and cadmium into nearby waters, regulators have done little to address these toxic sites. As a result, the Midwest is now littered with coal ash dumps, with Illinois containing the most leaking sites in the country.

picture-alliance / AP Photo / NOAA Pacific Islands Fisheries Science Center
The Group of 20 major economies agreed a deal to reduce marine pollution at a meeting of their environment ministers on Sunday in Karuizawa, Japan.
Pope Francis holds his General Weekly Audience in St. Peter's Square on Aug. 29, 2018 in Vatican City, Vatican. Giulio Origlia / Getty Images
Pope Francis declared a climate emergency Friday as he met with oil industry executives and some of their biggest investors to urge them to act on the climate crisis.