This website uses cookies to ensure you get the best experience while browsing it. By clicking 'Got It' you're accepting these terms.
Brick by Brick: The Human Toll of Climate Change
May. 21, 2013 09:58AM EST
Climate
Stephen Bailey
You need a bit of height to appreciate the size of a brick factory. You also need to get close to appreciate the human cost. From a hill over Duwakot you can see people laboring in the grey mud beneath a towering chimney. Down in the factory you can see the weather beaten faces, deformed hands and terrible conditions in which they preform grueling work.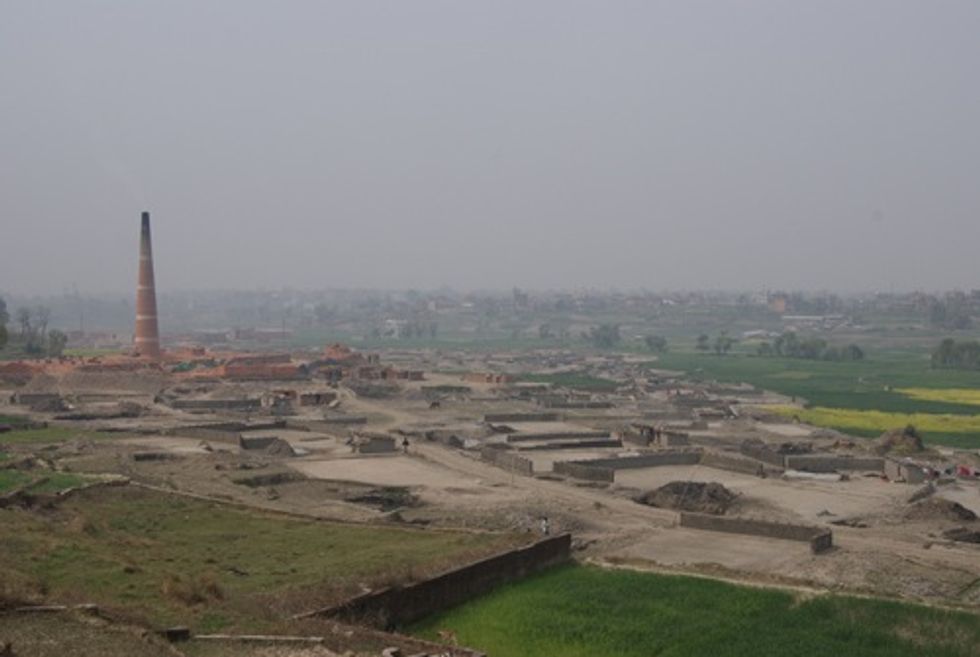 Factories like this exist all over Nepal's Kathmandu Valley, which has become an air pollution disaster zone. The people who work in these factories are impoverished farmers from rural Nepal, working for six months of the year at the brick factory. Many of their farms have been affected by water shortages and rising temperatures—which research has linked to climate change—driving them to work in factories that belch out pollution contributing to that very problem.
One family of four claimed they could make 2,000 bricks a day, earning around 1,200 rupees ($14). Their work day begins around 3 a.m. and doesn't end until sunset. Their homes are tiny one-room brick shacks, with no electricity, heating or toilets. During the winter, nighttime temperatures drop below zero. The brick makers are aware of the pollution, but it is simply not a major concern given their many other struggles. In years to come they will feel the effects.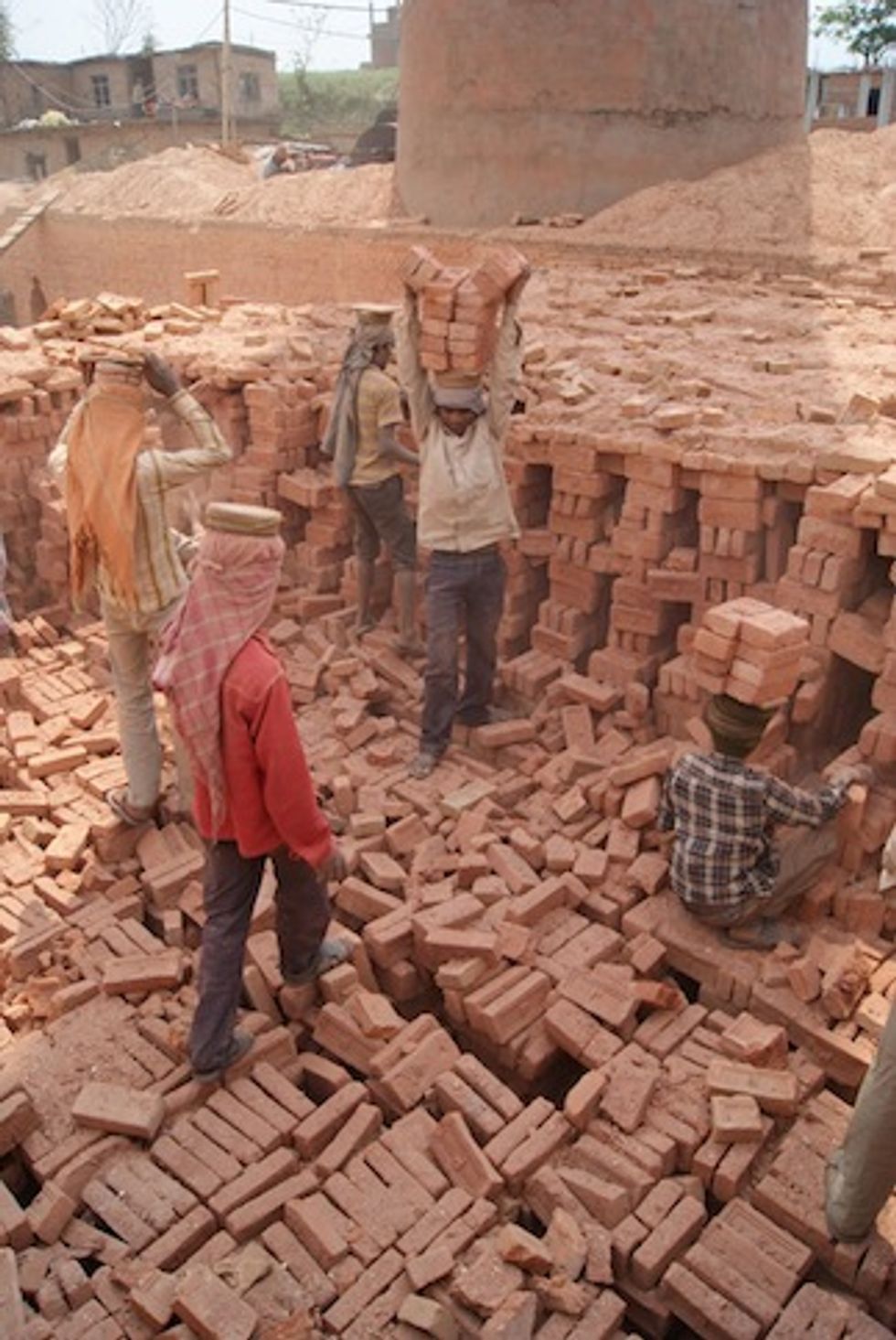 Around 18,000 Australians visited Nepal in 2011 and many probably saw the factory chimneys from the windows of their tour buses. The Duwakot factory in the Bhaktapur district is typical. Locals said it has been in operation for 18 years. The workers in the factory's brick making area are from Kavre, a drought-ridden area just east of the capital, Kathmandu, but a world away from its shopping malls and designer shops.
In Kathmandu, respiratory problems occur at 12 times the national average. The greatest concentration of brick factories is around Bhaktapur, just seven miles away. A survey found 74 kilns in the Bhaktapur district, all feeding the valley's rapid population growth. In the brick firing area, dozens of migrants from the flat, southern Terai region carry 10-14 finished bricks at a time on top of their heads to waiting trucks. These men and women speak little Nepali and look similar to Indians—darker skinned and leaner than Nepal's hill dwellers. Choking dust and fumes swirl in the air as they shuttle back and forth. Overhead the chimney smokes gently.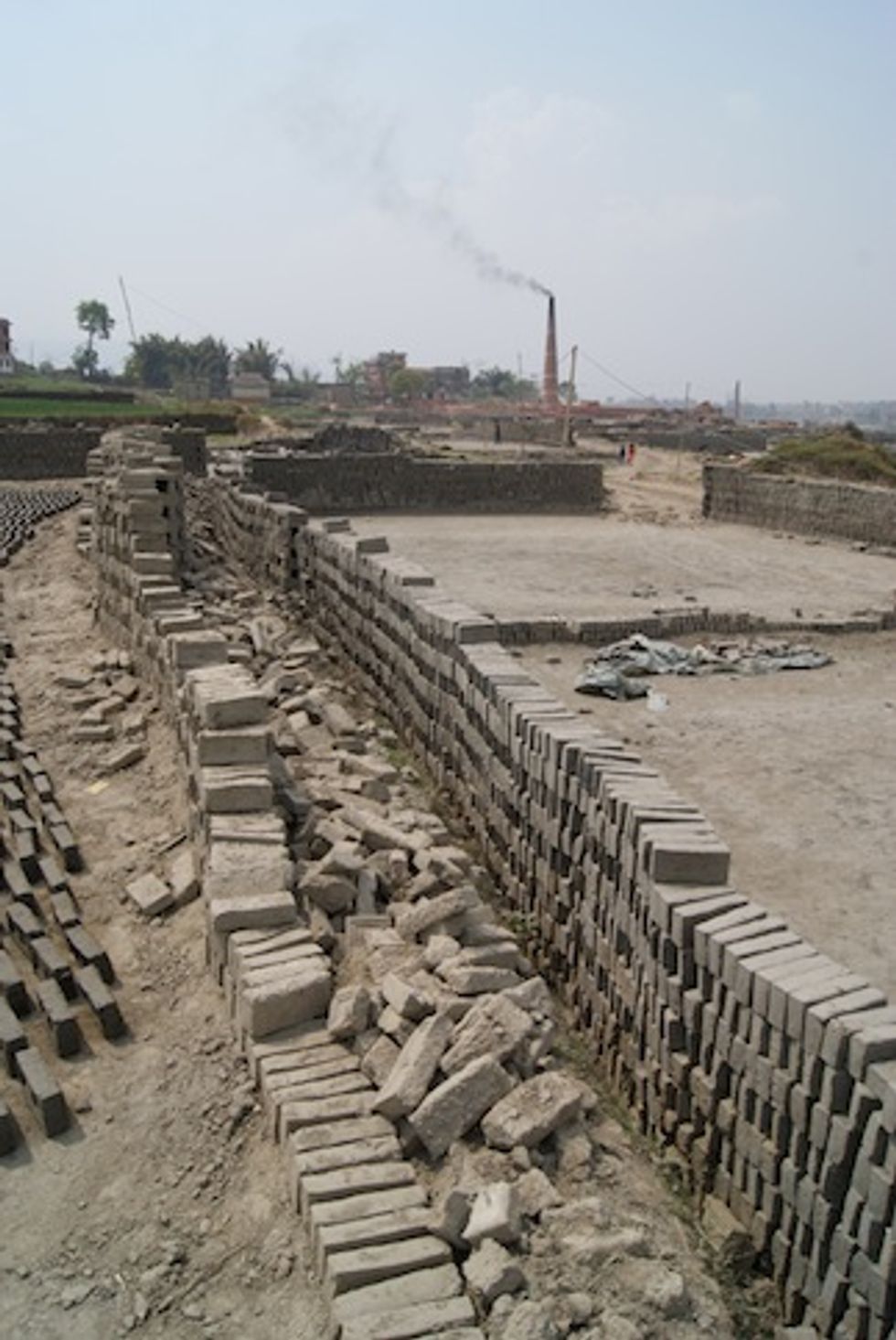 The Terai region is also experiencing a changing climate. People are reporting the monsoon is delayed up to two weeks, increasing the number of drought days—days when the land is stony hard and barren. Nepal as a whole has been categorized as the fourth most vulnerable country in the world due to climate change. The rainfall pattern is said to be changing and temperatures are rising by 0.6 degree a year.
Despite the factories, the vast majority of the pollution driving climate change comes from the developed world. Australia, for example, still produces 164 times as much greenhouse gas per capita as Nepal. In Bhaktapur, the factories use low quality Assam coal. The chemicals they excrete are linked to various health problems from low birth weight, to lung disease, to stunted cognitive development.
Dr. Ram K. Chandyo from Kathmandu's Institute of Medicine has been studying child development in Bhaktapur for many years. Dr. Ram wants to carry out research on the children in the factories. His office is based in Siddhi Memorial Hospital, a non-governmental organization that gives free care to many brick factory children.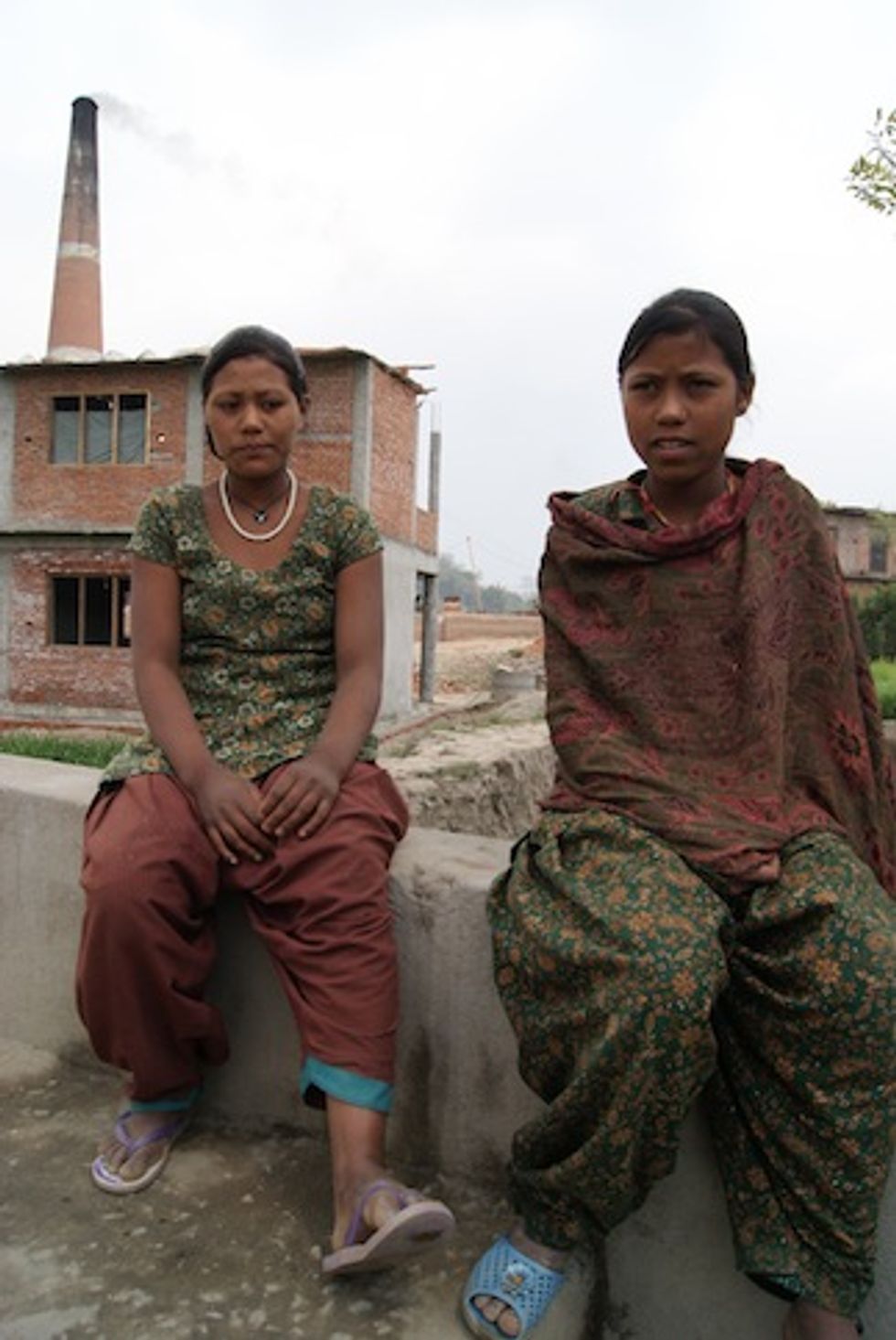 Just past the chimney of the Duwakot factory, at a nearby water source, several young female workers were taking the day off. Sapana and Anita, both 15, are from Rolpa, a poor and mountainous area to the west, which was a heartland of the decade-long Maoist insurgency that ended in 2006. They left their families to work in the brick factory. Dr. Ram said they may now be the principal earners in their families.
Many Nepali girls are also trafficked to brothels in India. Dr. Ram said girls, like those employed at the Duwakot factory, would be more vulnerable to exploitation. The girls giggled when asked about their future. Both have had offers of training in tailoring in their villages.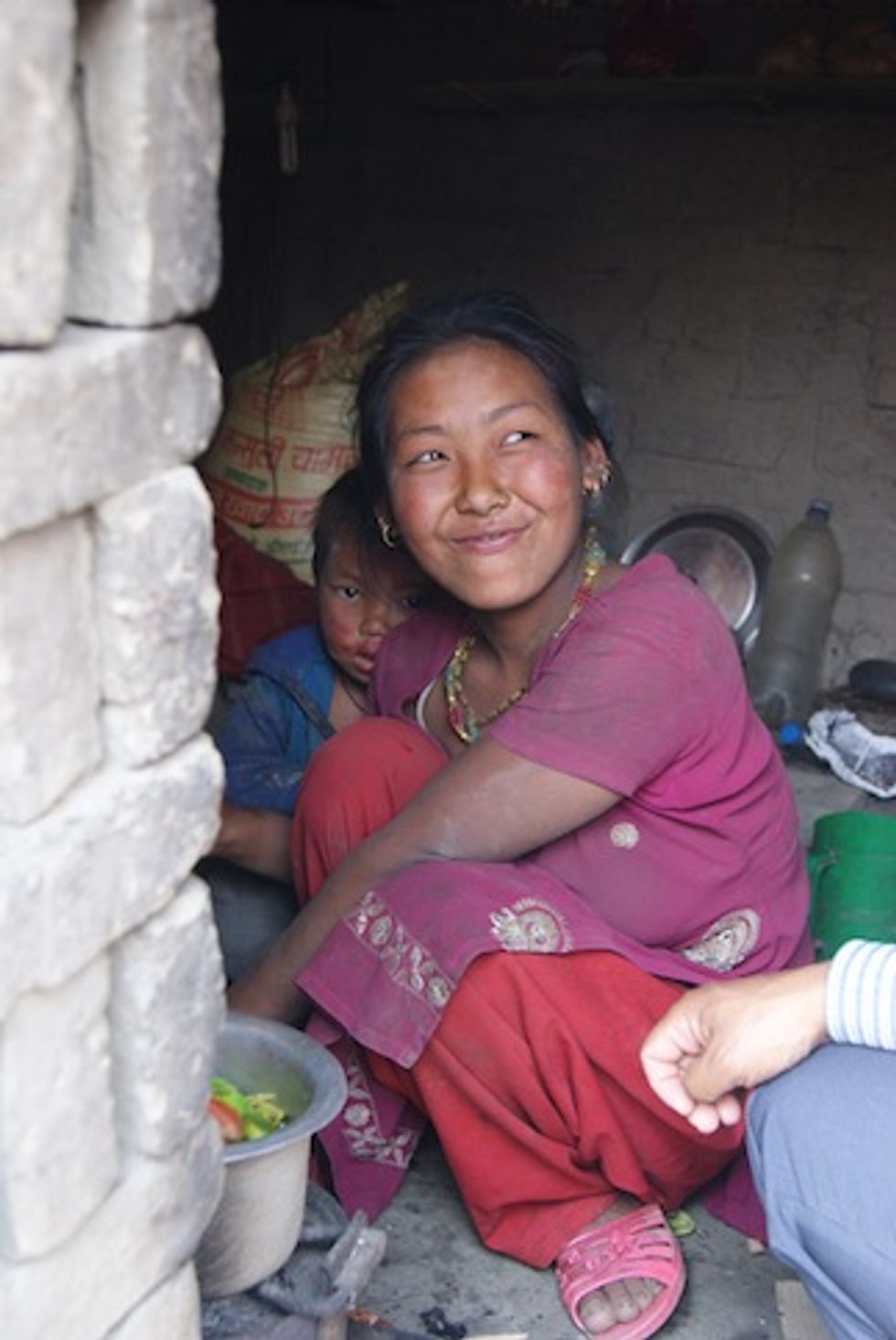 Despite efforts to educate people, most ordinary Nepalis know little about climate change. One local journalist interviewed more than 100 people and found none had even heard the term. Few knew if there was a ministry of the environment. Sapana and Anita did not know the names of any chemicals that might be coming from the factory above them. Yet these are the chemicals that may devastate their country's environment, and may one day kill them.
EcoWatch Daily Newsletter
polaristest / Flickr / CC BY-NC-ND 2.0
By Melissa Kravitz Hoeffner
Over six gallons of water are required to produce one gallon of wine. "Irrigation, sprays, and frost protection all [used in winemaking] require a lot of water," explained winemaker and sommelier Keith Wallace, who's also a professor and the founder of the Wine School of Philadelphia, the largest independent wine school in the U.S. And water waste is just the start of the climate-ruining inefficiencies commonplace in the wine industry. Sustainably speaking, climate change could be problematic for your favorite glass of wine.
Pixabay
Spinach is a true nutritional powerhouse, as it's rich in vitamins, minerals, and antioxidants.
Pexels
By Jeff Turrentine
From day to day, our public health infrastructure — the people and systems we've put in place to keep populations, as opposed to individuals, healthy — largely goes unnoticed. That's because when it's working well, its success takes the form of utter normalcy.
By Eoin Higgins
A viral video showing cell phone data collected by location accuracy company X-Mode from spring break partiers potentially spreading the coronavirus around the U.S. has brought up questions of digital privacy even as it shows convincingly the importance of staying home to defeat the disease.
Aerial shot top view Garbage trucks unload garbage to a recycle in the vicinity of the city of Bangkok, Thailand. bugto / Moment / Getty Images
German researchers have identified a strain of bacterium that not only breaks down toxic plastic, but also uses it as food to fuel the process, according to The Guardian.