This website uses cookies to ensure you get the best experience while browsing it. By clicking 'Got It' you're accepting these terms.
Breaking: Uranium Enrichment Ends at Paducah
May. 31, 2013 02:20PM EST
By Geoffrey Sea
[Read Part I, Part II and Part IV of this series]

USEC Inc. has confirmed that today, May 31, is the last day of uranium enrichment at the Paducah Gaseous Diffusion Plant in Kentucky, marking the end of sixty-one years of operation. The monstrous facility was opened in 1952 as a last hurrah of the Truman Administration, representing one of the most egregious acts of political favoritism in American history. The plant was located in Paducah because that city was the hometown of Alben Barkley, who represented Kentucky's First District in Congress and then became Truman's vice president.
(Concurrently, the Piketon, Ohio, plant was located as a concession to Ohio Senator and presidential candidate Robert Taft. Barkley and Taft each boasted about how they had won these megaliths for their states—plants that produced modest employment for half a century along with site contamination that will last for thousands of years.)
Cessation of enrichment today comes as something of a predictable surprise, following the breakdown of extension talks between the U.S. Department of Energy (DOE), which owns the plant, and the privatized USEC Inc., which has leased the operation under the strange accord that has required no leasing fee, nor any continuing legal liability for the mess that USEC has made.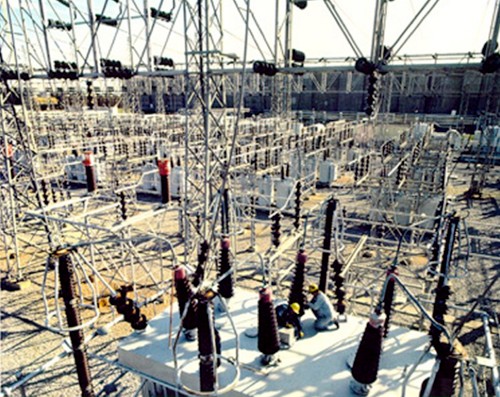 The news is cause for celebration by environmentalists, because the Paducah plant has been powered by three gigawatts of dirty coal in the Ohio Valley. According to the Times Free Press of Tennessee, the Paducah plant was by far the largest buyer of TVA electricity, accounting for $600 million in sales or 5 percent of TVA power last year. And sadly, USEC's gigantic Freon coolers won't qualify for TVA's old-appliance scrap rebate program, because they are radioactive.
The Paducah plant has reputedly emitted more chlorofluorocarbons (CFCs), the worst ozone-depleting and global warming gasses, than all other global sources of CFCs combined in recent years. The plant had been granted a "national security" exemption from the ban on Freon, even though the enriched uranium USEC produced is not used to make nuclear weapons.
Today's end of operations also has some profound consequences for USEC as it struggles to maintain minimum listing requirements on the New York Stock Exchange. USEC can no longer claim to be the only "American-owned uranium enrichment company," a claim of dubious veracity anyway since Toshiba became a principal holder of USEC equity, and since federal regulations define a "domestic" producer as one located in the U.S., not according to ownership. URENCO, the European enrichment company, has been enriching uranium at its centrifuge plant in New Mexico since 2010, effectively edging USEC out of the market for centrifuge enrichment in the U.S.
Tomorrow, USEC will be just a broker for uranium obtained from other suppliers, which technically places the company in statutory violation of the USEC Privatization Act of 1996, which made many federal subsidies and concessions available to the company, only on condition that it meets its obligation to enrich uranium. Whether the federal government will demand repayment of the funds transferred to USEC under false pretenses remains to be seen. But don't hold your breath.
In today's announcement USEC also says it is issuing WARN Act termination notices to all 1,034 of its Paducah employees, expecting the first round of layoffs to affect about 160 workers between Aug. 5 and Aug. 19. That's just in time to commemorate the anniversaries of the bombings at Hiroshima and Nagasaki, which fall on Aug. 6 and Aug. 9.
Layoffs are staggered because USEC had attempted to cajole the government into making an additional $13 million payment in material to extend operations and make it look like the plant was doing something. Preparations for property transfer to DOE were therefore delayed. USEC has also utilized Paducah facilities for managing an inventory of Russian uranium, under a separate U.S. government concession called the Megatons to Megawatts Program. That program, however, terminates in December of this year.
The complicated process of transferring leased facilities back to DOE control, and out of regulation by the Nuclear Regulatory Commission, is known as "de-leasing." In all ways it is comparable to delousing, only the hosts and parasites are smellier.
EcoWatch Daily Newsletter
Bernie Sanders holds his first presidential campaign rally at Brooklyn College on March 02 in Brooklyn, New York. Kena Betancur / VIEWpress / Corbis. Getty Images
Bernie Sanders has become the first contender in the crowded 2020 Democratic presidential primary field to pledge to offset all of the greenhouse gas emissions released by campaign travel, The Huffington Post reported Thursday.
An aerial view of the flooding at the Camp Ashland, Nebraska on March 17. Nebraska National Guard / Staff Sgt. Herschel Talley / Flickr / CC BY 2.0
The record flooding in the Midwest that has now been blamed for four deaths could also have lasting consequences for the region's many farmers.
In tea, food, or just on your windowsill, embrace the fragrance and fantastic healing potential of herbs.
By Ana Santos Rutschman
The world of food and drug regulation was rocked earlier this month by the news of a change in leadership at the Food and Drug Administration. Commissioner Scott Gottlieb resigned and will step down in early April. His temporary replacement is Dr. Ned Sharpless, director of the National Cancer Institute.
MartinPrescott / iStock / Getty Images
On Wednesday the U.S. Environmental Protection Agency (EPA) announced the first 20 chemicals it plans to prioritize as "high priority" for assessment under the Toxic Substances Control Act. Given the EPA's record of malfeasance on chemicals policy over the past two years, it is clear that these are chemicals that EPA is prioritizing to ensure that they are not properly evaluated or regulated.
Strawberries top the Environmental Working Group's "Dirty Dozen" list of U.S. produce most contaminated with pesticides. DANIEL LEAL-OLIVAS / AFP / Getty Images
Which conventionally-grown fruits and vegetables in the U.S. are most contaminated with pesticides? That's the question that the Environmental Working Group answers every year with its "Dirty Dozen" list of produce with the highest concentration of pesticides after being washed or peeled.
A drilling rig in a Wyoming natural gas field. William Campbell / Corbis via Getty Images
A U.S. federal judge temporarily blocked oil and gas drilling on 300,000 acres of federal leases in Wyoming Tuesday, arguing that the Bureau of Land Management (BLM) "did not sufficiently consider climate change" when auctioning off the land, The Washington Post reported.
Mizina / iStock / Getty Images
Oats are widely regarded as one of the healthiest grains you can eat, as they're packed with many important vitamins, minerals, and fiber.