This website uses cookies to ensure you get the best experience while browsing it. By clicking 'Got It' you're accepting these terms.
Breaking: Uranium Enrichment Ends at Paducah
May. 31, 2013 02:20PM EST
Energy
By Geoffrey Sea
[Read Part I, Part II and Part IV of this series]

USEC Inc. has confirmed that today, May 31, is the last day of uranium enrichment at the Paducah Gaseous Diffusion Plant in Kentucky, marking the end of sixty-one years of operation. The monstrous facility was opened in 1952 as a last hurrah of the Truman Administration, representing one of the most egregious acts of political favoritism in American history. The plant was located in Paducah because that city was the hometown of Alben Barkley, who represented Kentucky's First District in Congress and then became Truman's vice president.
(Concurrently, the Piketon, Ohio, plant was located as a concession to Ohio Senator and presidential candidate Robert Taft. Barkley and Taft each boasted about how they had won these megaliths for their states—plants that produced modest employment for half a century along with site contamination that will last for thousands of years.)
Cessation of enrichment today comes as something of a predictable surprise, following the breakdown of extension talks between the U.S. Department of Energy (DOE), which owns the plant, and the privatized USEC Inc., which has leased the operation under the strange accord that has required no leasing fee, nor any continuing legal liability for the mess that USEC has made.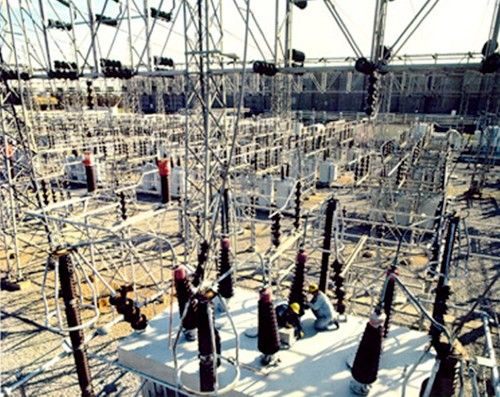 The news is cause for celebration by environmentalists, because the Paducah plant has been powered by three gigawatts of dirty coal in the Ohio Valley. According to the Times Free Press of Tennessee, the Paducah plant was by far the largest buyer of TVA electricity, accounting for $600 million in sales or 5 percent of TVA power last year. And sadly, USEC's gigantic Freon coolers won't qualify for TVA's old-appliance scrap rebate program, because they are radioactive.
The Paducah plant has reputedly emitted more chlorofluorocarbons (CFCs), the worst ozone-depleting and global warming gasses, than all other global sources of CFCs combined in recent years. The plant had been granted a "national security" exemption from the ban on Freon, even though the enriched uranium USEC produced is not used to make nuclear weapons.
Today's end of operations also has some profound consequences for USEC as it struggles to maintain minimum listing requirements on the New York Stock Exchange. USEC can no longer claim to be the only "American-owned uranium enrichment company," a claim of dubious veracity anyway since Toshiba became a principal holder of USEC equity, and since federal regulations define a "domestic" producer as one located in the U.S., not according to ownership. URENCO, the European enrichment company, has been enriching uranium at its centrifuge plant in New Mexico since 2010, effectively edging USEC out of the market for centrifuge enrichment in the U.S.
Tomorrow, USEC will be just a broker for uranium obtained from other suppliers, which technically places the company in statutory violation of the USEC Privatization Act of 1996, which made many federal subsidies and concessions available to the company, only on condition that it meets its obligation to enrich uranium. Whether the federal government will demand repayment of the funds transferred to USEC under false pretenses remains to be seen. But don't hold your breath.
In today's announcement USEC also says it is issuing WARN Act termination notices to all 1,034 of its Paducah employees, expecting the first round of layoffs to affect about 160 workers between Aug. 5 and Aug. 19. That's just in time to commemorate the anniversaries of the bombings at Hiroshima and Nagasaki, which fall on Aug. 6 and Aug. 9.
Layoffs are staggered because USEC had attempted to cajole the government into making an additional $13 million payment in material to extend operations and make it look like the plant was doing something. Preparations for property transfer to DOE were therefore delayed. USEC has also utilized Paducah facilities for managing an inventory of Russian uranium, under a separate U.S. government concession called the Megatons to Megawatts Program. That program, however, terminates in December of this year.
The complicated process of transferring leased facilities back to DOE control, and out of regulation by the Nuclear Regulatory Commission, is known as "de-leasing." In all ways it is comparable to delousing, only the hosts and parasites are smellier.
EcoWatch Daily Newsletter
By Simon Evans
During the three months of July, August and September, renewables generated an estimated total of 29.5 terawatt hours (TWh), compared with just 29.1TWh from fossil fuels, the analysis shows.
A demonstrator waves an Ecuadorian flag during protests against the end of subsidies to gasoline and diesel on Oct. 9 in Quito, Ecuador. Jorge Ivan Castaneira Jaramillo / Getty Images
Protesters block the road outside Mansion House in London during an XR climate change protest. Gareth Fuller / PA Images via Getty Images
Protestors marched outside the Prudential Center in Newark, New Jersey on Monday, August 26, during the MTV Video and Music Awards to bring attention to the water crisis currently gripping the city. Karla Ann Cote / NurPhoto / Getty Images
By Will Sarni
It is far too easy to view scarcity and poor quality of water as issues solely affecting emerging economies. While the images of women and children fetching water in Africa and a lack of access to water in India are deeply disturbing, this is not the complete picture.
Pexels
Mice exposed to nicotine-containing e-cigarette vapor developed lung cancer within a year.
More research is needed to know what this means for people who vape.
Other research has shown that vaping can cause damage to lung tissue.
A new study found that long-term exposure to nicotine-containing e-cigarette vapor increases the risk of cancer in mice.
Demonstrators with The Animal Welfare Institute hold a rally to save the vaquita, the world's smallest and most endangered porpoise, outside the Mexican Embassy in DC on July 5, 2018. SAUL LOEB / AFP / Getty Images
Six months: That's how much time Mexico now has to report on its progress to save the critically endangered vaquita porpoise (Phocoena sinus) from extinction.
Pexels
It may seem innocuous to flush a Q-tip down the toilet, but those bits of plastic have been washing up on beaches and pose a threat to the birds, turtles and marine life that call those beaches home. The scourge of plastic "nurdles," as they are called, has pushed Scotland to implement a complete ban on the sale and manufacture of plastic-stemmed cotton swabs, as the BBC reported.
Air conditioners, like these in a residential and restaurant area of Singapore city, could put a massive strain on electricity grids during more intense heatwaves. Taro Hama @ e-kamakura / Moment / Getty Images
By Tim Radford
Scientists in the U.S. have added a new dimension to the growing hazard of extreme heat. As global average temperatures rise, so do the frequency, duration and intensity of heatwaves.