This website uses cookies to ensure you get the best experience while browsing it. By clicking 'Got It' you're accepting these terms.
Breaking: Senate Passes Keystone XL Pipeline Bill
Jan. 29, 2015 05:19PM EST
Energy
This afternoon, the U.S. Senate passed legislation to approve the Keystone XL, a proposed 1,179-mile oil pipeline from Canada to the Gulf of Mexico. Every Republican Senator and a handful of Democrats voted in favor of building the pipeline with a final vote of 62 to 36 to pass S. 1.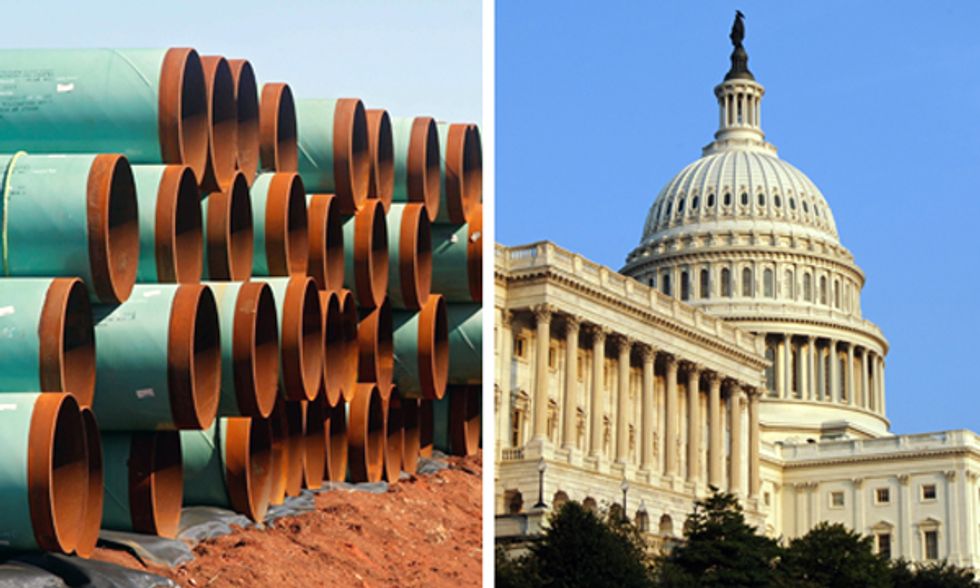 "Now that we have burned through three weeks of the Senate's time, Senate Republicans have succeeded in passing their first piece of legislation: a gift for Big Oil that the President has already said he will veto," said Sen. Sheldon Whitehouse (D-RI). "I'm glad the President will veto this bill because the Keystone XL pipeline would be a disaster for our health and environment—enabling expanded development of one of the dirtiest fuels on the planet and exacerbating climate change. I hope we can now put this debate behind us and move on to more serious legislative efforts to address the major issues facing our country."
The Senate just passed the #KeystoneXL bill, a gift for Big Oil. I'm glad @BarackObama already said he'll veto http://t.co/JctYFjJMkf #NoKXL

— Sheldon Whitehouse (@SenWhitehouse) January 29, 2015
Now the measure goes back to the House, which passed a similar bill earlier this month. House leaders will need to decide whether to pass the Senate bill as is, or make changes that would then need to be voted on by each chamber. President Obama has indicated that he will veto any Keystone XL bill that hits his desk.
"Putting the agenda of polluters ahead of the American public is bad policy and it's bad politics," said Michael Brune, executive director of the Sierra Club. "Remember when Senate Republicans thought moving forward with Keystone XL first would help them score political points? Now, they've managed to waste weeks of the American people's time floundering around on a bill that the White House has indicated will be vetoed and they've gone on the record against broadly popular policies like protecting our drinking water, supporting wind jobs, and forcing the Koch Brothers to disclose their political spending."
Today's vote follows many votes on amendments to the Senate bill largely centered around how disastrous the tar sands oil industry is to the climate. An amendment introduced by Sen. James Inhofe (R-OK) and Sen. Whitehouse was voted on last week, which asked Senate members if "climate change is real and is not a hoax." The amendment passed by a 98-1 vote, with only Mississippi Sen. Roger Wicker voting "no." Another amendment sponsored by Sen. Brian Schatz (D-HI) and Sen. John Hoeven (R-ND), asked if "climate change is real and human activity significantly contributes to climate change." The amendment was blocked in a 50-49 vote, short of the 60 that was needed for approval.
Forty-nine Senators—all Republicans—voted against the statement that humans significantly contribute to climate change, cementing their legacies as climate deniers. The Senators that agreed that humans significantly contribute to climate change and still voted for the Keystone XL bill, include Democrat Michael Bennet (CO), Republicans Kelly Ayotte (NH), Mark Kirk (IL), John McCain (AZ) and Rand Paul (KY).
"Now that we have clarified which Senators believe in climate change caused by human activities, clearly a vote is needed on other key issues like whether the Earth is indeed flat or whether gravity truly exists," said Kyle Ash, Greenpeace legislative representative. "The entire U.S. Congress is now a punch line. While it is certainly sad that so many climate-denying Senators reject modern scientific knowledge, we're happy that voters will have an easy-to-read list of those willing to destroy our future in the name of dirty fossil fuel money."
Sen. Bernie Sanders (I-VT) introduced an amendment last week asking if climate change is real; if climate change is caused by human activities; if climate change has already caused devastating problems in the U.S. and around the world; if only a brief window of opportunity exists before the U.S. and the entire planet suffer irreparable harm; and if it is imperative that the U.S. transform its energy system away from fossil fuels and toward energy efficiency and sustainable energy. Sander's amendment lost the votes of every Republican, plus three Democrats and failed to pass.
President Obama has got to get out his veto pen. #KeystoneXL http://t.co/wCLfYmxeiH

— Bernie Sanders (@SenSanders) January 29, 2015
"Senators who love Keystone just voted to approve eminent domain for private gain and to risk our water, all for one foreign corporation," said Jane Kleeb, director of Bold Nebraska. "The good news for landowners in the Heartland is President Obama cares about our land and water and will veto this reckless bill. Farmers and ranchers need stability in their government so they can plan crops and development of their land. A full rejection of Keystone cannot come soon enough for landowners."
YOU MIGHT ALSO LIKE
Tell President Obama: Veto Keystone XL Pipeline Bill
Robert Redford: Why Keystone XL Is the Wrong Choice for America
Pipeline Posse Tells Ed Schultz: 'It's Not About the Money, It's About the Future Generations'
EcoWatch Daily Newsletter
Deserted view of NH24 near Akshardham Temple on day nine of the 21-day nationwide lockdown to curb the spread of coronavirus on April 2, 2020 in New Delhi, India. Raj K Raj / Hindustan Times via Getty Images
A Unicef social mobilizer uses a speaker as she carries out public health awareness to prevent the spread and detect the symptoms of the COVID-19 coronavirus by UNICEF at Mangateen IDP camp in Juba, South Sudan on April 2. ALEX MCBRIDE / AFP / Getty Images
By Eddie Ndopu
South Africa is ground zero for the coronavirus pandemic in Africa.
Its townships are typical of high-density neighbourhoods across the continent where self-isolation will be extremely challenging.
The failure to eradicate extreme poverty is a threat beyond the countries in question.
The outside of the Food and Drug Administration headquarters in White Oak, Md. on Nov. 9, 2015. Al Drago / CQ Roll Call
The U.S. Food and Drug Administration has approved the use of two malarial drugs to treat and prevent COVID-19, the respiratory infection caused by the SARS-CoV-2 coronavirus, despite only anecdotal evidence that either is proven effective in treating or slowing the progression of the disease in seriously ill patients.

Some
speculate
that the dissemination of the Antarctic beeches or Nothofagus moorei (seen above in Australia) dates to the time when
Antarctica
, Australia and
South America
were connected. Auscape / Universal Images Group / Getty Images
A team of scientists drilled into the ground near the South Pole to discover forest and fossils from the Cretaceous nearly 90 million years ago, which is the time when dinosaurs roamed the Earth, as the BBC reported.
The recovery of elephant seals is one of the "signs of hope" that scientists say show the oceans can recover swiftly if we let them. NOAA /
CC BY 2.0