This website uses cookies to ensure you get the best experience while browsing it. By clicking 'Got It' you're accepting these terms.
BREAKING: Ohio Governor Halts Four More Fracking Wastewater Injection Wells After Yesterday's Quake
Jan. 01, 2012 10:21AM EST
Fracking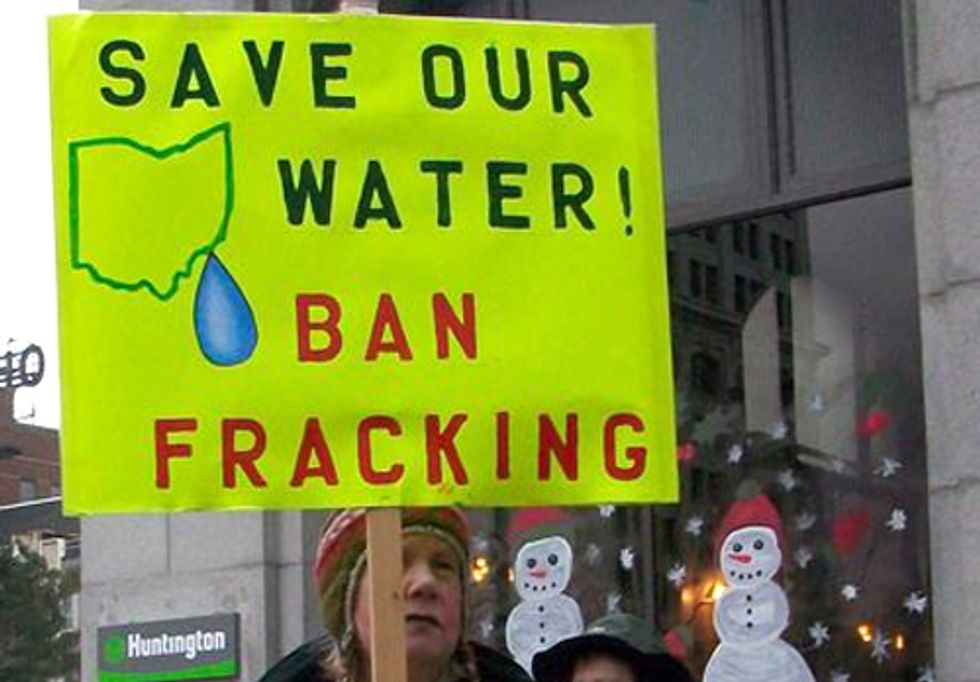 The Kasich administration has put a temporary halt to the disposal of toxic wastewater from hydraulic fracturing (better known as fracking—a procedure used to extract oil and gas out of rock formations such as the Marcellus and Utica shale) from oil and natural-gas drilling wells within a 5-mile radius of the D&L Energy site in Youngstown, Ohio—a well believed to be the cause of 11 earthquakes since March, including a 4.0 quake on New Years Eve that hit the region at 3:05 p.m.
Rick Simmers, chief of oil and gas management for the Ohio Department of Natural Resources (ODNR), said a daily average of 5,000, 42-gallon barrels of brine water or fracking wastewater were pumped into the well 9,200 feet below the ground. He said a majority of the wastewater—a byproduct of fracking—comes from Pennsylvania wells.
Officials from the ODNR believe the fracking waterwater pumped into the Youngstown-area well has been seeping into a previously unknown fault line in eastern Ohio, causing the seismic activity. The moratorium, issued on Dec. 31 by ODNR Director Jim Zehringer affects four other injection wells.
Michael Hansen, of the Ohio Seismic Network, was reported saying, that even though Northstar No. 1, the D&L site, was shut down on Dec. 30, there is still potential for more quakes, although the magnitude of yesterday's quake may have relieved some of the pressure near the fault line.
There are 177 injection wells throughout Ohio. For months, Youngstown residents have been speaking out asking for a moratorium on fracking wastewater injection wells, and oil and gas drilling until further research is done on the impact these wells could have on groundwater contamination, human health and the environment. Ohio Fraction, a network of individuals interested in supporting community battles against fracking in Ohio, has been leading the fight.
According to Ben Shapiro, a grassroots organizer working on the Ohio fracking issue, "This is a tremendous victory for Ohio's advocates for clean water and public health. We've proven beyond a doubt that citizens want safe drinking water more than they want hydrofracking and that we don't have to repeat the mistakes of Pennsylvania and New York and allow drilling and waste disposal to wreck our communities.
"Myself and others blockaded that well and went to jail because we know that Ohio shouldn't have sacrifice zones to make profits for the oil and gas industry, and we won't be satisfied until the entire practice of injection wells and drilling is banned. Why risk our future and children's future on false solutions when we have real energy solutions that can bring Ohio's workers life-time jobs producing sustainable green technology like wind and solar.  Let's make 2012 the year we ban hydrofracking."
For more information, read yesterday's EcoWatch.org post New Years Eve Earthquake Hits Youngstown While Public Pressure Halts Fracking Wastewater Injection Well Site.
EcoWatch Daily Newsletter
Animal rights activists try to save dogs at a free market ahead of the Yulin Dog Eating Festival in Yulin city, south China's Guangxi Zhuang Autonomous Region on June 21, 2014. Jie Zhao / Corbis via Getty Images
The Great Barrier Reef, where record-high sea temperatures in February caused its most widespread coral bleaching event. JAYNE JENKINS / CORAL REEF IMAGE BANK
Tropical coral reefs are at a critical tipping point, and we've pushed them there, scientists say. Climate change may now cause previously rare, devastating coral bleaching events to occur in tropical coral reefs around the globe on a 'near-annual' basis, reported The Guardian.
The first peer-reviewed research into a promising coronavirus vaccine was published Thursday. Javier Zayas Photography / Moment / Getty Images
Deserted view of NH24 near Akshardham Temple on day nine of the 21-day nationwide lockdown to curb the spread of coronavirus on April 2, 2020 in New Delhi, India. Raj K Raj / Hindustan Times via Getty Images
A Unicef social mobilizer uses a speaker as she carries out public health awareness to prevent the spread and detect the symptoms of the COVID-19 coronavirus by UNICEF at Mangateen IDP camp in Juba, South Sudan on April 2. ALEX MCBRIDE / AFP / Getty Images
By Eddie Ndopu
South Africa is ground zero for the coronavirus pandemic in Africa.
Its townships are typical of high-density neighbourhoods across the continent where self-isolation will be extremely challenging.
The failure to eradicate extreme poverty is a threat beyond the countries in question.