Breaking: Nine Arrested After Halting Construction at Keystone XL Pump Station
Early this morning, eight individuals blocked construction of a pump station for TransCanada's controversial Keystone XL tar sands pipeline on Seminole land-by-treaty in Oklahoma by locking on to equipment in the largest action yet by the Great Plains Tar Sands Resistance. Nine people have been arrested. They managed to shut down the site until a volunteer firefighter reportedly injured one of the lockdowners, who is now in an ambulance. Others participating in the action unlocked out of concerns for their safety.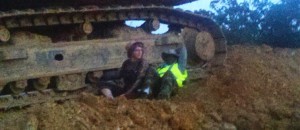 The group took action today, physically halting the construction process, as a part of an effort to prevent the Great Plains from being poisoned by inherently dangerous tar sands infrastructure, as well as to demonstrate the necessity for direct confrontation with industries that profit off of continued ecological devastation and the poisoning of countless communities from Alberta, Canada to the Gulf of Mexico. This action comes during the first day of a nationwide week of coordinated anti-extraction action under the banner of Fearless Summer.
"As a part of a direct action coalition working and living in an area that has been historically sacrificed for the benefit of petroleum infrastructure and industry, we believe that building a movement that can resist all infrastructure expansion at the point of construction is a necessity. In this country, over half of all pipeline spills happen in Texas, Louisiana and Oklahoma. Looking at the mainstream keystone opposition, this fact is invisible—just like the communities affected by toxic refining and toxic extraction," said Eric Whelan, spokesperson for Great Plains Tar Sands Resistance. "We're through with appealing to a broken political system that has consistently sacrificed human and nonhuman communities for the benefit of industry and capital."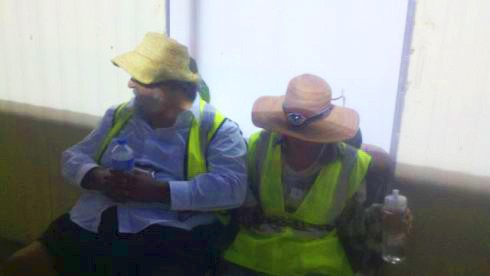 "The pipelines that poisoned the Kalamazoo River and Mayflower, Arkansas, were not the Keystone XL. Tar sands infrastructure is toxic regardless of the corporation or pipeline. For that reason we are opposed not only to the Keystone XL, but all tar sands infrastructure that threatens the land and her progeny," said Fitzgerald Scott, who was arrested in April for locking his arm inside a concrete-filled hole on the Keystone XL easement, and is locked to an excavator today. "While KXL [Keystone XL] opponents wait with baited breath for Obama's final decision regarding this particular pipeline, other corporations, including Enbridge, will be laying several tar sands pipelines across the continent. The Enbridge pipelines will carry the same volumes of the same noxious substance; therefore, Enbridge should get ready for the same resistance."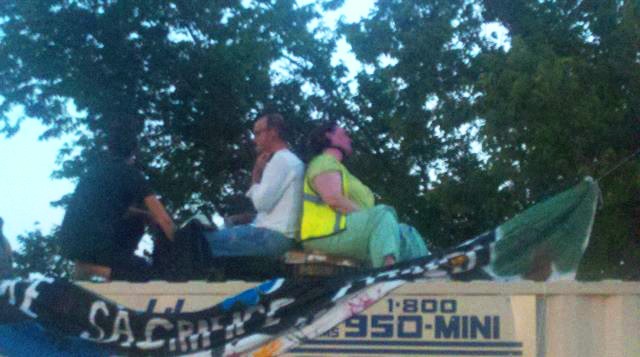 The Tar Sands megaproject is the largest industrial project in the history of humankind, destroying an area of pristine boreal forest which, if fully realized, will leave behind a toxic wasteland the size of Florida. The Tar Sands megaproject continues to endanger the health and way of life of the First Nations communities that live nearby by poisoning the waterways on which life in the area depends. This pipeline promises to deliver toxic diluted bitumen to the noxious Valero Refinery at the front door of the fence-line community of Manchester in Houston.
There is staunch resistance to the expansion of tar sands mining and infrastructure growing  across the heartland of North America, in areas long considered sacrifice zones. Currently activists are occupying an Enbridge pump station in Ontario, Canada to prevent the reversal of the Line 9 pipeline. The rise of Idle No More in defense of indigenous sovereignty across Turtle Island is in large part to protect lands and waters from toxic industries, and peoples of the Great Sioux Nation and tribal governments across South Dakota are avowing their opposition to the northern segment of the Keystone XL tar sands pipeline.
Visit EcoWatch's PIPELINES and KEYSTONE XL pages for more related news on this topic.
——-
www.facebook.com
Keep reading...
Show less
Keep reading...
Show less
www.elysee.fr
By Andy Rowell
There is a growing feeling within European capitals that a quiet, but deeply positive, revolution is happening under Emmanuel Macron in France.
Macron's opinion poll rating is high, especially boosted in how the young French president has reacted to Donald Trump on the international stage.
Keep reading...
Show less
Hawaii Renewable Energy Alliance
The latest issue of the U.S. Energy Information's "Electric Power Monthly" (with data through April 30) reveals that—for the first time since the beginning of the nuclear era—renewable energy sources (i.e., biomass, geothermal, hydropower, solar—inc. small-scale PV, wind) are now providing a greater share of the nation's electrical generation than nuclear power.
Keep reading...
Show less
www.youtube.com
Check out this great 360° virtual reality video by NowThis on the world's largest indoor vertical farm, AeroFarms. Located in Newark, New Jersey, AeroFarms grows more than 2 million pounds of greens a year without sunlight, soil or pesticides.
As reported by EcoWatch in July 2105, the $30 million, 70,000-square-foot AeroFarms headquarters dwarfs Japan's (already impressive) 25,000-square-foot vertical indoor farm, which had been the world's largest until now.
www.youtube.com
According to Bloomberg, "SeaWorld Entertainment Inc. received a subpoena earlier this month from regulators investigating disclosures and public statements by executives, including comments about the Blackfish documentary that caused a public backlash against the confinement of orcas.
Keep reading...
Show less
Wikipedia
By Franziska Spritzler, RD, CDE
Boosting your metabolic rate can help you lose body fat. However, most "fat-burning" supplements on the market are either unsafe, ineffective or both.
Fortunately, several natural foods and beverages have been shown to increase your metabolism and promote fat loss.
Keep reading...
Show less
Jun. 25, 2017 04:50PM EST
Monsanto, the maker of the glyphosate-based herbicide Roundup, filed a motion June 16 in U.S. District Court, Northern District of California to reconsider the chemical's addition to California's Proposition 65 list of agents known to cause cancer.
The agrochemical giant made this move based on a June 14 Reuters investigation of Dr. Aaron Blair, a lead researcher on the World Health Organization's International Agency for Research on Cancer (IARC) committee, that classified glyphosate as a "2A probable human carcinogen" in March 2015.
Keep reading...
Show less
Jun. 25, 2017 04:40PM EST
By Avery Friedman
Algae is often considered a nuisance, but for Sweden, the rapidly growing sea plant is now an asset.
As the Scandinavian country works to cut all of its greenhouse gas emissions by 2045, it's using algae to sop up the carbon emissions from cement.
Keep reading...
Show less