BREAKING: Judge Ruling Could Expedite Mountaintop Removal Coal Mining
Mar. 23, 2012 05:26PM EST
Energy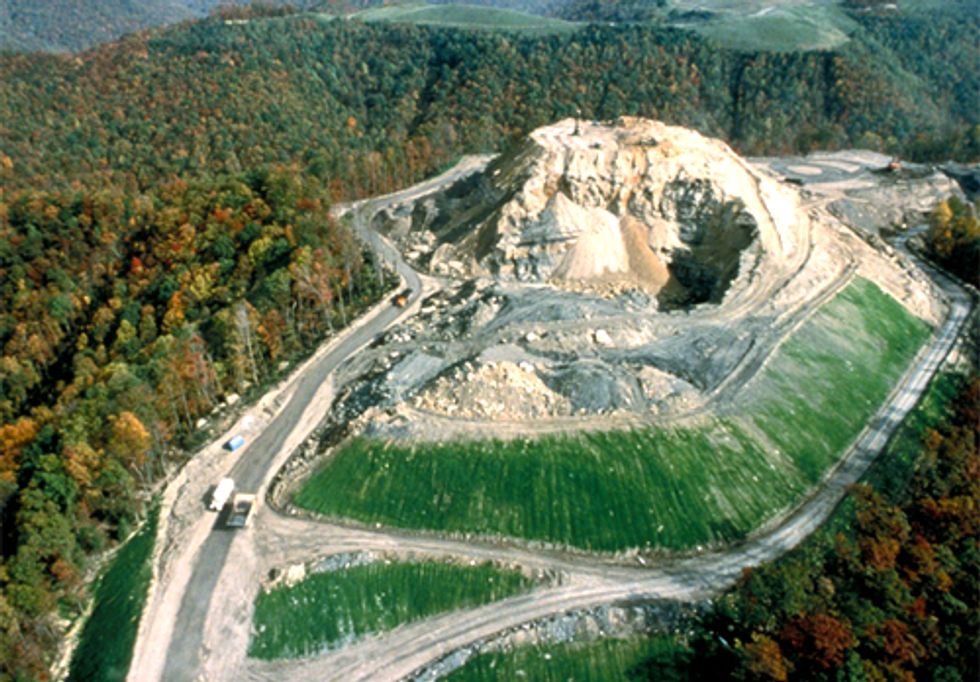 Jeff Biggers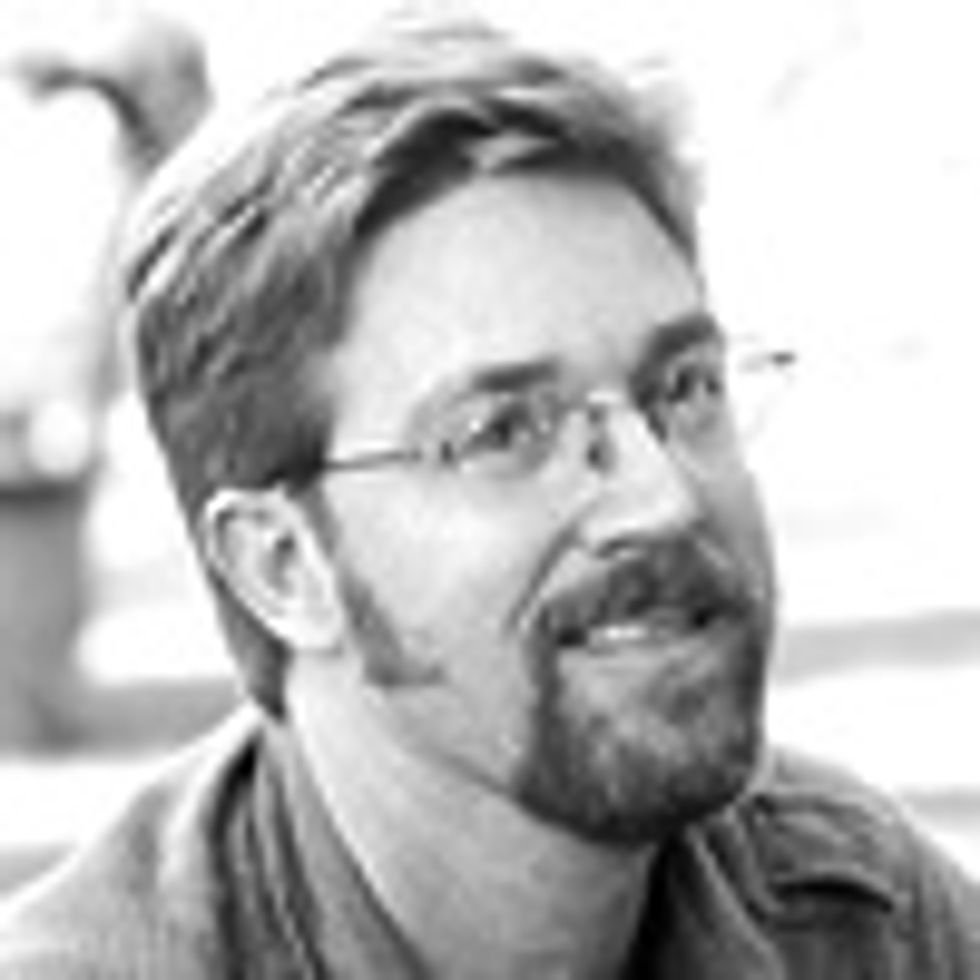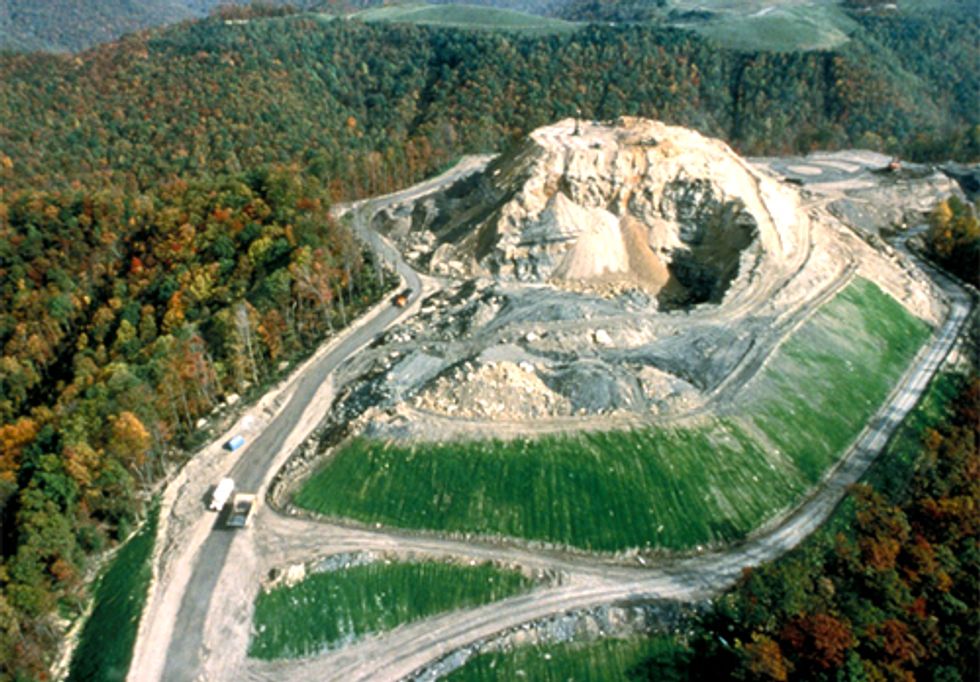 In an alarming rebuke to fledgling U.S. EPA efforts to regulate devastating mountaintop removal mining operations today, U.S. District Judge Amy Berman Jackson ruled that the Obama administration overstepped its authority in revoking a permit last year for the largest proposed strip-mining operation in central Appalachia.
Despite a growing health and human rights crisis, the troubling judicial move comes on the heels of the coal mining industry's spring ritual of EPA bashing, including a recent pillory of EPA administration chief Lisa Jackson by big coal-booster U.S. Rep. Hal Rogers (R-KY), and the insidiously untrue mantra that mountaintop removal permits "have slowed to a trickle."
Far from a trickle, according to the EPA, "110 individual and general mining permits have been issued by the Corps of Engineers since the Obama administration began under section 404 of the Clean Water Act." In a follow up email, EPA spokesperson Betsaida Alcantara noted, "All of the permits are for surface coal mining activities impacting streams, wetlands, and other waterbodies. The activities include valley fills, roads, coal waste impoundments, and other discharges associated with surface coal mining."
Less than two months ago, watchdog group Earthjustice released an action alert, in fact, on more than 100 pending mountaintop removal permits now in play:
President Obama and his administration have shown a strong commitment to the law and science by vetoing one of the largest mountaintop removal mines ever proposed, Spruce No. 1 Mine in West Virginia. But coal companies and their lobbyists are pushing for more than 100 new mountaintop removal mining permits, seeking permission to blow more mountains up and destroy more mountain streams in even more communities. When so many local communities are facing the same level of devastation, one permit denied is just not enough.
If the Obama administration issues more unlawful and harmful permits, violating the very purpose of the Clean Water Act to protect the integrity of our nation's waters, coal companies could fill more than 300 more valleys, level more than 30,000 more mountain acres, destroy more than 100 miles of streams and pollute many more local waterways. The stakes could not be higher.
Last month, besieged and frustrated Appalachian residents launched a new health care campaign—Appalachian Community Health Emergency—in Washington, DC, calling on the Obama administration and the U.S. Congress to enact an immediate moratorium on reckless mountaintop removal operations and hold long-awaited hearings on the mounting deathtoll and humanitarian crisis.
"Our mountains are still being destroyed at an alarming rate, the coal is continuing to flow out of our hollers," said Teri Blanton with the Kentuckians for the Commonwealth. "Unfortunately the pollution from the mining sites with valley fills from decades back is still polluting the waterways. Heavy metals at toxic levels fill the streams that make up our rivers, where we draw our drinking water."
In a joint statement, several Appalachian citizens groups, including Ohio Valley Environmental Coalition, Coal River Mountain Watch, and the West Virginia Highlands Conservancy, Sierra Club, represented by attorneys at Earthjustice and Appalachian Mountain Advocates noted:
"It is a sad day not only for the people who live near mountains and streams threatened by mountaintop removal coal mining, but for all Americans who understand the need to protect our waterways, and the health of communities that depend on them. We are deeply disappointed and concerned about the effect of today's court ruling because mountaintop removal mining has already caused widespread and extreme destruction to the mountains, waters, and communities of Appalachia. The Spruce No. 1 Mine permit, in particular, was one of the largest mountaintop removal permits ever proposed in Appalachia, and it is located in an area of West Virginia that has already been devastated by several large mountaintop removal mines.
We urge the EPA to appeal today's ruling and continue to exercise its full authority under the Clean Water Act to protect waterways and communities. The Army Corps should also exercise its authority to recognize the clear science and revoke or suspend the permit. Severe harm would occur if the company is allowed to dump mining waste.  Our groups are committed to fighting for clean water and justice in Appalachia until the people in Appalachia get the protections we so deserve."
A new report urges immediate climate action to control global warming. John W Banagan / Getty Images
A new report promoting urgent climate action in Australia has stirred debate for claiming that global temperatures will rise past 1.5 degrees Celsius in the next decade.
EcoWatch Daily Newsletter
Winegrowers check vines during the burning of anti-frost candles in the Luneau-Papin wine vineyard in Le Landreau, near Nantes, western France, on April 12, 2021. SEBASTIEN SALOM-GOMIS / AFP via Getty Images
French winemakers are facing devastating grape loss from the worst frost in decades, preceded by unusually warm temperatures, highlighting the dangers to the sector posed by climate change.
"An important share of the harvest has been lost. It's too early to give a percentage estimate, but in any case it's a tragedy for the winegrowers who have been hit," said Christophe Chateau, director of communications at the Bordeaux Wine Council, told CNN.
Climate change, caused by the extraction and combustion of fossil fuels, has pushed winegrowing seasons earlier, putting crops at higher risk of cold — and wildfires supercharged by climate change also threaten American vignerons and farmworkers as well.
"I think it's good for people to understand that this is nature, climate change is real, and to be conscious of the effort that goes into making wine and the heartbreak that is the loss of a crop," Jeremy Seysses of Domaine Dujac in Burgundy's Côte de Nuits told Wine Enthusiast.
As reported by Wine Enthusiast:
Last week, images of candlelit French vineyards flooded social media. Across the country, winemakers installed bougies, or large wax-filled metal pots, among the vines to prevent cold air from settling in during an especially late frost.

With temperatures in early April as low as 22°F, and following an unseasonably warm March, this year's frost damage may be the worst in history for French winegrowers. Every corner of France reports considerable losses, from Champagne to Provence, and Côtes de Gascogne to Alsace. As a result, there will likely be very little French wine from the 2021 vintage reaching U.S. shores.
For a deeper dive:

CNN, Wine Enthusiast, France24, Eater
For more climate change and clean energy news, you can follow Climate Nexus on Twitter and Facebook, sign up for daily Hot News, and visit their news site, Nexus Media News.
From Your Site Articles
Related Articles Around the Web
A recent study focused on regions in Ethiopia, Africa's largest coffee-producing nation. Edwin Remsberg / Getty Images
Climate change could make it harder to find a good cup of coffee, new research finds. A changing climate might shrink suitable areas for specialty coffee production without adaptation, making coffee taste blander and impacting the livelihoods of small farms in the Global South.
In "Weather," Jenny Offill tells the story of a librarian named Lizzie who prepares for a climate apocalypse. Andrew Merry / Getty Images
By Suzanne Cords
One day Lizzie, the first-person narrator of the novel, receives an old book as a gift, with a dedication wishing the reader to be among the survivors. Like the preppers who build bunkers and stockpile supplies in remote areas to be ready for the end of the world, Lizzie is convinced that the end of the world is definitely near in times of a threatening climate disaster.
Lizzie, who lives in New York with her husband and son, is a university campus librarian. She worries about almost everything: her brother, an ex-junkie, or her dental insurance and the future in the face of the apocalypse. She is obsessed with reading reference books and articles about climate change.
She also devours words of wisdom, including about Buddhist spirituality: "A visitor once asked the old monks on Mount Athos what they did all day, and was told: We have died and we are in love with everything." But nothing can lift her spirits.
'Lizzie Is Just Like Us'
Lizzie observes rich New Yorkers plan their move to regions that are less threatened by climate change, something she simply cannot afford. Sometimes she watches disaster movies, which lead her to worry even more.
Above all, she is a gifted observer of her fellow human beings. "Young person worry: What if nothing I do matters? Old person worry: What if everything I do, does?"
Lizzie, the U.S. author told DW, is a bit like the rest of us — well aware of the climate crisis, but because she cares and worries about so many other things, that awareness falls by the wayside. That's how she felt herself, Jenny Offill said, but the more she looked into the issue, the more she saw a need for action on her part, too.

"I also was trying to see if there was a way to make it funny, because, you know, so much of the world of prepping and imagining disaster is actually sort of strangely funny."
The novel was shortlisted for the 2020 UK's Women's Prize for Fiction and has now been released in German translation.
Climate Activist With a Vision
But then, there is also this serious, scientifically based concern about what climate change means. In the past, says Offill, artists were the ones who would predict disasters; today it's the experts, as well as the students she teaches. In the end, their fears and their justified anger motivated her to take a closer look at the issue. Today, she is a climate activist herself, and is involved in initiatives along with many other artists.
Lizzie, the heroine of Weather, hasn't gotten that far. But she voices her fears, and that's a start. "Of course, the world continues to end," says Sylvia, a mentor of Lizzie's, at one point — and commences to water her garden. There is hope after all.
Reposted with permission from Deutsche Welle.
A Shell oil drilling rig off the coast of Alaska in the Chukchi Sea on May 21, 2015. Orjan F. Ellingvag / Corbis via Getty Images
By Jake Johnson
A federal appeals court on Tuesday dealt the final blow to former President Donald Trump's attempt to open nearly 130 million acres of territory in the Arctic and Atlantic Oceans to oil and gas drilling.