This website uses cookies to ensure you get the best experience while browsing it. By clicking 'Got It' you're accepting these terms.
Breaking: Cuomo Bans Fracking in New York State
Dec. 17, 2014 01:59PM EST
Energy
In a victory for environmental, health and community activists, fracking has been banned in New York state. That was the conclusion reached at a public, livestreamed meeting of Governor Andrew Cuomo's cabinet in Albany today. Commissioner of the Department of Environmental Conservation Joseph Martens issued the order, following a report on his own findings and a strongly cautionary report from Dr. Howard Zucker, commissioner of the Department of Health, who compared the unknown health impacts of fracking to those of secondhand smoke, once considered benign.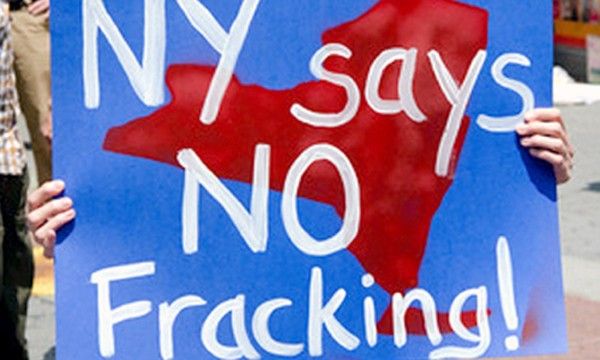 The hearing opened unpromisingly with Cuomo making what sounded like condescending remarks on the issue.
"I've been asked about 46,000 times at various decibel levels," he said as he introduced the subject. "The dialogue on fracking is an emotional one, both pro and con. You talk to anti-frackers for 30 seconds and they're yelling and they're passionate and emotional and scared and they're not listening and they're not hearing and they're yelling. You listen to pro-frackers and same thing. This is probably the most emotionally charged issue I've experienced, more emotionally charged than marriage equality, more emotionally charged than the gun issue, more emotionally charged than the death penalty."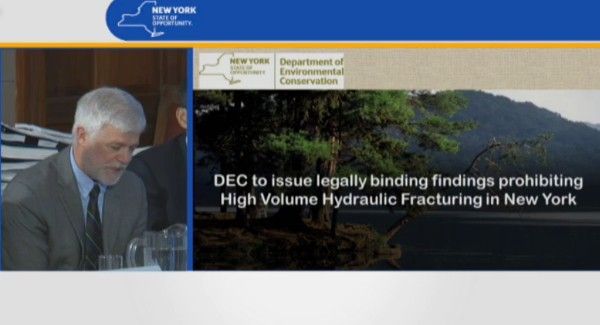 But he added, "I'm not a scientist. I'm not a health expert. I'm not a doctor. I'm not an environmentalist. So let's bring the emotion down and ask qualified experts what their opinions is. My two cents on the matter is I will defer to these two gentlemen."
"Those two gentlemen" he referred to were Martens and Zucker. They spoke following Cuomo's remarks and their conclusion was clear: no fracking in New York.
Martens addressed some of the aspects that made fracking impractical and economically unattractive in the state, including the large areas that would be off limits to fracking due to endangering water supplies or local bans on drilling, which were ruled legal in the state by a court decision in June, finding in favor of the town of Dryden which enacted a ban. He also presented evidence that the highly touted evidence of the economic benefits of fracking to the region was questionable at best.
But it was Zucker who made the most powerful case against letting fracking go forward.
"The questions one would want answered are, is my water safe enough to drink, is my air safe to breath, can I grow vegetables in my garden, the effects on reservoirs that provide drinking water to 9 million people in New York City," he said.
He referred to numerous studies, saying that they raised concerns about water and air contamination, health impacts on those living near wells and the increase in noise, odors, traffic and traffic fatalities.
"There are many red flags, questions that remain unanswered," he said. "Bonafide scientific literature is now emerging. Most studies have been in the last two years. The bottom line is we lack long-term comprehensive studies. They're not yet completed or yet to be initiated. The science isn't there. These concerns gives me reason to pause."
"Governor, you asked me for my opinion and said, let the science decide," Zucker concluded. "Would I live in a community with high-volume hydraulic fracking, based on facts I have now? After looking at plethora of reports, my answer is no. Until the public health red flags are answered by valid evidence, I cannot support high volume hydraulic fracking in the great state of New York."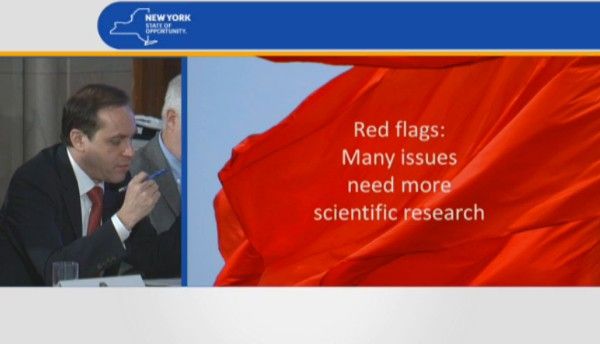 Based on that conclusion, Martens said he would issue a legally binding statement prohibiting fracking in the state.
Following their presentations, Cuomo said, "Dr. Zucker, I found your statement especially effective. What I found most powerful in your presentation is you wouldn't let your family live in an area with high-volume fracking. If you don't believe your children should live there, your duty is to suggest no child should live there."
Ever the politician, Cuomo wrapped up saying, "This is self-executing between you two gentlemen. I have nothing to do with it."
So he can technically say he didn't ban fracking in New York. But for the foreseeable future, there will be no fracking in New York. The ban makes permanent a moratorium put in place in 2008 that kicked the decision down the road; it was set to expire in 2017. Cuomo said earlier this week a decision would be made by the end of the year, and some activists were afraid the governor favored letting fracking proceed.
Needless to say, environmental groups were elated that they'd won their hard-fought battle.
"Our growing national movement has persevered," said Wenonah Hauter of Food & Water Watch. "We applaud Governor Cuomo for acknowledging the overwhelming science that speaks to the inherent dangers of fracking to public health and the environment. Fracking has no place in New York or anywhere, and the governor has smartly seized a golden opportunity to be a real national leader on health, environmental protection and a future free of polluting fossil fuels."
"By banning fracking, Governor Cuomo has set himself apart as a national political leader who stands up for people and not for the interests of the dirty fuel lobby," said Sierra Club executive director Michael Brune. "Today's decision will shake the foundations of our nation's flawed energy policy, and we can only expect that it will give strength to activists nationwide who are fighting fracking in dozens of states and hundreds of cities and counties. The Sierra Club also extends heartfelt congratulations to all of the passionate anti-fracking activists in New York who were relentless in telling the truth about the dangers of fracking, persevered years of opposition from the oil and gas lobby, and ultimately prevailed."
"This is truly a monumental day," said Earthjustice managing attorney Deborah Goldberg, who represented Dryden in the June decision. "Governor Andrew Cuomo has earned a place in history. Never before has a state with proven gas reserves banned fracking. I believe that future generations will point to this day and say 'This is when the tide began to turn against the dirty, dangerous and destructive fossil fuel industry.' We hope that this determined leadership Governor Cuomo has displayed will give courage to elected leaders throughout the country and world: fracking is too dangerous and must not continue."
Other health professionals shared Dr. Zucker's concerns about fracking's health effects.
"Concerned Health Professionals of NY congratulates Governor Cuomo and his administration for listening to the science on drilling and fracking and putting public health first by prohibiting fracking in New York State," said the group's co-founder Dr. Larysa Dyrszka. "As hundreds of peer-reviewed papers have shown, drilling and fracking threaten to have very serious public health and environmental impacts on families and communities. Governor Cuomo put the science first and acted in the best interest of all New Yorkers and future generations. We hope that Governor Cuomo's wise decision will have ripple effects across the country and the world."
And many praised the community activists who organized, protested, rallied and lobbied.
"This victory for health and climate belongs to the thousands of grassroots organizers who led a years long fight to defend their communities from Big Oil and Gas," said 350.org's fracking campaign manager Linda Capato. "They defeated millions of dollars in lobbying and paid misinformation with grassroots energy and bold organizing. This is also a huge win for the anti-fracking movement nationwide. The same health and environmental concerns that led to the ban in New York are present everywhere. Once they have the facts, people across the country will clearly agree with New Yorkers that it is more important to put the health of our children and climate over industry greed."
350.org founder Bill McKibben added, "This is exactly what happens when people organize with enormous skill and dedication. People, especially scattered in small towns across upstate New York—with some help from the big city—showed the whole movement how it's done. 350.org will be continuing to support the movement to stop fracking in New York and across the United States."
YOU MIGHT ALSO LIKE
Why America Should Invest in Renewables, Not Fracking
Hundreds of New Yorkers Rally Against Fracking, Call for Renewable Energy
EcoWatch Daily Newsletter
An African elephant is pictured on November 19, 2012, in Hwange National Park in Zimbabwe. MARTIN BUREAU / AFP / Getty Images
The unprecedented drought that has caused a water crisis in Zimbabwe has now claimed the life of at least 55 elephants since September, according to a wildlife spokesman, as CNN reported.
Maria Dornelas.
By John C. Cannon
Life is reshuffling itself at an unsettling clip across Earth's surface and in its oceans, a new study has found.
An Exxon station in Florida remains open despite losing its roof during Hurricane Katrina on Aug. 29, 2005. Florida Air National Guard photo by Master Sgt. Shaun Withers
The country's largest fossil fuel company goes on trial today to face charges that it lied to investors about the safety of its assets in the face of the climate crisis and potential legislation to fight it, as the AP reported.
El Niño's effect on Antarctica is seen in a tabular iceberg off of Thwaites ice shelf. Jeremy Harbeck / NASA
El Niños are getting stronger due to climate change, according to a new study in Monday's Proceedings of the National Academy of Sciences.
By Julia Ries
Antibiotic resistance has doubled in the last 20 years.
Additionally a new study found one patient developed resistance to a last resort antibiotic in a matter of weeks.
Health experts say antibiotic prescriptions should only be given when absolutely necessary in order to avoid growing resistance.
Over the past decade, antibiotic resistance has emerged as one of the greatest public health threats.
Pexels
There are hundreds of millions of acres of public land in the U.S., but not everyone has had the chance to hike in a national forest or picnic in a state park.
Workers attend to a rooftop solar panel project on May 14, 2017 in Wuhan, China. Kevin Frayer / Getty Images
By Simon Evans
Renewable sources of electricity are set for rapid growth over the next five years, which could see them match the output of the world's coal-fired power stations for the first time ever.