BREAKING: Court Rules Town of Dryden Can Ban Fracking
Feb. 21, 2012 07:59PM EST
Energy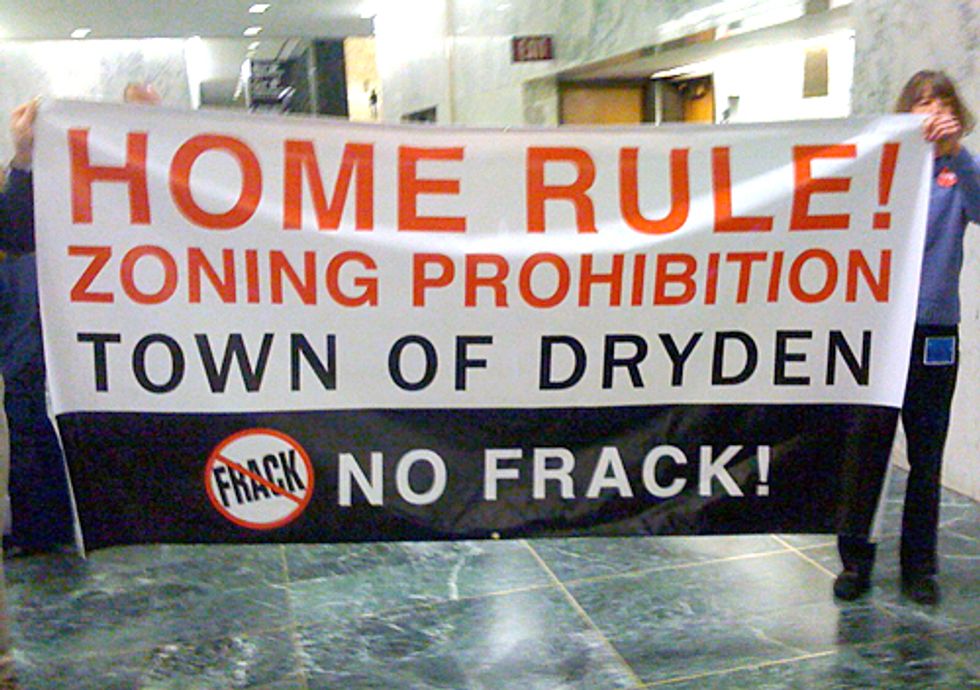 New York Supreme Court Justice Phillip R. Rumsey ruled today in favor of the right of the Town of Dryden to adopt zoning that prohibits natural gas drilling within its borders in Tomkins County.
In the case of Anschutz Exploration Corporation v. the Town of Dryden and the Town of Dryden Town Board, the judge concluded that the town zoning ordinances is not preempted by the state Oil, Gas and Solution Mining Law.
"This is an important vindication of local democracy—with national ramifications—at a time when it is being trampled in our country by powerful interests like the gas and oil industry," said Adrian Kuzminski a moderator for Sustainable Otsego.
This is the first ruling in New York on the issue as to whether towns can outlaw gas drilling, including hydraulic fracturing. There are more than a dozen communities that have adopted similar drilling bans throughout the state.
"New York State Supreme Court Judge Phillip R. Rumsey affirms via granting Summary Judgement, right power and authority by the Town of Dryden, New York to pass a zoning amendment to protect the health and welfare of its citizens from the deleterious FRACers. Hopefully Judge Rumsey will be affirmed on the probable Appeal," stated Denise Katzman, a media industry business manager at EcoEdifier.
"This decision is vitally important because it ruled against the Denver-based company Anschutz, a conglomerate focused on natural gas exploration or production projects in New York, Pennsylvania, Ohio, North Dakota, Montana and Wyoming," said Katzman.
"This is huge victory for the Town of Dryden. In an impressive and well reasoned opinion, Judge Rumsey resolved all claims in favor of the Town of Dryden except one. The provision in the Dryden law that invalidated any permit issued in violation of the Town law was stricken and severed. Significantly, the Court found that even a 'total ban' on extraction is permissible, because there is no express legislative intent to preempt local laws or ordinances in the Oil and Gas Law. This will go a long way to reassure towns and local governments that properly enacted land use and zoning laws remain enforceable against industry claims that they were immune from their application," said Nicole Dillingham from Otsego 2000.
To read a copy of the decision, click here.
EcoWatch Daily Newsletter