Breaking: 900,000 Dead, Thousands More Maimed

Will a death toll of 900,000 be the body count it takes for the public to finally say enough, already? Or will it also take another set of grisly photographs of maimed bodies, deformed skulls, misshapen mouths and twisted spines?
The breaking news out of Wilmington, NC today has both.
Unfortunately, this latest episode is not a single, isolated incident. It is but the latest attack by a serial killer that has taken thousands of lives all across the country, on what has become a nearly 30-year killing spree. The culprit is notorious; the whodunit was solved decades ago. Yet, authorities allow the mayhem to go on, so the death and destruction continues unabated.
A new study confirms that Duke Energy's toxic coal ash pollution is killing more than 900,000 fish and deforming thousands more each year in Lake Sutton, a popular fishing destination just outside of Wilmington, NC. Dr. Dennis Lemly, Research Associate Professor of Biology at Wake Forest University and a leading expert on selenium poisoning conducted the study. He analyzed more than 1,400 fish from the lake and found disturbing mutations of the heads, mouths, spines and tails in several species of fish. Here are just seven of the 18 photos of deformed fish that were included in the study report.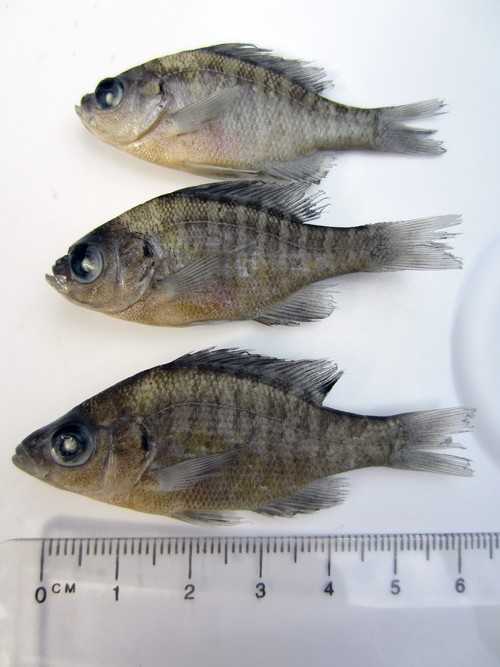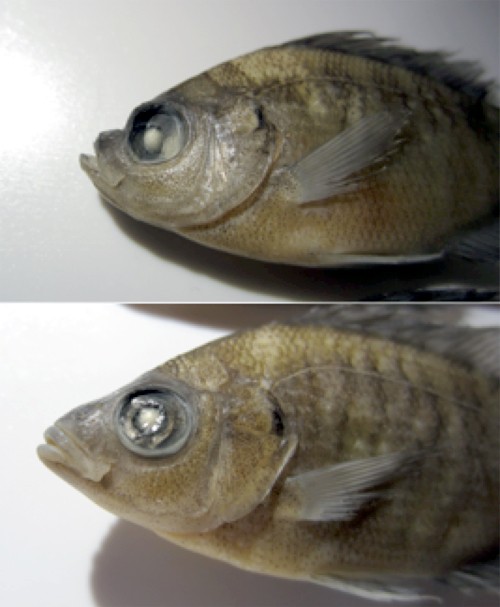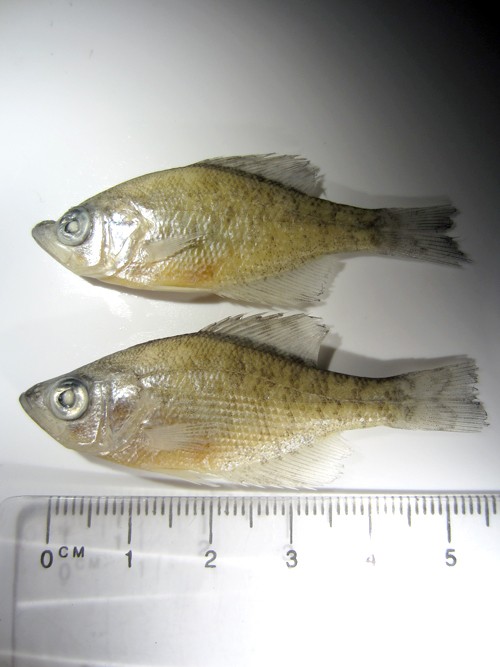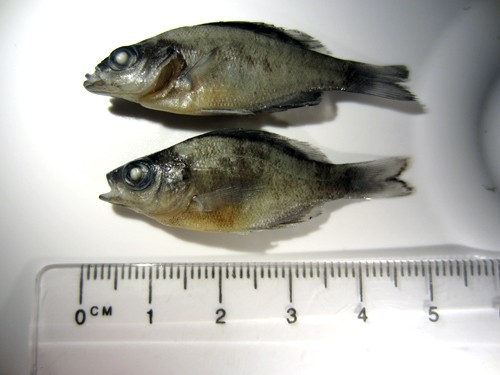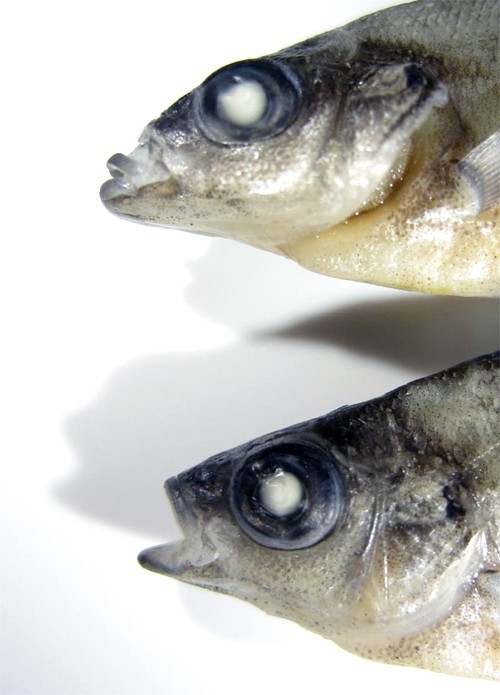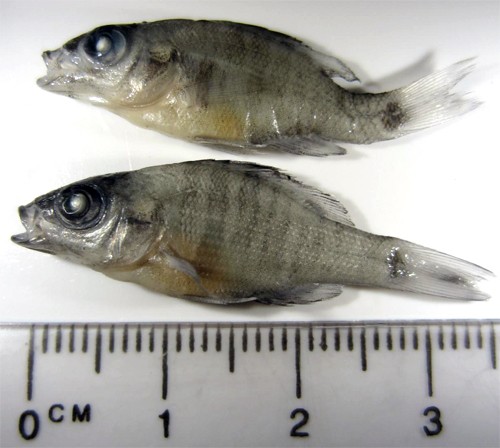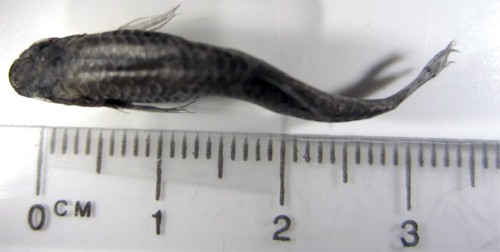 Facial and spinal deformities in baby fish affect their ability to eat and swim. Many young fish die before reaching maturity; long before someone trying to put supper on the table can catch them. One of the many jaw-dropping revelations in the study was the fact that no juvenile largemouth bass (less than 3 inches long) were found in two separate collection events at Lake Sutton. In contrast, many young bass were found in a single collection event at the non-contaminated reference lake that served as a baseline for the study. The most recent fish population assessment of Lake Sutton by the North Carolina Wildlife Resources Commission noted that largemouth bass were in "poor condition," declining 50 percent in both abundance and size between 2008 and 2010.
The value of lost natural resources at Lake Sutton goes well into the millions of dollars each year. The replacement cost of the lost fish is more than $4.5 million per year according to the study. If North Carolina replaced all fish killed by selenium pollution over the last 25 years in Lake Sutton, taxpayers would face a bill of more than $112 million. Duke Energy owned coal plants have been among the most notorious and prolific fish killers in the U.S. since 1976. See table below.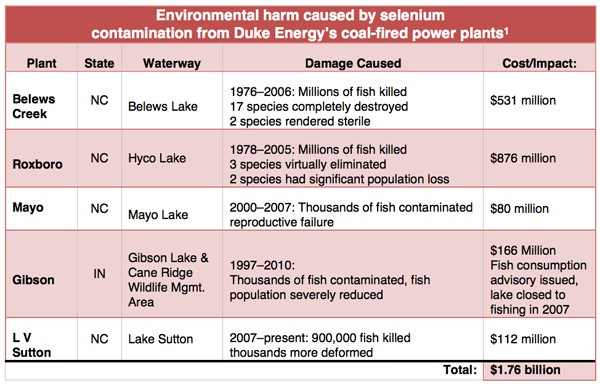 The U.S. Enviromental Protection Agency (EPA), the North Carolina Department of Environment and Natural Resources (DENR) and Duke Energy have known for decades that selenium contamination from coal-fired power plants is a monumental fish killer. Nationwide, there are 22 other cases where coal-fired power plants caused severe damage to fisheries in Texas, Ohio, Pennsylvania, South Carolina, Tennessee, Virginia, Michigan, Georgia, West Virginia, Wisconsin and Wyoming. The total estimated cost of all these fishery damage cases is $ 2.32 billion.
After Duke obliterated 17 species of fish in Belews Lake in the 1970's, steps should have been taken to prevent selenium poisoning from killing more fish. Sadly, that didn't happen and once coal-fired power plants operators saw Duke get away with it, the copycat serial killing of fish continued year after year.
Fortunately, the EPA has proposed two long overdue regulatory updates that could go a long way to addressing this serious problem, if the final rules are sufficiently strong. They are the stalled coal ash rule that was proposed 3 years ago and the coal power plant toxic water pollution rule that was just proposed earlier this year. It is important to note that both rules propose weaker options that will not fix the selenium fish kill problem. Only option 5 of the coal water pollution rule and the hazardous waste classification in the coal ash rule will have any chance of making the killing stop.
Lake Sutton is the 23rd public fishery to be severely damaged by toxic discharges from a coal-fired power plant. If you want to put your foot down and say: enough, already, we won't allow this egregious toxic pollution any more, then take action here.
Tell U.S. EPA Administrator Gina McCarthy to move forward with the strongest coal ash and coal water pollution rules possible because it is time to put an end to serial killing coal-fired power plants.
Visit EcoWatch's COAL and WATER pages for more related news on this topic.

Disturbing footage of a snake in Goa, India vomiting an empty soft drink bottle highlights the world's mounting plastic pollution crisis.
Keep reading...
Show less
By Melissa Hellmann
When her eldest son was in elementary school in the Oakland Unified School District, Ruth Woodruff became alarmed by the meals he was being served at school. A lot of it was frozen, processed foods, packed with preservatives. At home, she was feeding her children locally sourced, organic foods.
Keep reading...
Show less
May. 28, 2017 01:33PM EST
Laurie Woolever
By James O'Hare
There are 20 million people in the world facing famine in South Sudan, Somalia, Nigeria and Yemen. In developed nations, too, people go hungry. Venezuela, for instance, is enduring food insecurity on a national level as a result of economic crisis and political corruption. In the U.S., the land of supposed excess, 12.7 percent of households were food insecure in 2015, meaning they didn't know where their next meal would come from.
Keep reading...
Show less
May. 28, 2017 01:22PM EST
Melwater, Greenland ice sheet. Diane Tuft
Artists are taking the climate crisis into frame and the results are emotional, beautiful and stirring.
So you've seen the best climate change cartoons and shared them with your friends. You've showed your family the infographics on climate change and health, infographics on how the grid works and infographics about clean, renewable energy. You've even forwarded these official National Oceanic and Atmospheric Administration graphs that explain the 10 clear indicators of climate change to your colleagues at the office.
Keep reading...
Show less
May. 27, 2017 01:11PM EST
As the Trump administration moves full speed ahead on boosting the oil and fossil fuel industry, opposition to increased pipeline construction is cropping up in different communities around the country.
Keep reading...
Show less
May. 27, 2017 01:02PM EST
Minke whale stranding near Havergate Island in Suffolk. MCGA.
By Simon Evans
Last Saturday, two dead whales washed up on the coast of Suffolk, in eastern England, and a third was spotted floating at sea.
What happened next illustrates how news can spread and evolve into misinformation, when reported by journalists rushing to publish before confirming basic facts or sourcing their own quotes.
Keep reading...
Show less
May. 27, 2017 01:22PM EST
By Monica Amarelo and Paul Pestano
Sun safety is a crucial part of any outdoor activity for kids, and sunscreen can help protect children's skin from harmful ultraviolet rays. Kids often get sunburned when they're outside unprotected for longer than expected. Parents need to plan ahead and keep sun protection handy in their cars or bags.
Keep reading...
Show less
May. 27, 2017 01:02PM EST
By Joe McCarthy
A lot of people take part in community clean-up efforts—spending a Saturday morning picking up litter in a park, mowing an overgrown field or painting a fence.
Keep reading...
Show less