This website uses cookies to ensure you get the best experience while browsing it. By clicking 'Got It' you're accepting these terms.
Breaking: 900,000 Dead, Thousands More Maimed
Dec. 03, 2013 09:33AM EST
Energy

Will a death toll of 900,000 be the body count it takes for the public to finally say enough, already? Or will it also take another set of grisly photographs of maimed bodies, deformed skulls, misshapen mouths and twisted spines?
The breaking news out of Wilmington, NC today has both.
Unfortunately, this latest episode is not a single, isolated incident. It is but the latest attack by a serial killer that has taken thousands of lives all across the country, on what has become a nearly 30-year killing spree. The culprit is notorious; the whodunit was solved decades ago. Yet, authorities allow the mayhem to go on, so the death and destruction continues unabated.
A new study confirms that Duke Energy's toxic coal ash pollution is killing more than 900,000 fish and deforming thousands more each year in Lake Sutton, a popular fishing destination just outside of Wilmington, NC. Dr. Dennis Lemly, Research Associate Professor of Biology at Wake Forest University and a leading expert on selenium poisoning conducted the study. He analyzed more than 1,400 fish from the lake and found disturbing mutations of the heads, mouths, spines and tails in several species of fish. Here are just seven of the 18 photos of deformed fish that were included in the study report.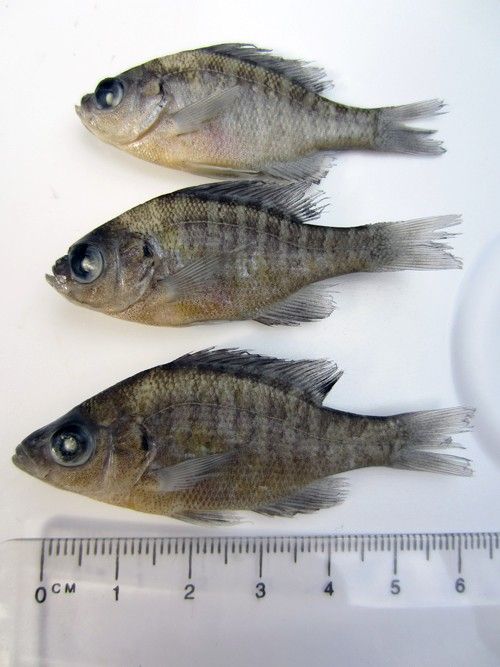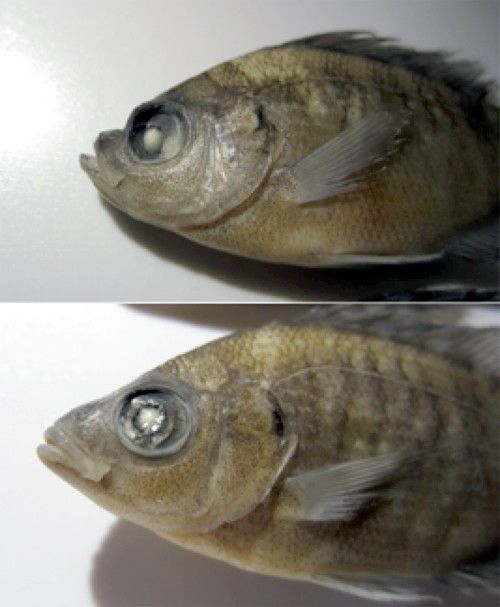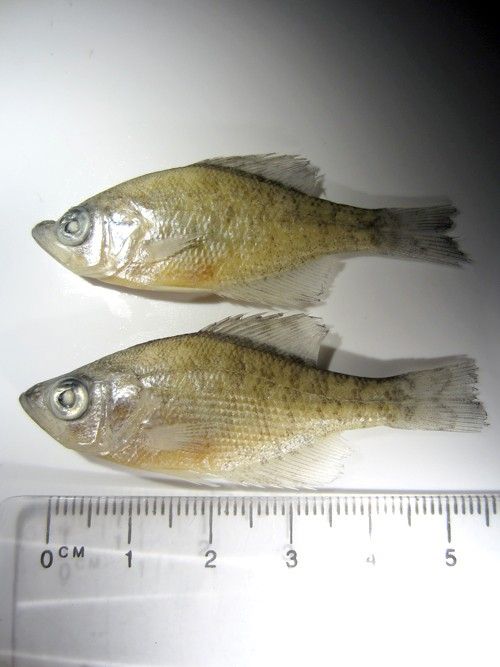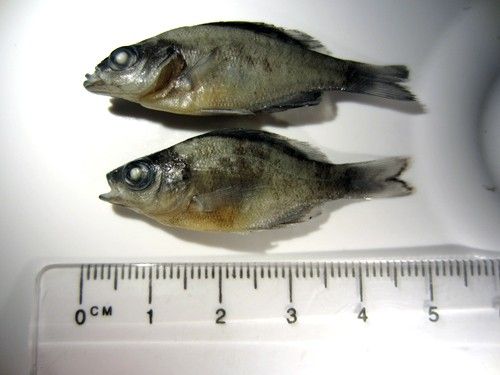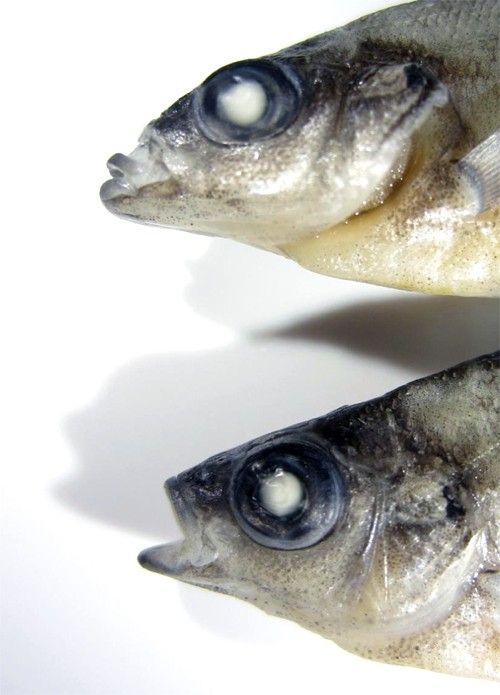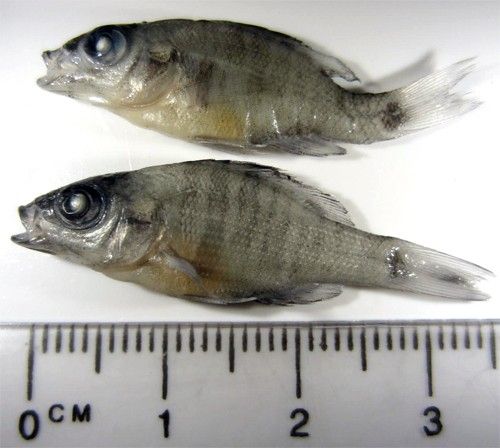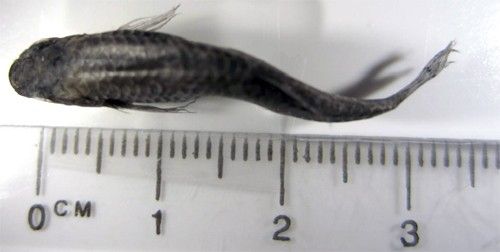 Facial and spinal deformities in baby fish affect their ability to eat and swim. Many young fish die before reaching maturity; long before someone trying to put supper on the table can catch them. One of the many jaw-dropping revelations in the study was the fact that no juvenile largemouth bass (less than 3 inches long) were found in two separate collection events at Lake Sutton. In contrast, many young bass were found in a single collection event at the non-contaminated reference lake that served as a baseline for the study. The most recent fish population assessment of Lake Sutton by the North Carolina Wildlife Resources Commission noted that largemouth bass were in "poor condition," declining 50 percent in both abundance and size between 2008 and 2010.
The value of lost natural resources at Lake Sutton goes well into the millions of dollars each year. The replacement cost of the lost fish is more than $4.5 million per year according to the study. If North Carolina replaced all fish killed by selenium pollution over the last 25 years in Lake Sutton, taxpayers would face a bill of more than $112 million. Duke Energy owned coal plants have been among the most notorious and prolific fish killers in the U.S. since 1976. See table below.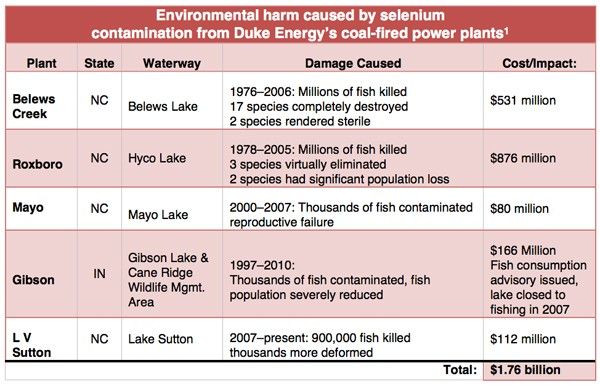 The U.S. Enviromental Protection Agency (EPA), the North Carolina Department of Environment and Natural Resources (DENR) and Duke Energy have known for decades that selenium contamination from coal-fired power plants is a monumental fish killer. Nationwide, there are 22 other cases where coal-fired power plants caused severe damage to fisheries in Texas, Ohio, Pennsylvania, South Carolina, Tennessee, Virginia, Michigan, Georgia, West Virginia, Wisconsin and Wyoming. The total estimated cost of all these fishery damage cases is $ 2.32 billion.
After Duke obliterated 17 species of fish in Belews Lake in the 1970's, steps should have been taken to prevent selenium poisoning from killing more fish. Sadly, that didn't happen and once coal-fired power plants operators saw Duke get away with it, the copycat serial killing of fish continued year after year.
Fortunately, the EPA has proposed two long overdue regulatory updates that could go a long way to addressing this serious problem, if the final rules are sufficiently strong. They are the stalled coal ash rule that was proposed 3 years ago and the coal power plant toxic water pollution rule that was just proposed earlier this year. It is important to note that both rules propose weaker options that will not fix the selenium fish kill problem. Only option 5 of the coal water pollution rule and the hazardous waste classification in the coal ash rule will have any chance of making the killing stop.
Lake Sutton is the 23rd public fishery to be severely damaged by toxic discharges from a coal-fired power plant. If you want to put your foot down and say: enough, already, we won't allow this egregious toxic pollution any more, then take action here.
Tell U.S. EPA Administrator Gina McCarthy to move forward with the strongest coal ash and coal water pollution rules possible because it is time to put an end to serial killing coal-fired power plants.
Visit EcoWatch's COAL and WATER pages for more related news on this topic.

EcoWatch Daily Newsletter
David Gilmour performs at Anfiteatro Scavi di Pomei on July 7, 2016 in Pompei, Italy. Francesco Prandoni / Redferns / Getty Images
David Gilmour, guitarist, singer and songwriter in the rock band Pink Floyd, set a record last week when he auctioned off 126 guitars and raised $21.5 million for ClientEarth, a non-profit environmental law group dedicated to fighting the global climate crisis, according to CNN.
U.S. Secretary of Agriculture Sonny Perdue speaks during a forum April 18, 2018 in Washington, DC. Alex Wong / Getty Images
The Trump administration ratcheted up its open hostility to climate science in a move that may hide essential information from the nation's farmers.
Simple swaps that cut down on kitchen trash.
Sponsored
By Kayla Robbins
Along with the bathroom, the kitchen is one of the most daunting areas to try and make zero waste.
Protestors and police stand on ether side of railway tracks. dpa / picture-alliance
Police have cleared 250 climate activists who stayed overnight at the Garzweiler brown coal mine in western Germany, officials said Sunday.
Cecilie_Arcurs / E+ / Getty Images
By Megan Jones and Jennifer Solomon
The #MeToo movement has caused profound shake-ups at organizations across the U.S. in the last two years. So far, however, it has left many unresolved questions about how workplaces can be more inclusive and equitable for women and other diverse groups.

Cigarette butts are the most-littered item found at beach clean ups. John R. Platt
By Tara Lohan
By now it's no secret that plastic waste in our oceans is a global epidemic. When some of it washes ashore — plastic bottles, plastic bags, food wrappers — we get a stark reminder. And lately one part of this problem has been most glaring to volunteers who comb beaches picking up trash: cigarette butts.

Andrea Rodgers, second from the right, takes notes during a hearing in the Juliana v. U.S. case before the 9th Circuit Court of Appeals in Portland, Oregon on June 4. Colleague Elizabeth Brown sits to her left, while colleague Julia Olson sits on her right, with co-council Philip Gregory on Julia's right. Robin Loznak / Our Children's Trust
By Fran Korten
On June 4, Andrea Rodgers was in the front row of attorneys sitting before a three-judge panel of the 9th Circuit Court. The court session, held in Portland, Oregon, was to determine whether the climate change lawsuit (Juliana v. United States) brought by 21 young plaintiffs should be dismissed, as requested by the U.S. government, or go on to trial.
Seventy Extinction Rebellion protesters were arrested outside The New York Times building Saturday.
SCOOTERCASTER / YouTube screenshot