Brazil Won't Buy U.S. GMO Corn, Highlights Worldwide Divide Over GMOs
While genetically modified (GMO) foods seem to proliferate across the U.S., many other nations do not allow such products to enter or grow within their borders.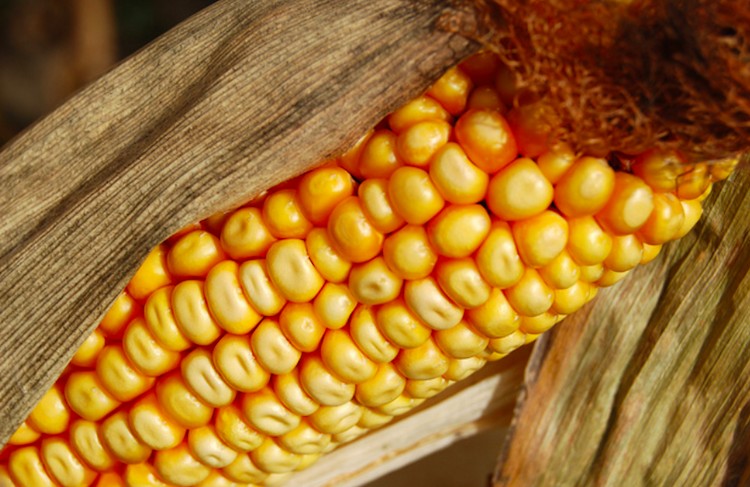 Brazil grows 29 varieties of GMO corn while the U.S. grows 43 different types, according to the International Service for the Acquisition of Agri-Biotech Applications. Photo credit: Flickr
A Bloomberg article illustrated how the world's vast patchwork of GMO regulations can deter international trade.
Case in point, even though the Brazilian chicken industry is suffering from a domestic corn shortage this year, companies refuse to buy corn from the U.S. because of Brazil's stringent regulations on GMOs.
"In recent years, some of the largest commodity trading companies have refused to take certain GMO crops from farmers because the seeds used hadn't received a full array of global approvals, something that can lead to holdups at ports or even the rejection of entire cargoes," the article stated.
Brazil happens to be the second largest producer of GMO crops in the world after the U.S., and grows 29 varieties of GMO corn. However, the South American country has had a contentious history over GMOs and does not allow certain varieties to enter the country—the U.S. cultivates 43 types of GMO corn. Brazil also mandates that all products containing GMO ingredients carry a label and, earlier this year, the Brazilian Ministry of Justice fined major food manufacturers including Nestle, PepsiCo and a Mexican baking company for concealing the presence of GMOs in their products.
Brazil, the world biggest exporter of chicken and grain traders, is now considering whether to request approval from the government to import GMO crops that aren't currently permitted, Bloomberg reported.
Bloomberg's article highlights the international divisiveness over genetically altered food and the agri-tech industry, a reflection of general consumer and political unease over the safety and environmental concerns of GMOs and the pesticides they are designed to resist.
In the graphic below, the Genetic Literacy Project listed a dizzying mix of countries that have either banned or allowed GMO food cultivation or imports. The group also noted that the vast majority of genetically altered crops come from only a dozen nations that allow cultivation: the U.S., Brazil, Argentina, India, Canada, China, Paraguay, Pakistan, South Africa, Uruguay, Bolivia and the Philippines.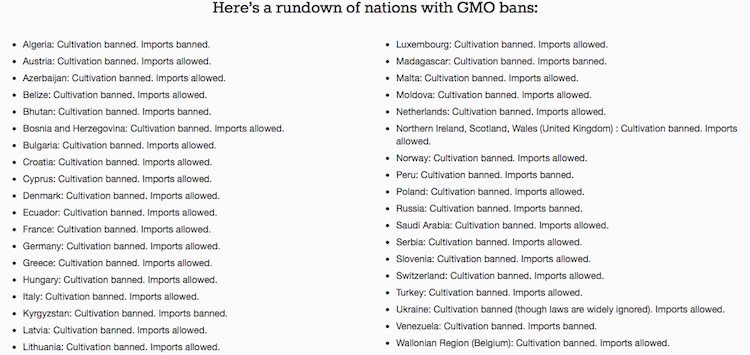 Brazil's case is similar to India, which imported corn for the first time in 16 years this past February due to production shortage issues caused by drought.
India received 250,000 tonnes of non-GMO corn from South Korea's Daewoo International via Ukraine, however as experts warned to Reuters, it is difficult to ensure that the supply is 100 percent non-GMO, sparking fears of GMO contamination.
It only takes a few GMO seeds to mix with local varieties to enter India's food supply chain, an Indian government scientist explained.
"The biggest risk of accepting anything less than 99, or 100, percent is that the imported GM corn may eventually get mixed with conventional seeds that farmers sow in India," the scientist, who asked to not be named, told Reuters. "If, God forbid, any GM seed gets mixed here, it'll spoil the entire Indian agriculture."
YOU MIGHT ALSO LIKE
First Commercial Crop of GMO Arctic Apples About to Hit Market
EU Fails to Approve 'Technical Extension' for Weed-Killer Glyphosate
EU Commission Backs Down on Long-Term Glyphosate Approval, Seeks Last Minute Extension
The U.S. Fish and Wildlife Service removed grizzly bears in the Greater Yellowstone region on Thursday from the Endangered Species List. The decision comes despite serious concerns in the scientific community about a declining, isolated population with diminishing food resources and record-high mortalities, as well as strong opposition from an unprecedented number of Tribal Nations.
Keep reading...
Show less
ArborGen pine tree field test site in South Carolina. BJ McManama
By BJ McManama
ArborGen Corporation, a multinational conglomerate and leading supplier of seedlings for commercial forestry applications, has submitted an approval request to the U.S. Department of Agriculture, Animal and Plant Health Inspection Service to deregulate and widely distribute a eucalyptus tree genetically engineered (GE) to be freeze tolerant. This modification will allow this GE variety to be grown in the U.S. Southeast. The reason this non-native and highly invasive tree has been artificially created to grow outside of its tropical environment is to greatly expand production capacity for the highly controversial woody biomass industry.
Keep reading...
Show less
By Kari Hamerschlag
Many health conscious consumers are reducing their consumption of red meat in favor of chicken—especially products labeled and promoted as "100% natural"—believing they are a healthier option produced without routine antibiotics, artificial substances or other drugs.
Keep reading...
Show less
Stephen Hawking repeated his warning that humanity needs to leave Earth and colonize the moon, Mars or other planets in order for our species to survive the impending doom of climate change.
"We have given our planet the disastrous gift of climate change ... When we we have reached similar crises there has usually been somewhere else to colonize ... But there is no new world, no utopia around the corner," he said. "We are running out of space, and the only places to go to are other worlds."
Keep reading...
Show less
www.youtube.com
Keep reading...
Show less
It's so hot in the American Southwest that meteorologists are using unusual colors for their temperature maps.
As reported by MLive's Mark Torregrossa, with temperatures forecast to hit 120 degrees Fahrenheit in the Phoenix area, the folks at weatherbell.com had to use green for its Wednesday map because the other shades were already used.
Keep reading...
Show less
www.facebook.com
Former California Gov. Arnold Schwarzenegger has let the world know that Donald Trump does not represent America in his choice to drop out of the Paris climate agreement.
Despite the president's lack of support for the environment, the rest of America will continue to work towards a brighter and greener future, as Schwarzenegger makes clear in the video above.
An oil and gas drilling platform in Australian waters. CSIRO / Wikimedia Commons
By Paul Brown
Natural gas will have to be phased out along with coal if the world is to be kept safe from dangerous climate change. And that seems likely to have to happen far sooner than most official forecasts, according to a new report.
If countries want to reach their Paris climate agreement goals of limiting the long-term world temperature rise to 1.5°C, then many of the proposals to increase gas production and distribution will be unnecessary. New terminals and pipelines will never be fully used and will become stranded assets.
Keep reading...
Show less
The Dakota Access Pipeline being installed between farms in New Salem, North Dakota. Tony Webster /
Flickr
Keep reading...
Show less


Get EcoWatch in your inbox