This website uses cookies to ensure you get the best experience while browsing it. By clicking 'Got It' you're accepting these terms.
Brazil to Build World's Largest Floating Solar Farm Amidst Devastating Drought
Apr. 07, 2015 08:40AM EST
Business
With Brazil's historic drought drying up its hydroelectric plants, the South American country is turning to solar power to help relieve its foreboding energy crisis.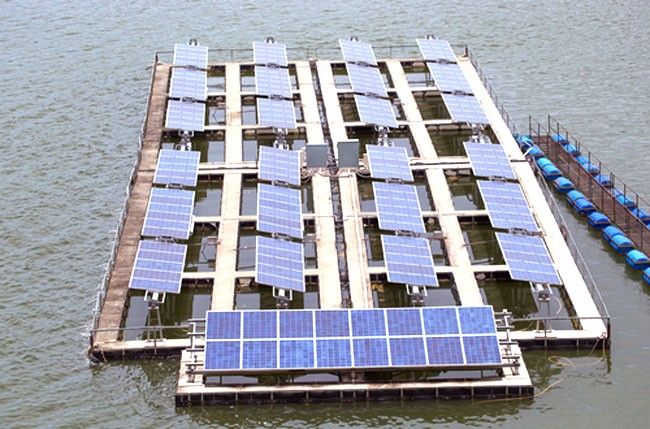 Photo credit: Shutterstock
The nation announced that within four months, it will commence pilot tests of a gigantic floating solar farm located atop the Balbina hydroelectric plant in the Amazon. It's currently unclear how physically large the floating farm will be, but the enormous reservoir it will sit on covers 2,360 square kilometers.
At 350 megawatts, Brazil's ambitious project would easily trump Japan's currently largest 13.4 megawatt floating solar power plant in terms of power output. To put that in another perspective, the largest solar farm in the world is the 550 megawatt Desert Sunlight Solar Farm in California.
Diversifying energy sources is clearly a necessity for the notoriously parched country. Brazil is experiencing its worst drought in four decades, causing electricity blackouts in many regions. Below-average rainfall in the last few years have depleted its reservoirs, thus gutting its formerly plentiful supply of hydropower, which supplies more than three-quarters of the country's electricity, according to the U.S. Energy Information Administration.
As Climate News Network reported, "the reservoirs in the drought-affected region could fall to as little as 10 percent of their capacity, which ... Mines and Energy Minister Eduardo Braga admits would be 'catastrophic' for energy security."
While the sunny country has tremendous potential for solar power, Brazil has been slow to embrace this form of renewable energy. It was only in October 2014, when Brazil made its first foray into this sector with the construction of 31 solar parks, its first large-scale solar project with a combined capacity of 1,048 megawatts.
A shift to solar energy might be fitting, as the Balbina Dam (where the proposed solar farm will eventually sit) has been criticized for emitting more greenhouse gases than a coal-fired power plant.
"We are adding technological innovation, more transmission lines, diversifying our energy generation source, introducing solar energy in a more vigorous manner and combining solar energy with hydroelectric energy," Braga told reporters about the solar farm project.
"We are preparing ourselves to win the challenge in 2015 and be able to deliver a model and an electric system starting in 2016 which will be cheaper, more secure and with greater technological innovation," Braga said. Electricity produced at the farm is expected to cost between $69 and $77 per megawatt hour, reports say.
YOU MIGHT ALSO LIKE
Gloom Does Not Have to Mean Doom for California's Epic Drought
75,000 New Jobs to Enter Solar Workforce, Including Military Veterans
EcoWatch Daily Newsletter
BruceBlock / iStock / Getty Images
Thanks to their high concentration of powerful plant compounds, foods with a natural purple hue offer a wide array of health benefits.
Environmental Investigation Agency
Last week, the Peruvian Palm Oil Producers' Association (JUNPALMA) promised to enter into an agreement for sustainable and deforestation-free palm oil production. The promise was secured by the U.S. based National Wildlife Federation (NWF) in collaboration with the local government, growers and the independent conservation organization Sociedad Peruana de Ecodesarrollo.
Pixabay
Leaked documents show that Jair Bolsonaro's government intends to use the Brazilian president's hate speech to isolate minorities living in the Amazon region. The PowerPoint slides, which democraciaAbierta has seen, also reveal plans to implement predatory projects that could have a devastating environmental impact.
XL CATLIN SEAVIEW SURVEY / THE OCEAN AGENCY
Hope may be on the horizon for the world's depleted coral reefs thanks to scientists who successfully reproduced endangered corals in a laboratory setting for the first time, according to Reuters.
Last week we received positive news on the border wall's imminent construction in an Arizona wildlife refuge. The Trump administration delayed construction of the wall through about 60 miles of federal wildlife preserves.
PhotoAlto / Frederic Cirou / Getty Images
Drinking water treated with fluoride during pregnancy may lead to lower IQs in children, a controversial new study has found.
National Institude of Allergy and Infectious Disease