This website uses cookies to ensure you get the best experience while browsing it. By clicking 'Got It' you're accepting these terms.
Brazil to Build World's Largest Floating Solar Farm Amidst Devastating Drought
Apr. 07, 2015 08:40AM EST
With Brazil's historic drought drying up its hydroelectric plants, the South American country is turning to solar power to help relieve its foreboding energy crisis.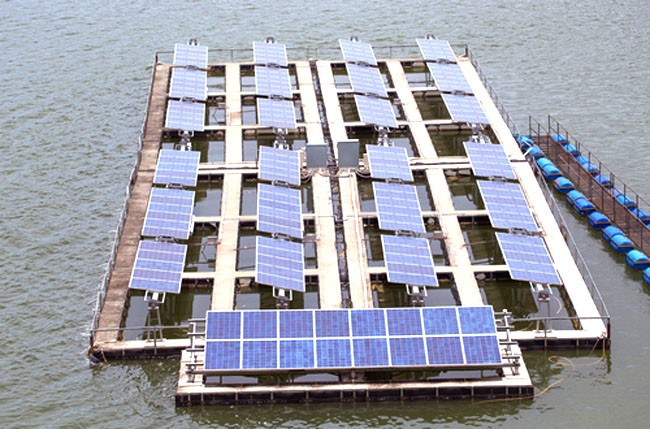 Photo credit: Shutterstock
The nation announced that within four months, it will commence pilot tests of a gigantic floating solar farm located atop the Balbina hydroelectric plant in the Amazon. It's currently unclear how physically large the floating farm will be, but the enormous reservoir it will sit on covers 2,360 square kilometers.
At 350 megawatts, Brazil's ambitious project would easily trump Japan's currently largest 13.4 megawatt floating solar power plant in terms of power output. To put that in another perspective, the largest solar farm in the world is the 550 megawatt Desert Sunlight Solar Farm in California.
Diversifying energy sources is clearly a necessity for the notoriously parched country. Brazil is experiencing its worst drought in four decades, causing electricity blackouts in many regions. Below-average rainfall in the last few years have depleted its reservoirs, thus gutting its formerly plentiful supply of hydropower, which supplies more than three-quarters of the country's electricity, according to the U.S. Energy Information Administration.
As Climate News Network reported, "the reservoirs in the drought-affected region could fall to as little as 10 percent of their capacity, which ... Mines and Energy Minister Eduardo Braga admits would be 'catastrophic' for energy security."
While the sunny country has tremendous potential for solar power, Brazil has been slow to embrace this form of renewable energy. It was only in October 2014, when Brazil made its first foray into this sector with the construction of 31 solar parks, its first large-scale solar project with a combined capacity of 1,048 megawatts.
A shift to solar energy might be fitting, as the Balbina Dam (where the proposed solar farm will eventually sit) has been criticized for emitting more greenhouse gases than a coal-fired power plant.
"We are adding technological innovation, more transmission lines, diversifying our energy generation source, introducing solar energy in a more vigorous manner and combining solar energy with hydroelectric energy," Braga told reporters about the solar farm project.
"We are preparing ourselves to win the challenge in 2015 and be able to deliver a model and an electric system starting in 2016 which will be cheaper, more secure and with greater technological innovation," Braga said. Electricity produced at the farm is expected to cost between $69 and $77 per megawatt hour, reports say.
YOU MIGHT ALSO LIKE
Gloom Does Not Have to Mean Doom for California's Epic Drought
75,000 New Jobs to Enter Solar Workforce, Including Military Veterans
KarinaKnyspel / iStock / Getty Images
2018 saw a number of studies pointing to the outsized climate impact of meat consumption. Beef has long been singled out as particularly unsustainable: Cows both release the greenhouse gas methane into the atmosphere because of their digestive processes and require a lot of land area to raise. But for those unwilling to give up the taste and texture of a steak or burger, could lab-grown meat be a climate-friendly alternative? In a first-of-its-kind study, researchers from the Oxford Martin School set out to answer that question.
Three scissor-tailed flycatcher fledglings in a mesquite tree in Texas. Texas Eagle / CC BY-NC 2.0
By Gary Paul Nabhan
President Trump has declared a national emergency to fund a wall along our nation's southern border. The border wall issue has bitterly divided people across the U.S., becoming a vivid symbol of political deadlock.
PeopleImages / E+ / Getty Images
By Daniel Ross
Hurricane Florence, which battered the U.S. East Coast last September, left a trail of ruin and destruction estimated to cost between $17 billion and $22 billion. Some of the damage was all too visible—smashed homes and livelihoods. But other damage was less so, like the long-term environmental impacts in North Carolina from hog waste that spilled out over large open-air lagoons saturated in the rains.
Hog waste can contain potentially dangerous pathogens, pharmaceuticals and chemicals. According to the state's Department of Environmental Quality, as of early October nearly 100 such lagoons were damaged, breached or were very close to being so, the effluent from which can seep into waterways and drinking water supplies.
This picture taken on May 21, 2018 shows discarded climbing equipment and rubbish scattered around Camp 4 of Mount Everest. Decades of commercial mountaineering have turned Mount Everest into the world's highest rubbish dump as an increasing number of big-spending climbers pay little attention to the ugly footprint they leave behind. DOMA SHERPA / AFP / Getty Images
China has closed its Everest base camp to tourists because of a buildup of trash on the world's tallest mountain.