This website uses cookies to ensure you get the best experience while browsing it. By clicking 'Got It' you're accepting these terms.
Brazil Farmers Say GMO Corn No Longer Resistant to Bugs
Jul. 30, 2014 09:56AM EST
Food
Brazilian farmers say their GMO corn is no longer resistant to pests, Reuters reported Monday.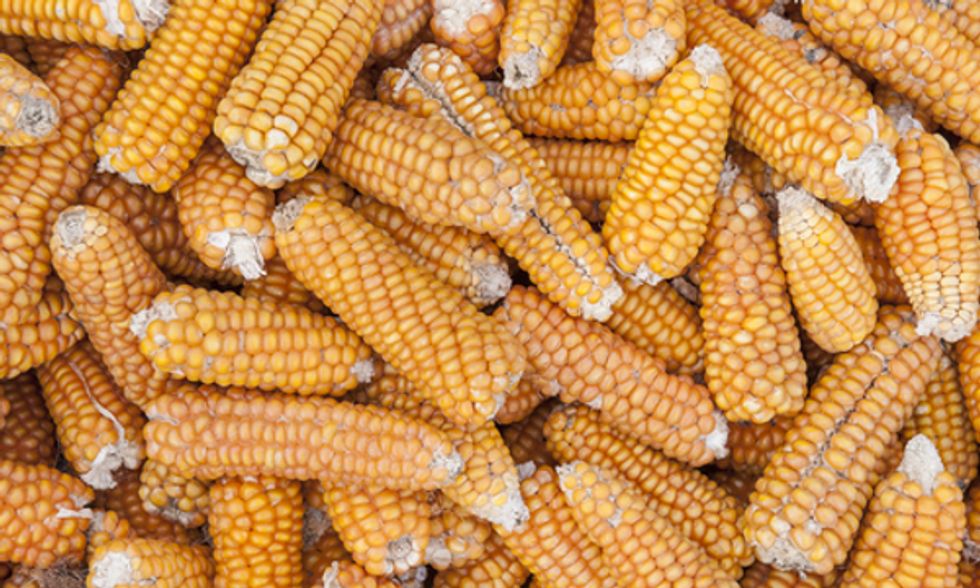 An unintended outcome is almost certainly an increased use of pesticides. Photo courtesy of Shutterstock
The Association of Soybean and Corn Producers of the Mato Grosso region said farmers first noticed in March that their genetically modified (GMO) corn crops were less resistant to the destructive caterpillars that "Bt corn"—which has been genetically modified to produce a toxin that repels certain pests—is supposed to protect against. In turn, farmers have been forced to apply extra coats of insecticides, racking up additional environmental and financial costs.
The association, which goes by the name Aprosoja-MT, is calling on Monsanto, DuPont, Syngenta and Dow companies to offer solutions as well as compensate the farmers for their losses. In a release posted to the Aprosoja-MT website, spokesman Ricardo Tomcyzk said farmers spent the equivalent of $54 per hectare to spray extra pesticides, and that the biotech companies promised something they didn't deliver, "i.e. deceptive advertising." (via Google Translate)
But Monsanto, et al are unlikely to accommodate the farmers. According to Reuters, "seed companies say they warned Brazilian farmers to plant part of their corn fields with conventional seeds to prevent bugs from mutating and developing resistance to GMO seeds."
Earlier this year, a similar problem arose in the U.S., when scientists confirmed that corn-destroying rootworms had evolved to be resistant to the GMO corn engineered to kill them.
The industry response to such loss of efficacy is not to encourage biodiversity, but to further modify the organisms, according to the nonprofit GM Watch.
The case of Brazil is an example for an overall trend showing that nearly twenty years after the start of commercialization of Bt crops, there are problems in several countries growing this kind of genetically engineered crop. Industry tries to tackle this issue by commercialization of so called "stacked events" that produce several different Bt toxins. The best known example is Monsanto's SmartStax maize that produces six different Bt toxins.
Another unintended outcome is almost certainly an increased use of pesticides, as has already happened in Mato Grosso.
You Might Also Like
New Study Shows Glaring Differences Between GMO and Non-GMO Foods
Chinese Army Bans All GMO Grains and Oils
French Parliament Bans GMO Corn
EcoWatch Daily Newsletter
Ocean pollution concept with plastic and garbage.
Anton Petrus
/ Moment / Getty Images
Nestlé cannot claim that its Ice Mountain bottled water brand is an essential public service, according to Michigan's second highest court, which delivered a legal blow to the food and beverage giant in a unanimous decision.
A number of supermarkets across the country have voluntarily issued a recall on sushi, salads and spring rolls distributed by Fuji Food Products due to a possible listeria contamination, as CBS News reported.
A U.S. Border Patrol agent gathers personal effects from immigrants before they are transferred to a McAllen processing center on July 02, 2019 in Los Ebanos, Texas. John Moore / Getty Images
Poverty and violence in Central America are major factors driving migration to the United States. But there's another force that's often overlooked: climate change.
Retired Lt. Cmdr. Oliver Leighton Barrett is with the Center for Climate and Security. He says that in Guatemala, Honduras and El Salvador, crime and poor economic conditions have long led to instability.
"And when you combine that with protracted drought," he says, "it's just a stressor that makes everything worse."
Barrett says that with crops failing, many people have fled their homes.
"These folks are leaving not because they're opportunists," he says, "but because they are in survival mode. You have people that are legitimate refugees."
So Barrett supports allocating foreign aid to programs that help people in drought-ridden areas adapt to climate change.
"There are nonprofits that are operating in those countries that have great ideas in terms of teaching farmers to use the land better, to harvest water better, to use different variety of crops that are more resilient to drought conditions," he says. "Those are the kinds of programs I think are needed."
So he says the best way to reduce the number of climate change migrants is to help people thrive in their home countries.
Reporting credit: Deborah Jian Lee / ChavoBart Digital Media.
Reposted with permission from Yale Climate Connections.
Chris Pratt arrives to the Los Angeles premiere of "Jurassic World: Fallen Kingdom" on June 12, 2018 in Los Angeles, California. Michael Tran / FilmMagic / Getty Images

Chris Pratt was called out on social media by Game of Thrones star Jason Momoa after Pratt posted an image "low key flexing" with a single-use plastic water bottle.