This website uses cookies to ensure you get the best experience while browsing it. By clicking 'Got It' you're accepting these terms.
Brazil Farmers Say GMO Corn No Longer Resistant to Bugs
Jul. 30, 2014 09:56AM EST
Food
Brazilian farmers say their GMO corn is no longer resistant to pests, Reuters reported Monday.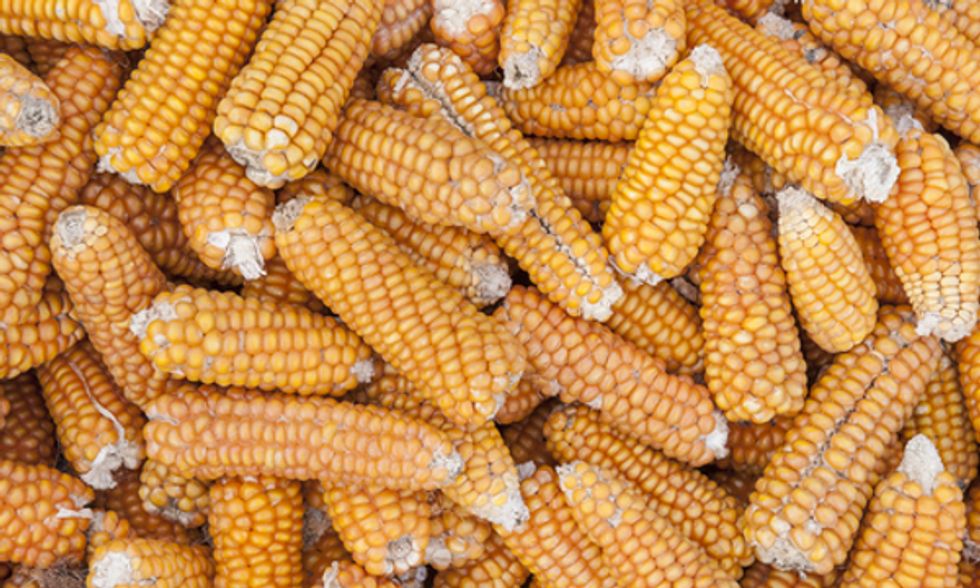 An unintended outcome is almost certainly an increased use of pesticides. Photo courtesy of Shutterstock
The Association of Soybean and Corn Producers of the Mato Grosso region said farmers first noticed in March that their genetically modified (GMO) corn crops were less resistant to the destructive caterpillars that "Bt corn"—which has been genetically modified to produce a toxin that repels certain pests—is supposed to protect against. In turn, farmers have been forced to apply extra coats of insecticides, racking up additional environmental and financial costs.
The association, which goes by the name Aprosoja-MT, is calling on Monsanto, DuPont, Syngenta and Dow companies to offer solutions as well as compensate the farmers for their losses. In a release posted to the Aprosoja-MT website, spokesman Ricardo Tomcyzk said farmers spent the equivalent of $54 per hectare to spray extra pesticides, and that the biotech companies promised something they didn't deliver, "i.e. deceptive advertising." (via Google Translate)
But Monsanto, et al are unlikely to accommodate the farmers. According to Reuters, "seed companies say they warned Brazilian farmers to plant part of their corn fields with conventional seeds to prevent bugs from mutating and developing resistance to GMO seeds."
Earlier this year, a similar problem arose in the U.S., when scientists confirmed that corn-destroying rootworms had evolved to be resistant to the GMO corn engineered to kill them.
The industry response to such loss of efficacy is not to encourage biodiversity, but to further modify the organisms, according to the nonprofit GM Watch.
The case of Brazil is an example for an overall trend showing that nearly twenty years after the start of commercialization of Bt crops, there are problems in several countries growing this kind of genetically engineered crop. Industry tries to tackle this issue by commercialization of so called "stacked events" that produce several different Bt toxins. The best known example is Monsanto's SmartStax maize that produces six different Bt toxins.
Another unintended outcome is almost certainly an increased use of pesticides, as has already happened in Mato Grosso.
You Might Also Like
New Study Shows Glaring Differences Between GMO and Non-GMO Foods
Chinese Army Bans All GMO Grains and Oils
French Parliament Bans GMO Corn
EcoWatch Daily Newsletter
Pexels
By Tim Lydon
Climate-related disasters are on the rise, and carbon emissions are soaring. Parents today face the unprecedented challenge of raising children somehow prepared for a planetary emergency that may last their lifetimes. Few guidebooks are on the shelves for this one, yet, but experts do have advice. And in a bit of happy news, it includes strategies already widely recognized as good for kids.
Pexels
Be it Nina Simone and James Brown for civil rights, Joni Mitchell and Marvin Gaye for the environment, or Jackson Browne and Buffalo Springfield for nuclear disarmament, musicians have long helped push social movements into the limelight.
Yulia Lisitsa / iStock / Getty Images Plus
Collagen is the most abundant protein in your body.
It is the major component of connective tissues that make up several body parts, including tendons, ligaments, skin, and muscles.
Greenpeace activists unfurl banners after building a wood and card 'oil pipeline' outside the Canadian High Commission, Canada House, to protest against the Trudeau government's plans to build an oil pipeline in British Colombia on April 18, 2018 in London. Chris J Ratcliffe / Getty Images
By Jessica Corbett
In an open letter to Canadian Prime Minister Justin Trudeau and Deputy Prime Minister Chrystia Freeland, 42 Nobel laureates implored the federal government to "act with the moral clarity required" to tackle the global climate crisis and stop Teck Resources' proposed Frontier tar sands mine.
Mapping Urban Heat through Portland State University /
video
Concrete and asphalt absorb the sun's energy. So when a heat wave strikes, city neighborhoods with few trees and lots of black pavement can get hotter than other areas — a lot hotter.