This website uses cookies to ensure you get the best experience while browsing it. By clicking 'Got It' you're accepting these terms.
Brad's Raw Foods Founder Shares How His Kale Chips Landed on 7,000 Store Shelves
Oct. 29, 2013 05:50PM EST
Business
Brad Gruno lost a lot of money and confidence before he grew Brad's Raw Foods into a business with products available in 7,000 stores.
Before he began eating or selling kale chips and other vegetable-based snacks, Gruno was a victim of the telecoms crash of 2001. He escaped the ensuing depression and weight gain by taking on a diet of only fruits, vegetables, seeds and nuts.
His homemade kale chips were the talk of farmers markets in Bucks County, PA by 2009. Four years later, his gluten-free, vegan, non-GMO (genetically modified organism) products are available at Whole Foods and other retailers. Last month, he closed a deal with Kroger to land his products in 1,100 locations.
While preparing for the Dec. 31 release of his book, Brad's Raw Made Easy, Gruno chatted with EcoWatch about his transition from telecommunications to organic foods and his 120-employee company's process from the farm to the chip bag.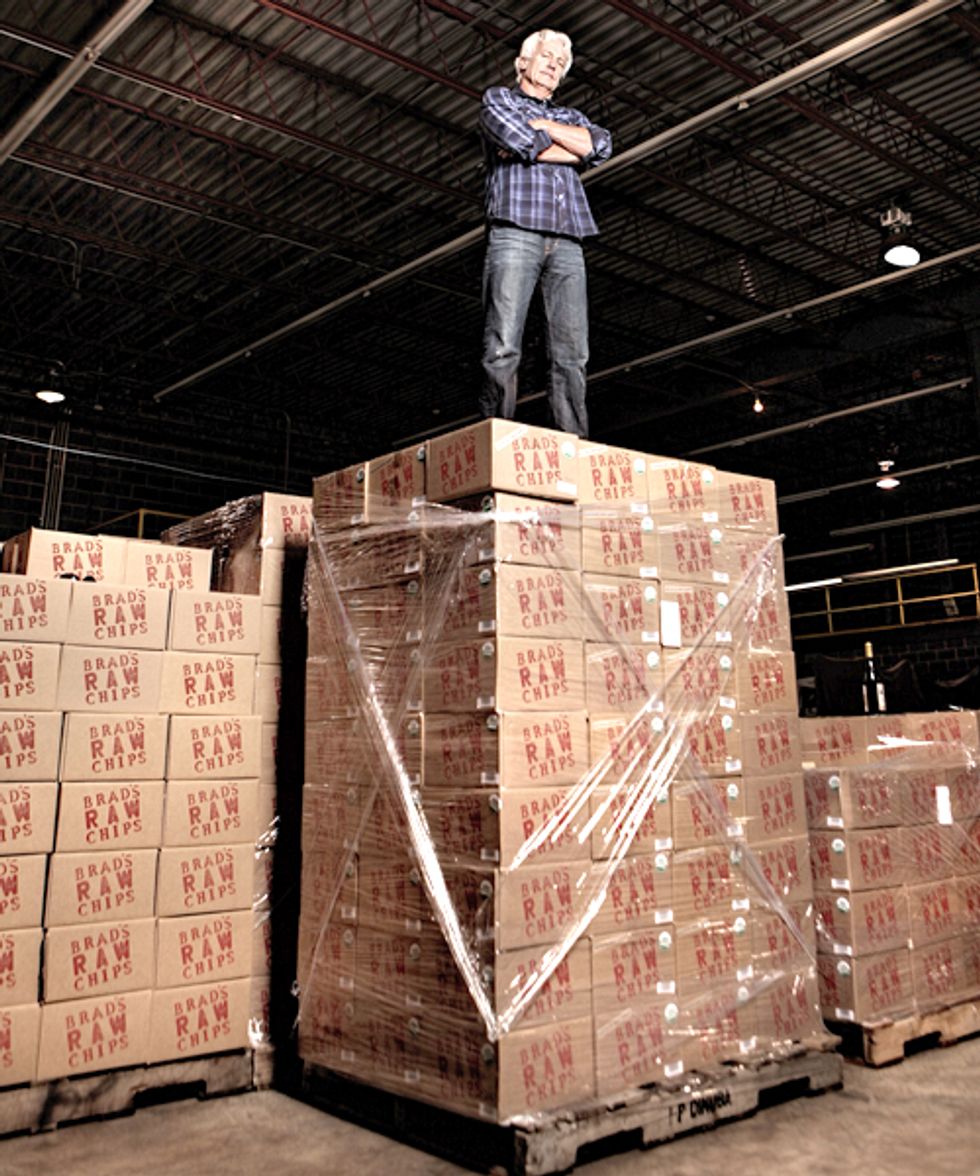 What were you doing before you became known for having products in thousands of stores? How did you make that transition?
The whole telecom industry kind of collapsed, mainly because of a glut of fiber and all the investors pulled out. I had a construction company doing about $30 million a year, and I ended up losing everything I had. A lot of people stopped paying me, and it was kind of like a trickle-down effect. I kind of said, 'What am I going to do now?' Here I am in my mid- to late-40s ... Here I was, 40 pounds heavier. I was depressed because I just lost my company. What am I going to do to get out of this rut? My aunt introduced me to raw foods. I watched this video called Eating. It was two doctors and they were talking about Americans and where they were going with processed foods and obesity rate ... Something clicked right then and there. I said, 'You know what? I can sit here being depressed or at least one thing I can do is start putting good food in my body and start exercising.' It made me feel better. I lost 40 pounds by going on a raw foods diet. Mentally, I started to feel better and I wasn't depressed even though I lost everything.
Once I started to feel better, I would make these chips out of vegetables. I would just make them for myself, never thought about making a business out of it ... Somebody said to me, 'Hey, you've got a great product here.' And that somebody showed me an article where the CEO of Whole Foods [John Mackey] said that he wished he didn't have the chip aisle because it's the most unhealthy aisle he has in the store ... I started to go to farmers markets because everybody said, 'Brad, that's a great idea.' So, I set up at my little Ottsville Farmers Market, and everybody just fell in love with them. They were really encouraging me and it kept me going, so I started doing two farmers markets. Then, I started doing four farmers markets a week. I went to an organic farm and turned a one-car garage into my little chip factory. I went to a couple little local health food stores. There's one called Kimberton Whole Foods. They had a chain of about eight stores. [The ownership] put me in there, and they just started selling. It was $8 a bag and I was just selling so much of them. Then it was, 'You ought to go to Whole Foods.' I'm like, 'Well, I don't even know how to get in there or how that works. This is not my world.'
I just went and knocked on the door of Whole Foods in Philadelphia. I met a guy there and said, 'These are my chips' and explained it to him. He's like , 'Wow, this is unbelievable.' It took me six months to do all the paperwork to get approved. I got into one store there in Philly. Then, I got into Princeton [New Jersey] Whole Foods. I started to demo in the stores and that's when I gave up the farmers markets. I ended up selling 14,000 a month per store in Princeton. It didn't take rocket science to figure out [the potential]. Whole Foods, at that point, because I didn't have any money, lent me money to build a bigger place and buy some equipment. They help out a lot of small entrepreneurs. Seriously. Nobody else does that. They have a loan program to help out smaller entrepreneurs come out with new, innovated, good, healthy food. Next thing you know, we got it ... I said, 'Will you let me grow, store by store,' and they said absolutely. I started going to store to store [in the Mid-Atlantic region]. That just kind of blew up. Then, 'Can you go into another region?' New York, Boston, Florida, Chicago. Next thing you know, I'm nationwide.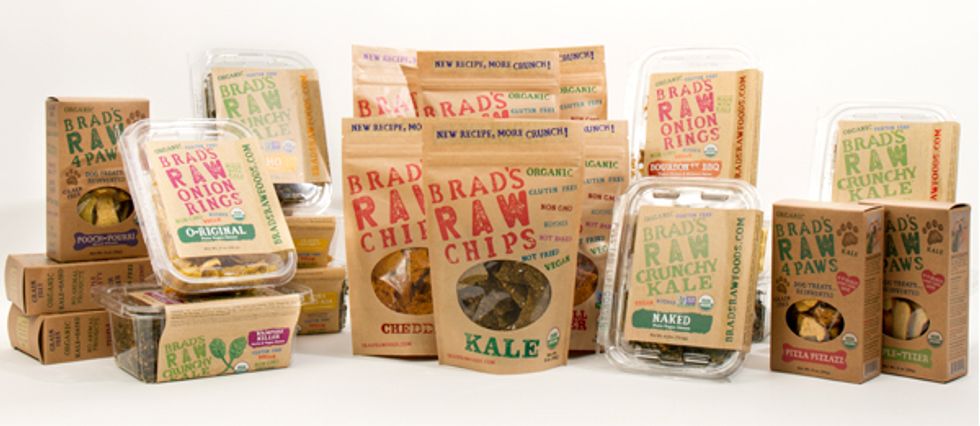 Where do you get your kale?
It's grown all over the U.S., in cool climates, on the eastern side of the U.S., from Florida, all the way up to Maine. We have great farming right here, near New Jersey, in Bucks County, PA where I am. It's great, but we can only grow kale here six or seven months a year. It either gets too hot in the middle of the summer or too cold in the dead of winter. So, we go to Florida. There are farmers who have organic farms. I have gone down, like in North Carolina, I personally met every one of these farmers. I guaranteed them because they were a little scared. I said, 'If you grow 50 acres, I guarantee I'll buy every leaf.'
Right now, we buy 65,000 pounds of kale a week that we process ... We get tractor-trailer loads of kale every other day. The majority of it comes from probably 15 good, decent-sized, organic farmers.
Can you describe the process from the time when you get the kale to when we see it on store shelves?
We get the kale and it comes in the big leaves, kind of looks like a sponge, in a way, almost. The first thing we do to it is wash it. Then we de-stem it. We actually compost the stems back into the soil. Once we have the clean kale, I make it no differently than I made it when I was making it for myself. I would take a blender and I would take cashews, sunflower seeds, red bell peppers, scallions, sea salt ... imagine putting that into a blender and it would make a batter, almost like a pancake batter. I would rub that into the kale by hand. I have 25 people and that's all they do all day. It's not a machine that does it. Then we set it on a tray and we dehydrate it. People say, 'why is it so much money?' When you look at that little container, it might be eight times the amount of that when you start. When you dehydrate something, it's 80 percent water. It dries for 15 hours below 115 degrees. You're not cooking it, you're not baking it, you're not frying it. All you're doing is drying it and you're taking the moisture out of the air. Now, it's so light. All this kale is condensed in this container. That's what maintains the enzymes when you dry something below 115 degrees. You're not killing all the good nutrients and enzymes within those vegetables.
When I first started, I started to compost all these stems. I'd throw them into the soil because I worked on this organic farm. We would grind them up, put it back in the soil and compost and use it again. That was 30 percent of my weight, but they're just as healthy as these kale leaves. As I started to grow, now I've got truck loads of stems that are being hauled up the road to farmers, to pig farmers. I had so many, I couldn't give them away. I said, 'We've got to make a product out of this.' What we did was we came up with a pet food that is 50 percent kale-based. I took my dehydration process, grind up the stems and I mix other vegetables in it. It's human-grade dog food. People today are looking for something healthy to eat for their dogs? I'm going to give you something that's kale that humans can eat. I did a show in Las Vegas and PetSmart came to me and said, 'Whoa, Brad. We want to do an exclusive with you. Can you just sell to us for six months? In return, we'll put you in 1,200 stores across the U.S. and Canada.' We just shipped our first couple tractor trailers of pet food to PetSmart. We're the only dehydrated pet snack in PetSmart. We're really kind of changing some stuff ... That's talking about being sustainable, by taking everything in your plant and utilizing it.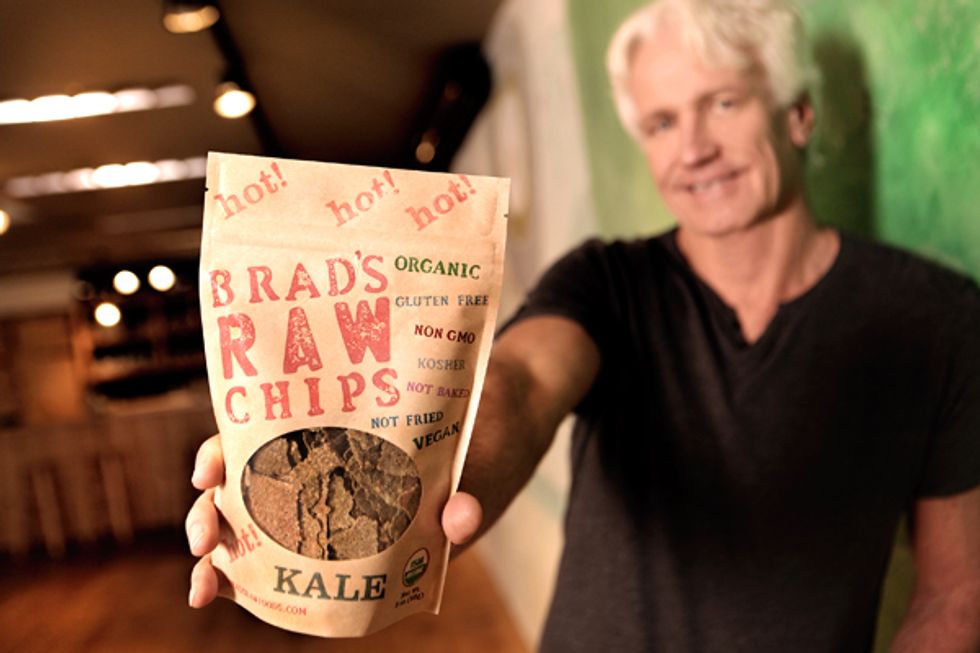 What is the most important tip you can give to somebody who wants to take their product from the farmers-market level to the national scale as you've done?
Don't be afraid to ask questions. Go to Whole Foods. Don't be afraid to go in there. Talk to the guy that has had success ... Don't give up. I was discouraged many times. One day, you didn't sell anything and it's like, 'Oh my gosh!' Don't get discouraged. You've got to keep plugging away. As long as you believe it's good and it's good for the environment and it's healthy and good for people, if you really know that, keep plugging away.
EcoWatch Daily Newsletter
Penguins are seen near the Great Wall station in Antarctica, Feb. 9, days after the continent measured its hottest temperature on record at nearly 65 degrees Fahrenheit. Xinhua / Liu Shiping / Getty Images
By Richard Connor
Scientists have recorded Antarctica's first documented heat wave, warning that animal and plant life on the isolated continent could be drastically affected by climate change.
The Athos I tanker was carrying crude oil from Venezuela when a collision caused oil to begin gushing into the Delaware River.
U.S. Department of the Interior
A case that has bounced around the lower courts for 13 years was finally settled yesterday when the U.S. Supreme Court upheld a lower court decision, finding oil giant Citgo liable for a clean up of a 2004 oil spill in the Delaware River, according to Reuters.
The buildings of downtown Los Angeles are partially obscured in the late afternoon on Nov. 5, 2019, as seen from Pasadena, California, a day when air quality for Los Angeles was predicted to be "unhealthy for sensitive groups." Mario Tama / Getty Images
The evidence continues to build that breathing dirty air is bad for your brain.
Wave power in Portugal. The oceans' energy potential is immense. Luis Ascenso, via Wikimedia Commons
By Paul Brown
The amount of energy generated by tides and waves in the last decade has increased tenfold. Now governments around the world are planning to scale up these ventures to tap into the oceans' vast store of blue energy.
Yellowstone National Park closed to visitors on March 24, 2020 because of the Covid-19 virus threat. William Campbell-Corbis via Getty Images
When the novel coronavirus started to sweep across the country, the National Park Service started to waive entrance fees. The idea was that as we started to practice social distancing, Americans should have unfettered access to the outdoors. Then the parking lots and the visitor centers started to fill up, worrying park employees.