This website uses cookies to ensure you get the best experience while browsing it. By clicking 'Got It' you're accepting these terms.
Brad Pitt and Bill Maher Slam Costco for Selling Eggs From Caged Hens
Jul. 17, 2015 08:24AM EST
Food
Last week EcoWatch reported that the Humane Society discovered that a Costco egg supplier uses abhorrent factory farming conditions to raise its egg-laying hens despite the fact that Costco made a public commitment eight years ago to eliminate cage confinement of chickens from its supply chain.
The campaign to expose Costco and encourage them to keep their promise, has gotten the support of many high-profile actors. Last month heartthrob actor Ryan Gosling sent an open letter to the CEO of Costco, Craig Jelinek, saying, "So many corporations are meeting public demand for more humane products and transparency in the food chain. I sincerely hope that Costco will set plans now to go completely cage-free for its eggs."
Now, Brad Pitt and Bill Maher are following Gosling's lead, calling out how Costco contributes to animal cruelty by selling eggs from caged hens.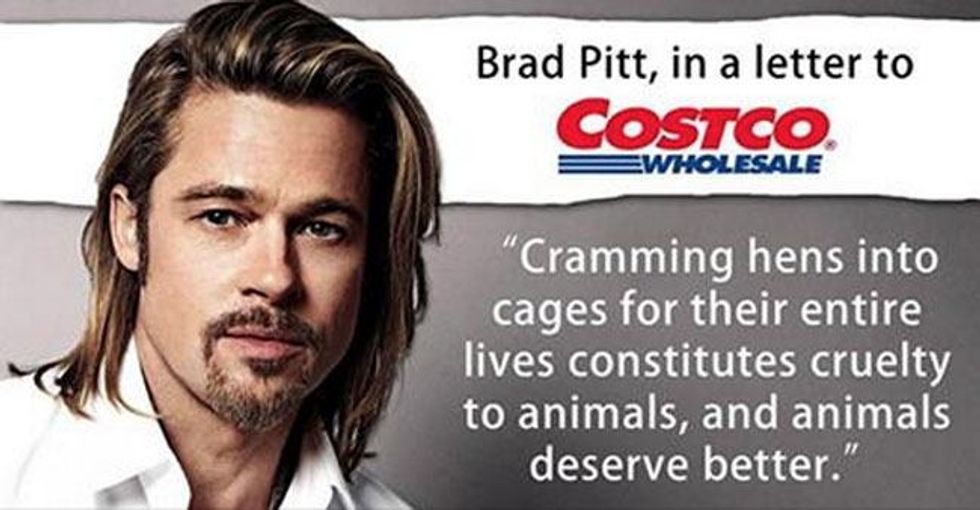 Pitt sent a letter to Costco's CEO Thursday asking the company to "stop selling eggs from hens confined in tiny cages." He said:
Nearly a decade ago, Costco indicated that its next step on this issue would be creating a timeline for getting those cages out of your egg supply, and yet today, you appear to have made no progress at all—even as you have set timelines for getting pigs and calves out of cages.
As you know, these birds producing eggs for your shelves are crammed five or more into cages that are not large enough for even one hen to spread her wings.
In these cruel cages, the animals' muscles and bones atrophy from years of immobilization. That's why the cages are illegal in most of Europe, and why California banned the cages by an overwhelming vote years ago.
In short, cramming hens into cages for their entire lives constitutes cruelty to animals, and animals deserve better. As you know, many major corporations, from Burger King to Unilever, are getting rid of cages—and Whole Foods hasn't sold eggs from caged hens in years.
Maher has also taken a strong stand against Costco by writing a piece, "Free the Hens, Costco!," in the New York Times last week. In the op-ed, Maher said:
I've also been impressed by Costco's support for animal protection. For example, the company mandated that its suppliers stop locking pregnant pigs in cages called gestation crates by 2022. So I don't understand how Costco can justify its refusal to set a timeline for getting rid of eggs from battery cages, which is the third system, along with pork and veal, in the factory farming cruelty trifecta.
Bill Maher to Costco: 'Free the hens already' v/ @CNNMoney http://t.co/Y7Xd7WWVOz #BantheBatteryCage pic.twitter.com/h6Pf6K6CUX

— Animals Australia (@AnimalsAus) July 16, 2015
Pitt and Maher spoke out on behalf of Farm Sanctuary, an organization that advocates against the mistreatment of animals and factory farming. The president and co-founder of Farm Sanctuary, Gene Baur, was a guest on The Daily Show with Jon Stewart in April, discussing the many benefits of a vegan diet.
Costco has not directly responded to the actors letters, but said in a June statement that there are "vigorous debates about animal welfare and laying hens."
"Some, such as the Humane Society, advocate that hens be 'cage free,' and not confined in cages. Some advocate that cages are safer for hens," the statement reads.
Costco said it is "committed to the ethical treatment of animals" and its code of ethics is part of the company mission statement.
Check out the undercover investigation here:
YOU MIGHT ALSO LIKE
Ryan Gosling: What Costco Doesn't Want You to Know About Their Eggs
Urban Farming Hits Major League Baseball Stadiums
EcoWatch Daily Newsletter
A harbour seal on an ice floe in Glacier Bay, Alaska. A new study shows that the climate crisis has warmed waters, changing ecosystems and crippling sea ice growth. Janette Hill / robertharding / Getty Images Plus
Doctors report that only 1 in 4 children are getting the recommended 60 minutes of physical activity per day. Ronnie Kaufman / DigitalVision / Getty Images
By Dan Gray
Pediatricians are being urged to start writing "exercise prescriptions" for the children they see in their office.
A First Nations protester walks in front of a train blockade in Tyendinaga, near Belleville, Ontario, Canada on Feb. 21, 2020. LARS HAGBERG / AFP via Getty Images
An indigenous rail blockade that snarled train travel in Canada for more than two weeks came to an end Monday when police moved in to clear protesters acting in solidarity with another indigenous community in British Columbia (B.C.), which is fighting to keep a natural gas pipeline off its land.
A rainbow snake, a rare reptile spotted in a Florida county for the first time in more than 50 years, seen here on July 5, 2013.
Kevin Enge / FWC Fish and Wildlife Research Institute / Flickr
A Florida hiker recently stumbled across a slithering surprise — a rare snake that hadn't been spotted in the area for more than 50 years.
We need our government to do everything it can to stop PFAS contamination and exposure from wreaking havoc in communities across the country. LuAnn Hun /
Unsplash
By Genna Reed
The EPA announced last week that it is issuing a preliminary regulatory determination for public comment to set an enforceable drinking water standard to two of the most common and well-studied PFAS, PFOA and PFOS.
This decision is based on three criteria:
PFOA and PFOS have an adverse effect on public health
PFOA and PFOS occur in drinking water often enough and at levels of public health concern;
regulation of PFOA and PFOS is a meaningful opportunity for reducing the health risk to those served by public water systems.