BPA Exposure Linked to Rising Rates of Male Infertility
BPA and other estrogenic compounds hamper development of the stem cells responsible for producing sperm in mice, which suggests such exposure could contribute to declining sperm counts in men, according to a new study.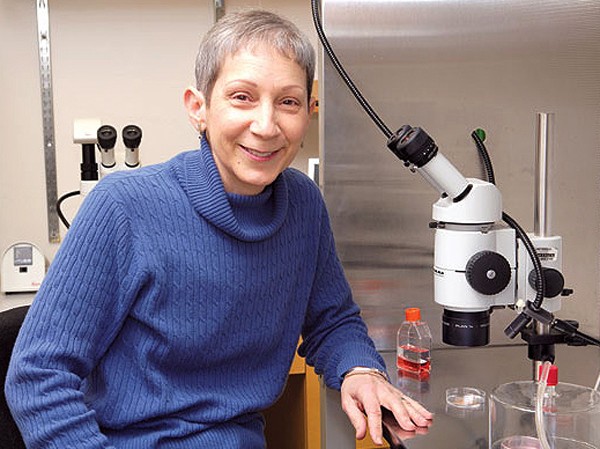 The study, published online yesterday in PLoS Genetics, is the first to suggest that low, brief exposures to bisphenol-A, or other estrogens such as those used in birth control but found as water contaminants, early in life can alter the stem cells responsible for producing sperm later in life.
Exposure to estrogens "is not simply affecting sperm being produced now, but impacting the stem cell population, and that will affect sperm produced throughout the lifetime," said Patricia Hunt, a geneticist at Washington State University who led the study.
BPA is a ubiquitous chemical found in most people and used to make polycarbonate plastic and found in some food cans and paper receipts. People also are exposed to synthetic estrogens used in birth control as they are commonly found contaminating water, even after treatment.
The U.S. Food and Drug Administration banned BPA from baby bottles in 2012 but maintains that BPA currently used in food containers and packaging is safe. And this week the European Food Safety Authority announced in a new assessment there is "no consumer health risk from bisphenol-A exposure."
However, Hunt's study adds to evidence that low doses of the compound may harm us.
Hunt and colleagues exposed some newborn mice to BPA and some newborn mice to a synthetic estrogen used in birth control pills and hormone therapy.
These exposures—comparable to human exposures to the compounds—caused "permanent alterations" to the stem cells responsible for sperm production, the authors wrote.
The researchers also transplanted the stem cells into unexposed mice and verified the impacts to sperm development.
It is "sobering evidence" for possible harmful impacts from short-term exposure, said Mary Ann Handel, a senior research scientist with The Jackson Laboratory, which specializes in genetics research.
Scientists previously found BPA exposure impacts mice testis size and sperm development and prostate growth. But what Hunt and colleagues did was different—they found a possible reason why these things happen: changes to the stem cells, which are vital for male reproduction.
"The negative effects of estrogenic chemicals on the developing male include an expanding list of subtle changes to the developing brain, reproductive tract and testis," the authors wrote. "Changes in all three have the potential to induce major reproductive repercussions and … the biological underpinnings remain unclear."
Over the past few decades, researchers have noted declining sperm counts and quality in places such as Europe, Japan and the U.S. In Denmark, more than 40 percent of young men have sperm counts associated with infertility or decreased fertility.
"When you show you're impacting a stem cell—that's a huge deal," said University of Missouri scientist Frederick vom Saal, who was not part of the study. "This exposure could very well be the basis for transgenerational loss of sperm production."
Sperm production is a continuous process: Once males hit puberty and start producing sperm, stem cells slowly divide and give rise to new cells to produce sperm.
And, while there are some limits in using mice and extrapolating findings to humans, the reproductive systems' "fundamentals are the same," Hunt said.
However, Steven Hentges of the American Chemistry Council, which represents chemical manufacturers, said in an emailed response that multiple large studies "consistently find no reproductive effects in males or females at any dose remotely close to the levels of BPA to which people are actually exposed."
He said Hunt's study is of "limited relevance to human health" and that the doses used were much higher than actual human exposure.
Hunt said that is not true.
"The levels we used are based on previous studies and produce very low levels in blood that are lower than those reported in humans," Hunt said.
Vom Saal said it's important in future studies to see if the stem cell changes from exposure are passed to future generations. Evidence suggests that estrogenic compounds appear to alter the ability of genes to function properly, a phenomenon referred to as epigenetic changes.
When such changes happen, it can mean similar problems in sperm production for future generations. And "since most people are consistently exposed to BPA and other estrogenic compounds, each generation could have it a bit worse," vom Saal said.
Hunt and colleagues did run into one problem—there are secondary impacts, such as fluid retention, which make it difficult to take the stem cell research to the next level and look at correlations in sperm cell counts and measures of reproductive ability.
"Exposure is not just affecting cells in testis but the whole animal," Hunt said.
Hunt admits this is "complicated genetics stuff," but said the consequences are quite important.
"This implicates cells way upstream" and could mean problems for "subsequent generations after exposure," she said.
YOU MIGHT ALSO LIKE
Is Artificial Turf Safe for Your Children?
10 Spectacular Hikes to Consider for Your Next Outdoor Adventure
Disturbing footage of a snake in Goa, India vomiting an empty soft drink bottle highlights the world's mounting plastic pollution crisis.
Keep reading...
Show less
By Melissa Hellmann
When her eldest son was in elementary school in the Oakland Unified School District, Ruth Woodruff became alarmed by the meals he was being served at school. A lot of it was frozen, processed foods, packed with preservatives. At home, she was feeding her children locally sourced, organic foods.
Keep reading...
Show less
May. 28, 2017 01:33PM EST
Laurie Woolever
By James O'Hare
There are 20 million people in the world facing famine in South Sudan, Somalia, Nigeria and Yemen. In developed nations, too, people go hungry. Venezuela, for instance, is enduring food insecurity on a national level as a result of economic crisis and political corruption. In the U.S., the land of supposed excess, 12.7 percent of households were food insecure in 2015, meaning they didn't know where their next meal would come from.
Keep reading...
Show less
May. 28, 2017 01:22PM EST
Melwater, Greenland ice sheet. Diane Tuft
Artists are taking the climate crisis into frame and the results are emotional, beautiful and stirring.
So you've seen the best climate change cartoons and shared them with your friends. You've showed your family the infographics on climate change and health, infographics on how the grid works and infographics about clean, renewable energy. You've even forwarded these official National Oceanic and Atmospheric Administration graphs that explain the 10 clear indicators of climate change to your colleagues at the office.
Keep reading...
Show less
May. 27, 2017 01:11PM EST
As the Trump administration moves full speed ahead on boosting the oil and fossil fuel industry, opposition to increased pipeline construction is cropping up in different communities around the country.
Keep reading...
Show less
May. 27, 2017 01:02PM EST
Minke whale stranding near Havergate Island in Suffolk. MCGA.
By Simon Evans
Last Saturday, two dead whales washed up on the coast of Suffolk, in eastern England, and a third was spotted floating at sea.
What happened next illustrates how news can spread and evolve into misinformation, when reported by journalists rushing to publish before confirming basic facts or sourcing their own quotes.
Keep reading...
Show less
May. 27, 2017 01:22PM EST
By Monica Amarelo and Paul Pestano
Sun safety is a crucial part of any outdoor activity for kids, and sunscreen can help protect children's skin from harmful ultraviolet rays. Kids often get sunburned when they're outside unprotected for longer than expected. Parents need to plan ahead and keep sun protection handy in their cars or bags.
Keep reading...
Show less
May. 27, 2017 01:02PM EST
By Joe McCarthy
A lot of people take part in community clean-up efforts—spending a Saturday morning picking up litter in a park, mowing an overgrown field or painting a fence.
Keep reading...
Show less