This website uses cookies to ensure you get the best experience while browsing it. By clicking 'Got It' you're accepting these terms.
BP Settlement 'Doesn't Benefit My Clients'
Mar. 05, 2012 06:00AM EST
Energy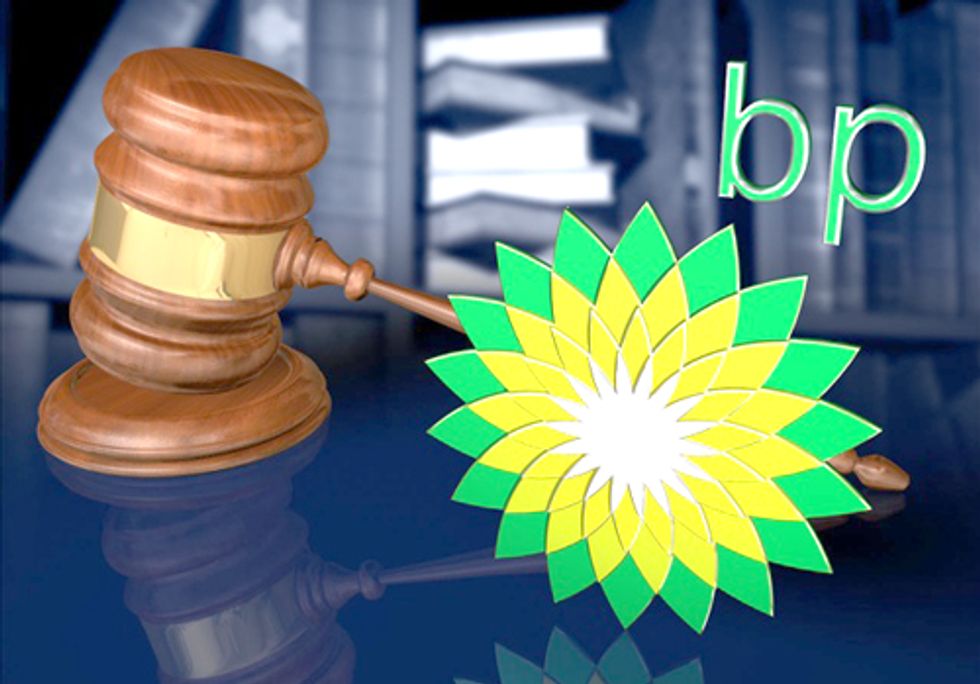 By Andy Rowell
The saying in the city is that the markets do not lie.
And after Friday's late night deal to reach a settlement with plaintiffs for a reported $7.8 billion, shares this morning in BP are topping the FTSE 100.
The company's shares have risen more than two percent this morning with some analysts saying the oil giant's share price may be a whopping five percent higher by the end of the day.
The city has spoken—BP has got off lightly and has paid roughly half what they were expecting.
Last week Bloomberg was reporting the settlement could be in the region of $14 billion, which was said to be in line with analysts' expectations.
In actual fact the deal is being reported as being more than half that—$7.8 billion.
So it looks like BP has won this round quite clearly.
If the class-action lawsuit by victims had gone to trial, BP could have faced much higher costs.
This raises the question, why did the plaintiffs lawyers settle for so little an amount?
But read further and the $7.8 figure is only an estimate—the deal is actually uncapped. So the city may be slightly premature in its enthusiasm.
But the settlement is good for BP in other ways too.
The Times-Picayune newspaper in the region reports how "Blaine LeCesne, a tort law professor at Loyola who has followed the oil spill litigation closely, said that the settlement seems to be a bigger help to BP's litigation strategy than it was to the plaintiffs."
It helps with BP's litigation strategy by boosting the chances of a settlement with the government. And people are now saying that the fact that BP settled for a lower amount with the plantiffs means it will settle for less with the U.S. government, too.
One analyst, Fadel Gheit, an oil analyst at Oppenheimer in New York, said BP's hand had been strengthened by the deal. "I think the settlement further weakens the government claim of gross negligence."
Others agree. Stuart Joyner, an analyst at Investec, also believes that it puts BP in a much stronger position to negotiate with the U.S. government.
The other important fact about the settlement is that, of course, BP has not accepted liability.
So once again BP wins.
Brian Gilvary, BP's chief financial officer, said the deal "removes a significant amount of uncertainty around the company."
The markets do not like uncertainty. By settling, BP wins again whilst many victims will be losers.
Tony Buzbee, a Houston-based attorney who represents people and businesses with roughly 12,000 spill claims, questioned whether the settlement will be more beneficial to his clients than the existing Gulf Restoration Fund.
"There better be a golden nugget in there," argues Buzbee "Otherwise, this smells. It doesn't benefit my clients."
And here's a final thought. With the Exxon Valdez it took years for the full impact of the spill to become apparent. So how can plaintiffs—especially fisherman—settle if the damage to their livelihood is still not fully apparent, especially due to the sub-lethal impact of oil?
Aaron Viles, deputy director of the Gulf Restoration Network, argues that "it takes a while for these sub-lethal impacts to work their way through the ecosystem and to have an impact. So we are watching very anxiously."
One Gulf resident, Margaret Curole, from the Commercial Fisherman of America remarked, "When you've spent nearly all your life as a grown woman fishing off the back deck of a boat and handling millions of pounds of shrimp, and you start seeing shrimp that has no eyes, something is wrong."
Meanwhile BP's share price continues to rise.
Demand justice in the case of BP. Call the White House today at 202-224-3121.
For more information, click here.
EcoWatch Daily Newsletter
By Sabrina Kessler
Far-reaching allegations about how a climate-sinning American multinational could shamelessly lie to the public about its wrongdoing mobilized a small group of New York students on a cold November morning. They stood in front of New York's Supreme Court last week to follow the unprecedented lawsuit against ExxonMobil.
By Alex Robinson
Leah Garcés used to hate poultry farmers.
The animal rights activist, who opposes factory farming, had an adversarial relationship with chicken farmers until around five years ago, when she sat down to listen to one. She met a poultry farmer called Craig Watts in rural North Carolina and learned that the problems stemming from factory farming extended beyond animal cruelty.
People navigate snow-covered sidewalks in the Humboldt Park neighborhood on Nov. 11 in Chicago. Scott Olson / Getty Images
Temperatures plunged rapidly across the U.S. this week and around 70 percent of the population is expected to experience temperatures around freezing Wednesday.
A general view of the flooded St. Mark's Square after an exceptional overnight "Alta Acqua" high tide water level, on Nov. 13 in Venice. MARCO BERTORELLO / AFP / Getty Images
President Donald Trump doesn't like wind turbines.
In April, he claimed they caused cancer, and he sued to stop an offshore wind farm that was scheduled to go up near land he had purchased for a golf course in Aberdeenshire in Scotland. He lost that fight, and now the Trump Organization has agreed to pay the Scottish government $290,000 to cover its legal fees, The Washington Post reported Tuesday.
A verdant and productive urban garden in Havana. Susanne Bollinger / Wikimedia Commons
By Paul Brown
When countries run short of food, they need to find solutions fast, and one answer can be urban farming.
Trevor Noah appears on set during a taping of "The Daily Show with Trevor Noah" in New York on Nov. 26, 2018.
The Daily Show With Trevor Noah / YouTube screenshot