This website uses cookies to ensure you get the best experience while browsing it. By clicking 'Got It' you're accepting these terms.


The best of EcoWatch, right in your inbox. Sign up for our email newsletter!
BP Oil Spill Left Rhode Island-Sized 'Bathtub Ring' on Ocean Floor
Oct. 28, 2014 09:20AM EST
The aftereffects of the April 20, 2010 explosion of the Deepwater Horizon in the Gulf of Mexico and the subsequent massive oil spill that gushed for three months go on and on and on—in the lives of  Gulf-area residents and businesses, the legal offices of BP and its contractors, and in the courts.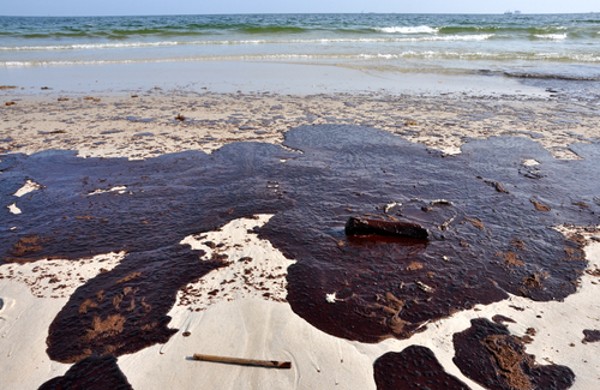 Photo credit: Shutterstock
A new study reveals that the disaster, which BP claims has been cleaned up and its impacts exaggerated, left a deposit of oil the size of Rhode Island on the ocean floor.
Researchers from the University of California, Santa Barbara, University of California, Irvine, and Woods Hole (Massachusetts) Oceanographic Institution, led by geochemistry professor Dave Valentine from UCI, have published a study Fallout Plume of Submerged Oil from Deepwater Horizon. Analyzing sea sediment, they discovered what they referred to as a "bathtub ring," saying it "formed from an oil-rich layer of water impinging laterally upon the continental slope (at a depth of 900 - 1,300 m) and a higher-flux 'fallout plume' where suspended oil particles sank to underlying sediment."
"Following the sinking of the Deepwater Horizon in the Gulf of Mexico, an unprecedented quantity of oil irrupted into the ocean at a depth of 1.5 km," the study said. "The novelty of this event makes the oil's subsequent fate in the deep ocean difficult to predict. This work identifies a fallout plume of hydrocarbons from the Macondo Well contaminating the ocean floor over an area of 3,200 km. Our analysis suggests the oil initially was suspended in deep waters and then settled to the underlying sea floor. The spatial distribution of contamination implicates accelerated settling as an important fate for suspended oil, supports a patchwork mosaic model of oil deposition and frames ongoing attempts to determine the event's impact on deep-ocean ecology."
The official government estimates said that about 5 million barrels of oil were released into the ocean in what the study refers to as an "uncontrolled emission."
"Among the pressing uncertainties surrounding this event is the fate of 2 million barrels of submerged oil thought to have been trapped in deep-ocean intrusion layers at depths of 1,000 - 1,300 m," says the study.
In September, a federal court in Louisiana found that BP's "willful misconduct" and "gross negligence" caused the spill. That finding could expose BP to fines of up to $18 billion, well beyond the 2012 $9.2 billion settlement it reached with mostly non-governmental plaintiffs.
BP issued a statement saying the study was overblown. "The authors failed to identify the source of the oil, leading them to grossly overstate the amount of residual Macondo oil on the sea floor and the geographic area in which it is found," a BP spokesman told AP.
But Valentine and his team suggested the impact could be even more far-reaching. "We also suggest that a significant quantity of oil was deposited on the ocean floor outside this area but so far has evaded detection because of its heterogeneous spatial distribution," the study said.
YOU MIGHT ALSO LIKE
BP Found Guilty of 'Gross Negligence' and 'Willful Misconduct' in 2010 Gulf Oil Disaster
Ocean Health Gets 'D' Grade in New Global Index
EcoWatch Daily Newsletter
In tea, food, or just on your windowsill, embrace the fragrance and fantastic healing potential of herbs.
By Ana Santos Rutschman
The world of food and drug regulation was rocked earlier this month by the news of a change in leadership at the Food and Drug Administration. Commissioner Scott Gottlieb resigned and will step down in early April. His temporary replacement is Dr. Ned Sharpless, director of the National Cancer Institute.
MartinPrescott / iStock / Getty Images
On Wednesday the U.S. Environmental Protection Agency (EPA) announced the first 20 chemicals it plans to prioritize as "high priority" for assessment under the Toxic Substances Control Act. Given the EPA's record of malfeasance on chemicals policy over the past two years, it is clear that these are chemicals that EPA is prioritizing to ensure that they are not properly evaluated or regulated.
Strawberries top the Environmental Working Group's "Dirty Dozen" list of U.S. produce most contaminated with pesticides. DANIEL LEAL-OLIVAS / AFP / Getty Images
Which conventionally-grown fruits and vegetables in the U.S. are most contaminated with pesticides? That's the question that the Environmental Working Group answers every year with its "Dirty Dozen" list of produce with the highest concentration of pesticides after being washed or peeled.
A drilling rig in a Wyoming natural gas field. William Campbell / Corbis via Getty Images
A U.S. federal judge temporarily blocked oil and gas drilling on 300,000 acres of federal leases in Wyoming Tuesday, arguing that the Bureau of Land Management (BLM) "did not sufficiently consider climate change" when auctioning off the land, The Washington Post reported.
Mizina / iStock / Getty Images
Oats are widely regarded as one of the healthiest grains you can eat, as they're packed with many important vitamins, minerals, and fiber.
JPMorgan Chase building in New York City. Ben Sutherland / CC BY 2.0
By Sharon Kelly
A report published Wednesday names the banks that have played the biggest recent role in funding fossil fuel projects, finding that since 2016, immediately following the Paris agreement's adoption, 33 global banks have poured $1.9 trillion into financing climate-changing projects worldwide.
Sriram Madhusoodanan of Corporate Accountability speaking on conflict of interest demand of the People's Demands at a defining action launching the Demands at COP24. Corporate Accountability
By Patti Lynn
2018 was a groundbreaking year in the public conversation about climate change. Last February, The New York Times reported that a record percentage of Americans now believe that climate change is caused by humans, and there was a 20 percentage point rise in "the number of Americans who say they worry 'a great deal' about climate change."