This website uses cookies to ensure you get the best experience while browsing it. By clicking 'Got It' you're accepting these terms.
BP Found Guilty of 'Gross Negligence' and 'Willful Misconduct' in 2010 Gulf Oil Disaster
Sep. 04, 2014 01:37PM EST
Energy
Today a federal judge in New Orleans found BP guilty of "gross negligence" and "willful misconduct" in the April 20, 2010 explosion of an oil rig in the Gulf of Mexico. The oil spill that resulted from the explosion of the Deepwater Horizon rig was the largest in U.S. history, spewing oil for more than three months. It killed 11 people and continues to have environmental impacts to this day on beaches, wetlands, wildlife, fisheries and a host of businesses in five states.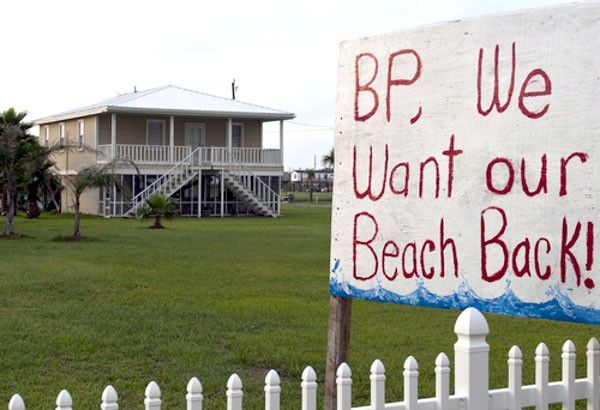 Photo credit: Shutterstock
According to Bloomberg, BP could face a fine as high as $18 billion. Plaintiffs included the federal government, the five Gulf of Mexico states of Texas, Louisiana, Mississippi, Alabama and Florida, banks, restaurants and fishermen, among others.
This comes on the heels of the news Tuesday that Halliburton, contracted by BP to cement the oil well, had reached a $1.1 settlement with the businesses, citizens and governments impacted by the spill. But Halliburton was a bit player in BP's disaster scenario.
Judge Carl J. Barbier wrote in his ruling, "BP's conduct was reckless, Transocean's conduct was negligent. Halliburton's conduct was negligent. He held that BP was 67 percent responsible for the spill, [offshore drilling contractor] Transocean 30 percent, and Halliburton 3 percent.
During the trial, the companies all tried to shift the blame.
"BP said at trial that Transocean failed to maintain the drilling rig and Halliburton provided defective cementing services," says Bloomberg. "Transocean and Halliburton pointed their fingers back at BP. BP denied it was grossly negligent while accepting blame for errors that caused the spill. ... Lawyers for Transocean, Halliburton and plaintiffs claimed in the second phase that BP delayed the capping of the well by misrepresenting the size of the spill, as well as prospects for containing it. The spill victims also alleged that BP wasn't prepared for a deep-water blowout."
The difference between a finding of "negligence" and "recklessness" is significant, possibly exposing BP to claims beyond the 2012 $9.2 billion settlement it reached with most non-governmental plaintiffs. It's still to be determined how much oil was spilled.
Naturally, BP disagrees with the decision and says it will appeal.
It said in a statement, "BP believes that the finding that it was grossly negligent with respect to the accident and that its activities at the Macondo well amounted to willful misconduct is not supported by the evidence at trial. The law is clear that proving gross negligence is a very high bar that was not met in this case."
YOU MIGHT ALSO LIKE
4 Years After Deepwater Horizon Oil Spill, EPA Lifts BP's Gulf Drilling Ban
4 Things You Need to Know As BP Gulf Oil Spill Trial Resumes
Scientist Takes a Closer Look at the Deep-Sea Impacts of BP Gulf Oil Spill
EcoWatch Daily Newsletter
Tuna auctions are a tourist spectacle in Tokyo. Outside the city's most famous fish market, long queues of visitors hoping for a glimpse of the action begin to form at 5 a.m. The attraction is so popular that last October the Tsukiji fish market, in operation since 1935, moved out from the city center to the district of Toyosu to cope with the crowds.

gmnicholas / E+ / Getty Images
Kristan Porter grew up in a fishing family in the fishing community of Cutler, Maine, where he says all roads lead to one career path: fishing. (Porter's father was the family's lone exception. He suffered from terrible seasickness, and so became a carpenter.) The 49-year-old, who has been working on boats since he was a kid and fishing on his own since 1991, says that the recent warming of Maine's cool coastal waters has yielded unprecedented lobster landings.
Aerial view of lava flows from the eruption of volcano Kilauea on Hawaii, May 2018. Frizi / iStock / Getty Images
Hawaii's Kilauea volcano could be gearing up for an eruption after a pond of water was discovered inside its summit crater for the first time in recorded history, according to the AP.
The Eqip Sermia Glacier is seen behind a moraine left exposed by the glacier's retreat during unseasonably warm weather on Aug. 1 at Eqip Sermia, Greenland. Sean Gallup / Getty Images
hadynyah / E+ / Getty Images
By Johnny Wood
The Ganges is a lifeline for the people of India, spiritually and economically. On its journey from the Himalayas to the Bay of Bengal, it supports fishermen, farmers and an abundance of wildlife.
The river and its tributaries touch the lives of roughly 500 million people. But having flowed for millennia, today it is reaching its capacity for human and industrial waste, while simultaneously being drained for agriculture and municipal use.
Here are some of the challenges the river faces.
By Jake Johnson
As a growing number of states move to pass laws that would criminalize pipeline protests and hit demonstrators with years in prison, an audio recording obtained by The Intercept showed a representative of a powerful oil and gas lobbying group bragging about the industry's success in crafting anti-protest legislation behind closed doors.
Reposted with permission from our media associate Common Dreams.

DESIREE MARTIN / AFP / Getty Images
Wildfires raging on Gran Canaria, the second most populous of Spain's Canary Islands, have forced around 9,000 people to evacuate.