This website uses cookies to ensure you get the best experience while browsing it. By clicking 'Got It' you're accepting these terms.
BP Found Guilty of 'Gross Negligence' and 'Willful Misconduct' in 2010 Gulf Oil Disaster
Sep. 04, 2014 01:37PM EST
Energy
Today a federal judge in New Orleans found BP guilty of "gross negligence" and "willful misconduct" in the April 20, 2010 explosion of an oil rig in the Gulf of Mexico. The oil spill that resulted from the explosion of the Deepwater Horizon rig was the largest in U.S. history, spewing oil for more than three months. It killed 11 people and continues to have environmental impacts to this day on beaches, wetlands, wildlife, fisheries and a host of businesses in five states.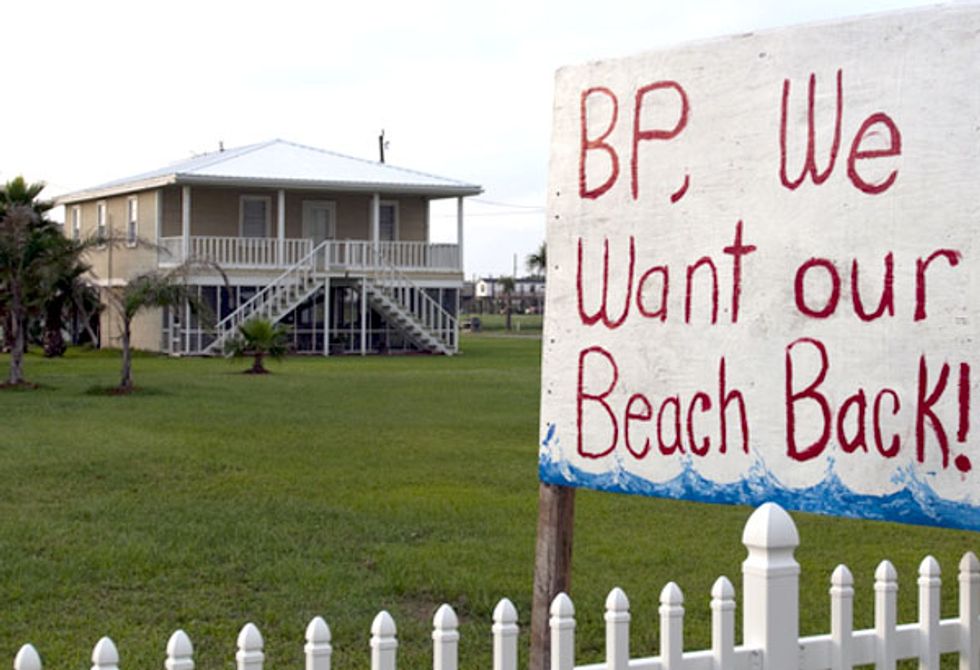 Photo credit: Shutterstock
According to Bloomberg, BP could face a fine as high as $18 billion. Plaintiffs included the federal government, the five Gulf of Mexico states of Texas, Louisiana, Mississippi, Alabama and Florida, banks, restaurants and fishermen, among others.
This comes on the heels of the news Tuesday that Halliburton, contracted by BP to cement the oil well, had reached a $1.1 settlement with the businesses, citizens and governments impacted by the spill. But Halliburton was a bit player in BP's disaster scenario.
Judge Carl J. Barbier wrote in his ruling, "BP's conduct was reckless, Transocean's conduct was negligent. Halliburton's conduct was negligent. He held that BP was 67 percent responsible for the spill, [offshore drilling contractor] Transocean 30 percent, and Halliburton 3 percent.
During the trial, the companies all tried to shift the blame.
"BP said at trial that Transocean failed to maintain the drilling rig and Halliburton provided defective cementing services," says Bloomberg. "Transocean and Halliburton pointed their fingers back at BP. BP denied it was grossly negligent while accepting blame for errors that caused the spill. ... Lawyers for Transocean, Halliburton and plaintiffs claimed in the second phase that BP delayed the capping of the well by misrepresenting the size of the spill, as well as prospects for containing it. The spill victims also alleged that BP wasn't prepared for a deep-water blowout."
The difference between a finding of "negligence" and "recklessness" is significant, possibly exposing BP to claims beyond the 2012 $9.2 billion settlement it reached with most non-governmental plaintiffs. It's still to be determined how much oil was spilled.
Naturally, BP disagrees with the decision and says it will appeal.
It said in a statement, "BP believes that the finding that it was grossly negligent with respect to the accident and that its activities at the Macondo well amounted to willful misconduct is not supported by the evidence at trial. The law is clear that proving gross negligence is a very high bar that was not met in this case."
YOU MIGHT ALSO LIKE
4 Years After Deepwater Horizon Oil Spill, EPA Lifts BP's Gulf Drilling Ban
4 Things You Need to Know As BP Gulf Oil Spill Trial Resumes
Scientist Takes a Closer Look at the Deep-Sea Impacts of BP Gulf Oil Spill
EcoWatch Daily Newsletter
Investing in grid infrastructure would enable utilities to incorporate modern technology, making the grid more resilient and flexible. STRATMAN2 / FLICKR
By Elliott Negin
The Royal Swedish Academy of Sciences' recent decision to award the 2019 Nobel Prize in Chemistry to scientists who developed rechargeable lithium-ion batteries reminded the world just how transformative they have been. Without them, we wouldn't have smartphones or electric cars. But it's their potential to store electricity generated by the sun and the wind at their peak that promises to be even more revolutionary, reducing our dependence on fossil fuels and protecting the planet from the worst consequences of climate change.
Two Javan rhinos deep in the forests of Ujung Kulon National Park, the species' last habitat on Earth. Sugeng Hendratno / WWF
The global population of the critically endangered Javan rhinoceros has increased to 72 after four new calves were spotted in the past several months.
A tiger looks out from its cage at a new resort and zoo in the eastern Lao town of Tha Bak on Dec. 5, 2018. Karl Ammann believes the "zoo" is really a front for selling tigers. Terrence McCoy / The Washington Post / Getty Images
Are tigers extinct in Laos?
That's the conclusion of a detailed new study that found no evidence wild tigers still exist in the country.
A group of scientists is warning that livestock production must not expand after 2030 for the world to stave off ecological disaster.
The largest wetland in Africa is in the South Sudan. George Steinmetz / Corbis Documentary / Getty Images Plus
Methane emissions are a far more powerful greenhouse gas than carbon dioxide – about 28 times more powerful. And they have been rising steadily since 2007. Now, a new study has pinpointed the African tropics as a hot spot responsible for one-third of the global methane surge, as Newsweek reported.