This website uses cookies to ensure you get the best experience while browsing it. By clicking 'Got It' you're accepting these terms.
BP Covered Up Blow-out Two Years Prior to Deadly Deepwater Horizon Spill
Apr. 19, 2012 07:31AM EST
Energy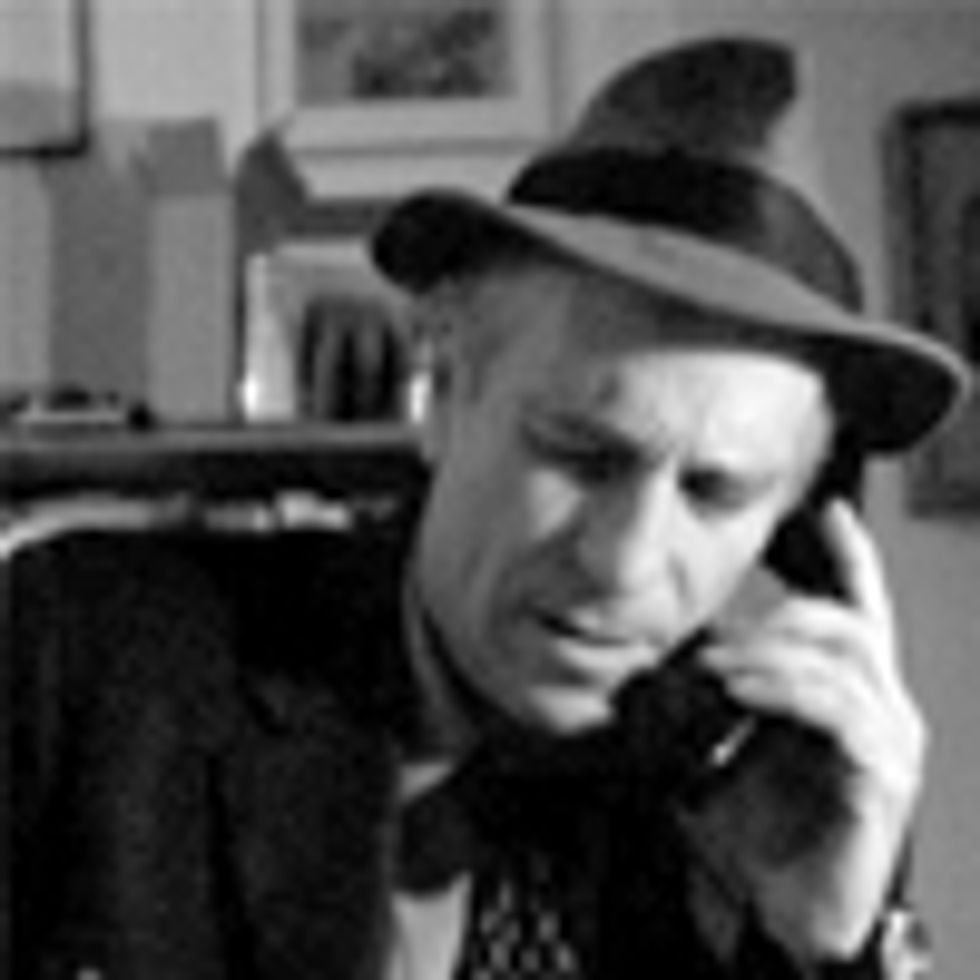 Two years before the Deepwater Horizon blow-out in the Gulf of Mexico, another BP off-shore rig suffered a nearly identical blow-out, but BP concealed the first one from the U.S. regulators and Congress.
This week, EcoWatch.org located an eyewitness with devastating new information about the Caspian Sea oil-rig blow-out which BP had concealed from government and the industry.
The witness, whose story is backed up by rig workers who were evacuated from BP's Caspian platform, said that had BP revealed the full story as required by industry practice, the eleven Gulf of Mexico workers "could have had a chance" of survival. But BP's insistence on using methods proven faulty sealed their fate.
One cause of the blow-outs was the same in both cases:  the use of a money-saving technique—plugging holes with "quick-dry" cement.
By hiding the disastrous failure of its penny-pinching cement process in 2008, BP was able to continue to use the dangerous methods in the Gulf of Mexico—causing the worst oil spill in U.S. history. April 20 marks the second anniversary of the Gulf oil disaster.
There were several failures in common to the two incidents identified by the eyewitness. He is an industry insider whose identity and expertise we have confirmed. His name and that of other witnesses we contacted must be withheld for their safety.
The failures revolve around the use of "quick-dry" cement, the uselessness of blow-out preventers, "mayhem" in evacuation procedures and an atmosphere of fear which prevents workers from blowing the whistle on safety problems.
Robert F. Kennedy Jr., president of Waterkeeper Alliance and senior attorney for Natural Resources Defense Council, said, "We have laws that make it illegal to hide this kind of information. At the very least, these are lies by omission. When you juxtapose their knowledge of this incident upon the oil companies constant and persistent assurances of safety to regulators, investigators and shareholders, you have all the elements to prove that their concealment of the information was criminal."
The first blow-out occurred on a BP rig in the Caspian Sea off the coast of Baku, Azerbaijan, in September 2008. BP was able to conceal such an extraordinary event with the help of the ruling regime of Azerbaijan, other oil companies and, our investigators learned, the Bush Administration.
Our investigation began just days after the explosion and sinking of BP's Deepwater Horizon oil rig on April 20, 2010 when this reporter received an extraordinary message from a terrified witness—from a ship floating in the Caspian Sea:
        "I know how .... Would not be wise for me to communicate via [official] IT system, ...."
When the insider was contacted on a secure line, he stated that he witnessed a blow-out and the panicked evacuation of the giant BP "ACG" drilling platform.
To confirm the witness' story, British television's premier investigative program, Dispatches, sent this reporter under cover into Baku, Azerbaijan, with a cameraman. While approaching the BP oil terminal, the Islamic republic's Security Ministry arrested the crew.
To avoid diplomatic difficulties, we were quickly released. However, two new witnesses suddenly vanished, all communication lost with them, after they confirmed the facts of the 2008 blow-out. Both told us they had been evacuated from the BP off-shore platform as it filled with methane.
Furthermore, witnesses confirmed that, "there was mud (drill-pipe cement) blown out all over the platform." It appears the cement cap failed to hold back high-pressure gases which, "engulfed the entire platform in methane gas," which is highly explosive.
In both cases, the insider told us, BP had used "quick-dry" cement to cap their well bores and the cost-saving procedure failed catastrophically.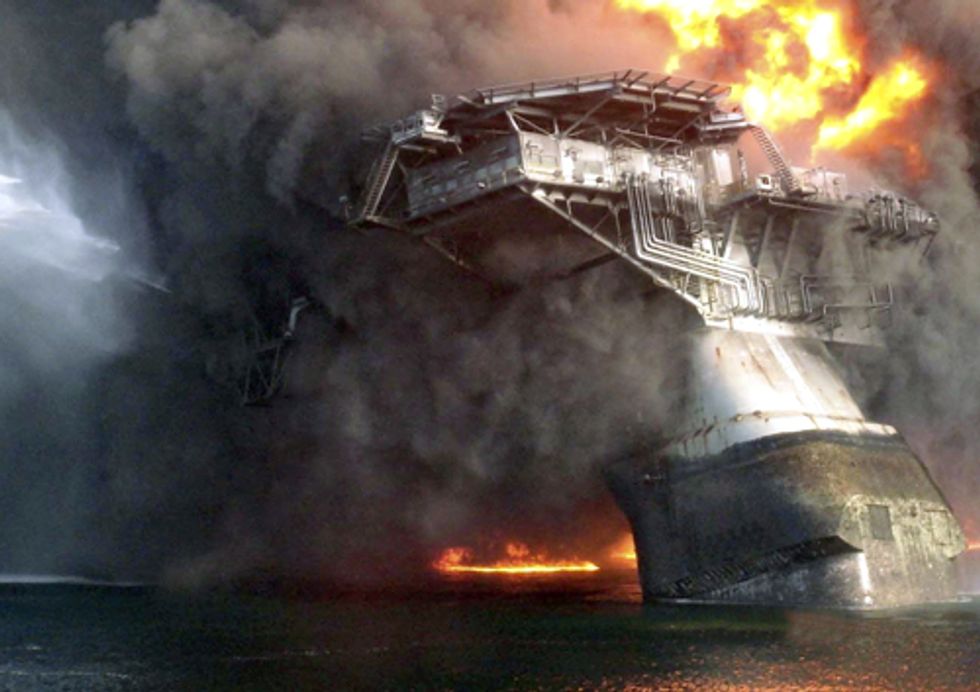 We have learned this week that BP failed to notify the International Association of Drilling Contractors (IADC) about the failure of the cement. (British companies report incidents as minor as a hammer dropped.) Notification would have alerted Gulf cement contractor Halliburton that the process of adding nitrogen to cement posed unforeseen dangers.
In fact, this past December, BP attempted to place the blame and costs of the Gulf disaster on Halliburton, the oil services company that injected quick-dry cement into the well under the Deepwater Horizon. BP told a federal court that Halliburton concealed a computer model that would show that, under certain conditions, the cement could fail disastrously. 
Following the Deepwater Horizon explosion, it became clear that nitrogen-laced mud can leave "channels" in the cement, allowing gas to escape and blow out the well-bore cap. However, that would have become clearer, and risks better assessed, had Halliburton and regulators known of the particulars of the Caspian blow-out.
We have also just learned that the cement casing itself appears to have cracked apart in the Caspian Sea. The sea, we were told, "was bubbling all around [from boiling methane]. You're even scared to launch a life boat, it may sink."
This exposed another problem with deepwater drilling. BP had promoted Blow-Out Preventers (BOPs) as a last line of defense in case of a blow-out. But if the casing shatters, the BOPs could be useless.
BP has gone to extraordinary lengths to conceal the story of the first blow-out, and for good reason:  If the company deliberately withheld the information that it knew "quick-dry" cement had failed yet continued to use it, the 11 deaths on its Gulf rig were not an unexpected accident but could be considered negligent homicide.
Kennedy told me, "This is a critical piece of information. The entire government is basing its policy on the assurances of this company that this process can be done safely and it never failed before. This is what they were telling everybody. Yet, the whole time they knew that this was a process that had failed disastrously in the Caspian Sea."
Why haven't these stories come out before? This week our witness explained that in Azerbaijan, "People disappear on a regular basis. It's a police state." 
But even in the U.S. and Europe, BP and other industry workers are afraid to complain for fear their files will be marked "NRB," for Not Required Back­­—which will end a workers' offshore career. Jake Malloy, head of the Offshore Oil Workers Union, reached in Aberdeen, Scotland, independently confirmed statements of the whistleblowers. He noted that companies create an atmosphere of fear for one's job with the "NRB" system and its latest variants, which discourage reports on safety problems.
BP refused an interview for this investigation, though the company responded to our written questions regarding the Caspian blow-out. Notably, the company does not deny that the blow-out occurred, nor even that it concealed the information from U.S. and UK regulators. Rather, the company says there was a "gas release"—a common and benign event, not a blow-out. As to the accusation of concealment, BP states:
"BP has shared findings from its investigation into the incident with the Azerbaijan government, [Azerbaijan] regulators, its partners and within BP."
While BP says it issued a press release at the time of the September 2008 Caspian blow-out, the company did not tell the whole truth as reported by workers and witnesses. 
The BP press release of that day admitted only that, "a gas leak was discovered in the area of" the platform when, in fact, it was an explosion of cement and methane, say our witnesses, "which engulfed the platform."
BP later stated that all operations on the platform were suspended as a "precautionary measure," suggesting a distant, natural leak. In fact, the workers themselves said that, like the workers on the Deepwater Horizon, they were one spark away from death, with frightened minutes to escape.
While BP called the evacuation a by-the-textbook procedure, in fact, said our witness, "It was total mayhem," and that a lifeboat rammed a rescue ship in the chaos. U.S. government investigators in the Gulf cite BP's confused and chaotic evacuation procedures for possibly adding to the Deepwater Horizon's death toll. Information about the 2008 blow-out should have led to improved procedures and possibly could have saved lives.
More seriously, BP PLC's official filing to the U.S. Securities Exchange Commission, which requires reporting of all "material" events in company operations, again talked about a "subsurface release," concealing that the methane blew out through its drilling stack.
Both the safety of quick-dry cement (which some drillers won't use) and deep water drilling itself were in contention before the April 20, 2010 Gulf blow-out. In fact, the U.S. Department of Interior was refusing BP, Chevron and Exxon the right to expand the area of their deep water drilling in the Gulf over safety questions.
However, BP and the industry conducted a successful lobbying campaign to expand deep water drilling. BP's Vice-President for operations in the Gulf, David Rainey, testified before Congress in November 2009, five months before the Deepwater Horizon explosion that, "Releases from oil and gas operations are rare." Rainey assured Congressmen that reliable "well control techniques" such as cement caps will prevent a deep water disaster.
Rainey made no mention to Congress of the blow-out in the Caspian Sea which occurred a year before his testimony.
BP itself states that if not for Halliburton's quick-dry cement failures, the Deepwater Horizon would never have blown out.  Halliburton defends itself by saying that BP's methods created air channels in the cement that caused it to fail.
Notably, BP's court Motion states, "Halliburton has deprived the Court and parties of uniquely relevant evidence." BP claims that hiding the information about problems with the cement caused the loss of lives.
Kennedy suggests that if Halliburton's withholding evidence was deadly, so was BP's concealment of the cement failure in the Caspian.
Stefanie Penn Spear, editor of EcoWatch.org, says that BP's hiding evidence ultimately led to, "The biggest oil spill in U.S. history. It entirely turned the Gulf Coast economy upside down and threatened—and continues to threaten—the health and livelihoods of the people in the Gulf region."
How is it that a major oil disaster, a blow-out that shut down one of the world's biggest oil fields and required the emergency evacuation of 211 rig workers could be covered up, hidden from U.S. regulators and Congress?
The answer:  pay-offs, threats, political muscle and the connivance of the Bush Administration's State Department, Exxon and Chevron.
For that story, read Part 2 of Greg Palast's investigation BP Covers up Blow-Out—Bush, Big Oil and WikiLeaks on EcoWatch.org on April 20.

--------
Re-prints permitted with credit to EcoWatch.org and the author.
Greg Palast is the author of Vultures' Picnic (Penguin 2011), which centers on his investigation of BP, bribery and corruption in the oil industry. Palast, whose reports are seen on BBC-TV and Britain's Channel 4, will be providing investigative reports for EcoWatch.org.
EcoWatch Daily Newsletter
Arx0nt / Moment / Getty Images
Vitamin D, also known as the sunshine vitamin, is a fat-soluble vitamin essential for optimal health.
Plastic waste that started as packaging clogs tropical landfills. apomares / iStock / Getty Images
By Clyde Eiríkur Hull and Eric Williams
Countries around the world throw away millions of tons of plastic trash every year. Finding ways to manage plastic waste is daunting even for wealthy nations, but for smaller and less-developed countries it can be overwhelming.
Pexels
In recent years, functional foods have gained popularity within health and wellness circles.
Despite fierce opposition from local homeowners, a section of the SUNOCO Mariner II East Pipeline cuts through a residential neighborhood of Exton, PA. Erik McGregor / LightRocket / Getty Images
By Jeff Turrentine
To celebrate the 50th birthday of one of America's most important environmental laws, President Trump has decided to make a mockery out of it.
With well over a billion cars worldwide, electric vehicles are still only a small percentage. An economist from the University of Michigan Energy Institute says that is likely to change. Maskot / Getty Images
In 2018, there were about 5 million electric cars on the road globally. It sounds like a large number, but with well over a billion cars worldwide, electric vehicles are still only a small percentage.