This website uses cookies to ensure you get the best experience while browsing it. By clicking 'Got It' you're accepting these terms.
BP Covered Up Blow-out Two Years Prior to Deadly Deepwater Horizon Spill
Apr. 19, 2012 07:31AM EST
Energy

Two years before the Deepwater Horizon blow-out in the Gulf of Mexico, another BP off-shore rig suffered a nearly identical blow-out, but BP concealed the first one from the U.S. regulators and Congress.
This week, EcoWatch.org located an eyewitness with devastating new information about the Caspian Sea oil-rig blow-out which BP had concealed from government and the industry.
The witness, whose story is backed up by rig workers who were evacuated from BP's Caspian platform, said that had BP revealed the full story as required by industry practice, the eleven Gulf of Mexico workers "could have had a chance" of survival. But BP's insistence on using methods proven faulty sealed their fate.
One cause of the blow-outs was the same in both cases:  the use of a money-saving technique—plugging holes with "quick-dry" cement.
By hiding the disastrous failure of its penny-pinching cement process in 2008, BP was able to continue to use the dangerous methods in the Gulf of Mexico—causing the worst oil spill in U.S. history. April 20 marks the second anniversary of the Gulf oil disaster.
There were several failures in common to the two incidents identified by the eyewitness. He is an industry insider whose identity and expertise we have confirmed. His name and that of other witnesses we contacted must be withheld for their safety.
The failures revolve around the use of "quick-dry" cement, the uselessness of blow-out preventers, "mayhem" in evacuation procedures and an atmosphere of fear which prevents workers from blowing the whistle on safety problems.
Robert F. Kennedy Jr., president of Waterkeeper Alliance and senior attorney for Natural Resources Defense Council, said, "We have laws that make it illegal to hide this kind of information. At the very least, these are lies by omission. When you juxtapose their knowledge of this incident upon the oil companies constant and persistent assurances of safety to regulators, investigators and shareholders, you have all the elements to prove that their concealment of the information was criminal."
The first blow-out occurred on a BP rig in the Caspian Sea off the coast of Baku, Azerbaijan, in September 2008. BP was able to conceal such an extraordinary event with the help of the ruling regime of Azerbaijan, other oil companies and, our investigators learned, the Bush Administration.
Our investigation began just days after the explosion and sinking of BP's Deepwater Horizon oil rig on April 20, 2010 when this reporter received an extraordinary message from a terrified witness—from a ship floating in the Caspian Sea:
        "I know how .... Would not be wise for me to communicate via [official] IT system, ...."
When the insider was contacted on a secure line, he stated that he witnessed a blow-out and the panicked evacuation of the giant BP "ACG" drilling platform.
To confirm the witness' story, British television's premier investigative program, Dispatches, sent this reporter under cover into Baku, Azerbaijan, with a cameraman. While approaching the BP oil terminal, the Islamic republic's Security Ministry arrested the crew.
To avoid diplomatic difficulties, we were quickly released. However, two new witnesses suddenly vanished, all communication lost with them, after they confirmed the facts of the 2008 blow-out. Both told us they had been evacuated from the BP off-shore platform as it filled with methane.
Furthermore, witnesses confirmed that, "there was mud (drill-pipe cement) blown out all over the platform." It appears the cement cap failed to hold back high-pressure gases which, "engulfed the entire platform in methane gas," which is highly explosive.
In both cases, the insider told us, BP had used "quick-dry" cement to cap their well bores and the cost-saving procedure failed catastrophically.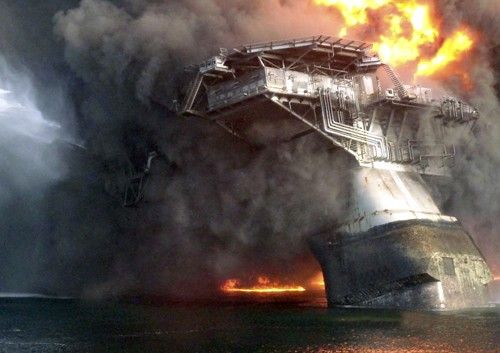 We have learned this week that BP failed to notify the International Association of Drilling Contractors (IADC) about the failure of the cement. (British companies report incidents as minor as a hammer dropped.) Notification would have alerted Gulf cement contractor Halliburton that the process of adding nitrogen to cement posed unforeseen dangers.
In fact, this past December, BP attempted to place the blame and costs of the Gulf disaster on Halliburton, the oil services company that injected quick-dry cement into the well under the Deepwater Horizon. BP told a federal court that Halliburton concealed a computer model that would show that, under certain conditions, the cement could fail disastrously. 
Following the Deepwater Horizon explosion, it became clear that nitrogen-laced mud can leave "channels" in the cement, allowing gas to escape and blow out the well-bore cap. However, that would have become clearer, and risks better assessed, had Halliburton and regulators known of the particulars of the Caspian blow-out.
We have also just learned that the cement casing itself appears to have cracked apart in the Caspian Sea. The sea, we were told, "was bubbling all around [from boiling methane]. You're even scared to launch a life boat, it may sink."
This exposed another problem with deepwater drilling. BP had promoted Blow-Out Preventers (BOPs) as a last line of defense in case of a blow-out. But if the casing shatters, the BOPs could be useless.
BP has gone to extraordinary lengths to conceal the story of the first blow-out, and for good reason:  If the company deliberately withheld the information that it knew "quick-dry" cement had failed yet continued to use it, the 11 deaths on its Gulf rig were not an unexpected accident but could be considered negligent homicide.
Kennedy told me, "This is a critical piece of information. The entire government is basing its policy on the assurances of this company that this process can be done safely and it never failed before. This is what they were telling everybody. Yet, the whole time they knew that this was a process that had failed disastrously in the Caspian Sea."
Why haven't these stories come out before? This week our witness explained that in Azerbaijan, "People disappear on a regular basis. It's a police state." 
But even in the U.S. and Europe, BP and other industry workers are afraid to complain for fear their files will be marked "NRB," for Not Required Back­­—which will end a workers' offshore career. Jake Malloy, head of the Offshore Oil Workers Union, reached in Aberdeen, Scotland, independently confirmed statements of the whistleblowers. He noted that companies create an atmosphere of fear for one's job with the "NRB" system and its latest variants, which discourage reports on safety problems.
BP refused an interview for this investigation, though the company responded to our written questions regarding the Caspian blow-out. Notably, the company does not deny that the blow-out occurred, nor even that it concealed the information from U.S. and UK regulators. Rather, the company says there was a "gas release"—a common and benign event, not a blow-out. As to the accusation of concealment, BP states:
"BP has shared findings from its investigation into the incident with the Azerbaijan government, [Azerbaijan] regulators, its partners and within BP."
While BP says it issued a press release at the time of the September 2008 Caspian blow-out, the company did not tell the whole truth as reported by workers and witnesses. 
The BP press release of that day admitted only that, "a gas leak was discovered in the area of" the platform when, in fact, it was an explosion of cement and methane, say our witnesses, "which engulfed the platform."
BP later stated that all operations on the platform were suspended as a "precautionary measure," suggesting a distant, natural leak. In fact, the workers themselves said that, like the workers on the Deepwater Horizon, they were one spark away from death, with frightened minutes to escape.
While BP called the evacuation a by-the-textbook procedure, in fact, said our witness, "It was total mayhem," and that a lifeboat rammed a rescue ship in the chaos. U.S. government investigators in the Gulf cite BP's confused and chaotic evacuation procedures for possibly adding to the Deepwater Horizon's death toll. Information about the 2008 blow-out should have led to improved procedures and possibly could have saved lives.
More seriously, BP PLC's official filing to the U.S. Securities Exchange Commission, which requires reporting of all "material" events in company operations, again talked about a "subsurface release," concealing that the methane blew out through its drilling stack.
Both the safety of quick-dry cement (which some drillers won't use) and deep water drilling itself were in contention before the April 20, 2010 Gulf blow-out. In fact, the U.S. Department of Interior was refusing BP, Chevron and Exxon the right to expand the area of their deep water drilling in the Gulf over safety questions.
However, BP and the industry conducted a successful lobbying campaign to expand deep water drilling. BP's Vice-President for operations in the Gulf, David Rainey, testified before Congress in November 2009, five months before the Deepwater Horizon explosion that, "Releases from oil and gas operations are rare." Rainey assured Congressmen that reliable "well control techniques" such as cement caps will prevent a deep water disaster.
Rainey made no mention to Congress of the blow-out in the Caspian Sea which occurred a year before his testimony.
BP itself states that if not for Halliburton's quick-dry cement failures, the Deepwater Horizon would never have blown out.  Halliburton defends itself by saying that BP's methods created air channels in the cement that caused it to fail.
Notably, BP's court Motion states, "Halliburton has deprived the Court and parties of uniquely relevant evidence." BP claims that hiding the information about problems with the cement caused the loss of lives.
Kennedy suggests that if Halliburton's withholding evidence was deadly, so was BP's concealment of the cement failure in the Caspian.
Stefanie Penn Spear, editor of EcoWatch.org, says that BP's hiding evidence ultimately led to, "The biggest oil spill in U.S. history. It entirely turned the Gulf Coast economy upside down and threatened—and continues to threaten—the health and livelihoods of the people in the Gulf region."
How is it that a major oil disaster, a blow-out that shut down one of the world's biggest oil fields and required the emergency evacuation of 211 rig workers could be covered up, hidden from U.S. regulators and Congress?
The answer:  pay-offs, threats, political muscle and the connivance of the Bush Administration's State Department, Exxon and Chevron.
For that story, read Part 2 of Greg Palast's investigation BP Covers up Blow-Out—Bush, Big Oil and WikiLeaks on EcoWatch.org on April 20.

--------
Re-prints permitted with credit to EcoWatch.org and the author.
Greg Palast is the author of Vultures' Picnic (Penguin 2011), which centers on his investigation of BP, bribery and corruption in the oil industry. Palast, whose reports are seen on BBC-TV and Britain's Channel 4, will be providing investigative reports for EcoWatch.org.
EcoWatch Daily Newsletter
Protestors marched outside the Prudential Center in Newark, New Jersey on Monday, August 26, during the MTV Video and Music Awards to bring attention to the water crisis currently gripping the city. Karla Ann Cote / NurPhoto / Getty Images
By Will Sarni
It is far too easy to view scarcity and poor quality of water as issues solely affecting emerging economies. While the images of women and children fetching water in Africa and a lack of access to water in India are deeply disturbing, this is not the complete picture.
The city of Flint, Michigan, where dangerous levels of pollutants contaminated the municipal water supply, is a case in point — as is, more recently, the city of Newark, New Jersey.
The Past is No Longer a Guide to the Future
We get ever closer to "day zeros" — the point at when municipal water supplies are switched off — and tragedies such as Flint. These are not isolated stories. Instead they are becoming routine, and the public sector and civil society are scrambling to address them. We are seeing "day zeros" in South Africa, India, Australia and elsewhere, and we are now detecting lead contamination in drinking water in cities across the U.S.

"Day zero" is the result of water planning by looking in the rear-view mirror. The past is no longer a guide to the future; water demand has outstripped supplies because we are tied to business-as-usual planning practices and water prices, and this goes hand-in-hand with the inability of the public sector to factor the impacts of climate change into long-term water planning. Lead in drinking water is the result of lead pipe service lines that have not been replaced and in many cases only recently identified by utilities, governments and customers. An estimated 22 million people in the US are potentially using lead water service lines. This aging infrastructure won't repair or replace itself.
One of the most troubling aspects of the global water crisis is that those least able to afford access to water are also the ones who pay a disproportionately high percentage of their income for it. A report by WaterAid revealed that a standard water bill in developed countries is as little as 0.1 percent of the income of someone earning the minimum wage, while in a country like Madagascar a person reliant on a tanker truck for their water supply would spend as much as 45 percent of their daily income on water to get just the recommended daily minimum supply. In Mozambique, families relying on black-market vendors will spend up to 100 times as much on water as those reached by government-subsidized water supplies.
Finally, we need to understand that the discussion of a projected gap between supply and demand is misleading. There is no gap, only poor choices around allocation. The wealthy will have access to water, and the poor will pay more for water of questionable quality. From Flint residents using bottled water and paying high water utility rates, to the poor in South Africa waiting in line for their allocation of water — inequity is everywhere.
Water Inequity Requires Global Action — Now.
These troubling scenarios beg the obvious question: What to do? We do know that ongoing reports on the 'water crisis' are not going to catalyze action to address water scarcity, poor quality, access and affordability. Ensuring the human right to water feels distant at times.
We need to mobilize an ecosystem of stakeholders to be fully engaged in developing and scaling solutions. The public sector, private sector, NGOs, entrepreneurs, investors, academics and civil society must all be engaged in solving water scarcity and quality problems. Each stakeholder brings unique skills, scale and speed of impact (for example, entrepreneurs are fast but lack scale, while conversely the public sector is slow but has scale).
We also urgently need to change how we talk about water. We consistently talk about droughts happening across the globe — but what we are really dealing with is an overallocation of water due to business-as-usual practices and the impacts of climate change.
We need to democratize access to water data and actionable information. Imagine providing anyone with a smartphone the ability to know, on a real-time basis, the quality of their drinking water and actions to secure safe water. Putting this information in the hands of civil society instead or solely relying on centralized regulatory agencies and utilities will change public policies.
Will Sarni is the founder and CEO of Water Foundry.

Note: This post also appears on the World Economic Forum.
Reposted with permission from our media associate Circle of Blue.
From Your Site Articles
Related Articles Around the Web
Pexels
Mice exposed to nicotine-containing e-cigarette vapor developed lung cancer within a year.
More research is needed to know what this means for people who vape.
Other research has shown that vaping can cause damage to lung tissue.
A new study found that long-term exposure to nicotine-containing e-cigarette vapor increases the risk of cancer in mice.
Demonstrators with The Animal Welfare Institute hold a rally to save the vaquita, the world's smallest and most endangered porpoise, outside the Mexican Embassy in DC on July 5, 2018. SAUL LOEB / AFP / Getty Images
Six months: That's how much time Mexico now has to report on its progress to save the critically endangered vaquita porpoise (Phocoena sinus) from extinction.
Pexels
It may seem innocuous to flush a Q-tip down the toilet, but those bits of plastic have been washing up on beaches and pose a threat to the birds, turtles and marine life that call those beaches home. The scourge of plastic "nurdles," as they are called, has pushed Scotland to implement a complete ban on the sale and manufacture of plastic-stemmed cotton swabs, as the BBC reported.
Air conditioners, like these in a residential and restaurant area of Singapore city, could put a massive strain on electricity grids during more intense heatwaves. Taro Hama @ e-kamakura / Moment / Getty Images
By Tim Radford
Scientists in the U.S. have added a new dimension to the growing hazard of extreme heat. As global average temperatures rise, so do the frequency, duration and intensity of heatwaves.
Actress Jane Fonda is arrested on the East Front of the U.S. Capitol in Washington, DC on Oct. 11. Marvin Joseph / The Washington Post via Getty Images
Oscar-award winning actress and long-time political activist Jane Fonda was arrested on the steps of Capitol Hill in Washington, DC on Friday for peacefully protesting the U.S. government's inaction in combating the climate crisis, according to the AP.
sam thomas / iStock / Getty Images Plus
By Caroline Hickman
I'm up late at night worrying that my baby brothers may die from global warming and other threats to humanity – please can you put my mind at rest? – Sophie, aged 17, East Sussex, UK
Sheriff officials work the scene at Villa Calimesa Mobile Home Park in Calimesa on Oct. 13. Jennifer Cappuccio Maher / MediaNews Group / Inland Valley Daily Bulletin / Getty Images