Boyan Slat to Deploy 'Longest Floating Structure in World History' to Clean Ocean Plastic
Boyan Slat, the 20-year-old founder and CEO of The Ocean Cleanup, has officially announced that the world's first ocean-cleaning system is set to deploy in 2016.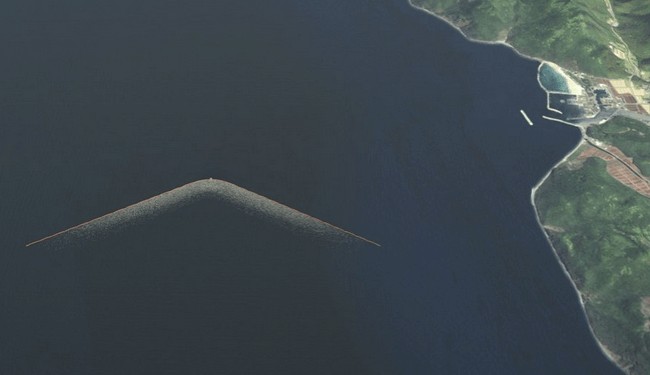 "Taking care of the world's ocean garbage problem is one of the largest environmental challenges mankind faces today," Slat stated in a blog post. "Not only will this first cleanup array contribute to cleaner waters and coasts but it simultaneously is an essential step towards our goal of cleaning up the Great Pacific Garbage Patch. This deployment will enable us to study the system's efficiency and durability over time."
He says, the system, which involves a static platform that passively corrals plastics as wind and ocean currents push debris through 2000-meter booms, will be the longest floating structure ever deployed in the ocean.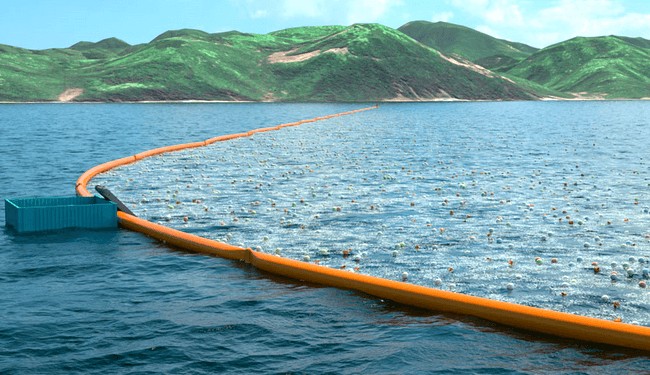 The pilot program will be operational for at least two years in the proposed deployment location of Tsushima island in Japan, where approximately one cubic meter of plastic pollution per person is washed up each year.
The island will evaluate whether the captured plastic can be used as an alternative energy source. In the tweet below, Slat and Tsushima Island mayor Yasunari Takarabe signed a mutual agreement for the pilot program.
.@BoyanSlat and Tsushima Island's mayor sign Mutual Agreement for the coastal pilot. pic.twitter.com/J3aoqhi7p8

— The Ocean Cleanup (@TheOceanCleanup) May 28, 2015
Successful deployment will represent "an important milestone in The Ocean Cleanup's mission to remove plastic pollution from the world's oceans," the company said.
The young environmentalist has been working on this ambitious project since 2012, where he first presented his idea at a TEDx talk in the Netherlands at the tender age of 17.
Despite some critics writing off the idea, Slat and a team of 70 scientists and engineers composed a 530-page feasibility report, concluding that the concept "is indeed likely a feasible and viable ocean cleanup technique." Their conclusion has also been peer-reviewed by external experts, Slat attested in a blog post.
The company said that within five years, after a series of deployments of increasing scale, it plans to deploy a 100km-long system between Hawaii and California to clean up about half the Great Pacific Garbage Patch.
Yes, it's big. pic.twitter.com/Udl81VnWq1

— The Ocean Cleanup (@TheOceanCleanup) May 21, 2015
YOU MIGHT ALSO LIKE
8 Reasons the Clean Water Rule Fails to Protect People and the Planet
Tar Balls Wash Ashore Popular LA Beaches: Officials Consider Link to Santa Barbara Oil Spill
Werner Baumann (left), CEO of Bayer AG, and Hugh Grant, chairman and CEO of Monsanto. Bayer
The European Commission, the European Union's executive arm, announced Tuesday it has opened an in-depth investigation into Bayer's proposed $66 billion takeover of Monsanto over "concerns that the merger may reduce competition in areas such as pesticides, seeds and traits."

The controversial merger, if successful, will form the world's largest integrated seed and pesticide company.
Keep reading...
Show less
www.youtube.com
U.S. Environmental Protection Agency (EPA) administrator Scott Pruitt appears in a video sponsored by the beef industry calling on farmers and ranchers to file official comments on a proposal to withdraw and rewrite the Obama-era "Waters of the United States" rule (or WOTUS) before the Aug. 28 deadline.
The National Cattlemen's Beef Association (NCBA) video was produced by the beef lobbying organization's policy division, Beltway Beef and was released last week. Notably, NCBA spent $117,375 in lobbying last year.
Keep reading...
Show less
Two years ago, Stanford University professor Mark Jacobson and his collaborators published a widely circulated study that detailed how the U.S. can eliminate nuclear, biofuels and fossil fuels and transition to 100 percent renewable energy by 2050.
Now, in a paper published Wednesday in the new scientific journal Joule, Jacobson and 26 co-authors created clean energy roadmaps not just for the 50 United States, but for 139 individual countries.

Keep reading...
Show less
Subtitle removed and sidebar altered on federal health website. EDGI
The effects of climate change is inextricably linked to human health. The burning of fossil fuels releases carbon dioxide and other greenhouse gases that traps heat in the atmosphere, causing global temperatures to spike, air quality to worsen, all while fueling droughts, floods and storms that impact food and water security.
Climate change is making us sick in many ways, but it appears that the Trump administration trying to downplay this fact.
Keep reading...
Show less
Pax Ahimsa Gethen / Wikimedia Commons
By Steve Horn
Energy Transfer Partners, owner of the Dakota Access pipeline, has filed a $300 million Racketeer Influenced and Corrupt Organizations (RICO) lawsuit against Greenpeace and other environmental groups for their activism against the long-contested North Dakota-to-Illinois project.
In its 187-page complaint, Energy Transfer alleges that "putative not-for-profits and rogue eco-terrorist groups who employ patterns of criminal activity and campaigns of misinformation to target legitimate companies and industries with fabricated environmental claims and other purported misconduct" caused the company to lose "billions of dollars."
Keep reading...
Show less
ExxonMobil misled the public on what it knew about climate change and its link to fossil fuels, according to a groundbreaking new analysis of the company's internal and external communications.
In a study published Tuesday in the journal Environmental Research Letters, Harvard postdoctoral fellow Geoffrey Supran and professor Naomi Oreskes reviewed nearly 200 communications on climate change from the oil giant, including scientific research, internal company memos and paid editorial features in the New York Times.
Keep reading...
Show less
Energy
Aug. 22, 2017 12:55PM EST
Tallahassee Democrat / Twitter
The U.S. District Court of Appeals ruled 2-1 Tuesday saying that the Federal Environmental Energy Regulatory Commission (FERC) failed to adequately review the environmental impacts of the greenhouse gas (GHG) emissions of the fracked gas Sabal Trail pipeline, which runs more than 500 miles through Alabama, Georgia and Florida.
Keep reading...
Show less
Offshore Staghorn coral nursery. Rescue-A-Reef, UM Rosenstiel School of Marine and Atmospheric Science
As ocean waters warm and acidify, corals across the globe are disappearing. Desperate to prevent the demise of these vital ecosystems, researchers have developed ways to "garden" corals, buying the oceans some much-needed time. University of Miami Rosenstiel School marine biologist Diego Lirman sat down with Josh Chamot of Nexus Media to describe the process and explain what's at stake. This interview has been edited for length and clarity.
Keep reading...
Show less


Get EcoWatch in your inbox