This website uses cookies to ensure you get the best experience while browsing it. By clicking 'Got It' you're accepting these terms.
Boyan Slat One Step Closer to Launching World's Largest Ocean Plastic Cleanup
Nov. 13, 2015 12:06PM EST
Business
Boyan Slat's plan to rid the world's oceans of plastic with his revolutionary ocean-cleaning system is set for real-life trials next year after last week's successful tests in the Netherlands of a scaled-down prototype at Maritime Research Institute Netherlands (MARIN), the Guardian reports.
The 21-year-old Dutch is the founder and CEO of The Ocean Cleanup, an ambitious operation involving a massive static platform that passively corrals plastics with wind and ocean currents. The array features a floating V-shaped boom so that fish and other marine life can swim underneath.
Further trials will take place off the coasts of Japan and the Netherlands, and if all goes to plan, the project will officially launch in 2020 and be the longest floating structure ever deployed in the ocean.
The Ocean Cleanup describes itself as the "world's first feasible concept to clean the oceans of plastic," but the journey hasn't all been smooth sailing.
"Testing for this is no simple matter," The Ocean Cleanup wrote in blog post from MARIN. "The oceans are an environment with unpredictable, powerful forces that defy perfect simulation. Waves come from a variety of directions at once, and currents below the surface complicate matters even more."
Hydrodynamic engineer Mark Paalvast said in the blog post that the tests at MARIN will determine the feasibility of the project.
"The MARIN offshore basin is one of the best facilities in the world to do these tests," he said. "It can send currents and waves from many different angles simultaneously, and at varying speeds. We will do lots of simulations and then use the data for additional computer modeling too."
There have been other road blocks as well. Some critics have written off the idea, and Asma Mahdi, a spokeswoman for the U.S. National Oceanic and Atmospheric Administration (NOAA) told the Guardian there's the potential for harming sea life caught in the project's cleanup barrier.
"By skimming floating debris off the surface, we may be doing more harm than good for marine surface-dwellers," she said. "This includes the microscopic plankton that are the base of the marine food web and responsible for nearly half of the oxygen production that occurs on our planet."
Slat responded, "The current flows underneath the barriers, taking away everything with neutral buoyancy—like plankton and other fish—while the positively buoyant plastic, up to a certain threshold, remains in front of it."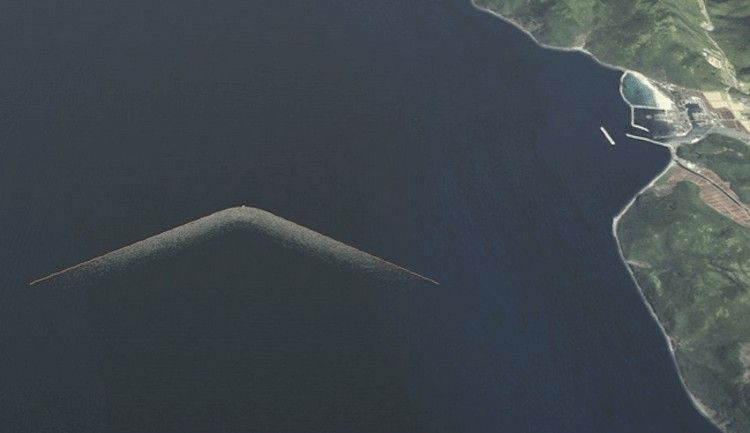 He has taken his other critics head-on with a 530-page feasibility report composed of 70 scientists and engineers. The report concluded that the concept "is indeed likely a feasible and viable ocean cleanup technique." Their conclusion has also been peer-reviewed by external experts, Slat attested in a blog post.
Another problem is the economic sustainability of the project. While half of The Ocean Cleanup's €30m ($32 million) budget was raised through crowdfunding and from wealthy donors, the company hopes to stay afloat financially through a ocean plastic retail line, the Guardian reports.
"We've analyzed the quality of the plastic which was surprisingly good," Slat said. "We did some tests and the material is very recyclable. Tens of companies—large corporations—have shown an interest in buying up the plastic and that is our holy grail; funding the clean-up using revenues created by the plastic we extract."
Slat, a former aerospace engineering student, proposed this ocean plastic-capturing concept when he was only 17, making headlines about his plan to clean half the Great Pacific Garbage Patch within a decade.
Over the years, Slat and his Ocean Cleanup team have taken several ocean research expeditions and discovered after a trip to the Pacific earlier this year that the plight of plastic pollution was much worse than they imagined.
"The previous studies estimated 10 kilos of plastic per square kilometer but we found it was in the hundreds of kilos per square kilometer," Slat said.
Plastic pollution is a clear threat to aquatic life and marine ecosystems. About 8 million tons of plastic are dumped into the oceans annually.
A recent study found that 90 percent of seabirds have mistakenly eaten plastic and the numbers will rise if plastic pollution worsens.
YOU MIGHT ALSO LIKE 
Why We Must Ban Plastic Bags and Support a Circular Economy
10 Ways Ocean Pollution Makes Us Sick
Shocking Photos of Green Sea Turtle Killed by Ingesting Plastics and Other Marine Litter
EcoWatch Daily Newsletter
A Boeing 737-800 BCF (Boeing Converted Freighter) is marked "Prime Air" as part of Amazon Prime's freight aircraft during the 53rd International Paris Air Show at Le Bourget Airport near Paris, France on June 22. Mustafa Yalcin / Anadolu Agency / Getty Images
It's Prime Day! The day when thousands of increasingly absurd items are discounted so deeply that you suddenly need items you never knew existed. Yes, I do need a hotdog shaped toaster next to me while I watch this Fast & Furious seven movie box set! And I need it in my house today!
By Peter Sinclair
The weather in many areas across the U.S. has been – and certainly throughout America's heartland was for much of the past winter and spring – frightful.
Golde Wallingford submitted this photo of "Pure Joy" to EcoWatch's first photo contest. Golde Wallingford
EcoWatch is pleased to announce our third photo contest!

There's a short window between when a tick bites and when it passes on bacteria or virus.
MSU Ag Communications, Courtesy Dr. Tina Nations, CC BY-ND
By Jerome Goddard
When it comes to problems caused by ticks, Lyme disease hogs a lot of the limelight. But various tick species carry and transmit a collection of other pathogens, some of which cause serious, even fatal, conditions.

tomosang / Moment / Getty Images
By Jessica A. Knoblauch
Say goodbye to one of the dreamiest things about childhood. In the Midwest, fireflies are dying off.
A new Climate Emergency Fund contains more than $625,000 which will go to grassroots climate action groups like Extinction Rebellion and students who have organized weekly climate strikes all over the world. @ExtinctionR / Twitter
By Julia Conley
Heeding the call of grassroots campaigners, several wealthy philanthropists announced Friday a new fund that will raise money for climate action groups around the world.
Skyhobo / iStock / Getty Images
The Trump administration is preparing to roll out a proposal that would remove communities' ability to officially contest decisions regarding how much pollution can be released by local power plants and factories, the New York Times reports.
In this May 10 photo oil flows at a Chevron oil field in Kern County, California. California Department of Fish and Wildlife's Office of Spill Prevention and Response
California officials ordered Chevron Friday "to take all measures" to stop a release that has spilled around 800,000 gallons of water and crude oil into a dry creek bed in Kern County, KQED reported.