Boulder Applauds County Commission for Extending Fracking Moratorium
Jun. 20, 2013 09:04AM EST
Energy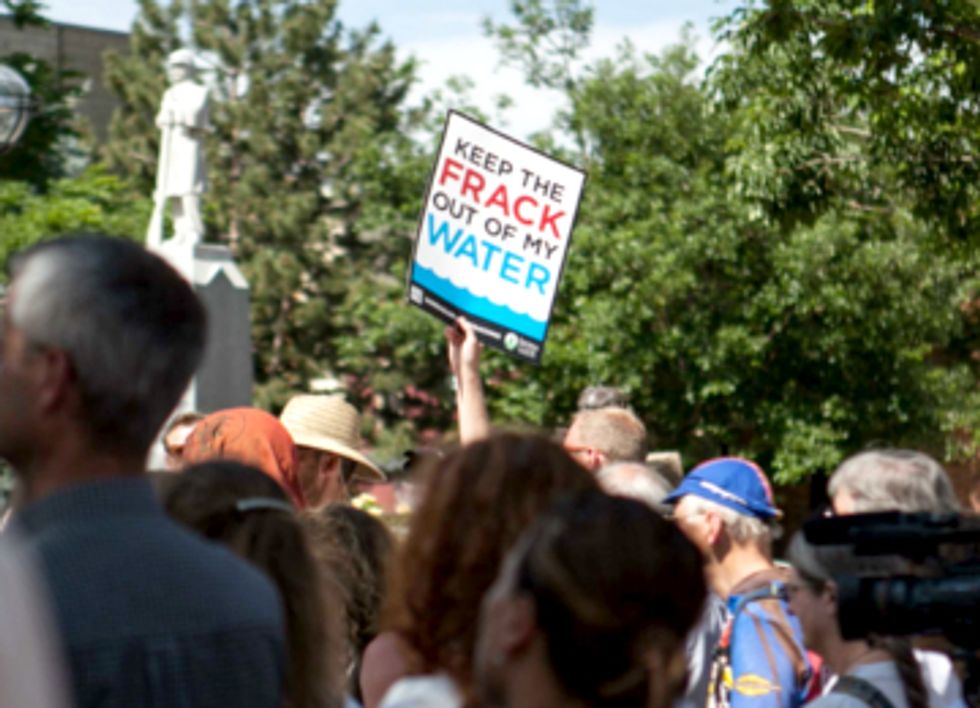 Local residents rejoiced this week at the Boulder County Commission's decision to enact a new moratorium on fracking for 18 months. The current one was set to expire June 25. Tuesday's vote took place at the County Commissioner's meeting, after a group of local business owners, medical professionals, clergy and residents held a rally calling on the commission to extend the moratorium.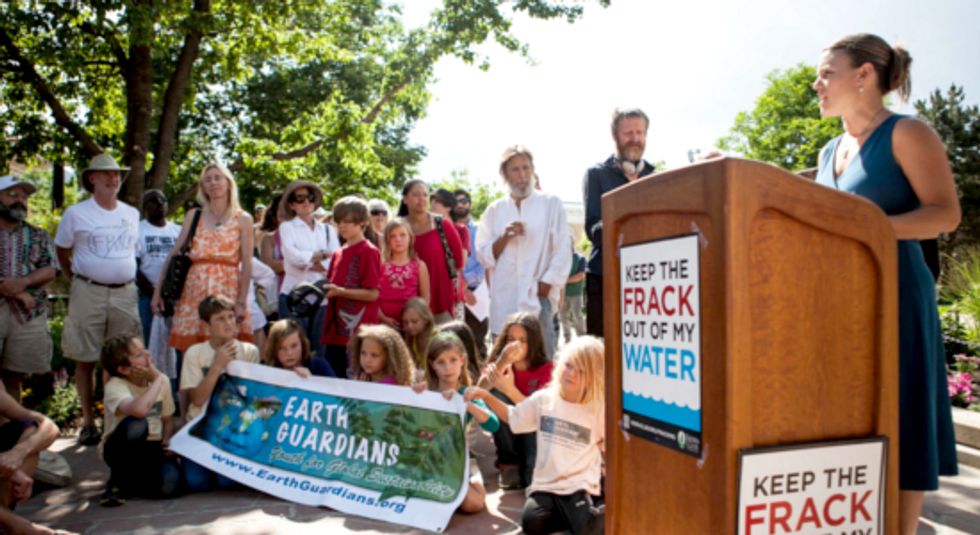 In recent weeks, an unprecedented number of citizens have rallied to protect Boulder County from the ravages of fracking. Thousands of residents have sent emails and post cards to their commissioners, demanding an extension. Activists have also packed meetings held by the County Planning Commission and the Boulder City Council. As a result, the County Planning Commission voted unanimously to recommend the moratorium extension and the City Council voted for its own one-year moratorium and to support an ordinance to ban the sale or use of city water in fracking.
"We applaud the commissioner's decision to extend the moratorium," said Russell Mendell, statewide organizer for Frack Free Colorado. "This is the result of the hard work of thousands of Boulder County citizens who have written post cards, testified and sent e-mails detailing the devastating impacts of fracking."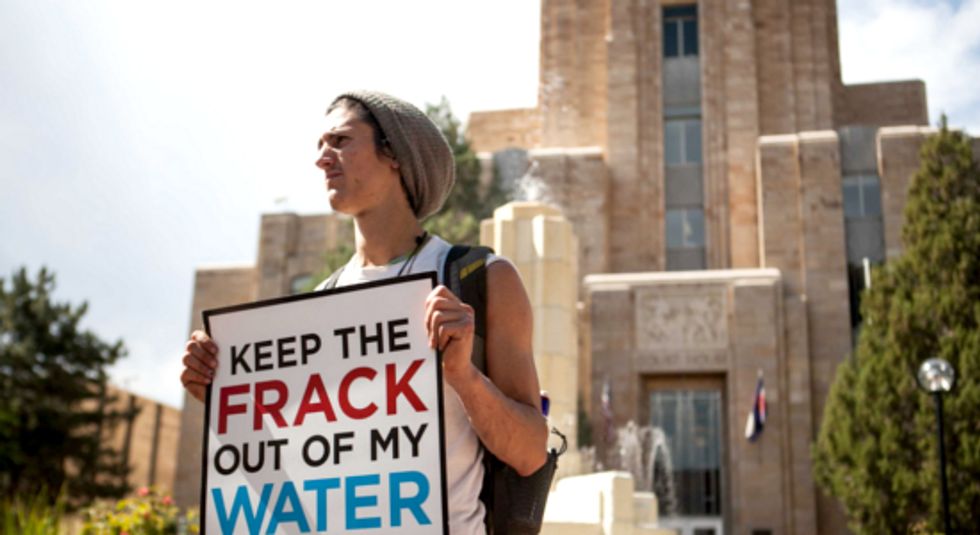 "While people around the country are getting sick from their practices, the gas industry has proven allergic to independent studies quantifying health impacts," continued Mendell. "The independent health studies that have been conducted reveal a 66 percent increase in cancer within one half mile of a fracking well, yet both the EPA [Environmental Protection Agency] and the COGCC [Colorado Oil and Gas Conservation Commission] admit they have no idea how to regulate air emissions to prevent health impacts."
"The people of Boulder County deserve a choice between cancer-causing, toxic fracking and clean renewable energy. We will continue to work to protect our communities from fracking, while moving towards a clean energy economy that relies on solar, wind and energy efficiency."
"We've seen an enormous outcry from Boulder County citizens that fracking is too dangerous to allow near homes and schools in their neighborhood," said Neshama Abraham, member of the Beyond Oil & Natural Gas Team for the Rocky Mountain Chapter of the Sierra Club. "We are grateful that the commissioners have heard us and will extend the moratorium for another eighteen months. We plan to celebrate after the meeting!"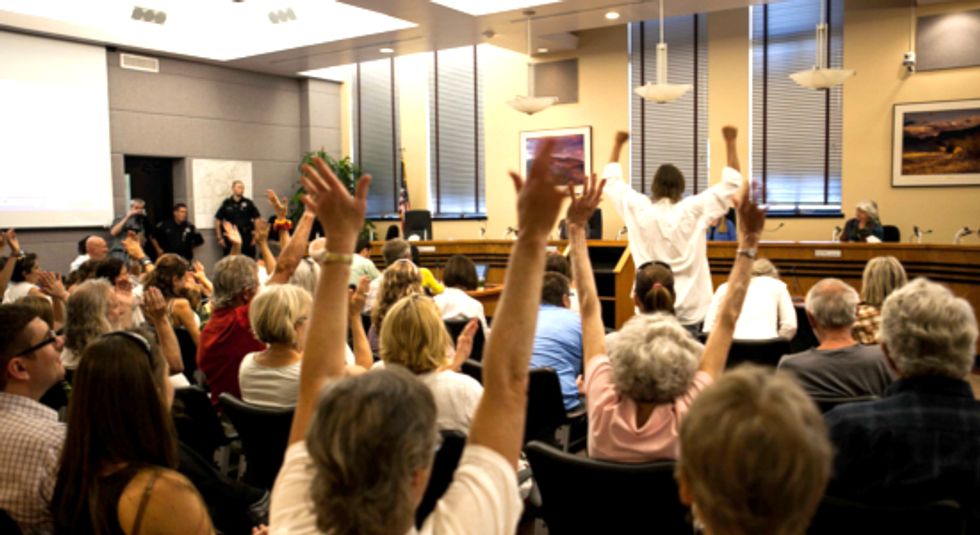 "In a time when all the science indicates that a sane society should be transitioning rapidly away from fossil fuels, and while federal and state regulations are proving dismally ineffective, it's essential that local communities do their due diligence to safeguard air, water, public health and safety," said Micah Parkin, organizer for 350 Boulder County. "Lacking conclusive evidence that fracking is safe and with mounting evidence to the contrary, the prudent action is to follow the precautionary principle. We commend our commissioners for supporting a moratorium on fracking that puts our families' health and safety first."
"The commissioners were woken up by the power and care of their community," said Cliff Willmeng, R.N. and organizer for East Boulder County United. "We aren't going to stop and this is a direct challenge to corporate power. This is the beginning of a new civil rights movement."
Visit EcoWatch's FRACKING page for more related news on this topic.
——–

Sign the petition today, telling President Obama to enact an immediate fracking moratorium:

EcoWatch Daily Newsletter
Related Articles from EcoWatch
Recent Stories from EcoWatch