This website uses cookies to ensure you get the best experience while browsing it. By clicking 'Got It' you're accepting these terms.
Bottled Water Companies vs. California's Epic Drought
May. 11, 2015 10:16AM EST
Climate
As the drought in California rolls into its fourth year, causing mandatory water cutbacks by cities and private citizens and concern about the state's enormous agricultural sector, bottled water plants in the state are attracting increasing attention and controversy. Bottled water accounts for a tiny fraction of the water consumed in the state but it's become something of a symbol of who gets access to water for profit and who is being forced to cut back.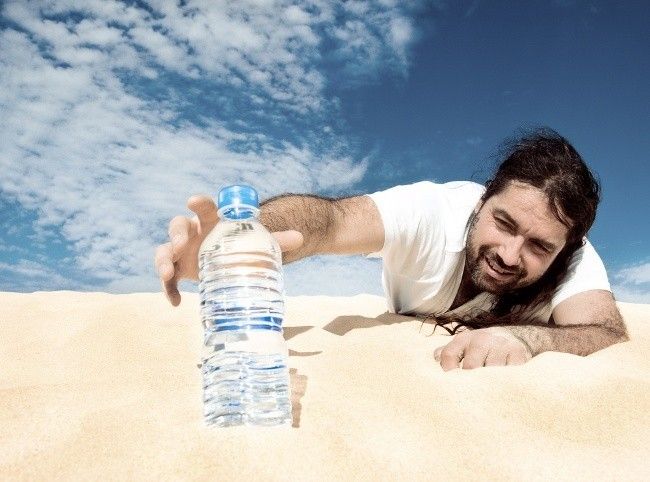 Photo credit: Shutterstock
Last week, Starbucks announced that it would be moving the production of its "globally responsible" Ethos Water brand from California to Pennsylvania within the next six months. Its Pennsylvania facility already bottles the water sold on the east coast.
Starbucks' senior vice president of global responsibility and public policy John Kelly said, "We are committed to our mission to be a globally responsible company and to support the people of the state of California as they face this unprecedented drought. The decision to move our Ethos water sourcing from California and reduce our in-store water reductions by more than 25 percent are steps we are taking in partnership with state and local governments to accelerate water conservation."
Ethos Water was founded in 2002 in Southern California, promising to donate a percentage of each sale to water projects in developing countries, currently amounting to five cents on the sale of each $1.95 bottle of water. The company was bought by Starbucks in 2005. Ethos has created partnerships with organizations such as the Oscars. Environmental activist Leonardo DiCaprio was seen carrying a bottle at the awards ceremony, and fellow environmentalist Matt Damon has appeared in an ad for the brand.
The move follows a recent article in Mother Jones calling attention to the fact that its West Coast bottling plant is located in Merced, California, drawing its water from private springs in Baxter a few hours north of Merced, as well as from Merced city water. Both Baxter and Merced are in areas of "exceptional drought."
"While bottled water accounts for just a small fraction of California's total water use, some residents are nonetheless fed up with bottling plants that profit off their dwindling water supply," said Mother Jones. "Protesters have begun staging events at Nestlé's bottling facility in nearby Sacramento."
Nestlé's facility buys millions of gallons of Sacramento municipal water and also bottles spring water shipped in from Northern California counties. A grassroots group called the Crunch Nestlé Alliance has been organizing to shut down the plant.
Residents in Merced are also concerned about the Safeway-Lucerne Foods bottling plant in the city that's pulling groundwater from local wells as they're being asked to cut back on showers and stop watering their lawns.
The Merced Sun-Star quoted area resident Jandrea-Marie Gabrielle saying at a city council meeting, "Perhaps watering lawns are the least of California's worries. You might think that in the midst of a drought emergency, diverting public fresh water supplies to bottle and selling them would be frowned upon."
And while Starbucks is closing its bottled water facility, another will soon be opening in the arid state. The Crystal Geyser Water Company will be opening a plant in Mount Shasta that will take hundreds of thousands of gallons of water a day from an aquifer that feeds the Sacramento River and provides drinking water for millions of people. The converted Coca-Cola plant is expected to begin operations this fall. While a company executive said it's working with area residents to make sure its activities "will not impact the environment in any detrimental way," local citizen Raven Stevens pointed out, "Crystal Geyser in one day plans to pump more water than any three of my neighbors will use in an entire year."
California currently has no limits on the amount of groundwater that can be pumped from private property, although state regulations on water withdrawal from the most endangered aquifers with start phasing in after 2020—when the drought could be a decade old. Bottled water companies using water tapped on private property are exempt from the mandatory water cuts placed on cities and towns in March.
"Bottling water is a legal use of water under the law," said Nancy Vogel, spokeswoman of the California Department of Water Resources.
YOU MIGHT ALSO LIKE
Epic Drought Spurs California to Build Largest Desalination Plant in Western Hemisphere
Drought-Stricken California Has One Year Left of Water, NASA Scientist Warns
EcoWatch Daily Newsletter
Extreme weather events supercharged by climate change in 2012 led to nearly 1,000 more deaths, more than 20,000 additional hospitalizations, and cost the U.S. healthcare system $10 billion, a new report finds.
Giant sequoia trees at Sequoia National Park, California. lucky-photographer / iStock / Getty Images Plus
A Bay Area conservation group struck a deal to buy and to protect the world's largest remaining privately owned sequoia forest for $15.6 million. Now it needs to raise the money, according to CNN.
This aerial view shows the Ogasayama Sports Park Ecopa Stadium, one of the venues for 2019 Rugby World Cup. MARTIN BUREAU / AFP / Getty Images
The Rugby World Cup starts Friday in Japan where Pacific Island teams from Samoa, Fiji and Tonga will face off against teams from industrialized nations. However, a new report from a UK-based NGO says that when the teams gather for the opening ceremony on Friday night and listen to the theme song "World In Union," the hypocrisy of climate injustice will take center stage.
Vera_Petrunina / iStock / Getty Images Plus
By Wudan Yan
In June, New York Times journalist Andy Newman wrote an article titled, "If seeing the world helps ruin it, should we stay home?" In it, he raised the question of whether or not travel by plane, boat, or car—all of which contribute to climate change, rising sea levels, and melting glaciers—might pose a moral challenge to the responsibility that each of us has to not exacerbate the already catastrophic consequences of climate change. The premise of Newman's piece rests on his assertion that traveling "somewhere far away… is the biggest single action a private citizen can take to worsen climate change."

Volunteer caucasian woman giving grain to starving African children.
Bartosz Hadyniak / E+ / Getty Images
Food will be scarce, expensive and less nutritious," CNN warns us in its coverage of the UN's new "Climate Change and Land" report. The New York Times announces that "Climate Change Threatens the World's Food Supply."
By Adam Vaughan
Two-thirds of people in the UK think the amount people fly should be reined in to tackle climate change, polling has found.
Climate Week NYC
On Monday, Sept. 23, the Climate Group will kick off its 11th annual Climate Week NYC, a chance for governments, non-profits, businesses, communities and individuals to share possible solutions to the climate crisis while world leaders gather in the city for the UN Climate Action Summit.
By Pam Radtke Russell in New Orleans
Local TV weather forecasters have become foot soldiers in the war against climate misinformation. Over the past decade, a growing number of meteorologists and weathercasters have begun addressing the climate crisis either as part of their weather forecasts, or in separate, independent news reports to help their viewers understand what is happening and why it is important.