This website uses cookies to ensure you get the best experience while browsing it. By clicking 'Got It' you're accepting these terms.
Bonn Climate Talks Fail to Deliver Common Grounds Undermining Hopes of Meaningful Deal in Paris
Sep. 07, 2015 08:34AM EST
Climate
The latest round of climate talks in the German city of Bonn have ended with a failure to deliver common grounds for the negotiations at the UN climate summit in Paris at the end of this year.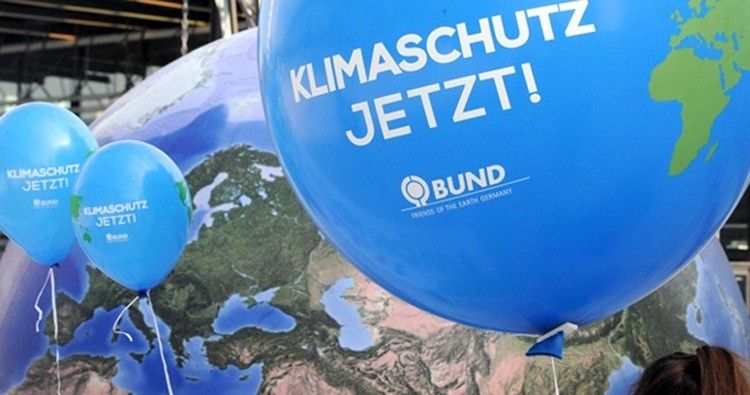 The Paris talks, involving all UN member states, are meant to deliver a draft that could lead to a new world climate treaty to replace the expired Kyoto Protocol. But experts now fear that there will not be enough time left to see a major breakthrough.
Jan Kowalzig, climate change policy adviser at Oxfam, described last week's negotiations in Bonn as "unbearably tardy."
He said: "If the negotiators keep up that slow pace, the ministers at the UN summit will get an unfinished paper that they will have to resolve with no time for reflection. The outcome will then most likely be an extremely weak new treaty that will not save the world from climate change."
Unresolved Obstacles
In Bonn, the Ad Hoc Working Group on the Durban Platform for Enhanced Action (ADP)—the body set up by the UN Climate Change Convention to devise a successor to the Kyoto Protocol—was asked to produce a paper for the Paris summit.
After a week of negotiations, they ended up with just a bunch of ideas and lots of unresolved obstacles.
"We cannot go on working on that basis," says Sarah Blau, who led the EU's delegation in Bonn. "We would love to start working on a new treaty, but all options have to be on the table. We have not reached that stage yet."
Two major hurdles remain as the Paris deadline nears: climate finance and emissions cuts. Back in 2010, the world agreed on building up a Green Climate Fund to help developing nations to tackle the impacts of climate change. The developed nations promised to provide the fund with US$100 billion by 2020.
So far, only around US$10 billion is in that pot. So who will contribute how much? And by when? The diplomats in Bonn were unable to say.
On the emissions cuts, it is becoming increasingly obvious that the existing pledges are far from enough to keep the world below the 2°C level—the internationally-agreed safety limit to try to prevent runaway climate change.
So the developing nations are demanding regular updates and adjustments to the agreed emissions cuts every five years, to check whether the world is still on the right track. The EU disapproves of this, saying updates every 10 years are sufficient.
As the EU wants to achieve its planned 40 percent CO2 reduction by 2020, it would not take its next step until 2030.
"We feel confident that our 40 percent CO2 target by 2020 is one of the most ambitious goals, and we do not see any need for more regular adjustments," Blau says.
Long-Term Target
Greenpeace says the EU's 10-year strategy could render the 2°C limit meaningless.
Martin Kaiser, head of the Greenpeace climate policy unit, says: "It would be a catastrophe if the new treaty froze the existing reduction targets and pledges. We do need more regular adjustments that respect the latest climate science outcomes and the development of renewable energies."
The only progress in Bonn was the wider acceptance among UN member states of the need to write a long-term target into a new global climate treaty.
But it remains unresolved whether that should be a zero CO2 emissions target, a 100 percent renewable energy target, or just a repetition of the existing 2°C limit—which many climate scientists think should in any case be reduced to 1.5°C.
At the end of September, heads of state are due to meet in New York at the UN general assembly. In mid-October, there will be another preparatory meeting in Bonn, hoping finally to produce an agreed paper for Paris.
"We are definitely running out of time," warns Christoph Bals, policy director at the NGO Germanwatch. "What we truly need now are clear signals from the ministers and heads of state ahead of Paris. Otherwise, the next UN climate summit is most likely to fail."
YOU MIGHT ALSO LIKE
Audubon Society: North American Birds Are Threatened by Climate Change
Even Wall Street Asks: 'Why Would You Not?' Take Action on Climate Change
EcoWatch Daily Newsletter
Variety of fermented food korean traditional kimchi cabbage and radish salad. white and red sauerkraut in ceramic plates over grey spotted background. Natasha Breen / REDA&CO / Universal Images Group / Getty Image
Even if you've never taken probiotics, you've probably heard of them.
These supplements provide numerous benefits because they contain live microorganisms, such as bacteria or yeast, which support the healthy bacteria in your gut (1, 2, 3, 4).
Pexels
Singapore will become the first country in the world to place a ban on advertisements for carbonated drinks and juices with high sugar contents, its health ministry announced last week. The law is intended to curb sugar consumption since the country has some of the world's highest diabetes rates per capita, as Reuters reported.
A typical adult takes around 20,000 breaths per day. If you live in a megacity like Beijing, with many of those lungfuls you're likely to inhale a noxious mixture of chemicals and pollutants.
Fred Stone holds his brown swiss cow Lida Rose at his Arundel dairy farm on March 18 after a press conference where he spoke about PFAS chemical contamination in his fields. Gregory Rec / Portland Portland Press Herald via Getty Images
By Susan Cosier
First there was Fred Stone, the third-generation dairy farmer in Maine who discovered that the milk from his cows contained harmful chemicals. Then came Art Schaap, a second-generation dairy farmer in New Mexico, who had to dump 15,000 gallons of contaminated milk a day.
Protesters attend the 32nd annual Fur-Free Friday demonstration on Nov. 23, 2018 in Beverly Hills, California. Ella DeGea / Getty Images
California Governor Gavin Newsom signed into law a bill that that bans the sale and manufacture of fur products in the state. The fur ban, which he signed into law on Saturday, prohibits Californians from selling or making clothing, shoes or handbags with fur starting in 2023, according to the AP.
By Simon Evans
During the three months of July, August and September, renewables generated an estimated total of 29.5 terawatt hours (TWh), compared with just 29.1TWh from fossil fuels, the analysis shows.
A demonstrator waves an Ecuadorian flag during protests against the end of subsidies to gasoline and diesel on Oct. 9 in Quito, Ecuador. Jorge Ivan Castaneira Jaramillo / Getty Images
Protesters block the road outside Mansion House in London during an XR climate change protest. Gareth Fuller / PA Images via Getty Images