Bolivia's Second-Largest Lake Dries Up: Is Utah's Great Salt Lake Next?
Researchers from Utah State University found that the Beehive State's Great Salt Lake has shrunk by 48 percent since 1847. Meanwhile, Lake Poopó, Bolivia's second-largest lake, is died up and may be beyond recovery.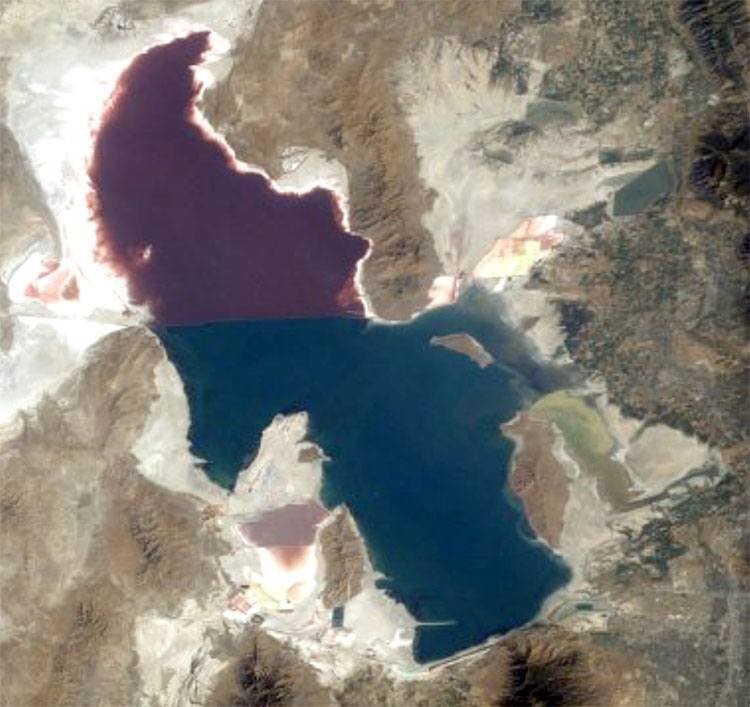 The Utah State researchers published their findings last month in a white paper, Impacts of Water Development on Great Salt Lake and the Wasatch Front. They warned that the Great Salt Lake may follow in the footsteps of some of the world's salt lakes, such as the Aral Sea in central Asia or California's Owens Lake, which have almost entirely disappeared.
"There's no doubt about it, Great Salt Lake is shrinking," Wayne Wurtsbaugh, lead author on the paper, said. "Though we've witnessed droughts and floods in recent decades, impacts of water diversions have decreased the lake's level by 11 feet."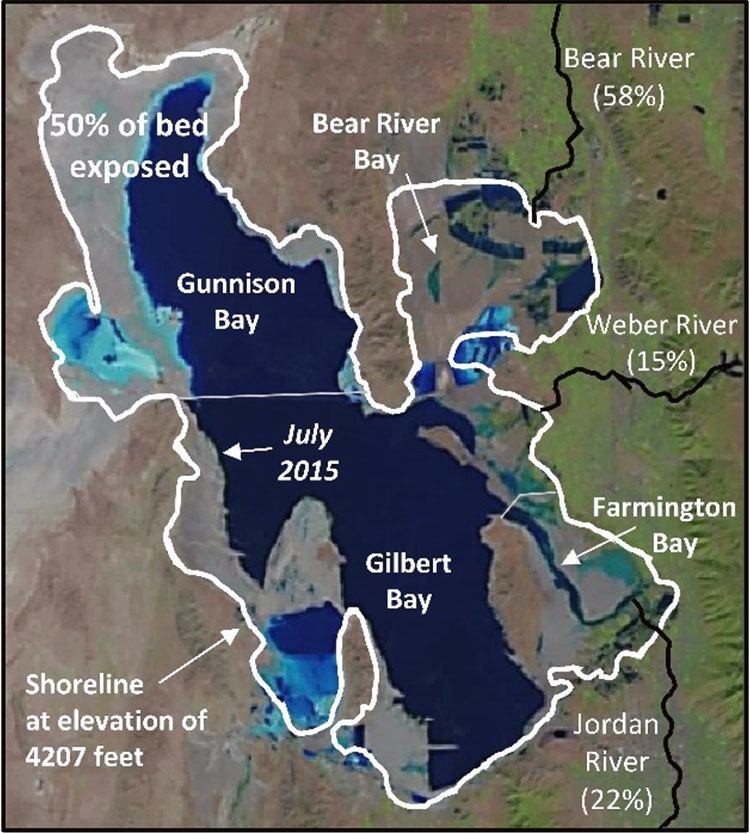 The authors blame overconsumption, particularly agriculture, which consumes 63 percent of the water in the Great Salt Lake Basin.
"Loss of water in the lake threatens its unique ecology, along with the wildlife and industries that depend on the lake's ecosystem services," Wurtsbaugh said. "Further, lowering lake levels increase dust pollution, which worsens the health effects of the Salt Lake City area's already serious air pollution problems."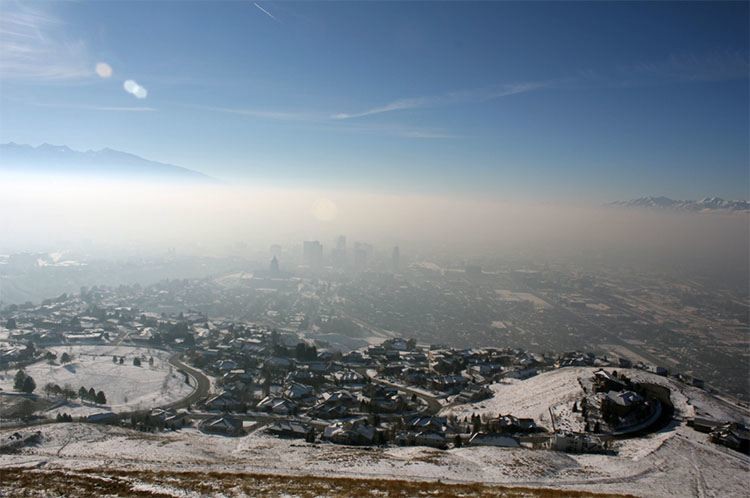 Water conservation has helped somewhat, but the researchers said it's not enough: "Although water conservation has reduced urban per capita use by 18 percent, overall municipal water use has increased by five percent because of our growing population."
The diminishing supply has led water managers to import water from the Colorado River, which is itself at "extreme risk" from overallocation, according to Gary Wockner, executive director of Save The Colorado. And the area's increased reliance on the Colorado River is still not enough.
"Reduced stream flows have been offset by eight percent with imported water from the Colorado River Basin through the Central Utah Project, as well as return flows from upstream diversions," the authors noted. "Overall, however, consumptive water use has reduced net river inflow to the lake by 39 percent over the past 150 years."
"Any future development of water will cause the lake to drop more," researchers cautioned. "For example, the Utah Division of Water Resources estimates that water consumption associated with the proposed Bear River Development Project would decrease the level of Great Salt Lake approximately 8.5 inches. This would expose about another 30 square miles of lake bed."
"The logic is straightforward," the authors added. "If less water is delivered to the lake, the lake level must drop. This is an inevitable consequence of ever increasing water consumption."
The story of Bolivia's Lake Poopó should serve as a warning for what can happen when water resources are mismanaged. Poopó historically has been 380 square miles or about twice the size of Los Angeles with a maximum depth of 16 feet.
Currently though, it's a mere two percent of its former water level, regional governor Victor Hugo Vasquez told The Guardian. And though lake levels have fluctuated with the weather in the past, scientists worry recovery may no longer be possible.
In December 2015, the lake was "officially declared evaporated," according to The Guardian, displacing hundreds, if not thousands, of people and sparking an ecological disaster for hundreds of species.
The Bolivian government blames El Niño and climate change for the particularly dry weather, but National Geographic said, "that's not the whole story."
"Misuse of the water supply and a failure on the part of the Bolivian government to act on existing management plans are partly responsible for the rapid drying of the lake over the past few years," Lisa Borre, a senior researcher with the Cary Institute for Ecosystem Studies in New York, explained to National Geographic.
"The lake was very shallow, only a few feet deep, and it is in an arid climate, so its level fluctuates a lot with the weather," Borre said, noting that Poopó has shrunk significantly a number of times in the past, "but it's never been this bad."
National Geographic explained how lake levels dropped so dangerously low:
"Lake Poopó gets most of its water from the Desaguadero River, which flows from Lake Titicaca (Bolivia's largest lake). According to the published management plan, water managers are supposed to allow flow down the river into Poopó, but they have recently allowed that to slow to a trickle.
Titicaca has plenty of water in it, so that's not the problem, Borre says. Officials just aren't opening control gates often enough to send water down the river. Some of the water is being diverted for agriculture and mining. And even when water is available, the river is often clogged with sedimentation, due to the runoff from development and mining in the area.
Poopó is high, at 12,000 feet (3,680 meters), and the area has warmed an estimated one degree Celsius over the past century, leading to an increase in the rate of evaporation from the lake. And the lack of rain over the past year has sped the process even further. But these factors weren't surprises, Borre says, they were foreseeable changes that scientists anticipated.
Wikimedia Commons
By Stacy Malkan
Neil deGrasse Tyson has inspired millions of people to care about science and imagine themselves as participants in the scientific process. What a hopeful sign it is to see young girls wearing t-shirts emblazoned with the words, "Forget princess, I want to be an astrophysicist."
Keep reading...
Show less
www.youtube.com
By Andy Rowell
Any day now we will truly witness climate change in action. Within days at worst, maybe weeks at best, scientists predict that a huge section of the Larsen C ice shelf in Antarctica will break off into the ocean, in what is called a major "carving" event.
Keep reading...
Show less
www.youtube.com
President Trump visited Cedar Rapids, Iowa on June 21 to speak to a large crowd in the U.S. Cellular Center at a political rally organized by his campaign.
As Trevor Noah noted during The Daily Show episode last night (starts at 2:25), the real reason Trump has these rallies is to "get back in front of his loyal crowds and feed of their energy." Noah believes that "Trump supporters are so on board with their dude he can say anything and they'll come along for the ride."
Keep reading...
Show less
The Kamuthi solar plant in the southern Indian state of Tamil Nadu.
The rapid growth in renewable energy continues to put a dent in the demand for coal.
Coal India, the world's biggest coal mining company and producer of 82 percent of the country's coal, announced the closure of 37 mines that are financially "unviable."
Keep reading...
Show less
www.youtube.com
By Katie O'Reilly
Two years ago—long before coal became one of the most dominant and controversial symbols of the 2016 presidential election—Bloomberg Philanthropies approached production company RadicalMedia with the idea of creating a documentary exploring the U.S. coal mining industry. Last spring, they brought on Emmy-nominated director Michael Bonfiglio, tasked with forging a compelling story out of the multitudes of facts, statistics and narratives underlying the declining industry.
Keep reading...
Show less
Mayors for 100% Clean Energy
Keep reading...
Show less
www.youtube.com
Thanks to Newsy for their coverage on Thursday's news that the U.S. Fish and Wildlife Service removed grizzly bears in the Greater Yellowstone region from the Endangered Species List.
Watch above as Newsy explains that the decision comes despite serious concerns from the environmental and scientific community, and Tribal Nations about a declining, isolated grizzly bear population with diminishing food resources and record-high mortalities.
Keep reading...
Show less
www.facebook.com
By Francine Kershaw
Seismic airguns exploding in the ocean in search for oil and gas have devastating impacts on zooplankton, which are critical food sources for marine mammals, according to a new study in Nature. The blasting decimates one of the ocean's most vital groups of organisms over huge areas and may disrupt entire ecosystems.
And this devastating news comes on the heels of the National Marine Fisheries Service's proposal to authorize more than 90,000 miles of active seismic blasting. Based on the results of this study, the affected area would be approximately 135,000 square miles.
Keep reading...
Show less
By Jill Richardson
Is coconut oil:
good for you
bad for you
neither good nor bad
scientists don't know
The subject of this question is the source of a disagreement. Initially, the question was thought to be settled decades ago, when scientist Ancel Keys declared all saturated fats unhealthy. Coconut oil, which is solid at room temperature, is a saturated fat.
Keep reading...
Show less


Get EcoWatch in your inbox