Bloomberg to Cuomo: We Can Frack Safely
Aug. 29, 2012 03:12PM EST
Energy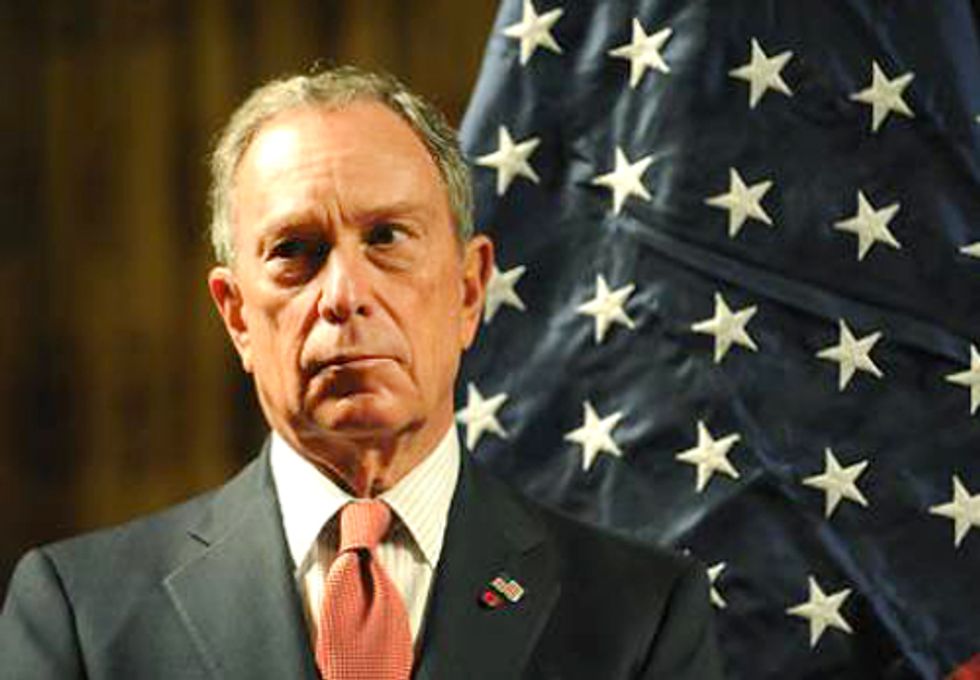 By Kai Olson-Sawyer
With all eyes on New York State's (NYS) rumored upcoming moves on shale-gas hydraulic fracturing (fracking), a recent Washington Post op-ed by New York City Mayor, Michael Bloomberg, and fracking pioneer, George Mitchell, weighed in on the possibility of limited fracking in the state's Southern Tier. The message of Bloomberg's op-ed is that "[w]e can frack safely if we frack sensibly," and by sensibly he would seem to mean by implementing strong environmental regulations, a sentiment not widely shared by the oil and gas industry today.
That Bloomberg advocates for natural gas through "responsible" fracking is not surprising considering his $50 million patronage of the Sierra Club anti-coal campaign and the view that natural gas will replace dirty coal. In this more recent case of largesse, the mayor will give Environmental Defense Fund $6 million to carry out the "strategy of securing strong rules and developing industry best practices in the 14 states with 85 percent of the country's unconventional gas reserves."
It can't be forgotten that New York City (not to mention Syracuse) long ago assured the safety of its water by way of a gas drilling and fracking ban in their enormous, protected watershed located mainly in the Catskill Mountains. (No state politician can afford to tangle with the New York City behemoth.) While New York City water users appear to be well protected from fracking in their watershed, as Wenonah Hauter of Food & Water Watch says of Bloomberg, "He speaks for himself, not the upstate New Yorkers who would be most directly and most immediately affected by fracking."
Practically speaking and regardless of possible coordination, Bloomberg's endorsement of regulated fracking gives NYS Governor Cuomo–the ultimate "decider" of how and when it proceeds–another extremely influential backer on both political and policy grounds. Despite Cuomo's position as one of the most powerful and savvy governors in the country, his apparent pro-fracking leanings have alienated him from seemingly natural allies, even as the inflammatory politics of fracking have split environmentalists into those who seek an outright ban versus those who support tight regulation.
Exactly how Cuomo plans to address the knotty issue of NYS fracking remains unknown–all we have are rumors and innuendo stemming from a leak of the governor's plan to the New York Times. The reported plan would presumably offer natural gas drilling permits to gas extraction companies in the "southwest New York region–primarily Broome, Chemung, Chenango, Steuben and Tioga Counties–drilling would be permitted only in towns that agree to it and would be banned in Catskill Park, aquifers and nationally designated historic districts."
That fracking would only occur after it passed a vote in these municipalities is notable because it aligns with NYS Home Rule governance, which grants significant authority to local communities. Interestingly, Cuomo's concept of governmental devolution on state shale-gas development presages on a smaller scale Republican presidential nominee Romney's plan to hand over Federal lands to the states for fossil fuel development, which would upend at least 50 years of U.S. policy precedent.
If Cuomo decides to carry out his plan in the near-term, as expected, he would eschew his repeated claims to "[l]et the science dictate the conclusion," since he'll likely have to wait for more than a year for the most comprehensive studies on fracking, including the highly anticipated U.S. EPA study along with two U.S. Geological Survey reports (here and here).
Of course, scientific studies are not always conclusive and can be interpreted in many ways. There are also a host of unmet concerns with fracking, like what to do with toxic flowback wastewater, whether landowners bear all of the cost and liability of cleanup, and public health risks around gas wells and compressor stations, just to name a few. Cuomo's decision on whether to allow fracking in NYS depends on what he envisions for the state's future, and the question remains whether the call for fracking undercuts the continued support of both politicians' for more sustainable, less water-intensive renewable energy.
With Bloomberg in his final term and the safety of New York City's water seemingly in the bag, it's easy for him to say we can frack safely–he won't be the one to draw up or enforce the stiff regulations he calls for. Will his message influence Cuomo's decision? Time will tell.
Visit EcoWatch's FRACKING page for more related news on this topic.
EcoWatch Daily Newsletter
Related Articles from EcoWatch