This website uses cookies to ensure you get the best experience while browsing it. By clicking 'Got It' you're accepting these terms.
Bloomberg: The Electric Car Revolution Is Here to Stay
Mar. 09, 2016 10:03AM EST
Business
Within six years, the cost of owning an electric car will be cheaper than purchasing and running a petrol or diesel model. That's the conclusion of a report on the fast-expanding electric car market by Bloomberg New Energy Finance.
The report says that even if petrol or diesel driven cars improve their fuel efficiency over the coming years, the cost of owning an electric car—buying it and running it—will be below that of conventional vehicles by 2022.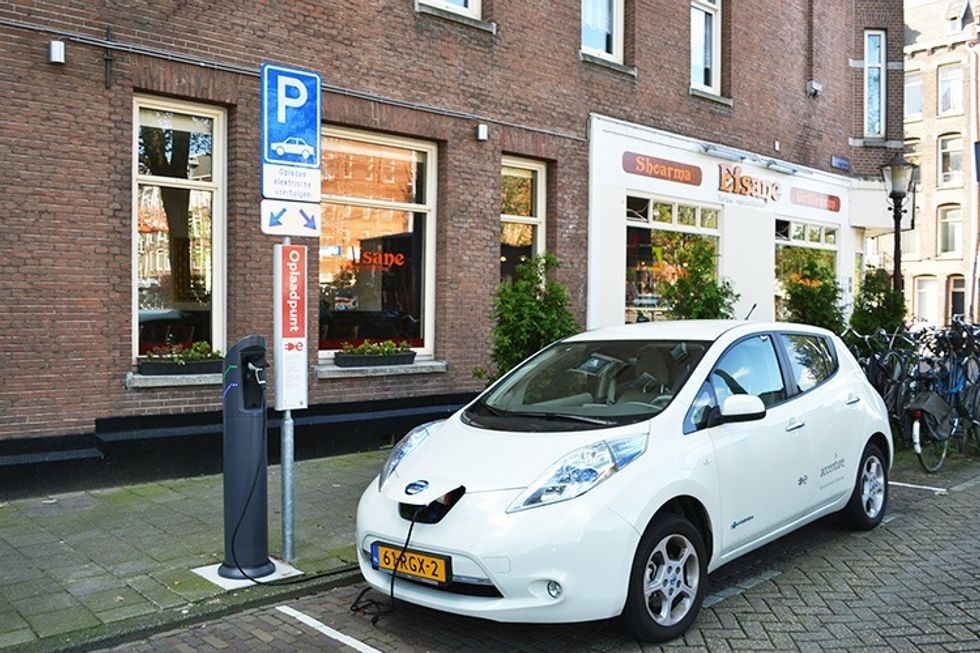 The increased sale of electrically-powered cars is seen as an important element in the fight against climate change. CO2 emissions from vehicles fueled by petrol and diesel cause a build-up of greenhouse gases and, especially in cities, pollution from exhausts causes serious damage to health.
Worldwide Sales
Bloomberg says electric vehicle (EV) sales worldwide reached just under half a million in 2015—a 60 percent rise on the previous year. Although electric-powered cars make up only one percent of the global vehicle total at present, it is predicted that worldwide EV sales will be more than 40 million by 2040, making up approximately 35 percent of all light duty vehicle sales.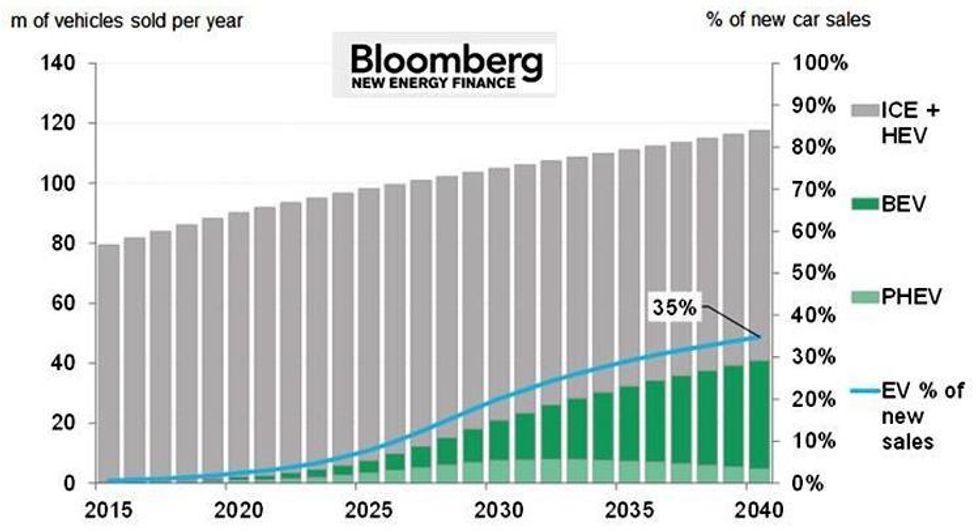 The report's authors say developments in battery technology are one of the key factors driving the downward trend in prices in the electric car market.
"At the core of this forecast is the work we have done on EV battery prices," said Colin McKerracher, a Bloomberg analyst.
"Lithium-ion battery costs have already fallen by 65 percent since 2010, reaching $350 per kilowatt hour (kWh) last year. We expect EV battery costs to be well below $120 per kWh by 2030 and to fall further after that as new chemistries come in," added McKerracher.
To date, two types of electric car have been produced for the mass market: a battery electric vehicle (BEV) is solely dependent on batteries for power, while a plug-in hybrid electric vehicle (PHEV) uses a combination of rechargeable batteries and a conventional engine as back-up.
Recent improvements in battery technology mean that a BEV can travel up to 200 miles without recharging.
Electric vehicle manufacturers say that as more sales are achieved, manufacturing costs will drop as economies of scale are achieved.
Various electric-powered sports models manufactured in the U.S. and Europe have tended to grab the headlines recently, but the main sales growth in future is likely to take place in China.
At present, the U.S. continues to be the world's biggest EV market, although it is Japan's Nissan Leaf that heads electric car sales.
The government in China, faced with tackling serious pollution problems in many cities, is giving big subsidies to the country's electric car manufacturers.
Incentives to Buyers
It is also offering incentives to buyers, in terms of lower insurance premiums and road taxes, discounted charging facilities and access to urban road networks when other vehicles are banned due to high pollution levels.
Xindayang, a Chinese manufacturer, is marketing electric vehicles in China at a cost of $10,000—much cheaper than EVs elsewhere.
Chinese EV manufacturers have global ambitions. Faraday Future, a China-backed EV maker, recently announced plans to invest more than a billion dollars in a manufacturing plant in the U.S.
China is also investing heavily in the necessary infrastructure for EVs. The State Council—the main law-making body in China—announced last year that facilities would be developed to handle up to five million plug-in vehicles by 2020.
YOU MIGHT ALSO LIKE
Koch Brothers Plotting Multimillion Dollar War on Electric Vehicles
Elon Musk Shows His Love for Dramatic Tesla Video With Powerful Message
The Ultimate in Off-Grid Transportation: Mini-Fleet-in-a-Box
Driving Cars Powered by Organic Solar Cells Might Be Closer Than You Think
EcoWatch Daily Newsletter
A harbour seal on an ice floe in Glacier Bay, Alaska. A new study shows that the climate crisis has warmed waters, changing ecosystems and crippling sea ice growth. Janette Hill / robertharding / Getty Images Plus
Doctors report that only 1 in 4 children are getting the recommended 60 minutes of physical activity per day. Ronnie Kaufman / DigitalVision / Getty Images
By Dan Gray
Pediatricians are being urged to start writing "exercise prescriptions" for the children they see in their office.
A First Nations protester walks in front of a train blockade in Tyendinaga, near Belleville, Ontario, Canada on Feb. 21, 2020. LARS HAGBERG / AFP via Getty Images
An indigenous rail blockade that snarled train travel in Canada for more than two weeks came to an end Monday when police moved in to clear protesters acting in solidarity with another indigenous community in British Columbia (B.C.), which is fighting to keep a natural gas pipeline off its land.
A rainbow snake, a rare reptile spotted in a Florida county for the first time in more than 50 years, seen here on July 5, 2013.
Kevin Enge / FWC Fish and Wildlife Research Institute / Flickr
A Florida hiker recently stumbled across a slithering surprise — a rare snake that hadn't been spotted in the area for more than 50 years.
We need our government to do everything it can to stop PFAS contamination and exposure from wreaking havoc in communities across the country. LuAnn Hun /
Unsplash
By Genna Reed
The EPA announced last week that it is issuing a preliminary regulatory determination for public comment to set an enforceable drinking water standard to two of the most common and well-studied PFAS, PFOA and PFOS.
This decision is based on three criteria:
PFOA and PFOS have an adverse effect on public health
PFOA and PFOS occur in drinking water often enough and at levels of public health concern;
regulation of PFOA and PFOS is a meaningful opportunity for reducing the health risk to those served by public water systems.