BLM Fails to Comply with Court Order, Refuses to Change Transparency Policy
Just more than three months ago, in a momentous victory for the public's right to know and government transparency, U.S. District Court Senior Judge Richard P. Matsch ruled on Feb. 13, that the Bureau of Land Management (BLM) violated the public's right to know when it concealed the identity of the entities that nominate public lands for gas drilling leases. Specifically, the court held that BLM's asserted justification for withholding the requested information "runs directly contrary to the purpose of the public sale process."
The Western Environmental Law Center (WELC), on behalf of Citizens for a Healthy Community (CHC), filed the FOIA request and subsequent lawsuit that resulted in the court's favorable ruling. The organizations were seeking the names of the corporations that had nominated 30,000 acres of public lands surrounding the North Fork Valley in western Colorado for drilling and fracking.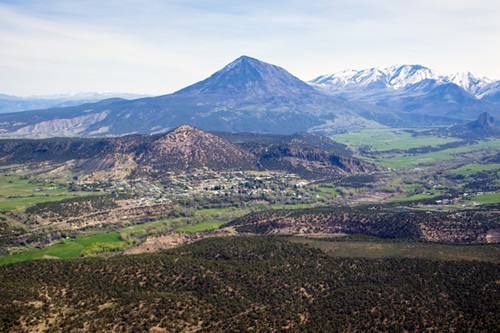 On April 15, BLM released the names of the EOI (Expression of Interest) submitters that had nominated the public lands at issue in the lawsuit. However, despite this court ruling, BLM staff has indicated that it does not intend to amend its policy of refusing to release of the identity of EOI submitters to the public.
Now, WELC, CHC and 27 other local and national groups are calling on the BLM to lift this veil of secrecy and bring its policy in compliance with the court's ruling. In a letter sent today to BLM, the organizations labeled BLM's refusal to change its policy "inappropriate, illegal, and inconsistent with the mandates of FOIA."
"It is inconsistent with BLM's position as a public agency and steward of our public resources that it continues to put up such a fight to withhold information about the corporations interested in extracting public resources," said Megan Anderson, author of the letter and WELC attorney. "Even after a U.S. District Court judge held that the agency had no basis for withholding information about the nominations of oil and gas lease parcels, the agency continues to stonewall; BLM must revise its policy so that public can acquire this information without involving the time-consuming and costly legal system," she concluded.
"Farmers, ranchers and concerned residents in Delta County and elsewhere deserve transparency from the BLM. It's time for the BLM to end its secretive policy of withholding expressions of interest and to make those documents publicly available when it announces its quarterly oil and gas lease sales across the country," said Jim Ramey, director of the Delta County community group Citizens for a Healthy Community.
In addition to WELC and CHC, the letter was signed by 27 other organizations: Biodiversity Conservation Alliance, Blancett Ranches, Californians for Western Wilderness, Delaware Riverkeeper Network, EcoFlight, Food & Water Watch, Fractivist, Great Old Broads for Wilderness, High Country Citizens' Alliance, Los Padres ForestWatch, Montana Environmental Information Center, National Parks Conservation Association, New Mexico Sportsmen, Oil & Gas Accountability Project- Earthworks, Peach Bottom Concerned Citizens Group, People's Oil & Gas Collaborative - Ohio, San Juan Citizens Alliance, Sierra Club Rocky Mountain Chapter, Upper Green River Alliance, Western Colorado Congress, Western Colorado Congress of Mesa County, Western Organization of Resource Councils, Western Resource Advocates, Western Slope Conservation Center, The Wilderness Society, Wilderness Workshop and 350 Colorado.
Visit EcoWatch's FRACKING page for more related news on this topic.
——–
Sign the petition today, telling President Obama to enact an immediate fracking moratorium:

A coalition of conservation groups and others announced Thursday that a historic number of comments and petitions of support have been submitted to the U.S. Department of the Interior in support of Bears Ears National Monument. Despite the entirely inadequate 15-day comment period ending on May 26, more than 685,000 comments in support of Bears Ears National Monument have been collected.
Keep reading...
Show less
Rink Glacier in western Greenland, with a meltwater lake visible center. NASA/OIB
Scientists have had their eyes on Greenland as its iconic glaciers have begun disappearing due to a warming climate. But, what they didn't expect to see was a whole new type of melting.
Keep reading...
Show less
Mountain View Fire
By Lena Moffitt
An oil tanker in Mead, Colorado exploded, killing one and injuring three on Thursday. Authorities are continuing to investigate the cause of the explosion.
Keep reading...
Show less
Banner created by Alliance for Climate Education
Keep reading...
Show less
Twenty-two GOP senators sent a letter Thursday urging Donald Trump to pull out of the Paris agreement. They argued remaining in the deal could "upend" the administration's ability "to fulfill its goal of rescinding the Clean Power Plan."
Keep reading...
Show less
By Cheryl Johncox
The Federal Energy Regulatory Commission (FERC) rejected on Thursday Energy Transfer Partners' request to resume horizontal directional drilling at two sites for its Rover fracked gas pipeline. This rejection comes after numerous leaks into Ohio's wetlands, and Clean Air and Clean Water act violations. FERC has halted the process at only eight locations of the 32 where drilling is taking place under Ohio's wetlands and streams.
Keep reading...
Show less
By Nadia Prupis
A majority of people in eight countries say they are ready to change their lifestyles if it would prevent climate catastrophe, a survey on global threats released Wednesday found.
Keep reading...
Show less
May. 25, 2017 01:55PM EST
Bill Maher is sick of billionaires' obsession with Mars, more like "Mars-a-Lago," he said.
In a new animation produced by ATTN:, the popular talk show host of Real Time, discusses the perils of our planet, including how "climate change is killing us."
Keep reading...
Show less