Blackfish Documentary Exposes Industry Cruelty of Orca Whales in Captivity
Oct. 25, 2013 11:12AM EST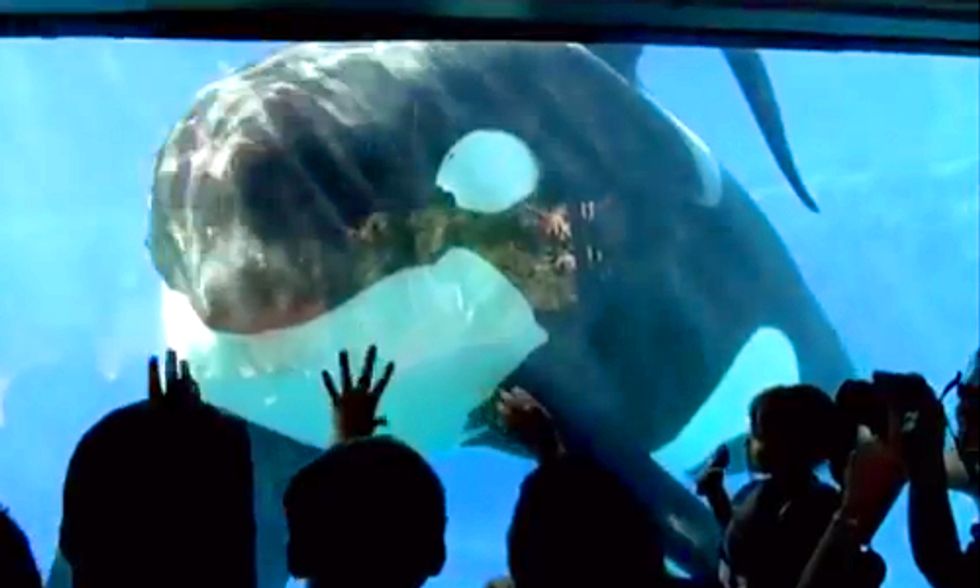 Advocates of rights for whales and dolphins made strides last night, as the documentary Blackfish aired on CNN during prime-time hours. The film tells the story of orca whales kept in captivity at the Seaworld theme parks in California, Florida and Texas.
Blackfish is not easy to watch. Scenes of huge whales swimming despondently past human families are subtly disturbing. Then the film gets less subtle.
Mostly through the testimony of former SeaWorld employees, it shows how the whales, frustrated and bored with their captivity, lash out from time to time in acts of aggression. These eventually led to the deaths of two trainers—Keltie Byrne and Dawn Brancheau—as well as a young man named Daniel P. Dukes, who had snuck into the park at night. Blackfish also suggests that the company repeatedly attempted to cover up these problems.
If social media was any indication, the film hit viewers in an unusually visceral way. Consider a few sample tweets:
Watching #Blackfish has me in tears.
—Janell Suarez @Janell_Suarez
After watching #blackfish on CNN, I'm not going to @SeaWorld ever again. Very eye-opening and disturbing.
—Brandon Ford @bfor2384
Hey @SeaWorld there's a word for imprisoning free beings & forcing them to work against their will: slavery #BlackfishOnCNN #captivitykills
—Sandra Benjamin @BenjaminSandra
Like Suarez, a large number of viewers wrote on social media that learning about the whales' ordeal made them cry. Others, like Ford, said they would never go to SeaWorld again. And, like Benjamin, still others suggested that we should recognize greater legal rights for animals, especially highly intelligent ones such as whales and dolphins.
Most of the action happened under the hashtags #BlackfishOnCNN and #Blackfish—so you can follow the conversation for yourself through those links. There's a lot of it. #Blackfish became the number-two trending hashtag on several occasions Thursday night, placing it right between #ThursdayNightFootball and #VAGovDebate.
See the network's website for an interview with filmmaker Gabriela Cowperthwaite, an investigation into whether whales belong in captivity, and a conversation with former whale trainer John Hargrove.

EcoWatch Daily Newsletter
Related Articles from EcoWatch