This website uses cookies to ensure you get the best experience while browsing it. By clicking 'Got It' you're accepting these terms.
Bird Migration Season: A Journey Fraught With Peril
May. 05, 2014 10:21AM EST
For some people, spring means tax time; for others it brings thoughts of Easter or Passover. For me, the best thing about spring is that it is time for the spring bird migration, the best time of the year to see certain species. It's also a time to reflect on what a tremendous accomplishment migration is, and how fraught with peril it is for far too many birds.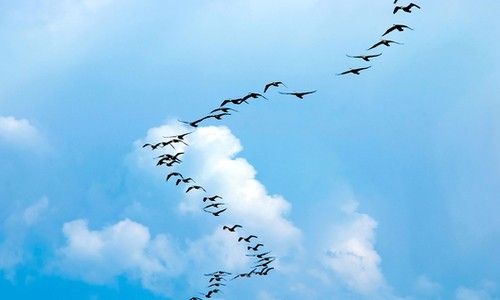 The average songbird may only weigh about half an ounce, and burns a tremendous amount of energy during migration. Photo courtesy of Shutterstock
While some species of birds remain in the same area year-round, most of our songbird species are "neotropical migrants"—meaning that they breed in the U.S. or Canada, but winter in the warmer climes of the Gulf Coast, or even farther into Central and South America. The month of May, when many of the birds return north, is a particularly good time to be a birdwatcher, for a couple of reasons: first, it is an opportunity to see birds that aren't present most of the year.
Certain warbler species, for instance, breed only in New England and Canada, so many Americans only have a fleeting chance at a glimpse of these species. Also, migration routes tend to be concentrated into "flyways," with certain spots being "hotspots" where birds reliably congregate to eat and rest up for the next leg of the journey. A good outing during migration can thus turn up a lot more birds than during the breeding season, when species and individuals tend to be more dispersed.
Birds that undertake migration face triple-whammy of threats: Not only do they need quality habitats in both their wintering and breeding ranges, but they also need to survive the trip, which can be thousands of miles in length and full of dangers along the way. Collisions with buildings kill several hundred million birds each year, and other structures, like communication towers and wind turbines, can also be deadly. Feral and free-ranging cats may kill even more songbirds than collisions do. And the evidence is mounting that climate change is playing an increasingly important role in bird declines. Sea level rise is damaging coasts and wetlands that are important feeding grounds. Increased droughts and fires are damaging forest and shrubland habitats.
[blackoutgallery id="320789"]
And more subtle, but perhaps even more important changes are happening as well, having to do with the timing of important food sources, particularly the emergence of insects. The average songbird may only weigh about half an ounce, and burns a tremendous amount of energy during migration and breeding, making it especially critical that their arrival at stopovers and breeding sites be timed to match food availability.
As climate change throws seasons out of whack, some of these critical timings are getting thrown off—a phenomena known as "phenologic mismatch." Researchers in Europe have found that phenologic mismatches are an increasingly important cause of bird declines. And in the U.S., birds are actually altering their migration timing to match changing weather conditions—a good strategy, but one that puts them at risk of missing out on major insect emergences.
Get out there this spring and see some birds. While you're at it, help them survive their migration by keeping your cat indoors, limiting the use of pesticides and other chemicals in your yard, making windows and glass doors more bird-friendly, and providing backyard habitat like sources of water, cover and food.
--------
YOU ALSO MIGHT LIKE
Wind Energy Threat to Birds Is Overblown
Top 10 Ways to Help Birds This Spring
--------
EcoWatch Daily Newsletter
Extreme weather events supercharged by climate change in 2012 led to nearly 1,000 more deaths, more than 20,000 additional hospitalizations, and cost the U.S. healthcare system $10 billion, a new report finds.
Giant sequoia trees at Sequoia National Park, California. lucky-photographer / iStock / Getty Images Plus
A Bay Area conservation group struck a deal to buy and to protect the world's largest remaining privately owned sequoia forest for $15.6 million. Now it needs to raise the money, according to CNN.
This aerial view shows the Ogasayama Sports Park Ecopa Stadium, one of the venues for 2019 Rugby World Cup. MARTIN BUREAU / AFP / Getty Images
The Rugby World Cup starts Friday in Japan where Pacific Island teams from Samoa, Fiji and Tonga will face off against teams from industrialized nations. However, a new report from a UK-based NGO says that when the teams gather for the opening ceremony on Friday night and listen to the theme song "World In Union," the hypocrisy of climate injustice will take center stage.
Vera_Petrunina / iStock / Getty Images Plus
By Wudan Yan
In June, New York Times journalist Andy Newman wrote an article titled, "If seeing the world helps ruin it, should we stay home?" In it, he raised the question of whether or not travel by plane, boat, or car—all of which contribute to climate change, rising sea levels, and melting glaciers—might pose a moral challenge to the responsibility that each of us has to not exacerbate the already catastrophic consequences of climate change. The premise of Newman's piece rests on his assertion that traveling "somewhere far away… is the biggest single action a private citizen can take to worsen climate change."

Volunteer caucasian woman giving grain to starving African children.
Bartosz Hadyniak / E+ / Getty Images
Food will be scarce, expensive and less nutritious," CNN warns us in its coverage of the UN's new "Climate Change and Land" report. The New York Times announces that "Climate Change Threatens the World's Food Supply."
By Adam Vaughan
Two-thirds of people in the UK think the amount people fly should be reined in to tackle climate change, polling has found.
Climate Week NYC
On Monday, Sept. 23, the Climate Group will kick off its 11th annual Climate Week NYC, a chance for governments, non-profits, businesses, communities and individuals to share possible solutions to the climate crisis while world leaders gather in the city for the UN Climate Action Summit.
By Pam Radtke Russell in New Orleans
Local TV weather forecasters have become foot soldiers in the war against climate misinformation. Over the past decade, a growing number of meteorologists and weathercasters have begun addressing the climate crisis either as part of their weather forecasts, or in separate, independent news reports to help their viewers understand what is happening and why it is important.