Bipartisan Senators Call for Investigation of Taxpayer Losses from Coal Exports
Jan. 04, 2013 02:14PM EST
Energy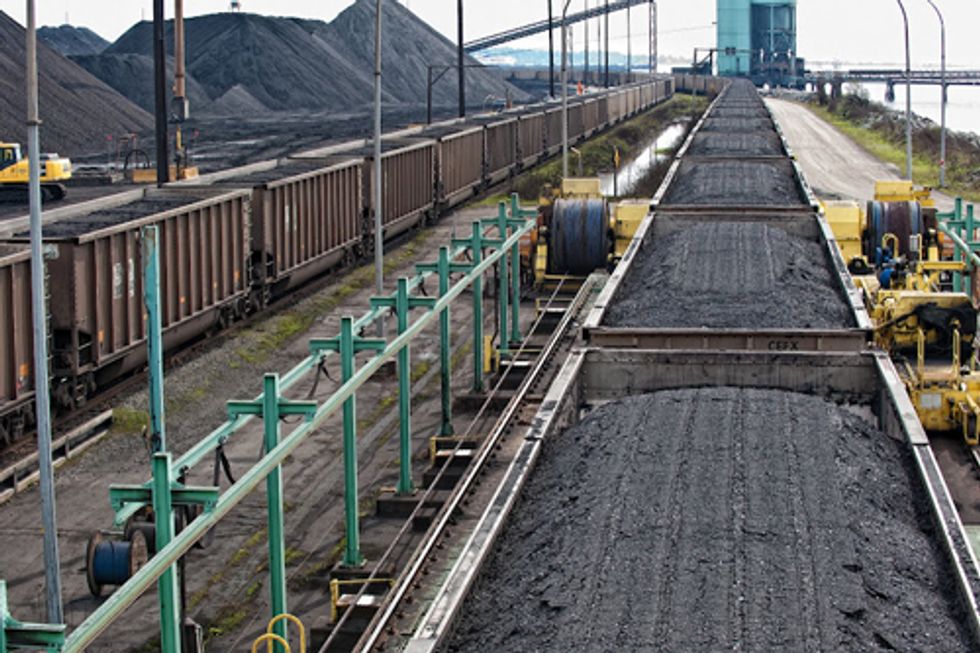 by Jessica Goad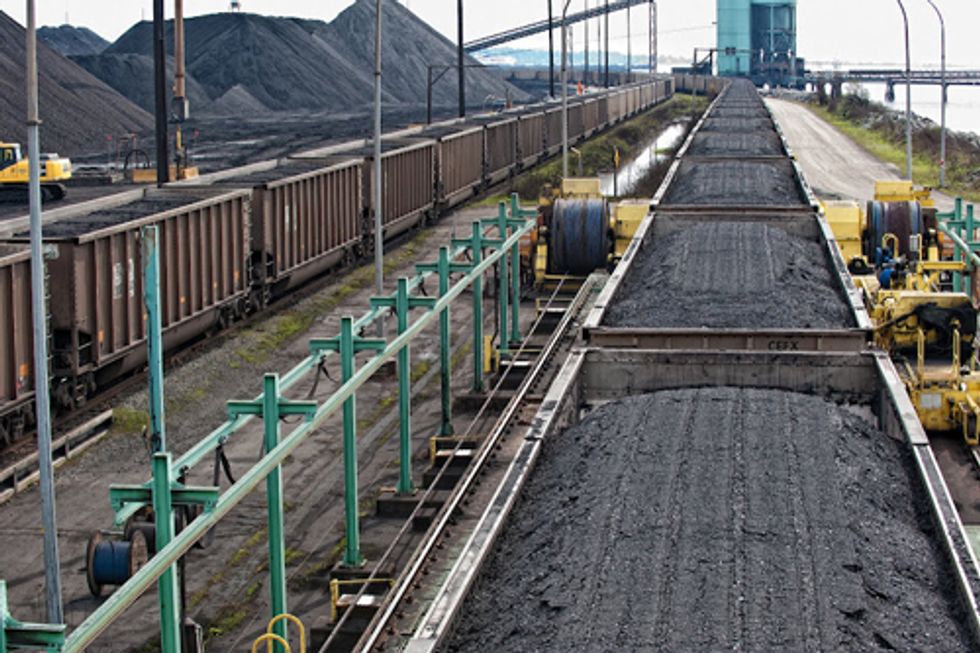 A unit train waits to transfer the coal onto conveyors belts to be loaded on ships headed to Asia or into storage piles at this export terminal in British Columbia. Photo by Paul K. Anderson, www.paulkanderson.com
Senators Ron Wyden (D-OR) and Lisa Murkowski (R-AK) have called on Secretary of the Interior Ken Salazar to investigate if U.S. taxpayers are getting shortchanged by companies mining coal from public lands and exporting the resource to other countries.
That's according to a report from Reuters today.
Senator Wyden is Chairman of the Senate's Energy and Natural Resources Committee, and Senator Murkowski is the ranking member.
Wyden and Murkowski said they were concerned that coal companies are not paying high enough royalties on coal mined on public lands. According to another Reuters article in December, companies are valuing coal at lower domestic prices rather than higher international prices so they "can dodge the larger royalty payout when mining federal land."
If any violations of the law have occurred, companies should be required to cure any gap in royalty payments and, if misconduct has occurred, civil penalties should be levied," reads Wyden and Murkowsi's letter.
Approximately 43 percent of the coal produced in the U.S. comes from public lands managed by the government and owned by all Americans. Public lands are home to some of the richest coal deposits in the nation, mostly located in Wyoming and Montana's Powder River Basin.
However, as the use of coal for electricity continues to decrease, coal companies have been eying fast-growing Asian markets as a potential destination for U.S. coal. In 2011, U.S. coal exports were the highest they have been since 1991, and companies like Arch Coal have predicted that they could be even higher over the next few years.
Shorting royalties isn't the only way that taxpayers may be losing out. Some have called out the government for carrying out policies on public lands that keep coal cheap, and therefore shortchange American taxpayers.
For example, a report published by financial analyst Tom Sanzillo in July found that the Interior Department has offered coal leases non-competitively in the Powder River Basin rather than putting them up for auction, thus costing taxpayers as much as $29 billion over the last three decades.
Coal companies can also get leases on public lands extremely cheaply. The highest bid ever received on a federal coal lease in the Powder River Basin was $1.10 per short ton, despite the fact that the coal can be sold for approximately $10 per short ton.
In a separate piece on coal exports, Reuters noted that these government policies raise "questions about whether taxpayers are essentially helping Asian economies save on energy costs."
Coal exports are another emerging environmental fight. Currently, five coal export terminals are proposed in Oregon and Washington—projects that have been strongly opposed by everyone from environmentalists to farmers and ranchers to local officials.
The Army Corps of Engineers, along with state and local agencies, recently started holding preliminary hearings on how to assess the construction of the terminals and determine whether or not there should be a cumulative analysis on the new infrastructure built across the West to accommodate the vastly increased amounts of coal.
Wyden and Murkowski aren't the only lawmakers paying attention to the growing issues around coal exports. Rep. Ed Markey (D-MA), the ranking member on the House Committee on Natural Resources, asked the Government Accountability Office in April to review the government's program and policies for overseeing coal mined on public lands.
Visit EcoWatch's COAL EXPORTS page for more related news on this topic.
——–
Click here to sign stop coal exports.

--------
Jessica is the manager of research and outreach for the Public Lands Project at the Center for American Progress Action Fund.
EcoWatch Daily Newsletter
Related Articles from EcoWatch