'Biomess Award' Given to UK's Department of Energy and Climate Change
Apr. 10, 2014 10:02AM EST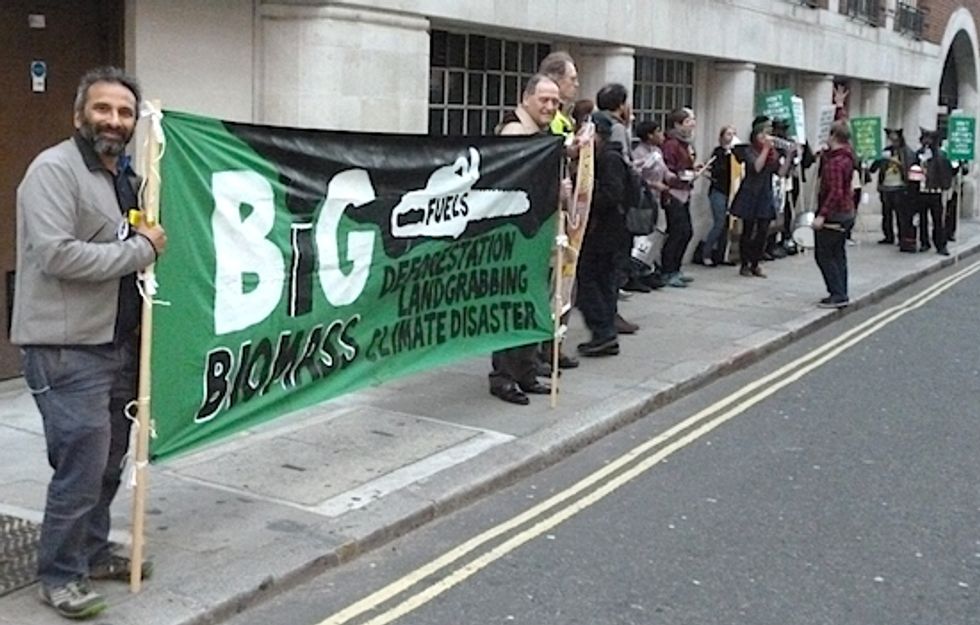 Campaigners have awarded the UK Department for Energy and Climate Change (DECC) the "Biomess Award" after coming out on top of an online poll coinciding with a major biomass industry conference in London, with Drax and the Green Investment Bank coming a close second and third place, respectively.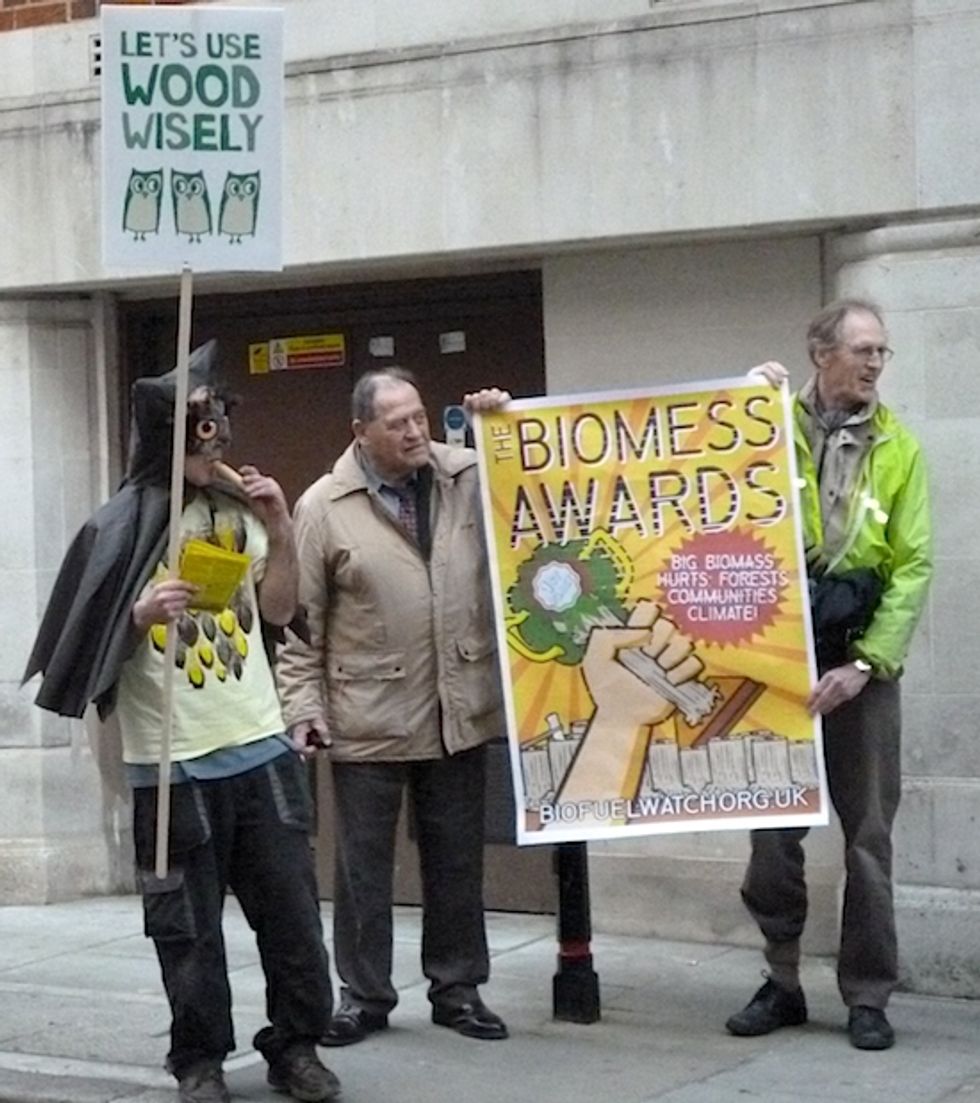 The award for forest destruction was given at an alternative awards ceremony held last night outside a gala dinner for delegates. After a last-minute change of venue the dinner took place at the conference venue, Grange St Paul's Hotel. More than 40 people held banners reading: "Big Biomass Fuels: Deforestation, Landgrabbing & Climate Change" and "Big Biomass Is Greenwash not Renewable Energy".
Biofuelwatch Campaigner Duncan Law, who hosted the satirical awards ceremony, said:
The people have spoken, and as far as they're concerned DECC are the biggest biomass baddie. Through their outrageous support for the biomass industry they have fuelled a new market for burning wood, and rewarded irresponsible companies such as Drax and their pellet suppliers Enviva for clearing ancient forests and pumping greenhouse gases into the atmosphere.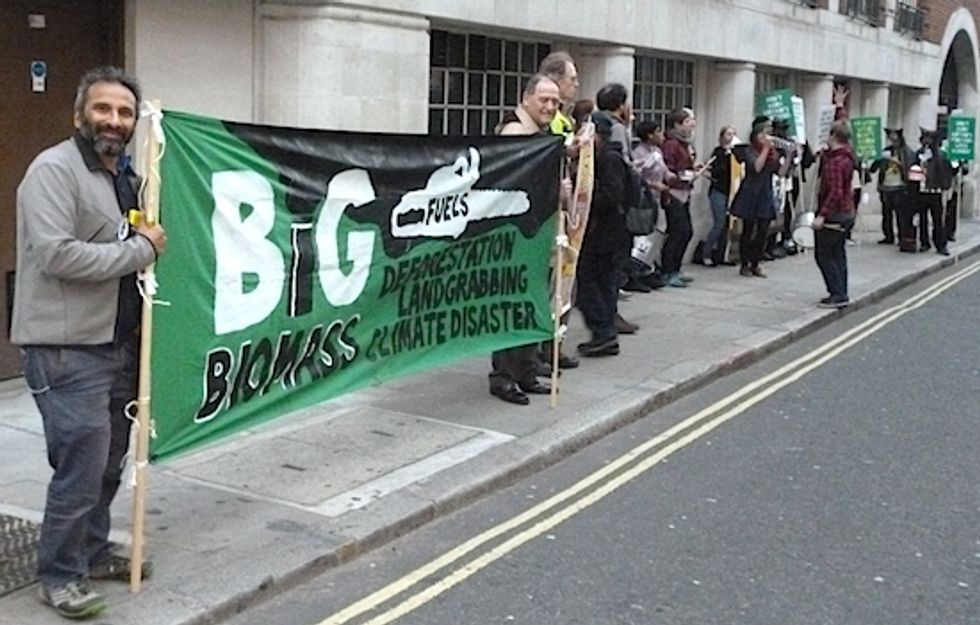 Biofuelwatch's alternative awards ceremony put a spotlight on the destruction being caused by the companies represented at the conference, which included award nominees Drax, Enviva, the Renewable Energy Association and the Woodpellet Association of Canada. Hundreds of people had voted for their "biggest biomass baddie" in an online poll held before the ceremony. 
The Dogwood Alliance plays a key role in exposing the current impacts of UK wood demand for biomass electricity on southern US forests. "Destruction of Southern forests is on the rise due to the dramatic growth in demand for wood pellets for energy from Europe with the UK leading the charge," said Scot Quarandra, head of campaigns for the Dogwood Alliance. "Big utilities and the wood pellet companies in the U.S. that supply them need to put the brakes on this false solution to climate change, and protect our forests and communities—not destroy them."
Drax's biomass plans will require pellets made from 15.8 million tons of wood each year, making it the biggest biomass-burning power station in the world. By comparison, the UK's total annual wood production is only 10 million tons. A growing number of scientific studies show that burning biomass actually produces more emissions than the coal it replaces for decades.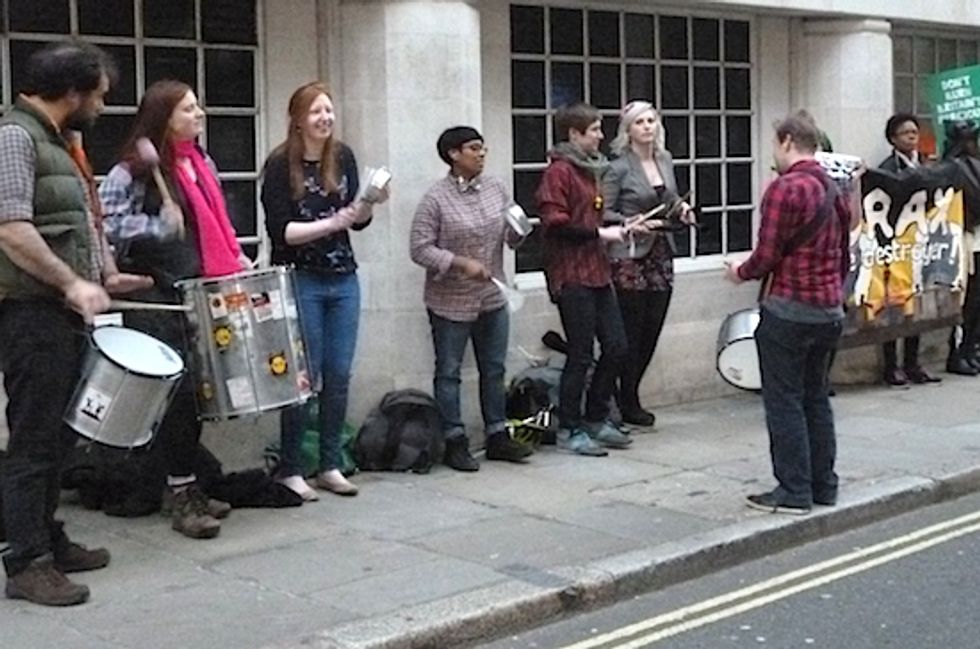 Duncan Law closed the awards ceremony saying:
Government and industry are using renewable energy targets as an excuse to keep old, polluting coal power stations running by burning vast amounts of imported wood. This is being justified because of a modern myth that biomass can be sustainable regardless of its scale. But there is nothing sustainable about importing and burning millions of tons of wood each year. In the UK alone, anticipated demand for wood because of biomass electricity is seven times the UK's current annual wood production. This won't come from renewable, clean or green sources, but from imports that are the result of cleared forests.
--------
YOU ALSO MIGHT LIKE
Report Highlights World-Wide Forest Destruction and Land Grabbing Due to UK Biomass Demand
Genetically Engineering Trees for Biofuel Undermines Real Energy and Climate Solutions
Research Finds Vapors From Coniferous Trees Could Help Slow Global Warming
--------
EcoWatch Daily Newsletter