This website uses cookies to ensure you get the best experience while browsing it. By clicking 'Got It' you're accepting these terms.
Biomedical Bleeding of Horseshoe Crabs for Pharmaceuticals Puts Species at Risk
Feb. 25, 2014 08:48AM EST
By Rebecca Zeiber
New research from Plymouth State University (PSU) and the University of New Hampshire (UNH) indicates that collecting and bleeding horseshoe crabs for biomedical purposes causes short-term changes in their behavior and physiology that could exacerbate the crabs' population decline in parts of the east coast.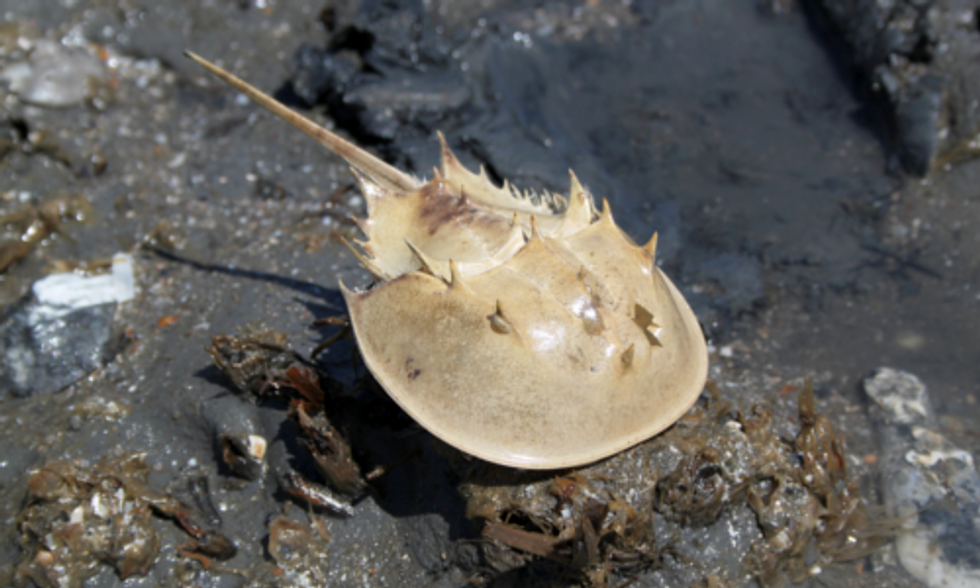 Each year, the U.S. biomedical industry harvests the blue blood from almost half a million living horseshoe crabs for use in pharmaceuticals—most notably, a product called Limulus amebocyte lysate (LAL), used to ensure vaccines and medical equipment are free of bacterial contamination. This lifesaving product can only be made from horseshoe crab blood, says researcher Win Watson, UNH professor of zoology.
"The crabs are very heavily bled—about 30 percent or more of their blood is taken, and that's a fair amount," said Chris Chabot, professor of neurobiology at PSU and a co-author on the study. "Approximately 20 to 30 percent of those crabs do not survive, so we were curious if any of the surviving crabs experienced nearly lethal effects from the bleeding." 
The study, Sublethal Behavioral and Physiological Effects of the Biomedical Bleeding Process on the American Horseshoe Crab, was published recently in the journal The Biological Bulletin.
With funding provided by a N.H. Sea Grant development grant, Chabot, Watson and lead author Rebecca Anderson, a PSU graduate student, replicated the biomedical bleeding process to determine the potential impacts on the crabs' behavior.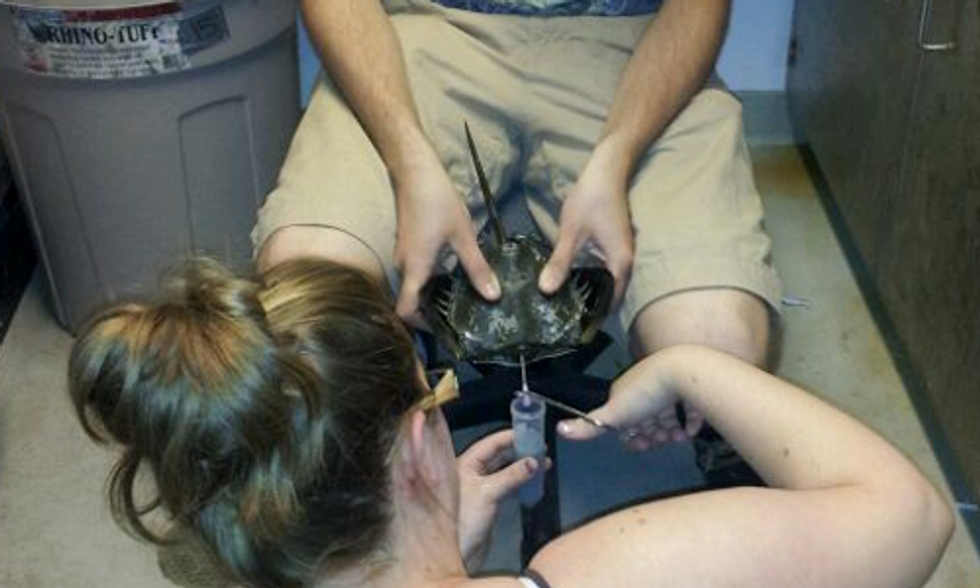 After capturing the crabs in New Hampshire's Great Bay and transporting some of them back to Chabot's lab at PSU and others to UNH's Jackson Estuarine Laboratory, the researchers monitored their movements for a week and then harvested some of their blood. Electronic data recorders called accelerometers that measure the crabs' speed and direction were strapped to their backs and the crabs were placed in running wheels in tanks filled with seawater.
The researchers found that for approximately two weeks after the bleeding procedure, the crabs' behavior differed from their behavior prior to the bleeding—they moved less frequently and with different patterns and rhythms, indicating they may have been disoriented. The researchers hope to track the movements of bled horseshoe crabs in their native environments to verify that their lab findings apply to real life behavioral changes.
One of the concerns, Anderson explains, is that the crabs are collected for bleeding during their breeding cycle when it's easiest to capture them on beaches. If the crabs are bled and then returned to the beach in a disoriented condition, they might be less likely to breed. This has the potential to exacerbate the population declines that are already occurring in parts of the east coast, including Delaware and Cape Cod. The populations in New Hampshire seem to be holding steady at the moment. 
"If the biomedical industry could delay the blood harvest, it would probably help these animals," Chabot said. "For example, if they are bled after the breeding season, then they could recover in the subsequent months, fatten up and survive the winter without any problems to be able to breed again the following year."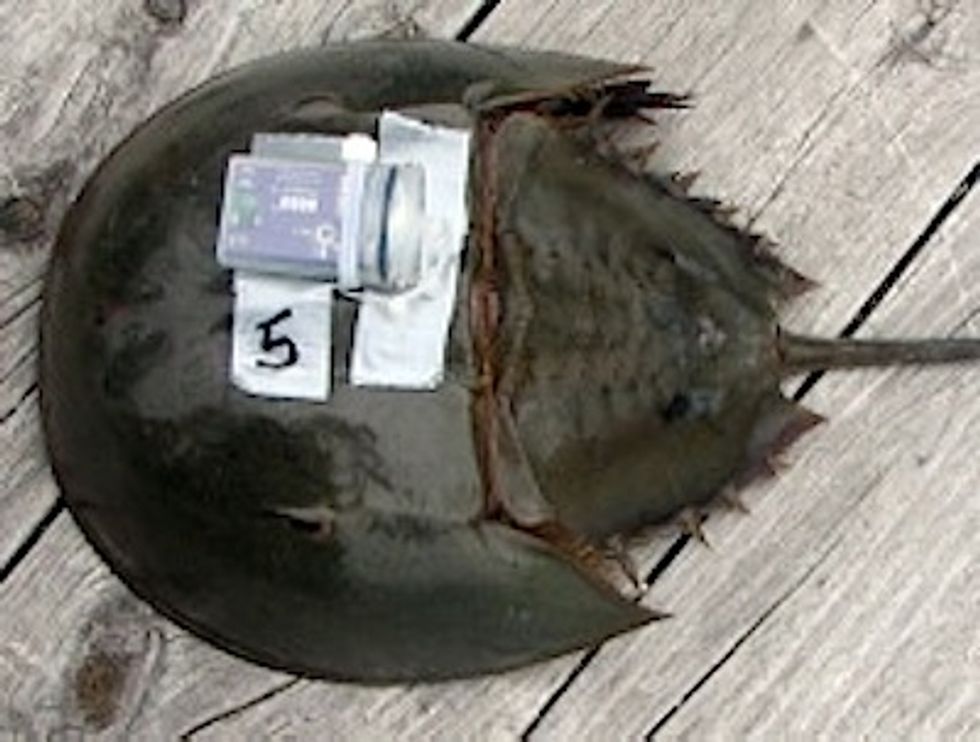 Watson suggests that the conditions under which they are transported could be improved as well. Fishermen capture the horseshoe crabs and often place them on a hot boat deck until they are transported by truck to the biomedical facility, all the while out of water and unable to breathe. If instead they were kept in cold, well-aerated water and perhaps fed, their stress levels might decrease and thus improve their chances of survival and ability to breed upon return to their native habitat.
Watson also notes that it is unclear which part of the process is the most detrimental—the bleeding, the transporting or simply keeping the crabs in the lab and out of their natural environment. Their research also revealed that the crabs' levels of hemocyanin, a protein in their system that helps transport oxygen in their blood, decreased for all individuals regardless of whether or not they were bled. Lowered hemocyanin levels might lessen the crabs' resilience to the stress of the experience.
Regardless, the researchers feel improvements in the collection and bleeding process are imperative to help preserve the species. In addition to the economic value of their blood, horseshoe crab eggs provide a critical food source for shorebirds that stop in Delaware on their migration to the Arctic. The adult crabs are also harvested for bait in the whelk and eel fisheries in many states, not including New Hampshire.
"We want to ensure that the biomedical bleeding is a sustainable practice, because horseshoe crabs are a critical component of the coastal ecosystem," Chabot said. 
"I hope that this research helps to design management regulations that meet the needs of both the people and the crabs," Anderson adds.
Visit EcoWatch's BIODIVERSITY page for more related news on this topic.

EcoWatch Daily Newsletter
Milk made from almonds, oats and coconut are among the healthiest alternatives to cow's milk. triocean / iStock / Getty Images Plus
Dairy aisles have exploded with milk and milk alternative options over the past few years, and choosing the healthiest milk isn't just about the fat content.
Whether you're looking beyond cow's milk for health reasons or dietary preferences or simply want to experiment with different options, you may wonder which type of milk is healthiest for you.
Greta Thunberg stands aboard the catamaran La Vagabonde as she sets sail to Europe in Hampton, Virginia, on Nov. 13. NICHOLAS KAMM / AFP via Getty Images
Greta Thunberg, the teenage climate activist whose weekly school strikes have spurred global demonstrations, has cut short her tour of the Americas and set sail for Europe to attend COP25 in Madrid next month, as The New York Times reported.
At least 1,688 dams across the U.S. are in such a hazardous condition that, if they fail, could force life-threatening floods on nearby homes, businesses, infrastructure or entire communities, according to an in-depth analysis of public records conducted by the the Associated Press.
By Sabrina Kessler
Far-reaching allegations about how a climate-sinning American multinational could shamelessly lie to the public about its wrongdoing mobilized a small group of New York students on a cold November morning. They stood in front of New York's Supreme Court last week to follow the unprecedented lawsuit against ExxonMobil.
By Alex Robinson
Leah Garcés used to hate poultry farmers.
The animal rights activist, who opposes factory farming, had an adversarial relationship with chicken farmers until around five years ago, when she sat down to listen to one. She met a poultry farmer called Craig Watts in rural North Carolina and learned that the problems stemming from factory farming extended beyond animal cruelty.
People navigate snow-covered sidewalks in the Humboldt Park neighborhood on Nov. 11 in Chicago. Scott Olson / Getty Images
Temperatures plunged rapidly across the U.S. this week and around 70 percent of the population is expected to experience temperatures around freezing Wednesday.
A general view of the flooded St. Mark's Square after an exceptional overnight "Alta Acqua" high tide water level, on Nov. 13 in Venice. MARCO BERTORELLO / AFP / Getty Images
President Donald Trump doesn't like wind turbines.
In April, he claimed they caused cancer, and he sued to stop an offshore wind farm that was scheduled to go up near land he had purchased for a golf course in Aberdeenshire in Scotland. He lost that fight, and now the Trump Organization has agreed to pay the Scottish government $290,000 to cover its legal fees, The Washington Post reported Tuesday.