This website uses cookies to ensure you get the best experience while browsing it. By clicking 'Got It' you're accepting these terms.
Biomass Energy May Accelerate Global Warming
Feb. 14, 2012 08:53AM EST
Renewable Energy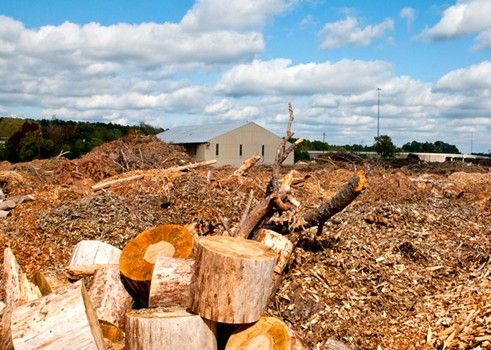 A new study of southeastern forests in the U.S. finds that in the long run, burning wood instead of fossil fuels to make electricity can reduce heat-trapping carbon dioxide in the atmosphere, but not soon enough to prevent worsening the conditions leading to global climate change.  
 
The study also shows that as the industry expands in the Southeast, biomass energy will increasingly come from cutting standing trees instead of using wood residues from sawmills and other sources, emphasizing the need to balance forest ecosystem health and related values, such as drinking water and wildlife habitat, with renewable energy objectives.
Based on current trends in using wood for large-scale power plants and exporting fuel pellets to Europe, biomass energy in the Southeast is projected to produce higher  levels of atmospheric carbon for 35 to 50 years compared to fossil fuels. After that, biomass will result in significantly lower atmospheric levels as regrowing forests absorb carbon from previous combustion.
The study, Biomass Supply and Carbon Accounting for Southeastern Forests, was conducted by the Biomass Energy Resource Center in partnership with the Forest Guild and Spatial Informatics Group on behalf of the National Wildlife Federation and the Southern Environmental Law Center, and was funded by a grant from the Doris Duke Charitable Foundation.
The study analyzed 17 existing and 22 proposed biomass facilities in seven states—Alabama, Florida, Georgia, North Carolina, South Carolina, Tennessee and Virginia. Researchers developed a new analytical framework that integrates life-cycle carbon accounting with forest growth and management, as well as supply zone (or "landscape woodshed") data specific to the region. The results are specific to biomass electric power in the Southeast, and different regions and technologies will have different effects on atmospheric carbon. 
"This study brings us to the crux of the matter regarding biomass electric power and atmospheric carbon, which is that consideration of near-term tipping points versus long-term carbon reductions must be assessed as we develop climate and energy policy," said Andrea Colnes, policy director for the Biomass Energy Resource Center.  "For example, using wood to produce heat through clean technologies has a much shorter payback period than producing electric power, and can yield climate benefits in five to ten years."
"While biomass offers some environmental benefits, any expanded use of logging residue and live trees will affect forest structure and nutrient cycling," said Robert Perschel, eastern forests director with Forest Guild. "This raises questions of long-term forest health and other environmental factors, such as water quality and wildlife habitat, that need to be addressed by further study and reasonable guidelines for the industry."
The Southeast is seeing rapid growth in new and retrofitted power plants that will burn woody biomass to make electricity, as well as a major expansion of the wood-pellet industry, largely for export to Europe. The short-term spike followed by the long-term drop of carbon levels from these facilities poses challenging questions for decision makers in addressing both energy and climate change policy, particularly when factoring in a projected climate change "tipping point."
 
If carbon emissions continue unabated for the next three to five decades, the planet will likely warm an average of 3.8 degree Fahrenheit, a threshold that scientists and the international community have identified as resulting in irreversible interference with the climate system. This could have significant impacts; for example, the destructive power of hurricanes and severity of droughts could increase, and up to one-third of the world's species could face extinction.
"The timing problem is central to this issue, since adding even more carbon from biomass to the atmosphere over the next 35 to 50 years could accelerate global warming stressors," said Julie Sibbing, director of agriculture and forestry with National Wildlife Federation. "We run the compounded risk of losing forests to severe weather events triggered by climate change, such as droughts and flooding, undermining their ability to sequester carbon over the long run."
"Just because wood is a renewable resource doesn't mean it's automatically carbon neutral," said David Carr, senior attorney at the Southern Environmental Law Center. "How biomass is obtained, burned, and regrown determines its carbon footprint and impact on forest health. To do this right, EPA must require a 'forest-to-furnace' accounting of the biomass carbon cycle to ensure it doesn't hasten climate change." 
The choice of combustion technology matters greatly in the carbon footprint of biomass. Previous studies have shown that burning biomass for thermal energy is 70 percent to 80 percent efficient, as opposed to electricity generation which is just 25 percent efficient. Also, the BERC study shows that most of the wood pellets produced in the Southeast are shipped to Europe. The EU assumes that all biomass burned for power is carbon neutral, providing extra incentive for the use of wood pellets from the Southeast. "The EU, like EPA, must require a full carbon accounting that  identifies and discourages biomass that worsens global climate change," Carr said.
Overall, the study's results point to the need for state and federal policies to incentivize efficient uses of woody biomass that maximize the benefits and minimize the near-term spike in atmospheric carbon.
A map of existing and proposed biomass facilities in the Southeast is available by clicking here.
For more information, click here.
EcoWatch Daily Newsletter
EPA Administrator Andrew Wheeler signs the so-called Affordable Clean Energy rule on June 19, replacing the Obama-era Clean Power Plan that would have reduced coal-fired plant carbon emissions. U.S. Environmental Protection Agency / Twitter
By Elliott Negin
On July 8, President Trump hosted a White House event to unabashedly tout his truly abysmal environmental record. The following day, coincidentally, marked the one-year anniversary of Andrew Wheeler at the helm of the U.S. Environmental Protection Agency (EPA), first as acting administrator and then as administrator after the Senate confirmed him in late February.
A timber sale in the Kaibab National Forest. Dyan Bone / Forest Service / Southwestern Region / Kaibab National Forest
By Tara Lohan
If you're a lover of wilderness, wildlife, the American West and the public lands on which they all depend, then journalist Christopher Ketcham's new book is required — if depressing — reading.
Golde Wallingford submitted this photo of "Pure Joy" to EcoWatch's first photo contest. Golde Wallingford
EcoWatch is pleased to announce our third photo contest!

Somalians fight against hunger and lack of water due to drought as Turkish Ambassador to Somalia, Olgan Bekar (not seen) visits the a camp near the Mogadishu's rural side in Somalia on March 25, 2017. Sadak Mohamed / Anadolu Agency / Getty Images
World hunger is on the rise for the third consecutive year after decades of decline, a new United Nations (UN) report says. The climate crisis ranks alongside conflict as the top cause of food shortages that force more than 821 million people worldwide to experience chronic hunger. That number includes more than 150 million children whose growth is stunted due to a lack of food.
Eduardo Velev cools off in the spray of a fire hydrant during a heatwave on July 1, 2018 in Philadelphia. Jessica Kourkounis / Getty Images
By Adrienne L. Hollis
Because extreme heat is one of the deadliest weather hazards we currently face, Union of Concerned Scientist's Killer Heat Report for the U.S. is the most important document I have read. It is a veritable wake up call for all of us. It is timely, eye-opening, transparent and factual and it deals with the stark reality of our future if we do not make changes quickly (think yesterday). It is important to ensure that we all understand it. Here are 10 terms that really help drive home the messages in the heat report and help us understand the ramifications of inaction.
Senator Graham returns after playing a round of golf with Trump on Oct. 14, 2017 in Washington, DC. Ron Sachs – Pool / Getty Images
Lindsey Graham, the South Carolina Senate Republican who has been a close ally of Donald Trump, did not mince words last week on the climate crisis and what he thinks the president needs to do about it.
A small Bermuda cedar tree sits atop a rock overlooking the Atlantic Ocean. todaycouldbe / iStock / Getty Images Plus
By Marlene Cimons
Kyle Rosenblad was hiking a steep mountain on the island of Maui in the summer of 2015 when he noticed a ruggedly beautiful tree species scattered around the landscape. Curious, and wondering what they were, he took some photographs and showed them to a friend. They were Bermuda cedars, a species native to the island of Bermuda, first planted on Maui in the early 1900s.
krisanapong detraphiphat / Moment / Getty Images
By Grace Francese
You may know that many conventional oat cereals contain troubling amounts of the carcinogenic pesticide glyphosate. But another toxic pesticide may be contaminating your kids' breakfast. A new study by the Organic Center shows that almost 60 percent of the non-organic milk sampled contains residues of chlorpyrifos, a pesticide scientists say is unsafe at any concentration.