This website uses cookies to ensure you get the best experience while browsing it. By clicking 'Got It' you're accepting these terms.
Biomass Energy May Accelerate Global Warming
Feb. 14, 2012 08:53AM EST
Renewable Energy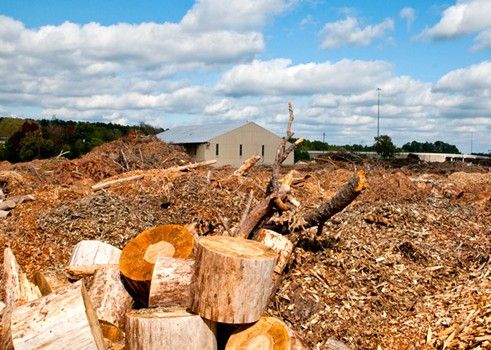 A new study of southeastern forests in the U.S. finds that in the long run, burning wood instead of fossil fuels to make electricity can reduce heat-trapping carbon dioxide in the atmosphere, but not soon enough to prevent worsening the conditions leading to global climate change.  
 
The study also shows that as the industry expands in the Southeast, biomass energy will increasingly come from cutting standing trees instead of using wood residues from sawmills and other sources, emphasizing the need to balance forest ecosystem health and related values, such as drinking water and wildlife habitat, with renewable energy objectives.
Based on current trends in using wood for large-scale power plants and exporting fuel pellets to Europe, biomass energy in the Southeast is projected to produce higher  levels of atmospheric carbon for 35 to 50 years compared to fossil fuels. After that, biomass will result in significantly lower atmospheric levels as regrowing forests absorb carbon from previous combustion.
The study, Biomass Supply and Carbon Accounting for Southeastern Forests, was conducted by the Biomass Energy Resource Center in partnership with the Forest Guild and Spatial Informatics Group on behalf of the National Wildlife Federation and the Southern Environmental Law Center, and was funded by a grant from the Doris Duke Charitable Foundation.
The study analyzed 17 existing and 22 proposed biomass facilities in seven states—Alabama, Florida, Georgia, North Carolina, South Carolina, Tennessee and Virginia. Researchers developed a new analytical framework that integrates life-cycle carbon accounting with forest growth and management, as well as supply zone (or "landscape woodshed") data specific to the region. The results are specific to biomass electric power in the Southeast, and different regions and technologies will have different effects on atmospheric carbon. 
"This study brings us to the crux of the matter regarding biomass electric power and atmospheric carbon, which is that consideration of near-term tipping points versus long-term carbon reductions must be assessed as we develop climate and energy policy," said Andrea Colnes, policy director for the Biomass Energy Resource Center.  "For example, using wood to produce heat through clean technologies has a much shorter payback period than producing electric power, and can yield climate benefits in five to ten years."
"While biomass offers some environmental benefits, any expanded use of logging residue and live trees will affect forest structure and nutrient cycling," said Robert Perschel, eastern forests director with Forest Guild. "This raises questions of long-term forest health and other environmental factors, such as water quality and wildlife habitat, that need to be addressed by further study and reasonable guidelines for the industry."
The Southeast is seeing rapid growth in new and retrofitted power plants that will burn woody biomass to make electricity, as well as a major expansion of the wood-pellet industry, largely for export to Europe. The short-term spike followed by the long-term drop of carbon levels from these facilities poses challenging questions for decision makers in addressing both energy and climate change policy, particularly when factoring in a projected climate change "tipping point."
 
If carbon emissions continue unabated for the next three to five decades, the planet will likely warm an average of 3.8 degree Fahrenheit, a threshold that scientists and the international community have identified as resulting in irreversible interference with the climate system. This could have significant impacts; for example, the destructive power of hurricanes and severity of droughts could increase, and up to one-third of the world's species could face extinction.
"The timing problem is central to this issue, since adding even more carbon from biomass to the atmosphere over the next 35 to 50 years could accelerate global warming stressors," said Julie Sibbing, director of agriculture and forestry with National Wildlife Federation. "We run the compounded risk of losing forests to severe weather events triggered by climate change, such as droughts and flooding, undermining their ability to sequester carbon over the long run."
"Just because wood is a renewable resource doesn't mean it's automatically carbon neutral," said David Carr, senior attorney at the Southern Environmental Law Center. "How biomass is obtained, burned, and regrown determines its carbon footprint and impact on forest health. To do this right, EPA must require a 'forest-to-furnace' accounting of the biomass carbon cycle to ensure it doesn't hasten climate change." 
The choice of combustion technology matters greatly in the carbon footprint of biomass. Previous studies have shown that burning biomass for thermal energy is 70 percent to 80 percent efficient, as opposed to electricity generation which is just 25 percent efficient. Also, the BERC study shows that most of the wood pellets produced in the Southeast are shipped to Europe. The EU assumes that all biomass burned for power is carbon neutral, providing extra incentive for the use of wood pellets from the Southeast. "The EU, like EPA, must require a full carbon accounting that  identifies and discourages biomass that worsens global climate change," Carr said.
Overall, the study's results point to the need for state and federal policies to incentivize efficient uses of woody biomass that maximize the benefits and minimize the near-term spike in atmospheric carbon.
A map of existing and proposed biomass facilities in the Southeast is available by clicking here.
For more information, click here.
EcoWatch Daily Newsletter

georgeclerk / E+ / Getty Images
By Jennifer Molidor
One million species are at risk of extinction from human activity, warns a recent study by scientists with the United Nations. We need to cut greenhouse gas pollution across all sectors to avoid catastrophic climate change — and we need to do it fast, said the Intergovernmental Panel on Climate Change.
This research should serve as a rallying cry for polluting industries to make major changes now. Yet the agriculture industry continues to lag behind.
Edwin Remsburg / VW Pics / Getty Images
Botswana, home to one third of Africa's elephants, announced Wednesday that it was lifting its ban on the hunting of the large mammals.
"The Ministry of Environment, Natural Resources Conservation and Tourism wishes to inform the public that following extensive consultations with all stakeholders, the Government of Botswana has taken a decision to lift the hunting suspension," the government announced in a press release shared on social media.
Pxhere
By Richard Denison
Readers of this blog know how concerned EDF is over the Trump EPA's approval of many dozens of new chemicals based on its mere "expectation" that workers across supply chains will always employ personal protective equipment (PPE) just because it is recommended in the manufacturer's non-binding safety data sheet (SDS).
By Grant Smith
From 2009 to 2012, Gregory Jaczko was chairman of the Nuclear Regulatory Commission, which approves nuclear power plant designs and sets safety standards for plants. But he now says that nuclear power is too dangerous and expensive — and not part of the answer to the climate crisis.
A lake in Rocky Mountain National Park. Brett Walton / Circle of Blue
By Brett Walton
When Greg Wetherbee sat in front of the microscope recently, he was looking for fragments of metals or coal, particles that might indicate the source of airborne nitrogen pollution in Rocky Mountain National Park. What caught his eye, though, were the plastics.
Gabriele Holtermann Gorden / Pacific Press / LightRocket / Getty Images
In a big victory for animals, Prada has announced that it's ending its use of fur! It joins Coach, Jean Paul Gaultier, Giorgio Armani, Versace, Ralph Lauren, Vivienne Westwood, Michael Kors, Donna Karan and many others PETA has pushed toward a ban.
This is a victory more than a decade in the making. PETA and our international affiliates have crashed Prada's catwalks with anti-fur signs, held eye-catching demonstrations all around the world, and sent the company loads of information about the fur industry. In 2018, actor and animal rights advocate Pamela Anderson sent a letter on PETA's behalf urging Miuccia Prada to commit to leaving fur out of all future collections, and the iconic designer has finally listened.
Amer Ghazzal / Barcroft Media / Getty Images
If people in three European countries want to fight the climate crisis, they need to chill out more.
That's the conclusion of a new study from think tank Autonomy, which found that Germany, the UK and Sweden all needed to drastically reduce their workweeks to fight climate change.
Amazon Employees for Climate Justice held a press conference after the annual shareholder meeting on May 22. Amazon Employees for Climate Justice