Biomass Electricity More Polluting Than Coal
Biomass electricity generation, a heavily subsidized form of "green" energy that relies primarily on the burning of wood, is more polluting and worse for the climate than coal, according to a new analysis of 88 pollution permits for biomass power plants in 25 states.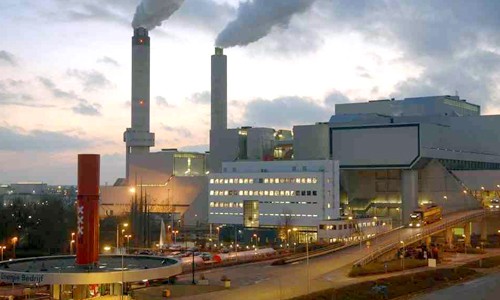 Trees, Trash, and Toxics: How Biomass Energy Has Become the New Coal, released this week and delivered to the U.S. Environmental Protection Agency (EPA) by the Partnership for Policy Integrity (PFPI), concludes that biomass power plants across the country are permitted to emit more pollution than comparable coal plants or commercial waste incinerators, even as they are subsidized by state and federal renewable energy dollars. It contains detailed emissions and fuel specifications for a number of facilities, including plants in California, Connecticut, Florida, Georgia, Hawaii, Kentucky, Maine, Massachusetts, New Hampshire, New York, Oregon, Pennsylvania, South Carolina, Texas, Virginia and Washington.
"The biomass power industry portrays their facilities as 'clean,'" said Mary Booth, director of PFPI and author of the report. "But we found that even the newest biomass plants are allowed to pollute more than modern coal- and gas-fired plants, and that pollution from bioenergy is increasingly unregulated."
The report found that biomass power is given special treatment and held to lax pollution control standards, compared to fossil-fueled power plants.
Biomass plants are dirty because they are markedly inefficient. The report found that per megawatt-hour, a biomass power plant employing "best available control technology" emits more nitrogen oxides, volatile organic compounds, particulate matter and carbon monoxide than a modern coal plant of the same size. 
Almost half the facilities analyzed, however, avoided using BACT by claiming to be "minor" sources of pollution that skim under the triggering threshold for stricter pollution controls. Minor source permits are issued by the states and contain none of the protective measures required under federal air pollution permitting.
"The American Lung Association has opposed granting renewable energy subsidies for biomass combustion precisely because it is so polluting," said Jeff Seyler, president and CEO of the American Lung Association of the Northeast. "Why we are using taxpayer dollars to subsidize power plants that are more polluting than coal?"
The analysis also found that although wood-burning power plants are often promoted as being good for the climate and carbon neutral, the low efficiency of plants means that they emit almost 50 percent more CO2 than coal per unit of energy produced. Current science shows that while emissions of CO2 from biomass burning can theoretically be offset over time by forest regrowth and other means, such offsets typically take several decades to fully compensate for the CO2 emitted during plant operation. None of the permits analyzed in the report required proof that carbon emissions would be offset.
EPA rules also allow biomass plants to emit more hazardous air pollutants than both coal plants and industrial waste incinerators, including heavy metals and dioxins. Even with these weak rules, most biomass plants avoid restrictions on the amount of toxic air pollution they can emit by claiming to be minor sources, and permits usually require little testing for proof of actual emissions. When regulated as a minor source, a facility is not required to meet any limitations on emissions of hazardous air pollutants.
The potential for biomass power plants to emit heavy metals and other air toxics is increasing, because new EPA rules allow burning more demolition debris and other contaminated wastes in biomass power plants, including, EPA says, materials that are as contaminated as coal. A majority of the facilities reviewed in the report allowed burning demolition debris and other waste wood.
"Lax regulations that allow contaminated wastes to be burned as biomass mean that communities need to protect themselves," said Mary Booth. "They can't count on the air permitting process to ensure that bioenergy pollution is minimized."
--------
YOU MIGHT ALSO LIKE
Report Highlights World-Wide Forest Destruction and Land Grabbing Due to UK Biomass Demand
Federal Court Strikes Down EPA's Biomass Pollution Loophole
40+ Leading Scientists Call on EPA to Protect Forests From Biomass Industry
--------
Wikimedia Commons
By Stacy Malkan
Neil deGrasse Tyson has inspired millions of people to care about science and imagine themselves as participants in the scientific process. What a hopeful sign it is to see young girls wearing t-shirts emblazoned with the words, "Forget princess, I want to be an astrophysicist."
Keep reading...
Show less
www.youtube.com
By Andy Rowell
Any day now we will truly witness climate change in action. Within days at worst, maybe weeks at best, scientists predict that a huge section of the Larsen C ice shelf in Antarctica will break off into the ocean, in what is called a major "carving" event.
Keep reading...
Show less
www.youtube.com
President Trump visited Cedar Rapids, Iowa on June 21 to speak to a large crowd in the U.S. Cellular Center at a political rally organized by his campaign.
As Trevor Noah noted during The Daily Show episode last night (starts at 2:25), the real reason Trump has these rallies is to "get back in front of his loyal crowds and feed of their energy." Noah believes that "Trump supporters are so on board with their dude he can say anything and they'll come along for the ride."
Keep reading...
Show less
The Kamuthi solar plant in the southern Indian state of Tamil Nadu.
The rapid growth in renewable energy continues to put a dent in the demand for coal.
Coal India, the world's biggest coal mining company and producer of 82 percent of the country's coal, announced the closure of 37 mines that are financially "unviable."
Keep reading...
Show less
www.youtube.com
By Katie O'Reilly
Two years ago—long before coal became one of the most dominant and controversial symbols of the 2016 presidential election—Bloomberg Philanthropies approached production company RadicalMedia with the idea of creating a documentary exploring the U.S. coal mining industry. Last spring, they brought on Emmy-nominated director Michael Bonfiglio, tasked with forging a compelling story out of the multitudes of facts, statistics and narratives underlying the declining industry.
Keep reading...
Show less
Mayors for 100% Clean Energy
Keep reading...
Show less
www.youtube.com
Thanks to Newsy for their coverage on Thursday's news that the U.S. Fish and Wildlife Service removed grizzly bears in the Greater Yellowstone region from the Endangered Species List.
Watch above as Newsy explains that the decision comes despite serious concerns from the environmental and scientific community, and Tribal Nations about a declining, isolated grizzly bear population with diminishing food resources and record-high mortalities.
Keep reading...
Show less
www.facebook.com
By Francine Kershaw
Seismic airguns exploding in the ocean in search for oil and gas have devastating impacts on zooplankton, which are critical food sources for marine mammals, according to a new study in Nature. The blasting decimates one of the ocean's most vital groups of organisms over huge areas and may disrupt entire ecosystems.
And this devastating news comes on the heels of the National Marine Fisheries Service's proposal to authorize more than 90,000 miles of active seismic blasting. Based on the results of this study, the affected area would be approximately 135,000 square miles.
Keep reading...
Show less
By Jill Richardson
Is coconut oil:
good for you
bad for you
neither good nor bad
scientists don't know
The subject of this question is the source of a disagreement. Initially, the question was thought to be settled decades ago, when scientist Ancel Keys declared all saturated fats unhealthy. Coconut oil, which is solid at room temperature, is a saturated fat.
Keep reading...
Show less


Get EcoWatch in your inbox