This website uses cookies to ensure you get the best experience while browsing it. By clicking 'Got It' you're accepting these terms.
Billions in Oil Investments at Risk From High-Cost Projects Ignoring Carbon Constrained World
Aug. 15, 2014 09:21AM EST
Energy
If you want a safe bet, don't invest in some of today's tempting oil and gas projects. That's the message from a UK-based financial think tank that aims to align the global energy market with climate reality.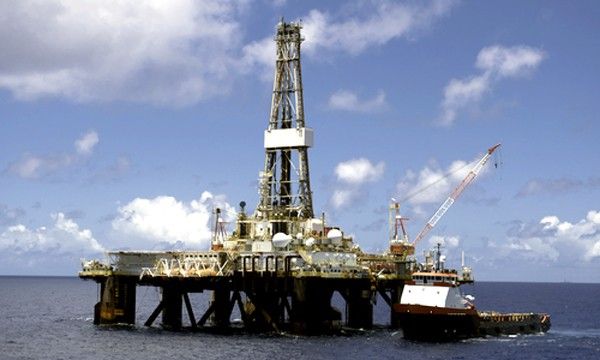 The report highlights a top 20 of the world's most expensive future oil projects being considered for development, and concludes that, to be profitable, some of them will need oil prices to be far higher than today's levels. Photo credit: Shutterstock
The report, by the not-for-profit Carbon Tracker Initiative (CTI), warns that US$91 billion of investors' money risks going to waste over the next decade because of the industry's plans.
It highlights a top 20 of the world's most expensive future oil projects being considered for development, and concludes that, to be profitable, some of them will need oil prices to be far higher than today's levels.
The findings in the report, CTI says, demonstrate the mismatch between continuing oil demand and reducing carbon emissions to limit global warming.
Economic justification
Since an earlier CTI report in May this year, institutional investors have been asking for more details of the economic justification for projects that require high oil prices.
This latest research ranks oil majors according to their capex (capital expenditure) exposure to undeveloped, high-cost projects, and reveals the projects at highest risk.
The companies, CTI says, need to reduce exposure to exploration projects that must earn the highest prices for their oil, and that this is the principle that should determine investment decisions, rather than the simple pursuit of production volume.
All the fields require at least $95 a barrel to be sanctioned, identified by CTI as the key risk level—the market price required to go ahead with the project, assuming a $15 contingency allowance or "risk premium" on top of the break-even price.
Some projects will need prices above $150 per barrel. The global Brent oil benchmark has ranged between $99 and $114 per barrel over the past 12 months.
Using data from the independent consultants Rystad Energy, CTI finds that BP, ConocoPhillips, ExxonMobil, Chevron, Total, Eni and Royal Dutch Shell are considering investing a total of $357 billion over the next decade on new production in costly and often technically-challenging projects—ranging from Canadian oil sands to deep water finds in the Gulf of Mexico and discoveries in the Arctic.
Both BP and Total have particularly high exposure to deep water and ultra-deep water projects, while ConocoPhillips is heavily exposed to Arctic projects. High carbon-emitting oil sands projects account for 27 percent and 26 percent respectively of Shell's and Conoco's potential high-cost development spend.
"This analysis demonstrates the worsening cost environment in the oil industry, and the extent to which producers are chasing volume over value at the expense of returns," said Andrew Grant, CTI analyst.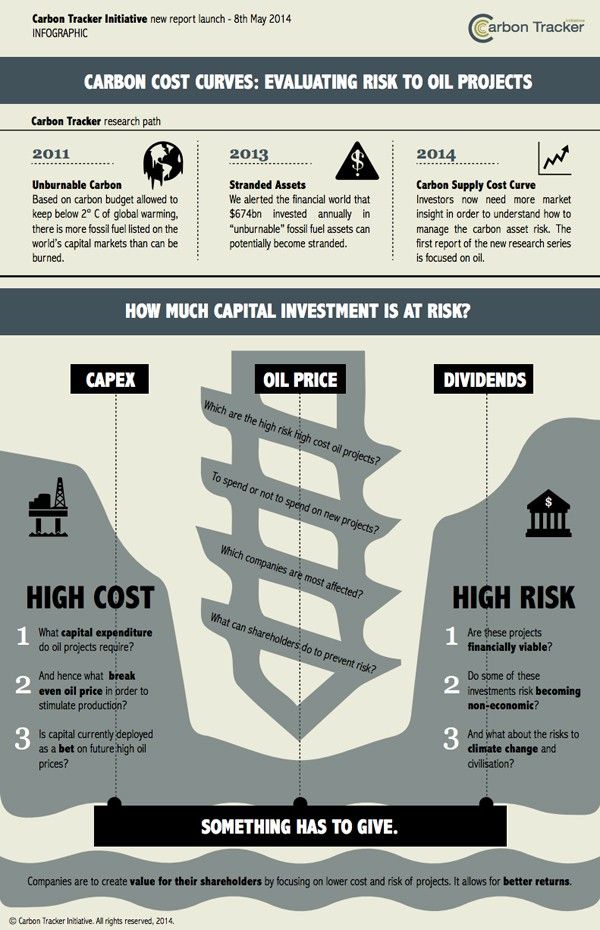 Projects shelved
Some majors have started cutting already. For example, in the Canadian oil sands sector so far this year, Total and Suncor have shelved the $11bn Joslyn mine project, and Royal Dutch Shell has put on hold its Pierre River project.
With deep-water projects, BP has delayed/cancelled its Mad Dog extension in the Gulf of Mexico, and Chevron is reviewing its $10bn Rosebank project in the North Sea.
In the Arctic, Statoil and Eni have deferred a decision on the $15.5bn Johan Castberg project.
The CTI report says projects that depend on sustained high prices for a return are at risk from a future double hit of falling oil prices and growing climate regulation in an increasingly carbon-constrained world.
Its study in May this year showed that oil prices have twice fallen as low as $40 per barrel in the last decade.
The U.S. Energy Information Administration recently reported that the oil and gas sector has increased borrowing heavily to cover spending and dividends.
You Might Also Like
Dams Cause Climate Change, They Are Not Clean Energy
Report Finds Keystone XL Would Be Even Worse Than Predicted
EcoWatch Daily Newsletter
Variety of fermented food korean traditional kimchi cabbage and radish salad. white and red sauerkraut in ceramic plates over grey spotted background. Natasha Breen / REDA&CO / Universal Images Group / Getty Image
Even if you've never taken probiotics, you've probably heard of them.
These supplements provide numerous benefits because they contain live microorganisms, such as bacteria or yeast, which support the healthy bacteria in your gut (1, 2, 3, 4).
Pexels
Singapore will become the first country in the world to place a ban on advertisements for carbonated drinks and juices with high sugar contents, its health ministry announced last week. The law is intended to curb sugar consumption since the country has some of the world's highest diabetes rates per capita, as Reuters reported.
A typical adult takes around 20,000 breaths per day. If you live in a megacity like Beijing, with many of those lungfuls you're likely to inhale a noxious mixture of chemicals and pollutants.
Fred Stone holds his brown swiss cow Lida Rose at his Arundel dairy farm on March 18 after a press conference where he spoke about PFAS chemical contamination in his fields. Gregory Rec / Portland Portland Press Herald via Getty Images
By Susan Cosier
First there was Fred Stone, the third-generation dairy farmer in Maine who discovered that the milk from his cows contained harmful chemicals. Then came Art Schaap, a second-generation dairy farmer in New Mexico, who had to dump 15,000 gallons of contaminated milk a day.
Protesters attend the 32nd annual Fur-Free Friday demonstration on Nov. 23, 2018 in Beverly Hills, California. Ella DeGea / Getty Images
California Governor Gavin Newsom signed into law a bill that that bans the sale and manufacture of fur products in the state. The fur ban, which he signed into law on Saturday, prohibits Californians from selling or making clothing, shoes or handbags with fur starting in 2023, according to the AP.
By Simon Evans
During the three months of July, August and September, renewables generated an estimated total of 29.5 terawatt hours (TWh), compared with just 29.1TWh from fossil fuels, the analysis shows.
A demonstrator waves an Ecuadorian flag during protests against the end of subsidies to gasoline and diesel on Oct. 9 in Quito, Ecuador. Jorge Ivan Castaneira Jaramillo / Getty Images
Protesters block the road outside Mansion House in London during an XR climate change protest. Gareth Fuller / PA Images via Getty Images