This website uses cookies to ensure you get the best experience while browsing it. By clicking 'Got It' you're accepting these terms.
Billions in Oil Investments at Risk From High-Cost Projects Ignoring Carbon Constrained World
Aug. 15, 2014 09:21AM EST
Energy
If you want a safe bet, don't invest in some of today's tempting oil and gas projects. That's the message from a UK-based financial think tank that aims to align the global energy market with climate reality.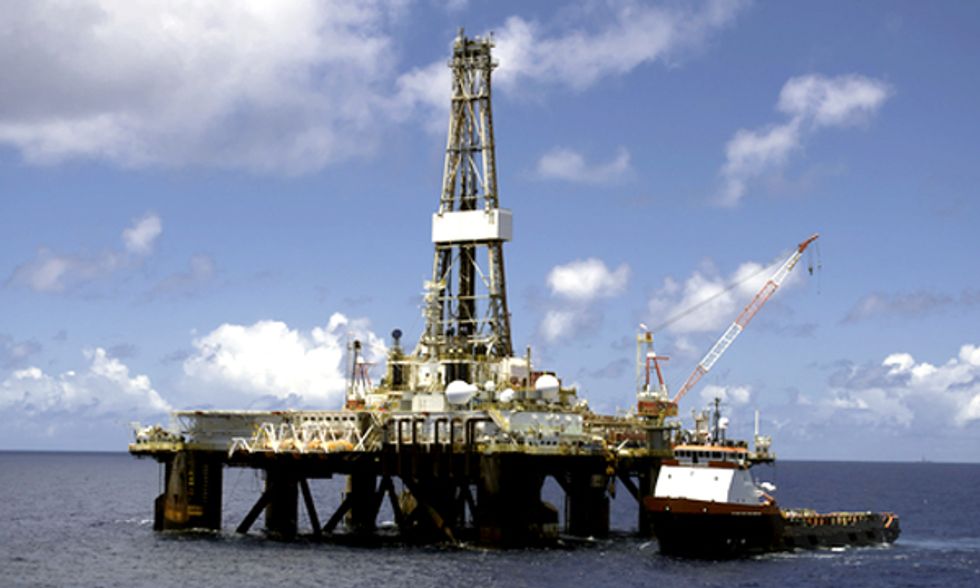 The report highlights a top 20 of the world's most expensive future oil projects being considered for development, and concludes that, to be profitable, some of them will need oil prices to be far higher than today's levels. Photo credit: Shutterstock
The report, by the not-for-profit Carbon Tracker Initiative (CTI), warns that US$91 billion of investors' money risks going to waste over the next decade because of the industry's plans.
It highlights a top 20 of the world's most expensive future oil projects being considered for development, and concludes that, to be profitable, some of them will need oil prices to be far higher than today's levels.
The findings in the report, CTI says, demonstrate the mismatch between continuing oil demand and reducing carbon emissions to limit global warming.
Economic justification
Since an earlier CTI report in May this year, institutional investors have been asking for more details of the economic justification for projects that require high oil prices.
This latest research ranks oil majors according to their capex (capital expenditure) exposure to undeveloped, high-cost projects, and reveals the projects at highest risk.
The companies, CTI says, need to reduce exposure to exploration projects that must earn the highest prices for their oil, and that this is the principle that should determine investment decisions, rather than the simple pursuit of production volume.
All the fields require at least $95 a barrel to be sanctioned, identified by CTI as the key risk level—the market price required to go ahead with the project, assuming a $15 contingency allowance or "risk premium" on top of the break-even price.
Some projects will need prices above $150 per barrel. The global Brent oil benchmark has ranged between $99 and $114 per barrel over the past 12 months.
Using data from the independent consultants Rystad Energy, CTI finds that BP, ConocoPhillips, ExxonMobil, Chevron, Total, Eni and Royal Dutch Shell are considering investing a total of $357 billion over the next decade on new production in costly and often technically-challenging projects—ranging from Canadian oil sands to deep water finds in the Gulf of Mexico and discoveries in the Arctic.
Both BP and Total have particularly high exposure to deep water and ultra-deep water projects, while ConocoPhillips is heavily exposed to Arctic projects. High carbon-emitting oil sands projects account for 27 percent and 26 percent respectively of Shell's and Conoco's potential high-cost development spend.
"This analysis demonstrates the worsening cost environment in the oil industry, and the extent to which producers are chasing volume over value at the expense of returns," said Andrew Grant, CTI analyst.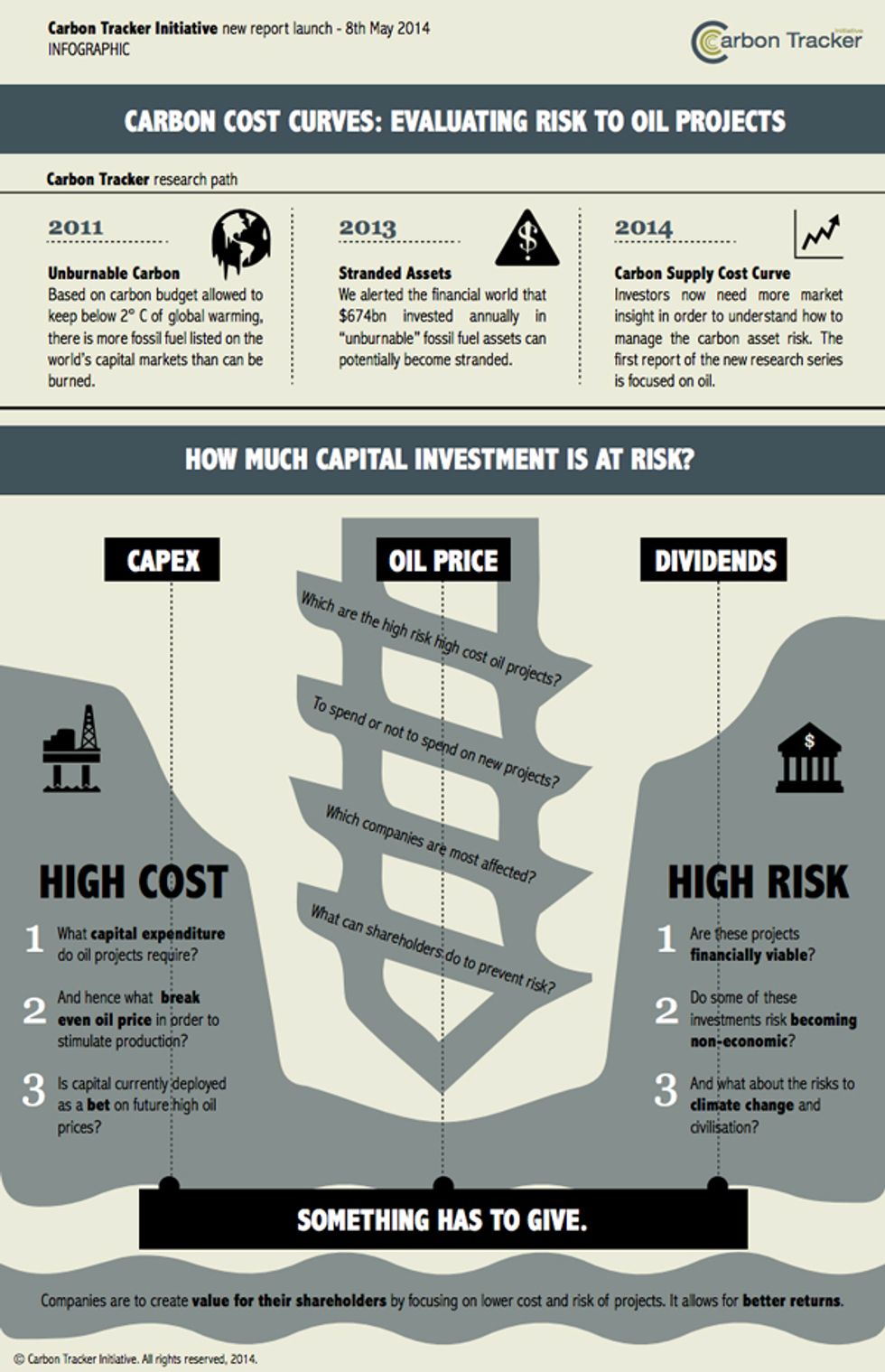 Projects shelved
Some majors have started cutting already. For example, in the Canadian oil sands sector so far this year, Total and Suncor have shelved the $11bn Joslyn mine project, and Royal Dutch Shell has put on hold its Pierre River project.
With deep-water projects, BP has delayed/cancelled its Mad Dog extension in the Gulf of Mexico, and Chevron is reviewing its $10bn Rosebank project in the North Sea.
In the Arctic, Statoil and Eni have deferred a decision on the $15.5bn Johan Castberg project.
The CTI report says projects that depend on sustained high prices for a return are at risk from a future double hit of falling oil prices and growing climate regulation in an increasingly carbon-constrained world.
Its study in May this year showed that oil prices have twice fallen as low as $40 per barrel in the last decade.
The U.S. Energy Information Administration recently reported that the oil and gas sector has increased borrowing heavily to cover spending and dividends.
You Might Also Like
Dams Cause Climate Change, They Are Not Clean Energy
Report Finds Keystone XL Would Be Even Worse Than Predicted
EcoWatch Daily Newsletter
Investing in grid infrastructure would enable utilities to incorporate modern technology, making the grid more resilient and flexible. STRATMAN2 / FLICKR
By Elliott Negin
The Royal Swedish Academy of Sciences' recent decision to award the 2019 Nobel Prize in Chemistry to scientists who developed rechargeable lithium-ion batteries reminded the world just how transformative they have been. Without them, we wouldn't have smartphones or electric cars. But it's their potential to store electricity generated by the sun and the wind at their peak that promises to be even more revolutionary, reducing our dependence on fossil fuels and protecting the planet from the worst consequences of climate change.
Two Javan rhinos deep in the forests of Ujung Kulon National Park, the species' last habitat on Earth. Sugeng Hendratno / WWF
The global population of the critically endangered Javan rhinoceros has increased to 72 after four new calves were spotted in the past several months.
A tiger looks out from its cage at a new resort and zoo in the eastern Lao town of Tha Bak on Dec. 5, 2018. Karl Ammann believes the "zoo" is really a front for selling tigers. Terrence McCoy / The Washington Post / Getty Images
Are tigers extinct in Laos?
That's the conclusion of a detailed new study that found no evidence wild tigers still exist in the country.
A group of scientists is warning that livestock production must not expand after 2030 for the world to stave off ecological disaster.
The largest wetland in Africa is in the South Sudan. George Steinmetz / Corbis Documentary / Getty Images Plus
Methane emissions are a far more powerful greenhouse gas than carbon dioxide – about 28 times more powerful. And they have been rising steadily since 2007. Now, a new study has pinpointed the African tropics as a hot spot responsible for one-third of the global methane surge, as Newsweek reported.