Billboards Attack Anti-Fracking Celebrities
Sep. 17, 2014 03:29PM EST
Energy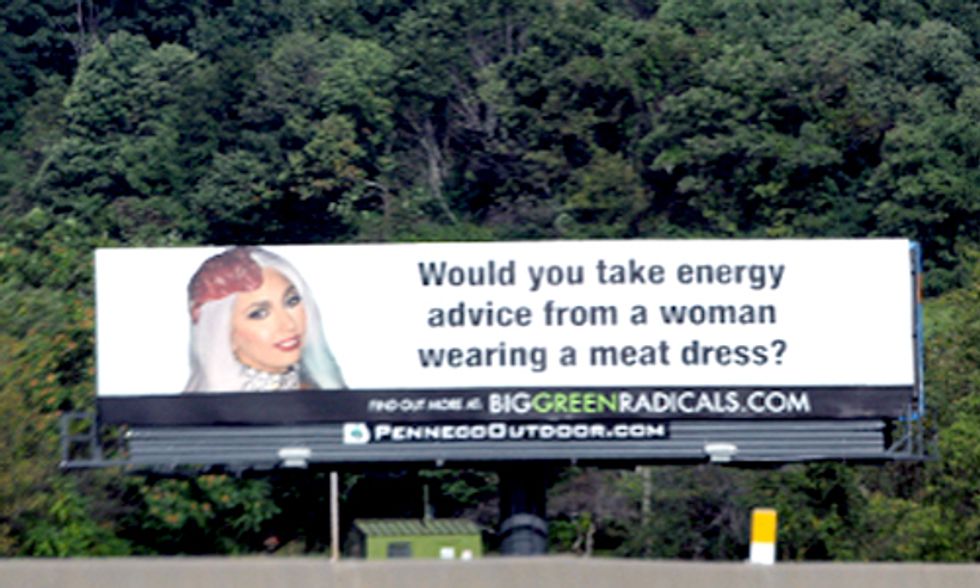 A head-scratching set of billboards has popped up along major highways in Pennsylvania. There's a photo of Lady Gaga sporting a jeweled choker and a slab of meat on her head. "Would you take energy advice from a woman wearing a meat dress?" it says. Another features Robert Redford with the caption: "Demands green living. Flies on private jets."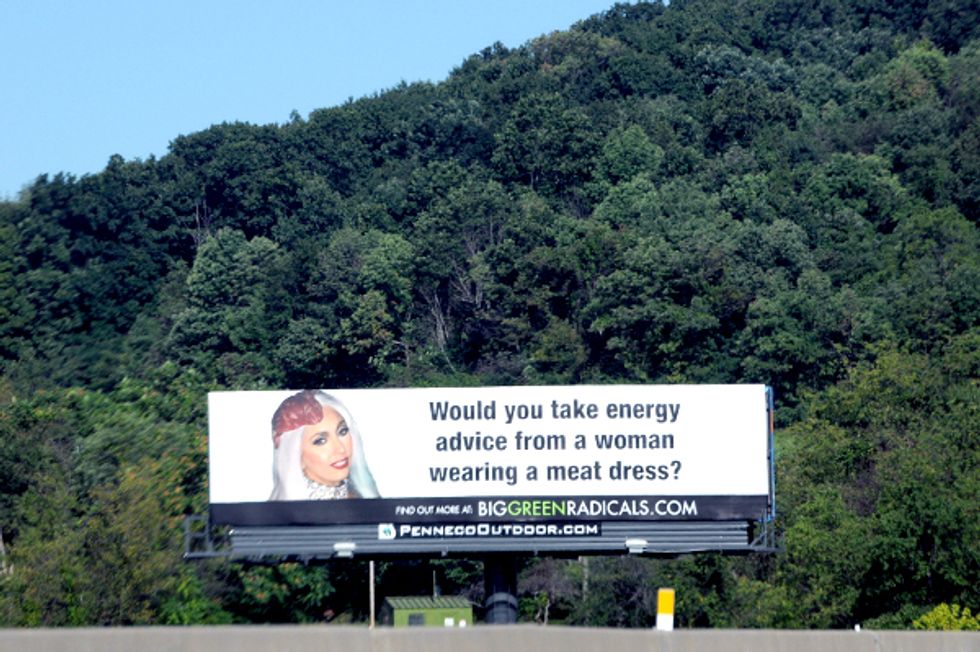 Big Green Radicals apparently finds a connection between Lady Gaga's meat dress and her stance on fracking. Photo credit: Anastasia Pantsios
The billboards are signed BigGreenRadicals.com, and at first glance, you might suspect they were sponsored by a hardcore environmental group, calling out the hypocrisy of stars who advocate for the environment but don't walk the walk. Another, featuring Yoko Ono, that says "Would you take energy advice from the woman who broke up the Beatles?," is just baffling. While it made millions sad, the Beatles breakup did not have a noticeable effect on energy consumption.
But go to their website and you quickly learn who they are really fighting. They claim that sinister cabal of environmental groups is trying to destroy all we hold dear as fossil fuel-loving Americans by pushing (gasp) "the green agenda."
"Environmental activist groups have lobbied for stronger laws to protect the environment and public health since the 19th century," says the group.
Well, yes, that's true.
But then it goes on to say, "While these organizations started out curbing real threats to our safety and the future of our planet, they have morphed into multi-million dollar lobbying machines that use questionable tactics to scare the American public and policymakers into supporting unnecessary and unreasonable policies. A web of wealthy foundations and individuals bankroll these radical activists, making the Sierra Club, the Natural Resources Defense Council and Food & Water Watch among the most powerful (and radical) voices pushing the green agenda."
It warns that these groups want to eliminate dirty energy and focus on renewable energy—also undeniably true—which they say "will eliminate the energy sources that provide 95 percent of our current electricity needs, raising prices dramatically and reducing reliability."
Big Green Radicals also has Greenpeace in its sights, saying it has evolved from "a loose group of anti-nuclear peaceniks into a big-moneyed organization has centered on using junk science to try to fundamentally change our way of life." And it's singled out the anti-fracking movement in Colorado as a target. It called the citizen-driven groups there "astroturf" groups—fronts for monied interests. You'll see how ironic that is in a few paragraphs.
The group produces articles like "New Poll Shows Majority of Americans Prefer Coal and Natural Gas Development." The poll, commissioned by the Environmental Policy Alliance, the group that created Big Green Radicals, prompts its respondents by asking if they think developing these resources is important for national security and telling them that limiting carbon emissions from coal could increase the cost of electricity per family by $1,000 a year.
Big Green Radicals also takes on the GMO labeling movement, claiming that if these groups succeed in their agenda of "trying to convince consumers to ignore the scientific consensus regarding the safety of genetically modified foods and scare the public and companies into reliance only on organic foods ... domestic food prices will rise, and we'll lose the ability to develop new foods to feed vitamin-deficient citizens of developing countries."
Given our First Amendment rights, it's unclear why Big Green Radicals thinks a campaign of "trying  to convince" people of anything is out of bounds, since that's exactly what they're doing. And speaking of astroturf  groups, Big Green Radicals is a creation of the notorious right-wing public relations firm Berman & Co, which has created and operated dozens of front groups attacking minimum wage laws, paid sick leave, food safety regulations, labor, public schools and attempts to regulate smoking and drunk driving.

So why did Big Green Radicals chose this odd grouping of celebrities to attack? (Are people REALLY still mad at Yoko for breaking up the Beatles?) Gaga and Ono are part of a high-profile anti-fracking group in New York state called Artists Against Fracking which includes numerous celebrities in show business and the arts. Redford founded the Redford Center to create films to inspire action on issues like clean energy and made a series of anti-fracking ads for New York-based Catskill Citizens for Safe Energy. And promoting fracking in this shale-rich state where its health and safety impacts are starting to emerge seems to lurk behind these highway messages.
YOU MIGHT ALSO LIKE
We Can Run the Planet on 100% Renewable Energy 
Will Fracking Go Bust in Pennsylvania?
Unprecedented Investigation Finds PA Prioritizes Fracking at Expense of Health, Environment & Law
Scientists are studying barley, the key ingredient in beer. Ridofranz / Getty Images
Researchers at UC-Riverside are investigating how barley, a key ingredient in beer, survives in such a wide variety of climates with hopes of learning what exactly makes it so resilient across climates.
Barley was first grown domestically in Southwest Asia about 10,000 year ago and is grown around the world, from Egypt to Minnesota.
Barley's prime growing regions have shifted northward in recent decades as global temperatures have risen due to climate change caused by human extraction and combustion of fossil fuels.
Chuck Skypeck, technical brewing projects manager for the Brewers Association located in Boulder, Colorado, told E&E climate change's effects are impacting the brewing industry.
"Certainly dynamic growing conditions, water scarcity, extreme weather events, growers' planting decisions can all affect both pricing and availability of brewers' supply of malted barley," he told E&E News.
For a deeper dive:
For more climate change and clean energy news, you can follow Climate Nexus on Twitter and Facebook, sign up for daily Hot News, and visit their news site, Nexus Media News.
EcoWatch Daily Newsletter
Air France airplanes parked at the Charles de Gaulle/Roissy airport on March 24, 2020. SAMSON / AFP via Getty Images
France moved one step closer this weekend to banning short-haul flights in an attempt to fight the climate crisis.
A bill prohibiting regional flights that could be replaced with an existing train journey of less than two and a half hours passed the country's National Assembly late on Saturday, as Reuters reported.
"We know that aviation is a contributor of carbon dioxide and that because of climate change we must reduce emissions," Industry Minister Agnes Pannier-Runacher told Europe 1 radio, according to Reuters.
The measure now has to pass the French Senate, then return to the lower house for a final vote. It would end regional flights between Paris's Orly airport and cities like Nantes and Bordeaux, The Guardian explained. It would not, however, impact connecting flights through Paris's Charles de Gaulle/Roissy airport.
The bill is part of a legislative package which aims to reduce France's emissions by 40 percent of 1990 levels by 2030, Reuters reported. It is a watered-down version of a proposal suggested by France's Citizens' Convention on Climate, BBC News explained. This group, which was formed by President Emmanuel Macron in 2019 and included 150 ordinary citizens, had put forward a ban on flights that could be replaced with an existing train journey of under four hours.
However, the journey length was lowered after protests from KLM-Air France, which had suffered heavy losses due to the coronavirus pandemic, and regions who were concerned about being left out of national transit networks, as The Guardian explained.
"We have chosen two and a half hours because four hours risks isolating landlocked territories including the greater Massif Central, which would be iniquitous," transport minister Jean-Baptiste Djebbari said, as The Guardian reported.
However, some environmental and consumer groups objected to the changes. The organization UFC-Que Choisir compared plane routes with equivalent train journeys of under four hours and found that the plane trips emitted an average of 77 times more carbon dioxide per passenger than the train journeys. At the same time, the train alternatives were cheaper and only as much as 40 minutes longer.
"[T]he government's choice actually aims to empty the measure of its substance," the group said, according to The Guardian.
The new measure also opens the French government to charges of hypocrisy. It bailed out Air France-KLM to the tune of a seven-billion euro loan last year, though it did require the airline to drop some domestic routes as a condition. Then, days before the measure passed, it more than doubled its stake in the airline, BBC News reported. However, Pannier-Runacher insisted to Europe 1 radio that it was possible to balance fighting climate change and supporting struggling businesses.
"Equally, we must support our companies and not let them fall by the wayside," she said, as Reuters reported.
This is not the first time that climate measures and aviation bailouts have coincided in the wake of the coronavirus pandemic. Austrian Airlines replaced its Vienna-Salzburg flight with additional train service after it received government money dependent on cutting greenhouse gas emissions, BBC News reported.
The number of flights worldwide declined almost 42 percent in 2020 when compared with 2019. It is expected that global aviation may not fully recover until 2024, according to Reuters.
A woman looks at a dead gray whale on the beach in the SF Bay area on May 23, 2019; a new spate of gray whales have been turning up dead near San Francisco. Justin Sullivan / Getty Images
Four gray whales have washed up dead near San Francisco within nine days, and at least one cause of death has been attributed to a ship strike.
A small tourist town has borne the brunt of a cyclone which swept across the West Australian coast.
ABC News (Australia) / YouTube
A general view shows the remains of a dam along a river in Tapovan, India, on February 10, 2021, following a flash flood caused by a glacier break on February 7. Sajjad Hussain / AFP / Getty Images
By Rishika Pardikar
Search operations are still underway to find those declared missing following the Uttarakhand disaster on 7 February 2021.
This story originally appeared in Eos and is republished here as part of Covering Climate Now, a global journalism collaboration strengthening coverage of the climate story.