This website uses cookies to ensure you get the best experience while browsing it. By clicking 'Got It' you're accepting these terms.
Billboards Attack Anti-Fracking Celebrities
Sep. 17, 2014 02:29PM EST
Energy
A head-scratching set of billboards has popped up along major highways in Pennsylvania. There's a photo of Lady Gaga sporting a jeweled choker and a slab of meat on her head. "Would you take energy advice from a woman wearing a meat dress?" it says. Another features Robert Redford with the caption: "Demands green living. Flies on private jets."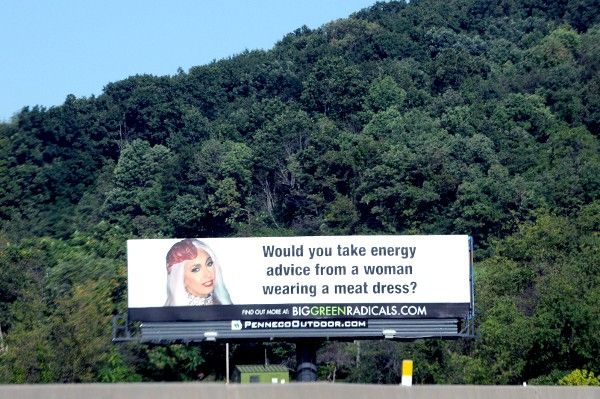 Big Green Radicals apparently finds a connection between Lady Gaga's meat dress and her stance on fracking. Photo credit: Anastasia Pantsios
The billboards are signed BigGreenRadicals.com, and at first glance, you might suspect they were sponsored by a hardcore environmental group, calling out the hypocrisy of stars who advocate for the environment but don't walk the walk. Another, featuring Yoko Ono, that says "Would you take energy advice from the woman who broke up the Beatles?," is just baffling. While it made millions sad, the Beatles breakup did not have a noticeable effect on energy consumption.
But go to their website and you quickly learn who they are really fighting. They claim that sinister cabal of environmental groups is trying to destroy all we hold dear as fossil fuel-loving Americans by pushing (gasp) "the green agenda."
"Environmental activist groups have lobbied for stronger laws to protect the environment and public health since the 19th century," says the group.
Well, yes, that's true.
But then it goes on to say, "While these organizations started out curbing real threats to our safety and the future of our planet, they have morphed into multi-million dollar lobbying machines that use questionable tactics to scare the American public and policymakers into supporting unnecessary and unreasonable policies. A web of wealthy foundations and individuals bankroll these radical activists, making the Sierra Club, the Natural Resources Defense Council and Food & Water Watch among the most powerful (and radical) voices pushing the green agenda."
It warns that these groups want to eliminate dirty energy and focus on renewable energy—also undeniably true—which they say "will eliminate the energy sources that provide 95 percent of our current electricity needs, raising prices dramatically and reducing reliability."
Big Green Radicals also has Greenpeace in its sights, saying it has evolved from "a loose group of anti-nuclear peaceniks into a big-moneyed organization has centered on using junk science to try to fundamentally change our way of life." And it's singled out the anti-fracking movement in Colorado as a target. It called the citizen-driven groups there "astroturf" groups—fronts for monied interests. You'll see how ironic that is in a few paragraphs.
The group produces articles like "New Poll Shows Majority of Americans Prefer Coal and Natural Gas Development." The poll, commissioned by the Environmental Policy Alliance, the group that created Big Green Radicals, prompts its respondents by asking if they think developing these resources is important for national security and telling them that limiting carbon emissions from coal could increase the cost of electricity per family by $1,000 a year.
Big Green Radicals also takes on the GMO labeling movement, claiming that if these groups succeed in their agenda of "trying to convince consumers to ignore the scientific consensus regarding the safety of genetically modified foods and scare the public and companies into reliance only on organic foods ... domestic food prices will rise, and we'll lose the ability to develop new foods to feed vitamin-deficient citizens of developing countries."
Given our First Amendment rights, it's unclear why Big Green Radicals thinks a campaign of "trying  to convince" people of anything is out of bounds, since that's exactly what they're doing. And speaking of astroturf  groups, Big Green Radicals is a creation of the notorious right-wing public relations firm Berman & Co, which has created and operated dozens of front groups attacking minimum wage laws, paid sick leave, food safety regulations, labor, public schools and attempts to regulate smoking and drunk driving.

So why did Big Green Radicals chose this odd grouping of celebrities to attack? (Are people REALLY still mad at Yoko for breaking up the Beatles?) Gaga and Ono are part of a high-profile anti-fracking group in New York state called Artists Against Fracking which includes numerous celebrities in show business and the arts. Redford founded the Redford Center to create films to inspire action on issues like clean energy and made a series of anti-fracking ads for New York-based Catskill Citizens for Safe Energy. And promoting fracking in this shale-rich state where its health and safety impacts are starting to emerge seems to lurk behind these highway messages.
YOU MIGHT ALSO LIKE
We Can Run the Planet on 100% Renewable Energy 
Will Fracking Go Bust in Pennsylvania?
Unprecedented Investigation Finds PA Prioritizes Fracking at Expense of Health, Environment & Law
EcoWatch Daily Newsletter
An aerial view of the Kudala Sangama submerged in floodwaters about 460 kms of the South Indian city of Bangalore on Aug. 10. Floods have displaced hundreds of thousands across much of India with the southern state of Kerala worst hit, authorities said on Aug. 10. STR / AFP / Getty Images
The southern India state of Kerala, having lost almost a million homes in two disastrous floods in 2018 and 2019, is trying to adapt to climate change by building homes for the poor that are flood-resistant.

The Paradise Fossil Plant in Kentucky. Coal-fired power plants are a major source of air pollution.
TVA / GPA Photo Archive / Flickr /
CC BY 2.0
Tweeting that the U.S. has the cleanest air in the world does not make it so. Not only do we rank 10th, but a new study says that after steady improvement during the Obama-era, air pollution has gotten worse while Donald Trump has been president.
In this Oct. 7 handout photo from the Aracaju Municipal Press Office, workers are removing oil from Viral Beach, in Aracaju, Brazil. The spill has been polluting Brazil's beaches since early September. Aracaju Municipal Press Office / AP
More than 1,000 miles of shoreline in Brazil are now contaminated by a mysterious oil spill. that has lasted for weeks as the country struggles to clean what may be its largest oil spill in history.
Nitrogen dioxide and nitrogen oxides, the pollutants released by diesel vehicles are a major source of air pollution in London. Jack Taylor / Stringer / Getty Images
On days where air pollution is higher, hundreds of people across nine major cities in England are suffering from more potentially fatal cardiac arrests or heading to the hospital for strokes or severe asthma attacks, according to new research from King's College in London.
A diet high in fish and vegetables can help keep your gut healthy. Linda Raymond / E+ / Getty Images
By Heather Cruickshank
Trillions of bacteria and other microbes live in the human digestive system. Together, they form a community that's known as the gut microbiota.
Many bacteria in the microbiota play important roles in human health, helping to metabolize food, strengthen intestinal integrity and protect against disease.
The message of the global movement to ban fracking and get off fossil fuels envisions a different future, one that starts with cutting off pollution at the source. cta88 / iStock / Getty Images Plus