This website uses cookies to ensure you get the best experience while browsing it. By clicking 'Got It' you're accepting these terms.
Bill Nye's Solar Sail Could Revolutionize Space Travel
Mar. 03, 2016 09:58AM EST
Science
The Planetary Society's solar sail is another step closer to spending its days in the sun. The world's largest space-interest nonprofit has unveiled the LightSail-2, the successor to the original LightSail CubeSat (or cube satellite used for space research) that successfully deployed its solar sails in space eight months ago.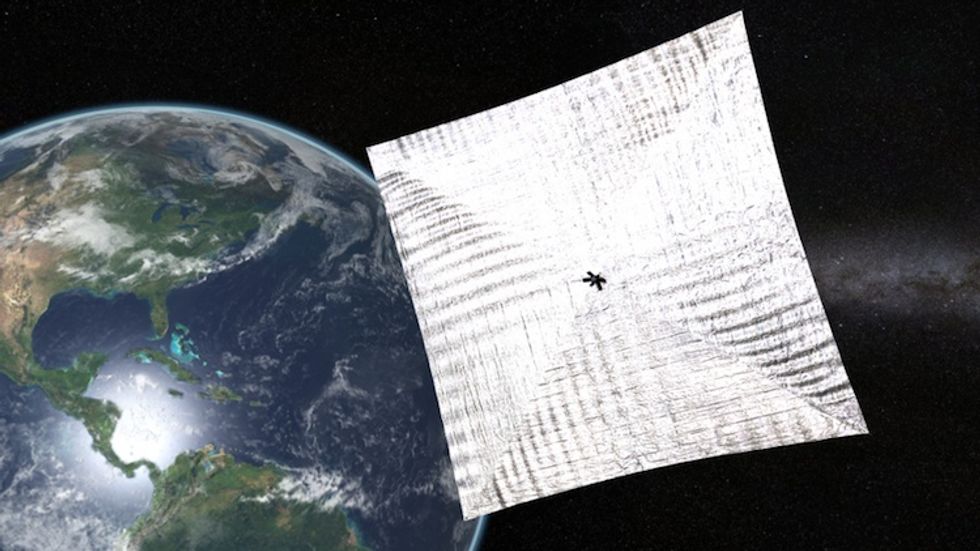 The LightSail's mylar solar sails span 32-square-meters and are designed to capture sunlight and convert its pressure to propel the spacecraft forward. Photo credit: Josh Spradling / The Planetary Society
In June 2015, the Planetary Society proved that flight by light could be possible when it unfurled a solar sail in low-Earth orbit, paving the way for a full-fledged solar sail flight in 2016.
Once this technology is perfected, the LightSail could revolutionize and significantly lower the costs of space travel. Instead of rocket fuel, future spacecraft can be propelled by a sail that captures and converts the sun's photons into pressure that propels the spacecraft forward, thus making it an "inexpensive, inexhaustible means of propulsion," as the project's successful Kickstarter campaign pointed out.
As Vox wrote, what makes this project even more interesting is that it's not funded by NASA or a private enterprise. If successful, the LightSail project will essentially democratize space travel, as it's being built by the citizen-funded Planetary Society and the 23,331 backers who collectively pledged $1,241,615 to bring this crowd-funded project to life.
"Our mission at the Planetary Society is to advance space science and exploration. That's what we do. That's the elevator speech," Bill Nye, CEO of the Planetary Society, told Motherboard. "Empower the world's citizens to advance space science and exploration to know the cosmos and our place within it."
The latest mission is expected to launch sometime this Fall. The LightSail-2 will travel on Georgia Tech's Prox-1 satellite on Elon Musk's SpaceX Falcon Heavy rocket.
Here's what will happen to the LightSail once it's in orbit, as Gizmodo reported:
The new light sail features four triangular sails, made of mylar, which combine to form a rectangular-shaped surface. Once the [three unit] cubesat reaches an orbital altitude of 500 miles (800 km), the sails will deploy, extending across a total area measuring 32 square meters. The main test goal will be to assess whether the solar sails are a viable form of spacecraft propulsion.
This animation shows how the LightSail-2 will deploy from the Prox-1 satellite:
The idea of solar sailing came decades ago from Planetary Society founders Louis Friedman, Bruce Murray and Carl Sagan, who even stopped by Johnny Carson's The Tonight Show to explain the technology.
"[It] travels on the radiation and particles that come out of the sun, the wind from the sun," Sagan said. "Because it has a constant acceleration, it can get you around the inner part of the solar system a lot faster ... than the usual sorts of rocket propulsion."
Nye told Motherboard that besides interstellar space travel, the solar sail can be used in various other ways, from monitoring solar weather to helping a satellite de-orbit:
You're required to have your satellite deorbit in 25 years. That's an international rule being informally embraced, and people are working on treaties to formalize it. Getting a spacecraft to come down when you want it takes either fuel or dumb luck. With a sail, you can create all this drag. For example, where the ISS is, there are still a few air molecules. So when you deploy a sail, the thing comes down a thousand times faster than otherwise. Satellite manufacturers could very reasonably meet the requirements by including a little drag sail.
This video shows a test deployment of the LightSail 2's sails at California Polytechnic State University in January:
The Planetary Society's digital editor Jason Davis explains what happened in the video:
Unsurprisingly, [the] deployment tests revealed minor issues that engineers...have spent the past few weeks working to resolve. The deployment motor hesitated several times, not unlike the way it did during LightSail 1 testing. There was a glitch with the spacecraft's onboard cameras, which capture staggered images during the sail deployment sequence. And additional refinements are still being applied to the spacecraft's communications and attitude control systems.
A second round of system testing is planned at Cal Poly. This will pave the way for a full, day-in-the-life test as soon as March, when the spacecraft demonstrates its core mission functions one final time on the ground.
You can read the history of the LightSail here and learn more about the project in this video below:
YOU MIGHT ALSO LIKE
10 Mesmerizing Photos of Earth Taken From Space
25 Scientific Facts That Will Blow Your Mind
Scientists Explore Toxic Ice Caves to Learn About Potential Alien Life on Other Planets
Neil deGrasse Tyson Schools Rapper B.o.B. Who Believes the Earth Is Flat
EcoWatch Daily Newsletter
A new report spotlights a U.N. estimate that at least 275 million people rely on healthy coral reefs. A sea turtle near the Heron Island in the Great Barrier Reef is seen above. THE OCEAN AGENCY / XL CATLIN SEAVIEW SURVEY
In a new report about how the world's coral reefs face "the combined threats of climate change, pollution, and overfishing" — endangering the future of marine biodiversity — a London-based nonprofit calls for greater global efforts to end the climate crisis and ensure the survival of these vital underwater ecosystems.
Half of the extracted resources used were sand, clay, gravel and cement, seen above, for building, along with the other minerals that produce fertilizer. Cavan Images / Cavan / Getty Images
The world is using up more and more resources and global recycling is falling. That's the grim takeaway from a new report by the Circle Economy think tank, which found that the world used up more than 110 billion tons, or 100.6 billion metric tons, of natural resources, as Agence France-Presse (AFP) reported.
By Gero Rueter
Heating with coal, oil and natural gas accounts for around a quarter of global greenhouse gas emissions. But that's something we can change, says Wolfgang Feist, founder of the Passive House Institute in the western German city of Darmstadt.

By George Citroner
Recent research finds that official government figures may be underestimating drug deaths by half.
Researchers estimate that 142,000 people died due to drug use in 2016.
Drug use decreases life expectancy after age 15 by 1.4 years for men and by just under 1 year for women, on average.
Government records may be severely underreporting how many Americans die from drug use, according to a new study by researchers from the University of Pennsylvania and Georgetown University.
Water coolers in front of shut-off water fountains at Center School in Stow, MA on Sept. 4, 2019 after elevated levels of PFAS were found in the water. David L. Ryan / The Boston Globe via Getty Images
In a new nationwide assessment of drinking water systems, the Environmental Working Group found that toxic fluorinated chemicals known as PFAS are far more prevalent than previously thought.