This website uses cookies to ensure you get the best experience while browsing it. By clicking 'Got It' you're accepting these terms.
Bill Nye vs. Sarah Palin on Climate Change: Who Do You Believe?
Apr. 18, 2016 09:19AM EST
Climate
Last week provided a beautiful series of examples of the increasingly amusing ways that deniers are being handled.
It all began with a post on DeSmogBlog that featured an exclusive clip of a discussion between beloved educational icon Bill Nye the Science Guy and his polar opposite, misinformation expert Marc Morano. In the clip, Nye offers Morano a pair of $10,000 bets: that 2016 will be among the hottest on record and that this decade will be record hot. Morano, of course, turned down the bets on the basis that it's "obvious" that scientific data will show warming, implying that the data would be doctored.
In the video (below), which has more than 100,000 views since April 12, Nye takes a calm approach to Morano's typical rapid-fire spewing of pseudoscience, leaving Morano flustered and dejected. By preventing Morano from dominating the conversation and framing his argument in terms of future generations, Nye showed how to set a professional denier on his heels.
Bill Nye shared the DeSmogBlog post on his Facebook feed, which unsurprisingly triggered a flood of denier responses. In response to various conspiratorial accusations, none other than the National Aeronautics and Space Administration (NASA) stepped up to respond, with short but smart rebuttals amusing enough to warrant their own news coverage. Using simple language backed up by credible sources, NASA demonstrated how to deal with trolls—by showing others how plainly wrong they are.
But wait, there's more! The Nye-Morano meet-up was made a central part of Morano's attempt to publicize his movie Climate Hustle, which had its U.S. premier on Thursday night. The movie is described by IFLScience as "a propaganda movie for climate deniers."
A clip of Nye and Morano's conversation was shown as part of a panel event promoting the movie that featured Sarah Palin, who took aim at Nye by claiming that she's just as much of a scientist as Nye.
As The Guardian's Suzanne Goldenberg noted in her must-read article about it, "that was not even the low point of the event." Along with ample quoting of Palin's rambling comments, Goldenberg adds appropriate facts to her reporting to make it clear that "there was a strong whiff of desperation to Palin's efforts" as, while much of the GOP remains mired in denial, "the world is moving on."
So while it is unfortunate that this episode has allowed Morano to use Nye to get more media for his movie than it deserves, it at least allowed Nye to teach us how to handle deniers in person, gave NASA a chance to show us how to handle deniers on the internet and Goldenberg to demonstrate how reporters should handle them in the media.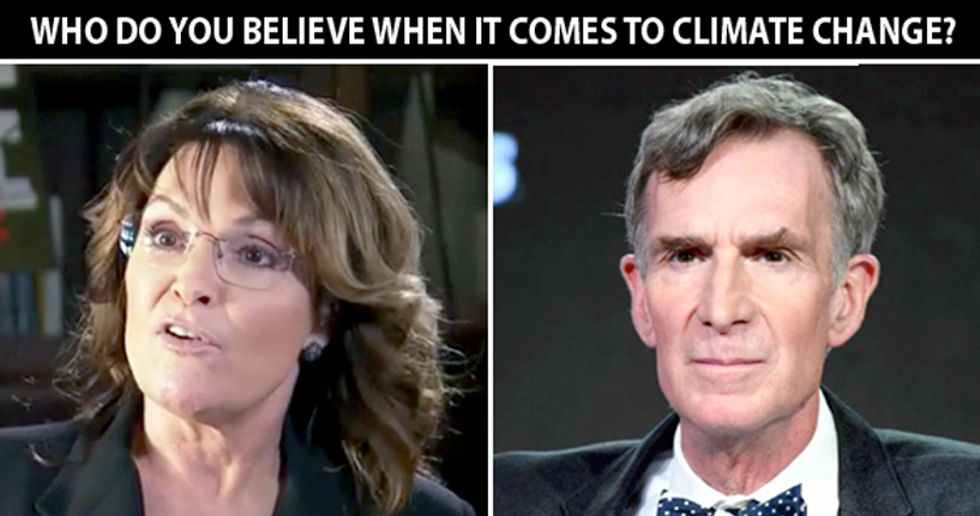 In other words, even nearly 20 years after his show went off the air, Bill Nye is still a great educator and entertainer. Maybe a reboot is in order: Bill Nye, The Climate Science Guy!
YOU MIGHT ALSO LIKE
Scientists Start to Look at Ground Beneath Their Feet for Solution to Climate Change
3 Most Environmentally Damaging Habits You Might Be Able to Change
7 Reasons to Join Democracy Awakening
Danger, Will Robinson: Oil Industry Knew CO2-Climate Link in '68
EcoWatch Daily Newsletter
California Gov. Gavin Newsom speaking with attendees at the 2019 California Democratic Party State Convention at the George R. Moscone Convention Center in San Francisco.
Gage Skidmore
/ Flickr /
CC BY-SA 2.0
California Gov. Gavin Newsom imposed new restrictions on oil exploration in his state yesterday by putting a moratorium on hundreds hydraulic fracturing permits until the projects are reviewed by independent scientists, as the AP reported.
The endangered Houston toad. Courtesy of U.S. Fish and Wildlife Service
While the planet continues to heat up, almost every single one of the 459 species listed as endangered in the U.S. will struggle as the climate crisis intensifies, according to new research published in the journal Nature Climate Change.
"This singular scientific achievement was accomplished at Heliogen's commercial facility in Lancaster, California."
Heliogen
A startup backed by Bill Gates unveiled a breakthrough solar technology Tuesday that could free heavy industry from fossil fuels.
Rhodiola rosea is an adaptogenic herb that can help with chronic fatigue and stress-related burnout. Tero Laakso / Flickr
By Gavin Van De Walle, MS, RD
While everyone has specific life stressors, factors related to job pressure, money, health, and relationships tend to be the most common.
Stress can be acute or chronic and lead to fatigue, headaches, upset stomach, nervousness, and irritability or anger.
A video shows a woman rescuing a koala from Australia's wildfires.
VOA News / YouTube screenshot
More than 350 koalas may have died in the wildfires raging near the Australian town of Port Macquarie in New South Wales, but one got a chance at survival after a woman risked her life to carry him to safety.