Bill Nye Under Attack for Linking Texas Floods to Climate Change
May. 28, 2015 11:35AM EST
Climate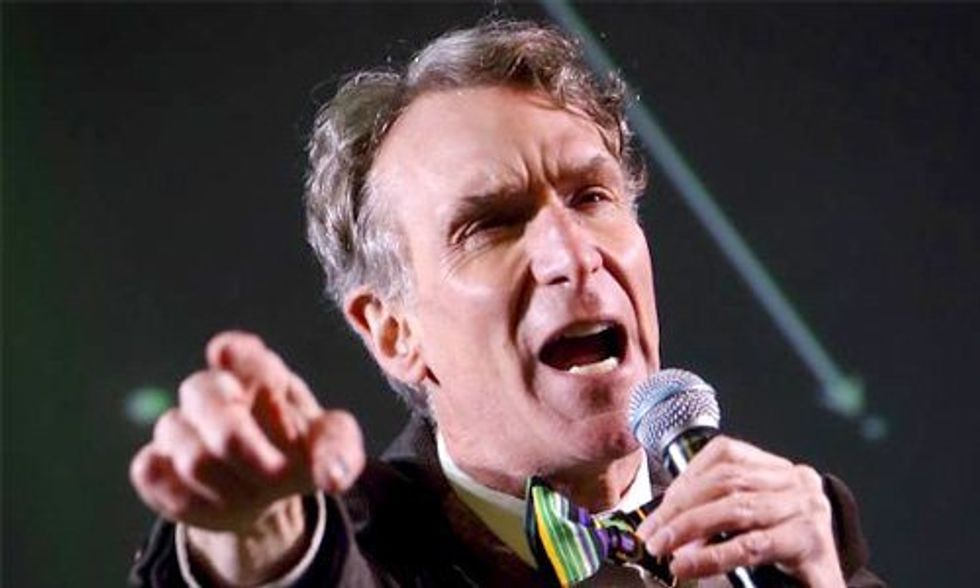 Bill Nye took to Twitter to call out meteorologists for failing to link the floods earlier this week in Texas with a warming climate, and the backlash in the Twitterverse was intense.
Billion$$ in damage in Texas & Oklahoma. Still no weather-caster may utter the phrase Climate Change. pic.twitter.com/9J10deVQ7S

— Bill Nye (@BillNye) May 26, 2015
Houston received more than 10 inches of rain in a 24-hour period, "bringing America's fourth-largest city to a standstill," reports Scientific American. Texas Governor Abbott even said the flooding had "tsunami-type power." And while no one single weather event can be linked to climate change, recognizing that the event is part of a larger trend of extreme weather, which is caused by climate change, should have been no big deal to do.
Scientists have been saying for years that as carbon emissions increase, so will extreme downpours. "When you have a warmer atmosphere, then you have the capability to hold more water vapor," Brenda Ekwurzel of the Union of Concerned Scientists told Alternet. "When storms organize, there's much more water you can wring out of the atmosphere compared to the past."  
Bill Nye Weighs in on Texas Flood, Says THIS is to Blame (You Can Probably Guess What it is) http://t.co/SamwUPzUw0 pic.twitter.com/S3i3Bxz35u — Young Conservatives (@YoungCons) May 27, 2015
But conservative groups such as the Young Conservatives laid into Nye for blaming climate change for the floods. The conservative Twitter-tracking group Twitchy seethed over Nye's comment, calling it "so predictable:"
Although just last year it was drought in Texas that was caused by global warming ... What's even funnier is that Nye thinks his alarmism that blames every, single weather event on manmade global warming is just what's needed to convince more people that the alarmist camp knows what it is talking about.
Other users got just downright nasty:
@BillNye Hey, dipshit non-science guy, give your climate scam a rest while they're still searching for bodies. Fucking asshole.

— JWF (@JammieWF) May 27, 2015
And conservatives used a common climate denial tactic (which Nye has successfully rebutted), calling into question his credentials as a climate scientist:      
For instance, Bill Nye knows nothing about meteorology or climate but is 100% sure the Texas flooding is caused by global warming. — Ryan Maue (@RyanMaue) May 27, 2015
YOU MIGHT ALSO LIKE
Ben & Jerry's Teams Up With Tesla to Encourage Fans to Join the Climate Movement
Jon Stewart: Climate Change to Blame for Allergies Getting Worse Each Year
EcoWatch Daily Newsletter
Recent Stories from EcoWatch