Bill Nye Slams NASCAR as the 'Anti-NASA'
Nov. 18, 2015 11:02AM EST
Business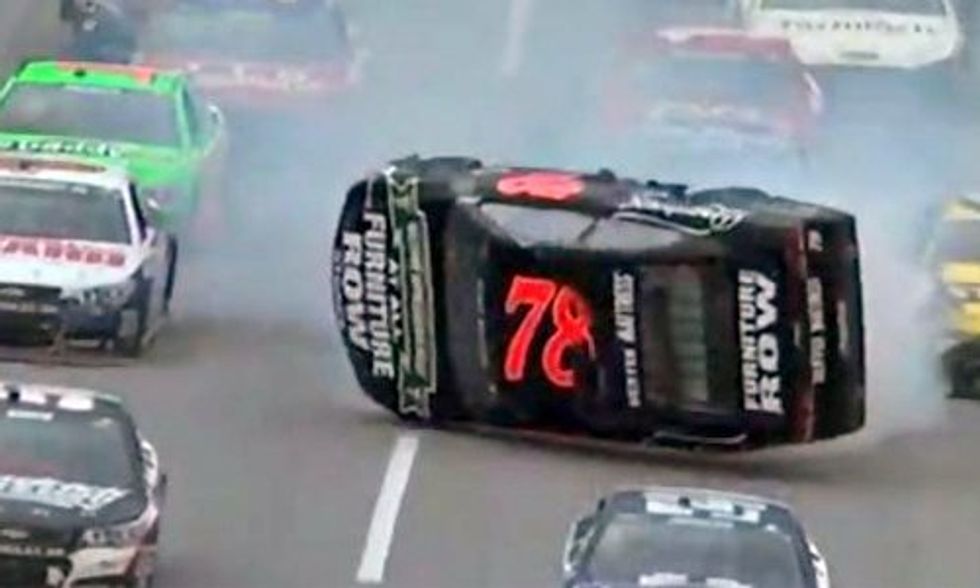 Bill Nye's latest book, Unstoppable: Harnessing Science to Change the World, was published last week. To promote his book, Nye was interviewed by the Associated Press while driving a Tesla around New York City.
As an outspoken supporter of green technology, Nye's critique of NASCAR in Unstoppable was not surprising, but sparked significant controversy. While he admitted watching a NASCAR race on TV with his family is "exciting," he wrote that the technology behind it is "depressing."
"Here I am trying to envision the smart, efficient transportation technology of tomorrow, and there is NASCAR celebrating a very old transportation technology of yesterday," Nye wrote. "You might call NASCAR the anti-NASA."
Millions of Americans support NASCAR. According to Statistic Brain Research Institute, 3.6 million Americans attend races every year, 12.5 million tune into the Daytona 500 and the industry generates $3.1 billion a year in revenue. So it's no wonder Nye devoted an entire chapter on how to make NASCAR better.
"What if NASCAR became more like NASA?," Nye asked. NASA and NASCAR both hold competitions with winners. The difference: NASA awards the smartest and NASCAR awards the fastest. "There's no reason why NASCAR couldn't be like [NASA]: a race with rules designed to reward the coolest, most advanced vehicle technologies," he says.
Nye proposed putting a cap on fuel use at 21 gallons per car during a race—that's about half the amount modern cars use. Currently, NASCAR cars are extremely inefficient, averaging 3 miles per gallon. But Nye argued that with the right incentives, that could change.
"We could drive this real 'stock' (off-the-showroom-floor) car around and around the course for a while," he wrote. "Then we could stop and have pizza. We'd get back in the car and win. No other [NASCAR] team could even finish the race."
Nye sees a real leadership opportunity for the NASCAR industry in advancing car technology:
"I get it. I understand the appeal of a stock car race. It's just exciting, and I'm all for it. I just want NASCAR to adapt to the new mainstream. I want the circuit to produce vehicles that could compete in races anywhere in the world, and win. I want the racing series to spin off new tech that will do more with less. For me, as an American mechanical engineer, I hope NASCAR decides to look forward rather than backward."
Critics like Auto Action take issue with Nye's ideas. They say that while focusing on NASCAR, Nye is ignoring other auto racing competitions, such as Formula E, which uses only electric cars, the World Endurance Championship and Formula 1. These international leagues are "leading the charge in innovation in regards to electric engines, hybrid systems and fuel efficiency respectively," Auto Action said. For instance, Formula 1 uses a turbocharged 1.6-litre V6 that has an Energy Recovery System that tries to conserve and re-use heat energy from places like the brakes and exhaust.
As for NASCAR, Chris Matyszczyk of CNET's Technically Incorrect doesn't see NASCAR fans supporting changes. "Has he seen how Nascar drivers drive? Has he witnessed their untrammeled aggression?," Matyszczyk wrote. "This is what America wants—or at least a considerable part of America. It doesn't want namby-pambiness. It doesn't want to see their heroes in glorified Priuses. Some think that global warming is the same as central heating."
Only time will tell. In the meantime, don't try to paint Nye as anti-NASCAR. Remember, the Science Guy says he's "all for it." The engineer in him just wants to see NASCAR drive fast into the future.
YOU MIGHT ALSO LIKE
Tesla's Massive Gigafactory Will Be Net Zero Energy, Powered by 100% Renewables
Apple to Power 100% of Singapore Operations With Solar Energy
An Organic Indoor Vertical Farm May Be Coming to a City Near You
Hydrogen Fuel Cell vs. Electric Cars: Which Will Drive Us Into the Future?
EcoWatch Daily Newsletter