Bill Nye Says 'Give a F**k' About Climate Change and Forget 'Deflategate'
Jan. 29, 2015 10:19AM EST
Climate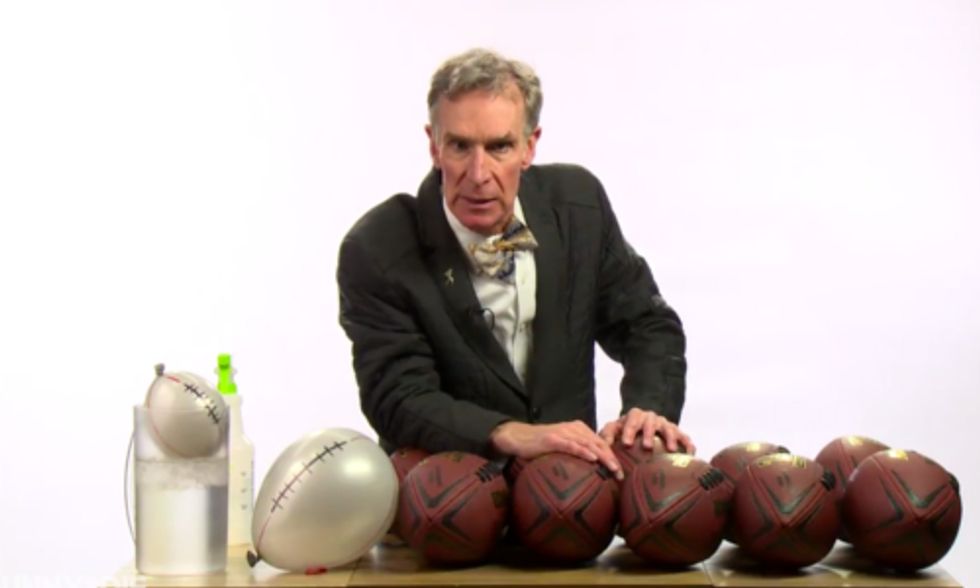 Everybody is talking about "Deflategate"—the tantalizing question of whether someone connected with the New England Patriots deflated their footballs prior to their game against the Indianapolis Colts that earned them a slot in the Super Bowl this weekend. Sportscasters and fans have been buzzing since that Jan. 18 game how this could have happened and how much of an advantage the easier-to-catch balls might have conferred on the Patriots.
Bill Nye the Science Guy is talking about it too, and—no surprise, he decided to get all science-y about the issue. Testing a claim by Patriots coach Bill Belichick that the deflation was due to natural weather conditions, he decided to see if placing room-temperature footballs in a refrigerator set at the game-day temperature of 51 degrees would cause them to deflate.
While he was waiting for the balls to cool down, Nye took the opportunity to remind listeners about something else: climate change is a lot more important than deflated footballs.
"While we're all obsessed with deflategate, let's keep in mind that there's something about which you should give a f**k," he said. "Yes, like [Patriots quarterback] Tom Brady, the world is getting hotter and hotter, and you know why? Because we human beings are pumping carbon dioxide in the atmosphere every time we burn fossil fuels, when we burn gasoline in our cars, and when Tom Brady and Bill Belichick start talking for two-and-a half-hours in press conferences, spewing out carbon dioxide, making climate change that much worse."
"What should we do about this?" he said. "You should vote for congressmen and senators that appreciate the threat of climate change and the rate at which the world is getting warmer so that we can preserve the earth for humankind for generations to come."
Clearly not high on his list of people you should vote for is Tennessee Congresswoman Marsha Blackburn whom he took down in a video a few months ago saying that "it sounded like she's been coached on denial bullet points."
Oh—and the footballs? Nye didn't find any significant change in them after cooling.
YOU MIGHT ALSO LIKE
Watch Bill Nye Shred Climate Denying Congresswoman
John Oliver and Bill Nye Put the Climate Change Debate to Rest
EcoWatch Daily Newsletter